Living on the edge: what's it like in Haiti?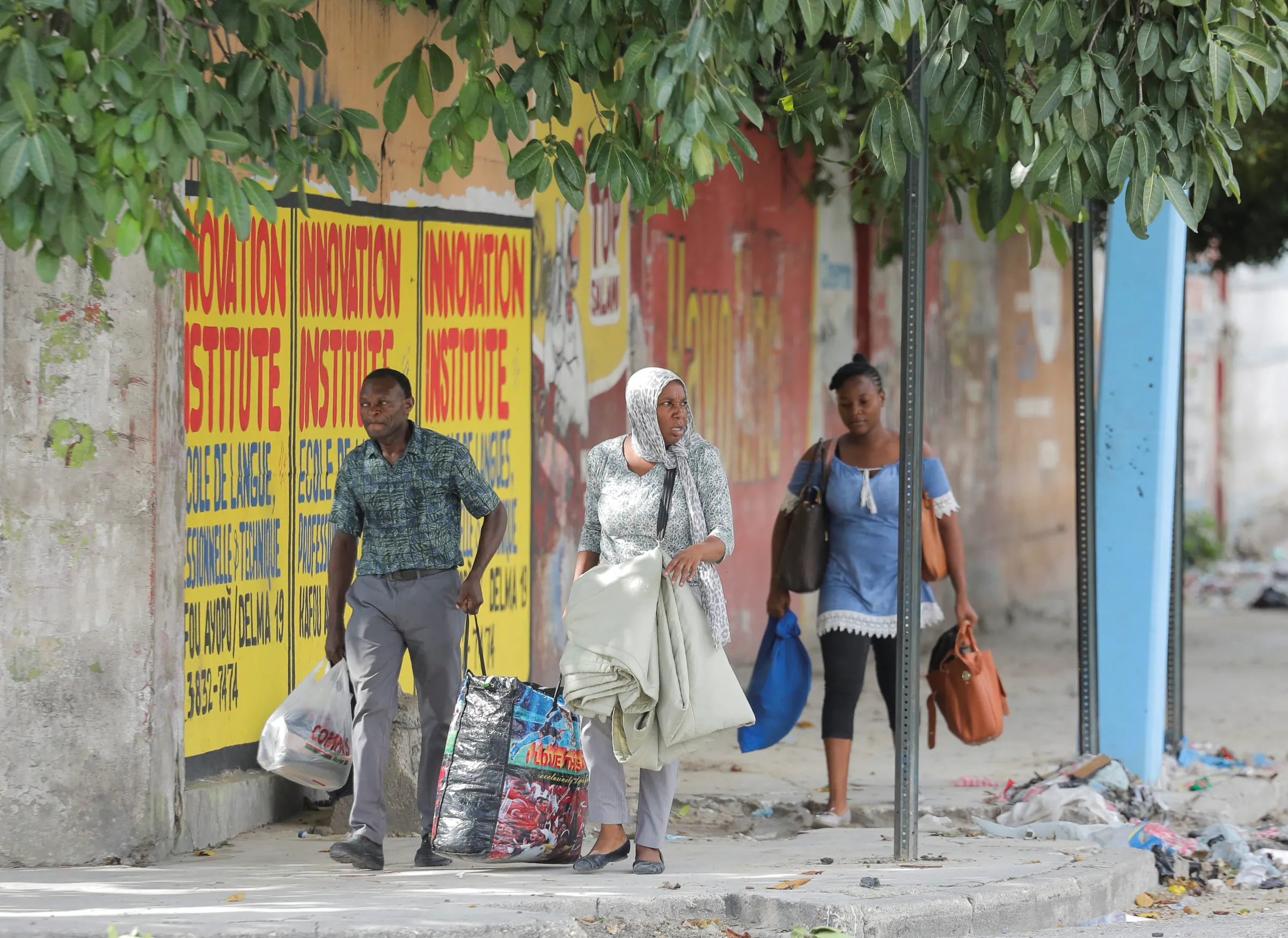 Residents flee the area after gangs waged intense gun battles, shuttering main avenues and a municipal market in the downtown area of the capital, in Port-au-Prince, Haiti July 27, 2022. REUTERS/Ralph Tedy Erol
What's the context?
Haitians are driven further into poverty and hunger by escalating gang warfare and rising inflation
Aug 11 (Thomson Reuters Foundation) - A year after Haiti's president was shot dead, the Caribbean island has sunk deeper into chaos, its poor and hungry people squeezed by rising violence and runaway inflation.
Fuel, food and medicine are now out of reach for many Haitians.
Rampant gang warfare has killed hundreds, destroyed jobs in their thousands and obliterated normal life as slum dwellers flee their homes in fear.
All are victims of a local breakdown in law and order and a global cost of living crisis: a social tumult that is playing out in struggling states from Sri Lanka to Tunisia.
One aid worker with the medical charity Medecins Sans Frontieres called Haiti "hell on earth" as the nation of 11 million risks becoming a new failed state.
What's the impact of all this on peoples' livelihoods?
Turf wars between rival gangs, a spike in kidnappings and a flight to safety by many Haitians has hit the economy hard as people stay home, lose work or flee.
The violence, displacement and lost livelihoods have only exacerbated what were anyway high levels of poverty and hunger, says the U.N.'s World Food Programme (WFP), with inflation now hitting 26%.
About 4.5 million Haitians are going hungry as food prices jump and as surging violence restricts the free movement of food, the WFP says.
Higher food prices have led to a 52% increase in the cost of a food basket in the past year, according to the WFP.
Fallout from war in Ukraine has boosted fuel and fertilizer prices and pinched global food supplies.
Haiti is particularly vulnerable as it imports 70% of its cereals.
As gangs cut off access to the capital and block main roads, aid agencies have resorted to providing food aid by helicopter and boat and moving aid workers by plane.
Blocked roads also restrict free trade, curtail farmers' access to market and isolate people from core services.
With slum dwellers caught in frequent crossfire between gangs, businesses are forced to close. Gang leaders also exhort business owners and bus companies, with scant legal recourse.
What's next for Haiti?
Interim Prime Minister Ariel Henry, a neurosurgeon who led Haiti's response to a 2010 cholera epidemic, has pledged to bring peace, hold elections and get the economy back in order.
Experts say elections are key to restoring stability and ending political turmoil but do not expect to see a vote this year as factional fighting stalls political progress.
"Until that (general election) happens, the gangs will only continue to get stronger and Haitians will face a grim future, according to a July note by the International Crisis Group.
U.S. authorities are also under pressure to stop the smuggling of guns into Haiti, despite an arms embargo that only allows weapons sales to government security forces or safe-keeping missions.
With lawlessness and mistrust of authorities both rampant, there is a call to relocate the capital's top legal offices to a secure area so judicial activities can at least resume.
Experts have also urged authorities to carry out arrest warrants issued on gang leaders and investigate abuses committed by gangs during an acute wave of violence in April and May.
Are other nations in line for such an implosion?
Soaring living costs driven by rising inflation are triggering social unrest worldwide.
In Sri Lanka, discontent over rising prices and shortages of basics brought down the government after thousands of protesters stormed the president's official residence and office in July.
A Civil Unrest Index by data analytics firm Verisk found 75 countries will likely see more protests this year.
On the top of the list is Haiti, along with Pakistan where inflation hit 21.3% in June - its highest in more than a decade.
Argentina, which has cycled through economic crises for decades, is grappling with inflation at more than 60%, spiking gas import costs, and crippling national debt.
Social unrest is also a risk in Tunisia where the nation's economy and public finances are in crisis.
The government of the small African nation is in talks with the IMF for a rescue package amid widespread poverty and hardship, exacerbated by the war in Ukraine.
---
---
Tags
Poverty
Cost of living
Education
---