Know better. Do better.
Policy, honestly

The real-life impacts of policy decisions
The Policy:
On the 14th of March 2020, as COVID-19 began to surge across the world, Romania declared a state of emergency, giving the government and military authorities the power to pass decrees aimed at fighting the spread of the pandemic.
The health ministry later mandated public hospitals to reassign resources and personnel from other priorities to tackle the virus.
The Impact:
The pandemic brought Romania's public healthcare system, already buckling after years of underfunding and corruption, to breaking point.
The state of emergency was declared with the best of intentions and its provisions were designed to respond quickly to the outbreak, but there was an unintended consequence: the private healthcare sector prospered as the public one was snowed under by the rampant virus. 
In 2020, with no vaccination in sight, ICU beds filled up quickly and there was not enough protective gear to go around. Ordinary people stepped in, fundraising to procure PPE materials, syringes and medication. That proved important. Investigations later revealed that the awarding of government procurement contracts had been beset by corruption.
Mandating public hospitals to refocus on the pandemic meant that other urgent needs such as oncology and geriatric services went unmet. If people had non-COVID related issues to treat, and a public hospital was unable to take them, they had no choice. They had to go private to get better.
For private care providers, the pandemic was a goldrush.
"In the context of an overwhelmed public health system, which focused on the management of the COVID-19 pandemic and that had put aside the other patients, the private health operators came to support the citizens and responded precisely to these needs," Diana Florescu, an economic analyst at the KeysFin consultancy, said.
"The sustained growth trend in this market, based primarily on investments and professionalism, will continue in the medium term."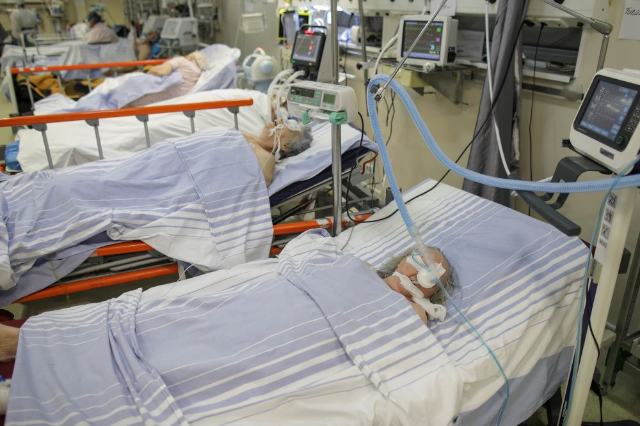 Intubated COVID-19 patients are seen in a crowded COVID-19 ICU ward at Bucharest's University Hospital, in Bucharest, Romania, October 29, 2021. Inquam Photos/Octav Ganea via REUTERS
Private actors also benefitted from the kurzarbeit scheme under which private sector employees took a reduction in working time and pay, with the government making up part of the lost wages. Private hospitals used the plan to end the contracts of about 40,000 workers.
The total market turnover of the private health sector rose by 11% during the first year of the pandemic compared to 2019, reaching 15.4 billion Romanian leu ($3.3 billion USD) in 2020.
MedLife, the biggest private provider and a bellwether of the industry in the country, almost doubled its profits in 2021. Another major firm, Regina Maria, tripled its profits in 2020.
There are now a staggering 159 private hospitals in the country as well as other private medical facilities. MedLife alone has more than 230 clinics, medical centers, laboratories, hospitals, and pharmacies.
And, for the major players, consolidation is key. The large firms have started buying up the competition, and acquiring new strings to their bow such as wellness and telemedicine apps. Since the early 2000s, MedLife has purchased 45 companies, 12 of those in 2022.
According to Fitch Solutions, the trend of expansion and consolidation is set to continue and the private industry will keep growing.
"The expanding middle class in Romania is driving the increasing demand for private medical care, with patients seeking better alternatives to the country's under-funded public healthcare service," Fitch said last year.
While aggressive expansion is part of the private firms' growth strategies, when it comes to taking patients from public hospitals, they are pushing at an open door.
Romania's healthcare service has suffered from years of neglect with subpar investment since the end of communism in 1989. It lags far behind other European countries in public health spending and, though that spending is now growing, it has the lowest healthcare expenditure per inhabitant of any EU country, according to the latest statistics from Eurostat.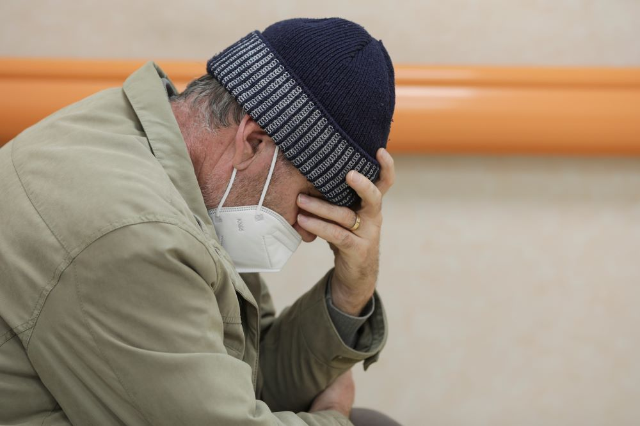 A coronavirus disease (COVID-19) patient wearing a PPE mask sits in the emergency unit hallway of the National Institute for Infectious Diseases "Matei Bals" in Bucharest, Romania, October 11, 2021. Inquam Photos/Octav Ganea via REUTERS
Public trust is at an all-time low, too. Graft and dodgy-dealing has long been a problem. Doctors and nurses regularly take kickbacks to expedite treatments and, in one notorious case in 2016, diluted disinfectants were found being used in a hospital.
Brain drain is another in the long list of challenges with many of the country's brightest and best young medical professionals lured away by better salaries and conditions elsewhere.
So, if the private sector is stepping in with better quality treatment, what's the problem? The problem is that a two-tier system is developing.
According to a World Health Organization (WHO) report last year, Romania has a higher incidence of catastrophic health spending compared to other European Union countries. Catastrophic health spending means a household can no longer afford to meet other basic needs, such as food, housing and electricity.
WHO said that catastrophic health spending in Romania was "heavily concentrated among the poorest 40% of households and older people" and "mainly driven by out-of-pocket payments for outpatient medicines".
Some are even worse off.
According to WHO: "Twelve percent of the population is uninsured and can only access a few publicly-financed health services. People need to pay health insurance contributions to access [social health] benefits, which some people with low incomes cannot afford."
The state of emergency was eventually lifted and COVID-19 ebbed. But the impact it had on healthcare in Romania remains. The private sector stands taller than it did before and it is growing fast – often at the expense of the public system.
If public healthcare is not bolstered as a matter of urgency, the most disadvantaged in society are in danger of being left behind.
Any views expressed in this opinion piece are those of the author and not of Context or the Thomson Reuters Foundation.
Top female footballers are reeling from lost pay and career opportunities after FIFA banned Zimbabwe from international fixtures
Still reeling from the coronavirus pandemic, many of Uganda's informal sector workers took out loans to get through Ebola lockdown
Indian edtech giant Byju's said it will stop selling courses to low-income families, according to the National Commission for Protection of Child Rights (NCPCR)
Afghan women say underground gyms provide a lifeline as Taliban further limit their freedoms
Some fear an IMF bailout deal will mean austerity measures in a nation where about half the population lives on less than $2 a day
Austerity, COVID burnout and the cost-of-living crisis have left Europe's hospitals and care homes depleted and demoralised