Blind Afghan activist who fled Taliban embraces London life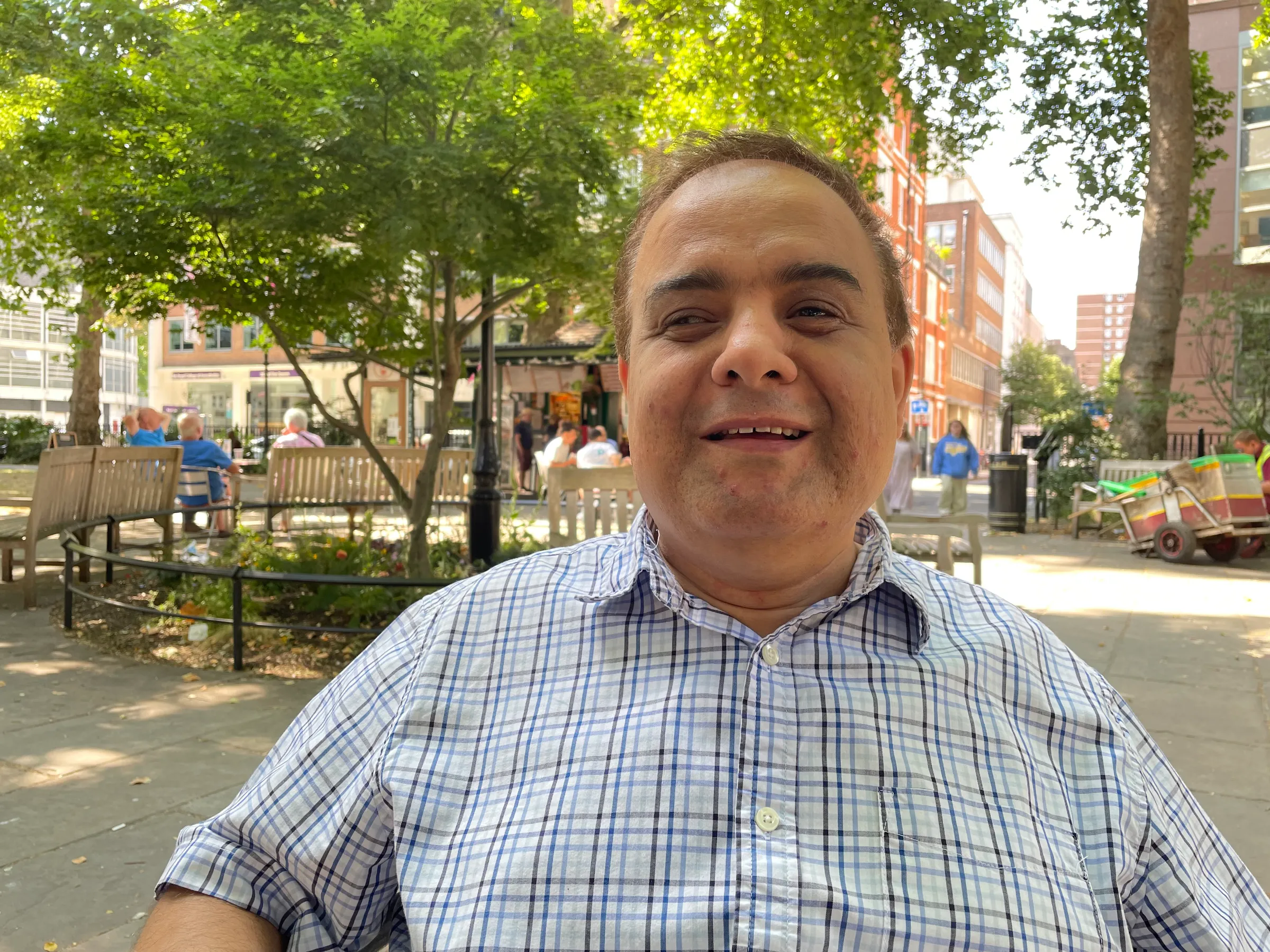 Mehdi Salami is pictured in a London square, July 16, 2022. Thomson Reuters Foundation/Emma Batha
What's the context?
"For now our future is in Britain, but we cannot forget our home country."
LONDON - As the Taliban mark one year in power in Afghanistan, four Afghans tell the Thomson Reuters Foundation what has happened to them since they fled their homeland.
Mehdi Salami, 47, and his wife Benafsha Yaqoobi, 45, who are both blind, founded the Rahyab Organisation in Kabul to support people with disabilities. Yaqoobi was also a commissioner at the Afghanistan Independent Human Rights Commission. The Danish and British co-operated to evacuate the couple on Aug. 25, 2021. They now live in London.
This is Salami's story as told to reporter Emma Batha.
My wife is a prominent human rights activist and feared she'd be killed if we stayed in Afghanistan.
But the first time we tried to get to Kabul airport it was so dangerous and chaotic. There was a lot of shooting.
They were mostly firing into the air, but because we have total sight loss we didn't know that. Sudden noises would frighten us. It was very loud and scary.
Later the Danes organised a special operation to get us into the airport. They passed us to the Brits who put us on a flight.
The following day there was an explosion at the airport that killed hundreds – we were so lucky not to get caught in it.
We only packed extremely basic things. As my wife said, we left home like people who were going to a party and would be returning very soon.
This is our first time in Britain. Living in a hotel for months was hard and the short, dark winter days got us down, but we tried to keep ourselves busy.
We continue to run our charity back home and remain in touch with colleagues in Afghanistan.
I'm also learning to play the piano. I read the music in Braille first and then learn it bar by bar and perform from memory. The teacher is amazed by that.
When the Taliban took over I was doing a journalism diploma so now I need to start again with my education.
I'm going to begin a preparatory course for a degree in political sciences or international relations. My wife hopes to do a PhD in social studies.
London is a busy, crowded city, but one benefit for us is that the streets are in good order and we can walk around more easily with our white canes.
There were always obstacles and big potholes in Kabul and the drains weren't covered, so if you weren't careful you'd step into them.
I also like the birds in London. You don't get them in Afghan cities so much. It makes me feel elated to hear them sing and flap their wings.
We had a canary at home in Kabul who would sing for us.
We moved into our own flat in April but most others in the hotel are still there. It's stressful because you have no privacy. There are conflicts between families with different outlooks. You can feel the tension. People have mental health issues because of all the uncertainty about their future.
The food was also so boring. Mostly they gave us chicken curry, sometimes even twice a day. Even now, if I eat out, I can't face chicken curry.
The government has spent a crazy amount on hotels for Afghans, but they could have put that kind of financial support towards helping them find independent accommodation right from the start, which would have helped them put down roots.
Maybe they thought they were doing a good thing putting Afghans in a community of their own, but I think it has made people less motivated to improve their English and integrate.
Some Afghans in the hotel were surprised by how people dress and astonished to see people of different sexual orientations.
But my wife and I don't share this mentality. London is a very cosmopolitan city so people dress in different ways.
We're keen to make friends and learn the culture. We have some friends who want to show us English cooking.
For now our future is in Britain, but we cannot forget our home country. There's no big hope of reform for at least five years, but we may think about travelling back and forth in future if we feel it's safe.
Britain is a country of opportunities and anybody who wants to can use this as a chance to develop and grow. I'm seeing lots of opportunities, but it's up to us to grab them.
Mehdi Salami's story is part of a series on the Afghans who fled the Taliban and their lives now: A year in exile: Afghan refugees tell of fresh starts
---
---
TAGS
War and conflict
Migration
Economic inclusion
---