Bangladesh develops green economic zones, but will locals benefit?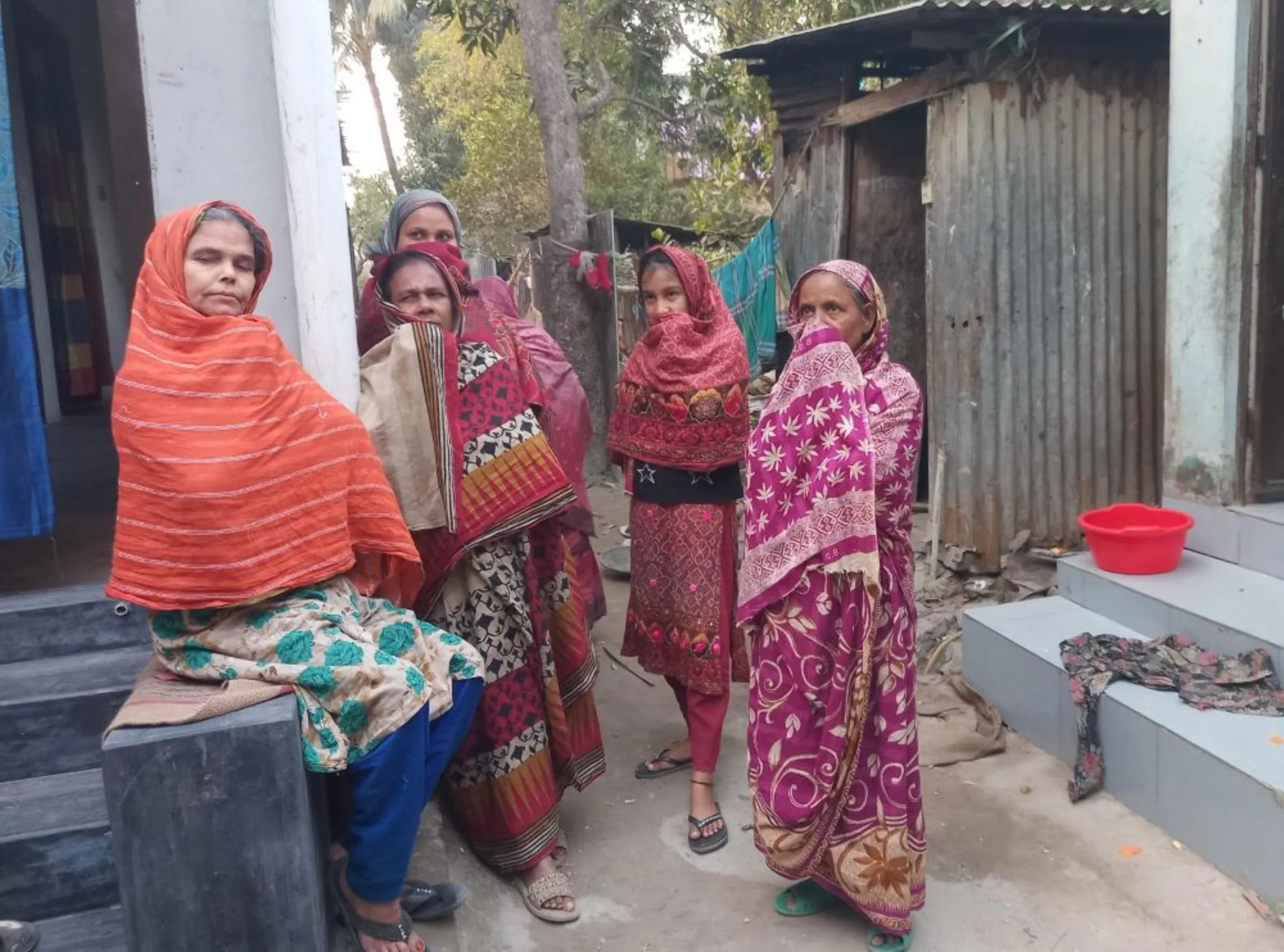 Local women, gathered for an evening chatter in their yard, say they used to pick water spinach and other sources of nutrition in the area that now falls under the zone, Narayanganj, Bangladesh, January 11, 2023, Thomson Reuters Foundation/ Md. Tahmid Zami
What's the context?
Government hopes the zones will boost jobs and green growth, but some local people fear losing their land and incomes
Bangladesh is working to set up 100 new industrial zones
Economic hubs aim to produce clean energy, manage waste
Ensuring jobs and rights for nearby communities seen as key
NARAYANGANJ, Bangladesh - As the evening prayer call sounded across Narayanganj district in central Bangladesh, Mohammad Masum planted vegetables on his small strip of land next to a new Japanese-backed industrial hub, elevated above the surrounding area to avoid flooding.
When it was set up, the 500-acre "Bangladesh Special Economic Zone" - owned by the governments of Japan and Bangladesh and Japanese trading giant Sumitomo Corporation - acquired four-fifths of the land Masum and his siblings had inherited from their father.
Masum said he was paid about 2 million taka ($19,264), which he has mostly spent. "Now I rely on driving an electronic taxi and planting vegetables in my spare time, unlike my belated father who lived on farming entirely," he added.
Bangladesh aims to establish 100 economic zones this decade to support green development and help tackle poverty across the country, with the cooperation of the private sector and interested foreign governments including India and China.
The plan is for the zones - which will cater for both local and global markets - to generate 10 million jobs by 2030.
Shaikh Yusuf Harun, executive chairman of the Bangladesh Economic Zones Authority (BEZA), said about 97 projects have already been approved, of which 30 are under development.
Clustering industries into zones can be a pragmatic and efficient way of ensuring utility provision, occupational safety and environmental sustainability, said Mohidus Samad Khan, an associate professor and environmental engineering expert at the Bangladesh University of Engineering and Technology (BUET).
But local activists are concerned about the zones' potential impacts on communities and the environment, including how enough land will be found for them without compromising agricultural production or infringing residents' rights.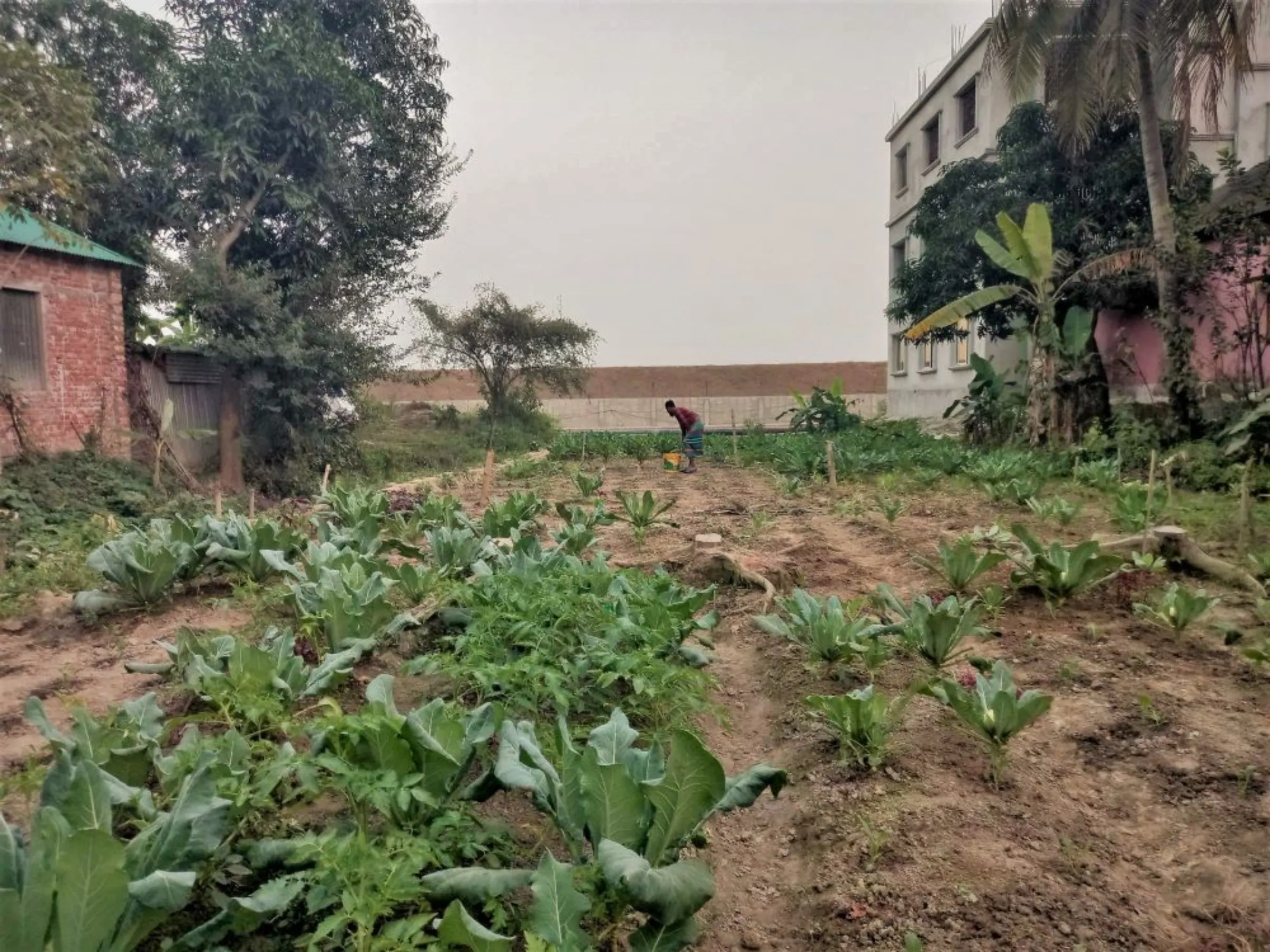 Green industrialisation
In Narayanganj, to the south and east of Dhaka, where four new economic zones are planned, the sacred Brahmaputra River - whose banks are dotted with Hindu temples and burial grounds - is often polluted with untreated chemicals and waste from factories upstream, said local priest Vishnu Bhattacharya.
BEZA head Harun said the new economic zones will take a comprehensive approach to managing waste, unlike the individual businesses that are a common cause of river contamination.
Companies in the zones will also benefit from government incentives to use clean energy from biomass, solar or wind.
Saleh Ahmed, project director for infrastructure development at the Narayanganj Japanese economic zone, which has yet to start operating, said it would minimise negative impacts on the environment and establish good practices for others to follow.
The site will have a central facility to treat liquid waste before it is discharged, preventing pollution of local rivers and canals, he explained.
The zone will also produce solar power from rooftop panels and plant trees to help tackle climate change.
Liakath Ali, head of the climate change programme at the development agency BRAC, said it had planted 40,000 mangrove trees in an economic zone at Chattogram in southeast Bangladesh.
BRAC's nursery programme is expanding similar work in places like Narayanganj.
Planting trees in economic zones will help offset planet-heating carbon emissions from industrial activities, Ali said.
"Once the trees grow, they will act as a bulwark against natural disasters and also create livelihood opportunities for the locals," he added.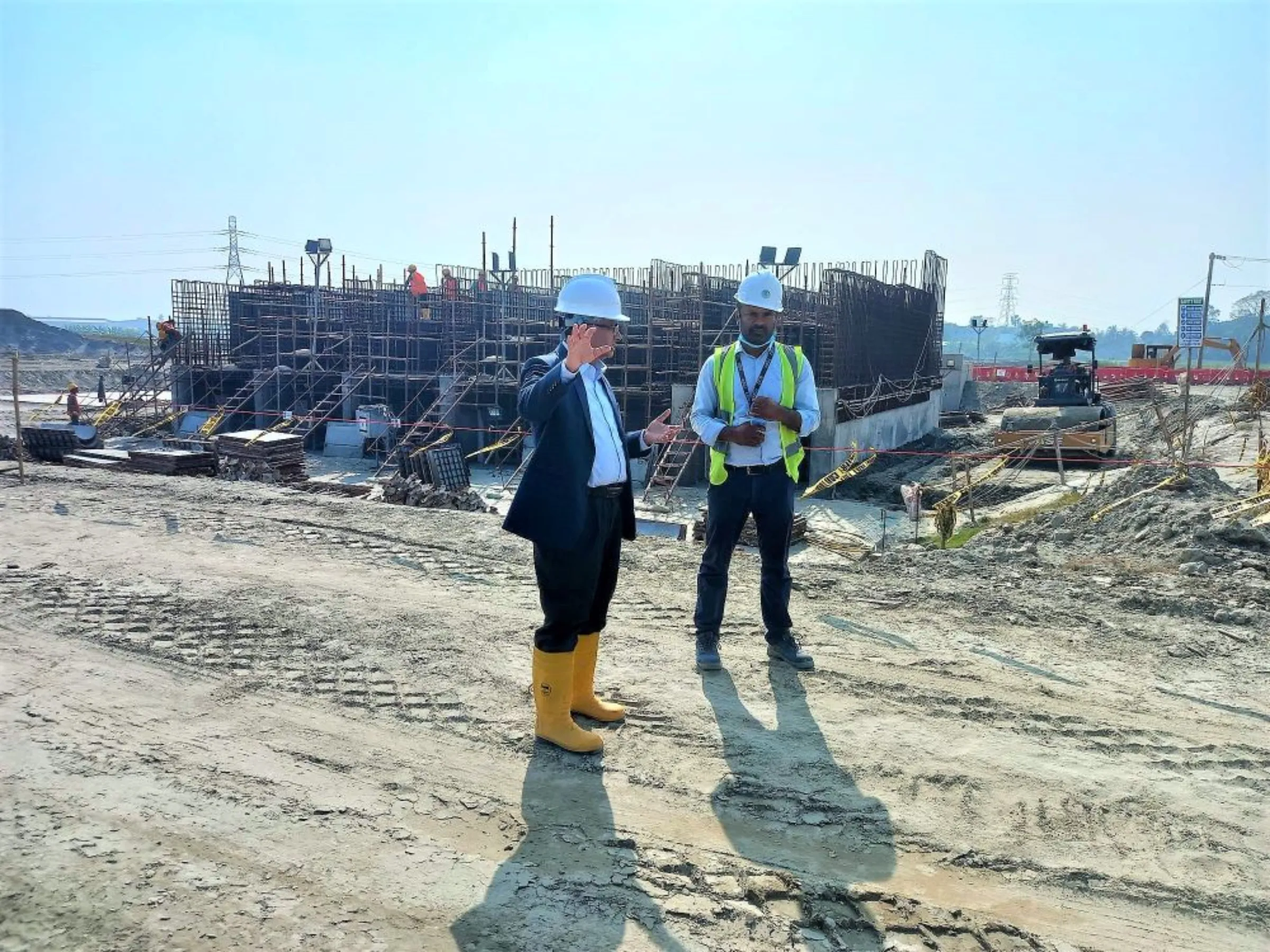 Land disputes
Rafiur Rabbi, leader of the Citizens' Committee, a movement working on social and environmental issues in Narayanganj, said one key challenge is how land will be acquired for the economic zones and the implications for nearby communities.
With nearly 1,300 people per square kilometre, according to the World Bank, land use is a critical issue for Bangladesh.
It is losing cropland at a rate of 0.7% per year due to conversion for other uses, government documents show, raising concerns about food security.
Harun, the chair of the economic zone authority, noted that most of the new zones are being established on unproductive and fallow land, adding that regulations do not permit acquisition of land where multiple crops are grown.
In Narayanganj, project director Ahmed said most of the land bought up for the Japanese economic zone had not previously been used to grow crops and was owned by people who live elsewhere.
The law stipulates that when the government buys land, the owner should receive three times its market value.
But family disputes and contested boundaries often lead to grievances when land is sold, Ahmed noted.
Sometimes local elites and brokers pocket a significant share of the compensation landowners are entitled to when they sell to public projects, said Rabbi.
In Narayanganj, Maleka Begum, a widow aged about 60, said she had been defrauded by a local broker who sold off her land for the zone and took the proceeds. She is now fighting a court case to get the money back.
Most locals who sold land for the zone said they had received compensation - but had mixed feelings about the deals.
With his paternal landholding gone, Zakir Hossain, 23 - whose family got 5.4 million taka for each "kani" (0.4 acres) - works as a sharecropper.
"We now have to buy rice and vegetables from the market, whereas in the past we would even consume water spinach, lilies or fish from those areas to supplement our diet," he said.
Al Mamun, 20, who has worked on and off at the zone earning about 17,000 taka ($163.74) a month, said he was happy with what the project offers to young people.
But Hossain said he could not take a construction job because of his health, noting that most of the work is going to outsiders from northern districts who earn good wages.
While 1,200 people are now working on constructing the Narayanganj zone, once it starts operating, it is expected to employ some 100,000 people, said project director Ahmed.
But activist Rabbi said many of the jobs could go to migrants from other parts of the country, including people whose livelihoods are affected by disasters worsened by climate change, such as coastal cyclones or river flooding.
"As Narayanganj is an economic hub, the influx of migrants has created pressure on the urban systems - and when the several economic zones begin to operate in full swing, the flow will grow manifold," he said.
That could lead to increased competition with residents for essential services unless enough decent housing, education and healthcare is provided for the newcomers, Rabbi added.
Project director Ahmed said the economic zone does not offer worker accommodation but an urbanisation plan for the surrounding area will be presented to municipal authorities.
Support will also be provided to people who sold off their land to the zone or relied on it for their income, he added.
For example, 2,000 locals affected by the project will be trained under a World Bank initiative to help them pursue alternative livelihoods like poultry and fish breeding, working with computers or opening a shop.
Investment plans
BEZA chief Harun said that so far 179 businesses from a range of sectors had been allotted space within the various economic zones, with a proposed investment of about $26 billion.
So far, 29 firms have started commercial production while 61 more are setting up their plants, he added.
The Japanese economic zone has attracted four companies, including home appliance makers like Singer, and there is interest from others in Asia and Europe firms in sectors like food, engineering, chemicals and vehicle assembly, said Ahmed.
Once the zone's 500 acres have been allocated to businesses - which he expects to happen by the end of 2023 - the zone will seek to double in size, he added.
Abdul Gafur, director of Abdul Monem Economic Zone Limited, a firm that develops and operates zones, said Bangladesh could attract more investors by speeding up new business approvals.
In 2021, it attracted $2.9 billion in foreign direct investment, compared to Vietnam which received $15.7 billion.
"With proper facilitation to investors, the economic zones could be a game-changer for the country's economy and job creation," said Gafur.
($1 = 103.8200 taka)
(Reporting by Md. Tahmid Zami; Editing by Megan Rowling)
---
---
TAGS
Climate inequality
Loss and damage
Biodiversity
Green jobs
---