Women land defenders in Latin America need new rights to be implemented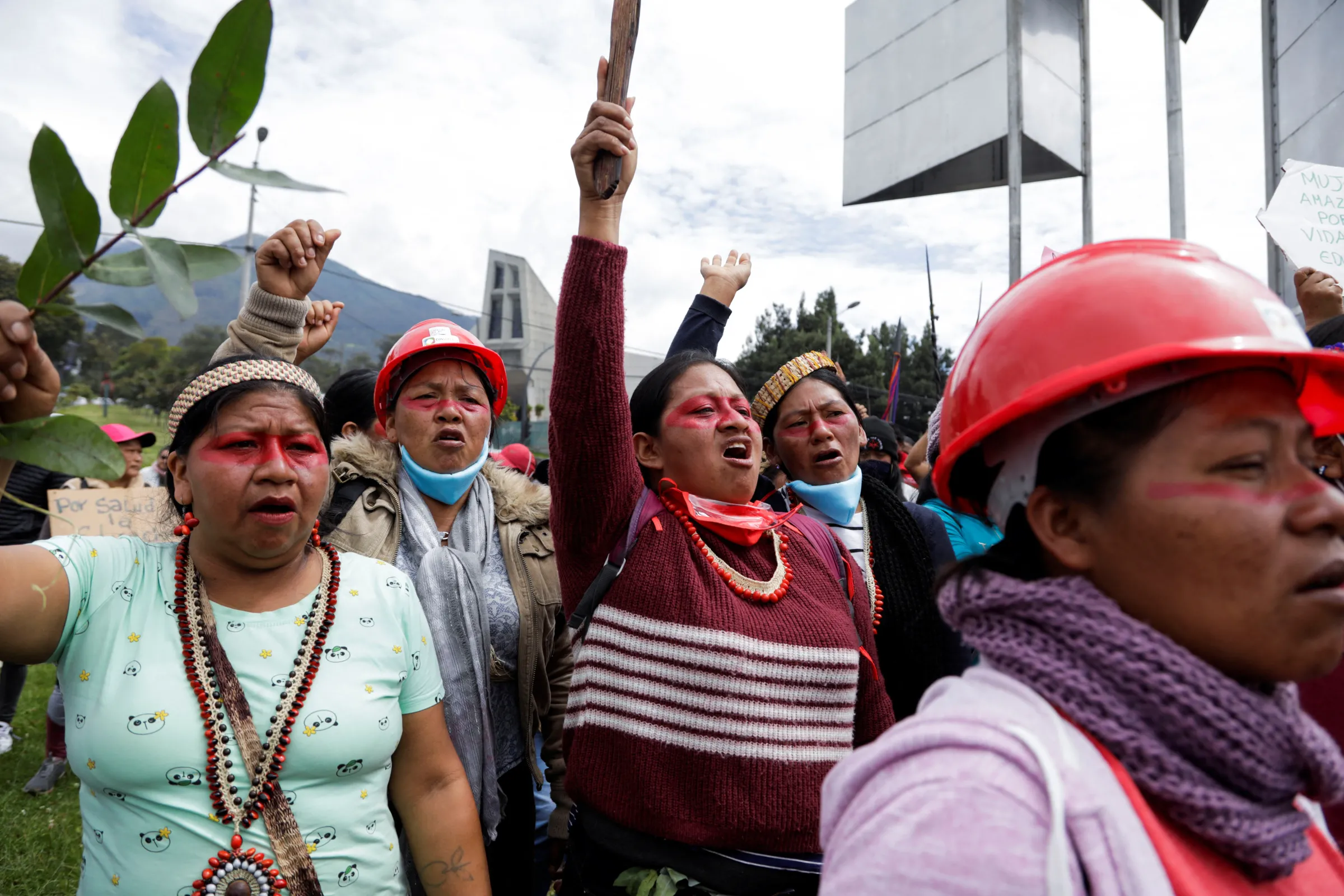 Women from different indigenous organizations, feminist groups and civil society take part in a demonstration demanding lower fuel and food prices and an end to police violence after nearly two weeks of mass protest, in Quito, Ecuador June 25, 2022. REUTERS/Karen Toro
The Escazú Agreement sets out to curb escalating violence and give indigenous activists a voice in decision-making - if respected, it will also boost environmental protection.
Osprey Orielle Lake is the Founder and Executive Director of the Women's Earth and Climate Action Network (WECAN) International and serves on the Executive Committee for the Global Alliance for the Rights of Nature.
"The government threatens us, they do not take care of us, the citizens, the women fighting for the Amazon," Patricia Gualinga, a Kichwa spokesperson for Amazonian Women Defending the Forest/Mujeres Amazónicas, told me recently, as we prepared for a meeting of women land defenders in Latin America. "We show we are being threatened and the government criminalizes us for it - they threaten to kill us," said the Ecuadorian activist.
Patricia's experience is just one of many stories I've heard - and tragically, there are many more that will never be reported. As efforts to exploit the environment grow in scale and power, the threat to land defenders also proliferates.
Reports by Global Witness reveal year after year record-breaking murders of land defenders— with 227 murders in 2020. Their data shows that approximately one-third of recorded attacks were linked to exploitation of natural resources like logging, hydroelectric dams, mining, and agribusiness.
The recent murders in June of Indigenous activist Bruno Pereira and British journalist Dom Phillips in the Brazilian Amazon - thought to be connected to their investigation of illegal poaching and fishing - have brought forward yet another instance of how land defenders, known and unknown, are being persecuted for protecting their territories.
What is less widely understood is that women land defenders are most at risk. Entrenched gender norms, femicide and gender-based violence already make women vulnerable. Standing up to powerful interests to protect water, land and forests compounds that threat, increasing the risk of sexual and physical violence. In May 2022 alone, women human rights defenders in Central America experienced 342 acts of aggression, with 32% being related to the right to defend land and territory.
On Wednesday, I will sit down with Indigenous and frontline leaders at New York Climate Week, to highlight the challenges women faces as land defenders and discuss potential solutions.
Although the situation for women land defenders remains dire, there are reasons to be hopeful. The Escazú Agreement, a multilateral agreement in Latin America and the Caribbean (LAC), for example, has the potential to be a path forward for ensuring the protection of human rights and land defenders.
Since 2018, the organization that I have the honor of directing, the Women's Earth and Climate Action Network (WECAN) International, has been advocating for the agreement, alongside Indigenous women leaders, like Patricia Gualinga, who have been fighting relentlessly for protections to defend their communities, territories, and our global climate. The agreement was ratified into law late last year and is now in the beginning stages of implementation throughout the LAC region.
We've been fighting hard for this treaty - it marks a milestone recognition of the rights and work of land defenders. If implemented well, it will give them information about activities that affect their lands and overall regions, hand them a bigger say in how land and oceans are used and guarantee full legal rights and protection to environmental defenders. In short, the Escazú Agreement can keep women land defenders safe while they do their vital land defence work.
The Escazú Agreement could protect women land defenders, like Berta Cáceres, who campaigned relentlessly for Indigenous rights and the protection of the natural world in Honduras. In 2016, after a successful campaign to stop a local dam that would have damaged her community and local rivers, Berta was assassinated at home by armed intruders. Her brutal murder followed at least twenty other threats and acts of intimidation against her, by businesses, politicians, financiers and others set to benefit from the dam.
This is the kind of violence the Escazú Agreement sets out to address.
To be a success, however, it needs to be properly put into practice, with women land defenders at the centre of every decision. We need strong and transparent mechanisms for the implementation of the Escazú Agreement so that no more women land defenders have their voices censored.
If that happens, the agreement won't just safeguard human rights: it will mean a breakthrough for environmental protection, too. Successes in Latin America could set a global precedent and the change the way we think about protecting land defenders not just on one continent, but on them all.
Indigenous peoples make up just 5% of the world's population but protect 80% of the planet's biodiversity. They are often the strongest line of defense against environmental atrocities. Research shows that when Indigenous peoples have rights over the land, they are the most effective in protecting bio-diverse parts of the world. This agreement has the possibility to help support nature's fiercest and most knowledgeable guardians. Yet, we will need to ensure governments are held accountable.
For generations, women like Berta Cáceres have been standing up to powerful forces to protect their communities and the rivers, jungles, forests and oceans that help stabilize our climate and keep us all alive. Not one more land defender should pay with their own life. If we implement this treaty properly, we can learn from their strength, instead of mourning their murders.
---
Any views expressed in this opinion piece are those of the author and not of Context or the Thomson Reuters Foundation.
---
Tags
Climate inequality

Biodiversity

Indigenous communities
---