Why access to abortion is key to ending poverty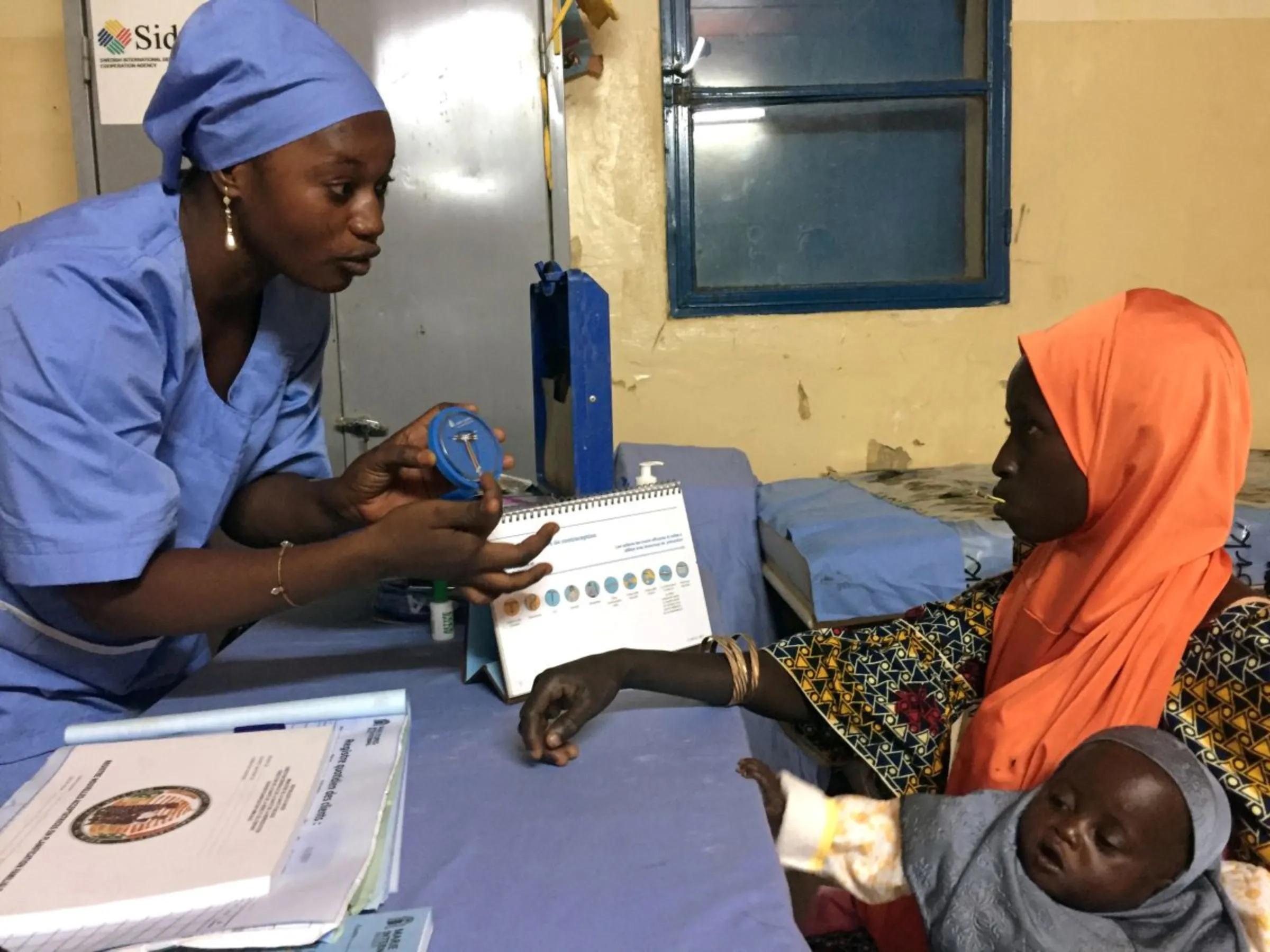 A nurse from MSI Niger explains how a contraceptive implant works to a woman in the village of Libore, southeast of Niger's capital Niamey, November 2, 2017. REUTERS/Tim Cocks
Expanding access to safe abortion and contraception not only saves lives, but is critical to meeting every one of the 17 UN development goals (SDGs). Here's why
Namakando Simamuna is programmes and partnerships advisor at MSI Zambia.
I was 16 when my cousin died in childbirth. She was 20 and pregnant with her third child. She had her first baby when she was just a teenager and the second followed only a year later.
The pain of losing her was indescribable. I was just finishing high school and felt like I had my whole life ahead of me. But she was denied the opportunity to follow her dreams and fulfil her potential. From that moment, I dedicated my life to making sure that no-one else loses their future or their life because of pregnancy.
My cousin's story is not unique. Complications during pregnancy and childbirth are the leading cause of death for adolescent girls and lack of access to reproductive choice has life changing impacts on individuals, their families and communities the world over. It affects opportunities to finish school or pursue a career; it affects health; food security; and ultimately the ability to lift yourself out of poverty.
This week, leaders from across the world met at the United Nations (UN) General Assembly in New York to discuss progress on the UN's Sustainable Development Goals (SDGs). First agreed in 2015, these set out 17 development aims, related to poverty, health, education, and gender equality. Halfway to the 2030 deadline, we have a steep climb ahead of us, but I believe that reproductive choice is key to achieving each and every one.
Saving lives
Today, the international community is failing the 257 million women and girls who want but have no access to contraception, with one woman dying every two minutes during pregnancy or childbirth. When women and girls face unintended pregnancy and don't have access to safe abortion care, many are forced to resort to an unsafe method. This year, 35 million women will make that agonising decision. An estimated 22,000 will die. This needs to change. By supporting women to control when and if they have children, access to abortion and contraception saves lives. And it is essential to achieving SDG 3 – providing girls with good health and wellbeing.
Building a gender equal world
Access to contraception and abortion can also be life defining. In Zambia, over 16,000 girls are excluded from education each year because of pregnancy and 8,000 of those never return. This doesn't need to happen.
Recently I met Lucy Maria. She was 17 and still at school when she realised that she was pregnant. She confided in me about how dark her thoughts had become. She couldn't face telling her parents and considered taking her own life.
After finding our youth centre on Facebook, she received confidential, non-judgmental counselling and was referred for a safe abortion service and a contraceptive method of her choice. Next year, she'll be completing secondary school.
SDGs 1, 4 and 5 recognise that supporting girls to stay in education is vital for their futures and creates a ripple effect with benefits for communities and countries. Each additional year of education can help women achieve their career goals and increase a woman's earnings by up to 20%. If we work to close the gender pay gap, we could boost global GDP by $28 trillion by 2025 – creating a more gender-equal, prosperous world and contribute to reductions in global poverty.
We need to act now
As we reach the halfway mark of the SDGs, we can't be complacent. Family planning is recognised as one of the most cost-effective health interventions to achieve these goals, but the toxic combination of the pandemic, the climate crisis, and increasing conflict and displacement around the world has meant that progress has been slow. Right now, the futures of a generation of young people are on the line.
For girls like my cousin and Lucy Maria, reproductive choice means the difference between choosing the path their lives take or seeing their hopes and dreams for the future disappear. A generation of girls cannot wait. And nor can the world. We need to act now. Growing up, my parents would talk to us about sex. But conversations are not enough. My cousin's story showed me that a healthy life and a gender equal world are impossible without access to contraception – and abortion. Let's accelerate our efforts and strengthen our resolve. The path towards achieving the SDGs begins with reproductive choice.
---
Any views expressed in this opinion piece are those of the author and not of Context or the Thomson Reuters Foundation.
---
Tags
Gender equity

Government aid

Race and inequality

Poverty

Economic inclusion
---