Facebook and Hun Sen: Cambodia election tests content moderation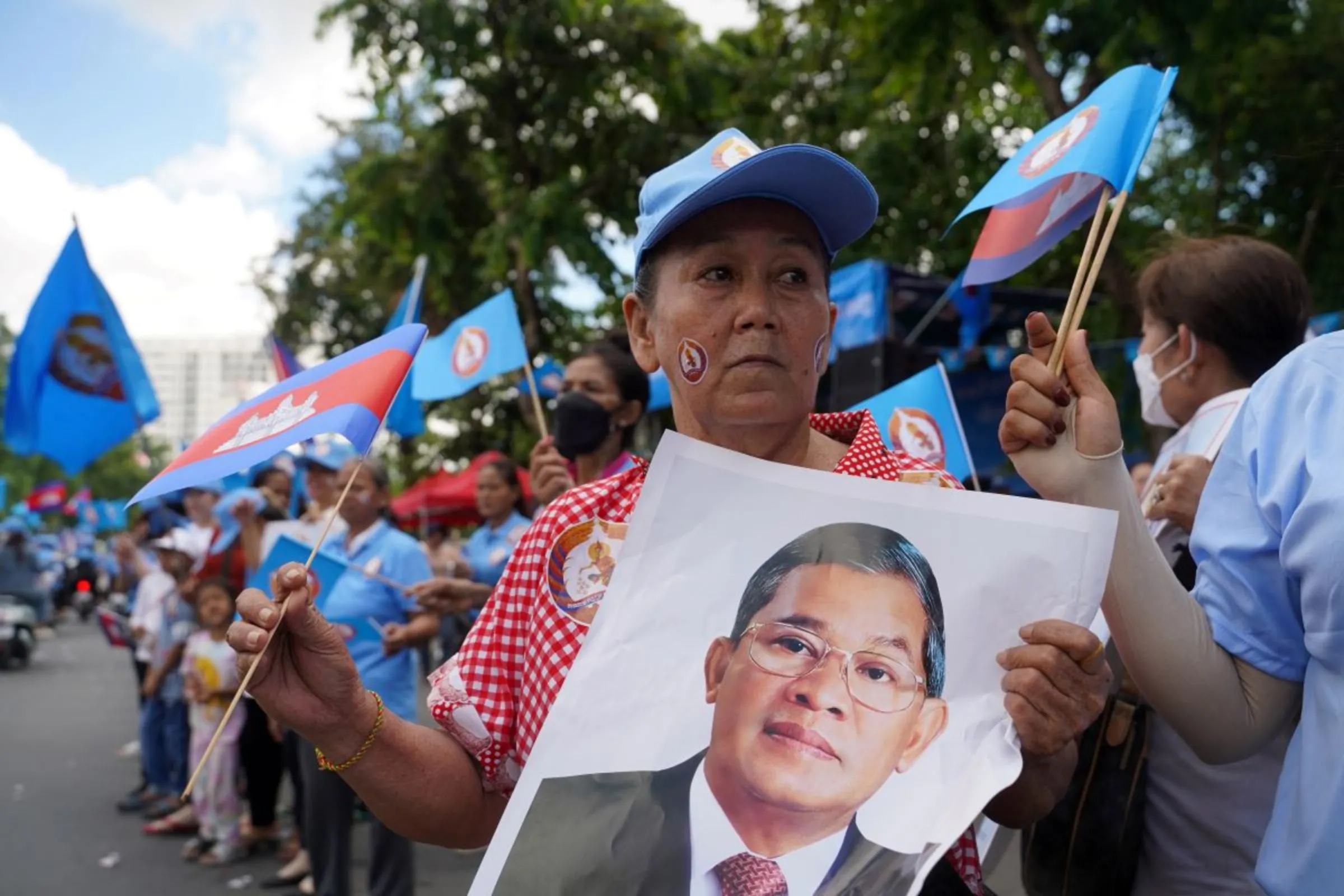 Supporters of Cambodia's Prime Minister Hun Sen and Cambodian People's Party (CPP) attend an election campaign for the upcoming national election in Phnom Penh, Cambodia, July 1, 2023. REUTERS/Cindy Liu
What's the context?
Facebook's delayed response to Cambodia prime minister's post shows failure of its content moderation system ahead of election, activists say
Meta oversight board recommends suspending PM Hun Sen
Hun Sen dumps Facebook, turns to Telegram ahead of July 23 poll
Harder to track, contain hate speech on Telegram, activists say
BANGKOK - In the days following a Jan. 9 speech by Cambodian Prime Minister Hun Sen broadcast live on Facebook, in which he threatened opposition members with violence if they criticised the ruling party ahead of elections, physical attacks against them increased.
There were at least seven reported violent acts against opposition party members in the capital Phnom Penh, with dozens more arrested, convicted and jailed on "politically motivated charges," Human Rights Watch said in a report in April.
But the video of Hun Sen's speech - in which he said opponents who questioned the ruling party would face either legal action or "the stick" - stayed up on Facebook until June 29 when Meta's oversight board overturned Facebook's decision.
The independent board also recommended that "given the severity of the violation", and Hun Sen's record of rights abuses and use of social media to amplify threats, his Facebook page and Instagram page be suspended for six months.
Meta agreed to take down the video, but said it would decide whether to suspend Hun Sen from the platforms after a review. Ahead of the board's decision, Hun Sen said he had stopped using Facebook, and would instead use messaging app Telegram.
Human rights groups have welcomed the board's decision, even as some expressed concern that Hun Sen's shift to Telegram would make it harder to track his incitements to violence, and to pressure the platform to take action against them.
"He'll make the same type of comments on Telegram, where it's even harder to rein him in," said Phil Robertson, deputy director for Asia at Human Rights Watch.
"But he may have less reach on Telegram, as Facebook is a part of everyone's life in Cambodia, not so much Telegram," he told Context.
A spokesperson for the government did not return calls seeking comment.
A justice ministry spokesperson had earlier said that Hun Sen was not inciting violence, and that his comments were "only a confirmation of the legal process."
A spokesperson for Telegram said that moderators "actively patrol" the platform, and that calls to violence are "explicitly forbidden by our terms of service. These rules apply to everyone equally, regardless of who they are."
A spokesperson for Meta did not respond to a request for comment.
About 12 million of the country's 17 million people use Facebook, with Cambodians turning to the platform even more as independent media outlets in the country have been shut down.
'Vague rules'
Facebook has been accused in recent years of being slow to act on harmful posts, including in the run up to the 2018 election in Cambodia.
United Nations human rights investigators said in 2018 that the use of Facebook in Myanmar had played a key role in spreading hate speech that fuelled the violence against Rohingya Muslims the previous year, when more than 730,000 Rohingya fled after a violent military crackdown.
Facebook was also criticised for failing to remove hate speech in Sri Lanka in 2018 during widespread anti-Muslim riots.
In response, Meta pledged to improve its content moderation practices, and said it had increased staffing, deployed hate speech detection technology, and strengthened its language capacity in the region, including in Cambodia.
But these efforts fall short in Cambodia, say rights groups, where powerful government ministries and village chiefs closely monitor content for so-called fake news, and citizens have been arrested for posts that are critical of the government.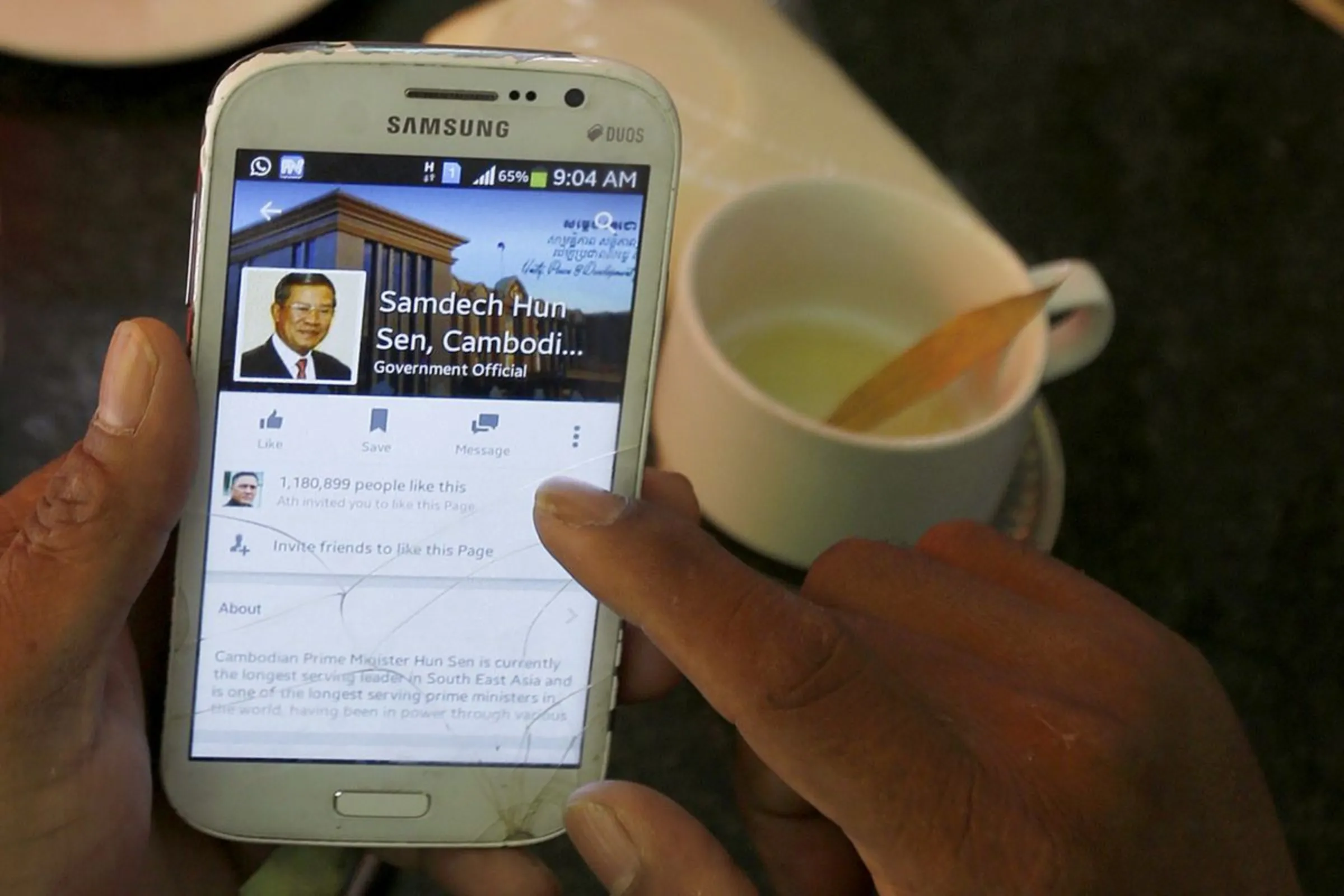 "The fact that Facebook only decided to remove the video months after it was published raises concerns about its automated removal systems that are based on vague rules and unclear enforcement procedures," said Sopheap Chak, executive director of the Cambodian Center for Human Rights, a non-profit.
"This case could be an incentive to review and develop more comprehensive content monitoring tools that respond to a strict test of necessity and proportionality ... and be more sensitive across a range of languages including Khmer," she said.
The recommendations of Meta's independent oversight board on Hun Sen come just weeks before the July 23 election that human rights groups and opposition parties have called a sham because of the government's moves to squash all opposition.
The administration has denied the charge.
Days after the oversight board's decision, Hun Sen barred all members of the board from Cambodia, and said he would consider blocking Facebook "for a short period or forever."
While he walked back his comments on a ban, authorities said the government would stop partnering with Facebook.
Hun Sen may introduce more restrictive social media policies, and further limit access to the internet in the country, said Sopheap Chak.
"The Prime Minister has the right not to continue using Facebook and switch to other platforms ... nevertheless, this attempt to cut ties with the country's most popular social media platform used by the public to share their ideas and thoughts and access information seems disproportionate," she said.
Policy checks
Hun Sen, who has led the country for nearly four decades, had moved much of the government's communications to Facebook, often responding to citizen's queries and comments on his page.
Hun Sen leaving the platform could hamper documentation of his comments and policy decisions, said Golda Benjamin, Asia-Pacific campaigner at Access Now, a digital rights organisation.
"We saw that in Myanmar after the coup, when the junta banned social media platforms," she said, referring to the Feb. 2021 coup. Facebook and other social media platforms remain banned in Myanmar.
Hun Sen is among the few political leaders that Facebook has censured, with the platform generally allowing their content on the grounds that it is newsworthy, or in the public interest.
But the policy has been called into question.
Last month, the board recommended that Meta "develop a framework for evaluating its election integrity efforts to prevent its platforms from being used to promote political violence," while overturning Facebook's decision on a video posted in relation to Brazil's last election.
In the case of Cambodia, Facebook was "very slow to respond," said Benjamin.
"It reflects on how the platform treats political leaders in autocratic countries," she said.
"The worst-case scenario is that they won't act on the board's recommendation to suspend him, given that he's already departed the platform. But even if they did, he's already issued his threats."
(Reporting by Rina Chandran. Editing by Zoe Tabary.)
---
---
Tags
Content moderation

Facebook

Tech regulation

Meta

Social media
---