Tech supply chain workers vulnerable to forced labour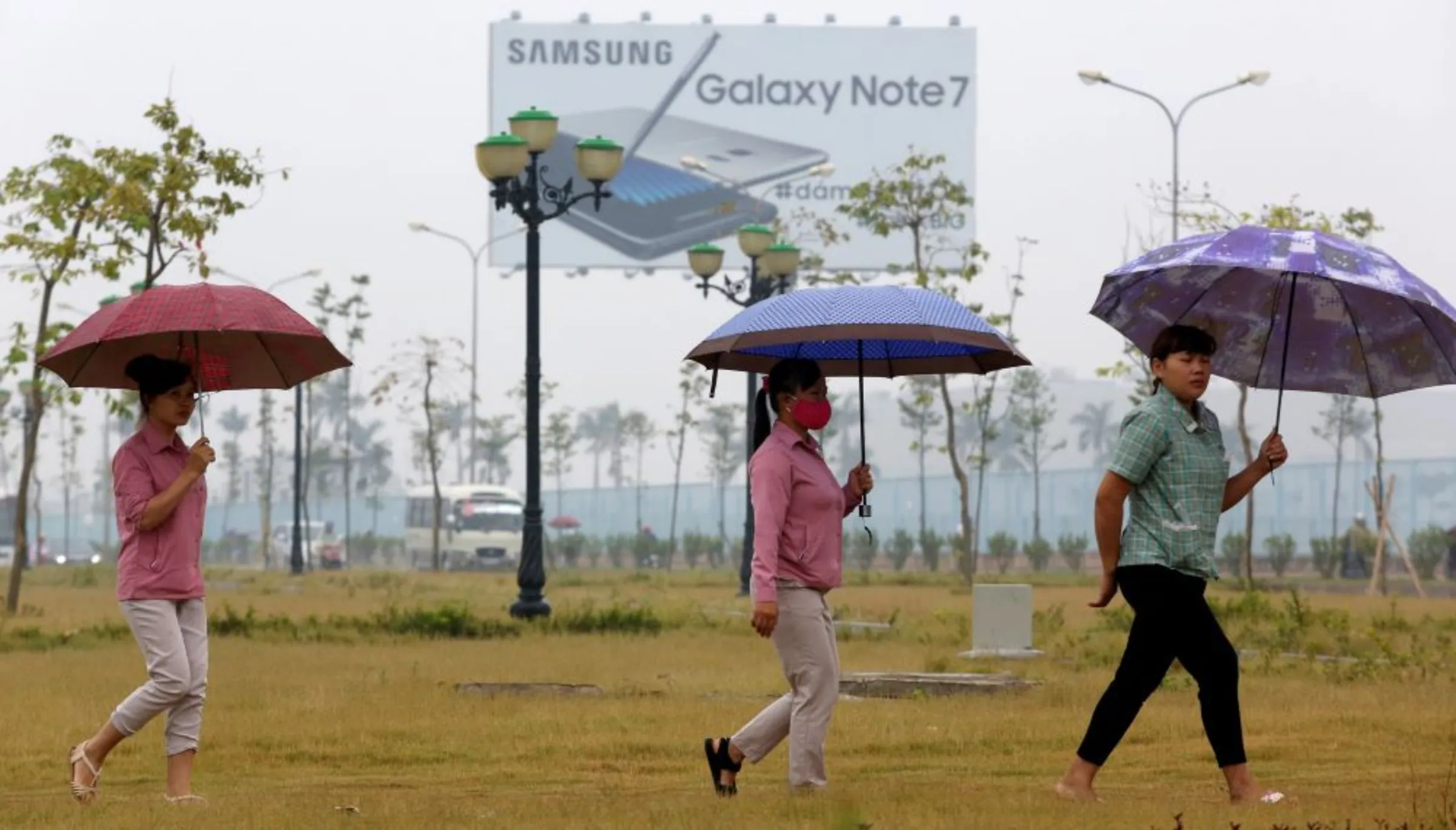 Employees pass a billboard advertisement for the Samsung Galaxy Note 7 on the way to work at the Samsung factory in Thai Nguyen province, north of Hanoi, Vietnam October 13, 2016. REUTERS/Kham
Labourers in the global tech supply chain work in poor conditions, and are vulnerable to safety risks, violence and debt bondage
Áine Clarke is head of KnowTheChain and investor strategy, Business & Human Rights Resource Centre, and Rosie Monaghan is KnowTheChain researcher and representative, Business & Human Rights Resource Centre
The information, communications and technology (ICT) sector plays a significant role in the global economy, with the largest ICT companies posting a record $4 trillion in combined annual revenue in the past year. As China's zero-COVID strategy and the U.S. trade war pushed tech companies to shift production, other Asian sites have reaped the benefits of the sector's boom, including India, Malaysia and Taiwan.
But as the sector has grown, so too has its capacity for serious labour rights abuses within its vast global supply chains. Workers in the ICT sector have been subject to poor working conditions ranging from health and safety risks to violence and debt bondage. While the COVID-19 pandemic saw ICT companies' profits soar, it also exacerbated labour conditions for workers.
Workers in the ICT sector are also increasingly facing restrictions in the rights to freedom of association and collective bargaining. In August last year, Samsung workers in Vietnam faced reduced hours and pay, while thousands of their counterparts at chip factories in Malaysia saw their management evading discussions on collective bargaining.
Hardball purchasing practices by companies have made workers in global ICT supply chains more vulnerable to exploitation. Findings from the latest KnowTheChain ICT benchmark, which analyses ICT companies' efforts to address forced labour risks in their supply chains, showed little to no improvement in purchasing practices from 2020. In fact, companies performed the worst in purchasing practices, with an average score of 2 out of 100.
This is significant because poor purchasing practices can exacerbate the suppression of workers' voice and undermine freedom of association and collective bargaining. When suppliers have no choice but to accept the terms presented by brands, it is workers who suffer from subsequent consequences such as working overtime, reduced pay and, critically, the inability to unionise.
Despite these links, only three companies – Apple, Intel and Hewlett Packard Enterprise – provided information on how they are supporting collective worker empowerment through engagement with unions, or providing data on collective bargaining in their supply chains.
Given ICT companies' poor performance on purchasing practice, it is perhaps unsurprising that no company disclosed information on progress towards ensuring a living wage for workers in their supply chains. Only Hewlett Packard Enterprise was taking steps in this direction. Evidently, ICT companies aren't considering how their purchasing practices exacerbate forced labour risks, raising serious concerns about the sector's approach to human rights due diligence.
The results of the KnowTheChain ICT benchmark, in which companies received a median score of just 14 out of 100, revealed an abject failure of the sector's ability to identify forced labour risks in their supply chains or take adequate steps to address such risks. It is deeply concerning that, while most ICT companies are connected to countries at high risk of forced labour, only 6% scored more than 50 out of 100 on their efforts to address and mitigate forced labour.
Forced labour - and specifically debt bondage - is widespread in sourcing countries which rely heavily on migrant workers. As conflict, climate change and soaring food and energy prices drive higher numbers of people into poverty, the risk of forced labour is also increasing in middle-income countries around the world.
ICT companies must urgently adopt a more robust, worker-centric approach to tackling forced labour in their supply chains. This means workers, unions and civil society are given a central role in the design, implementation and monitoring of human rights due diligence processes – and that these processes include risk assessments, safe engagement with workers who may have been affected by any labour abuses, effective grievance mechanisms and adequate monitoring of suppliers. Companies also need to look at their purchasing practices and consider how their planning and forecasting affects workers in their supply chains.
The ICT sector has significant progress to make if it is to effectively address forced labour risks and impacts, but better practice by some companies shows this is not impossible. With some effort, business models can be transformed to ensure respect for the rights of vulnerable supply chain workers who build the technology we use every day.
---
Any views expressed in this opinion piece are those of the author and not of Context or the Thomson Reuters Foundation.
---
Tags
Tech and inequality
Workers' rights
---