Meet Context: Our new journalism platform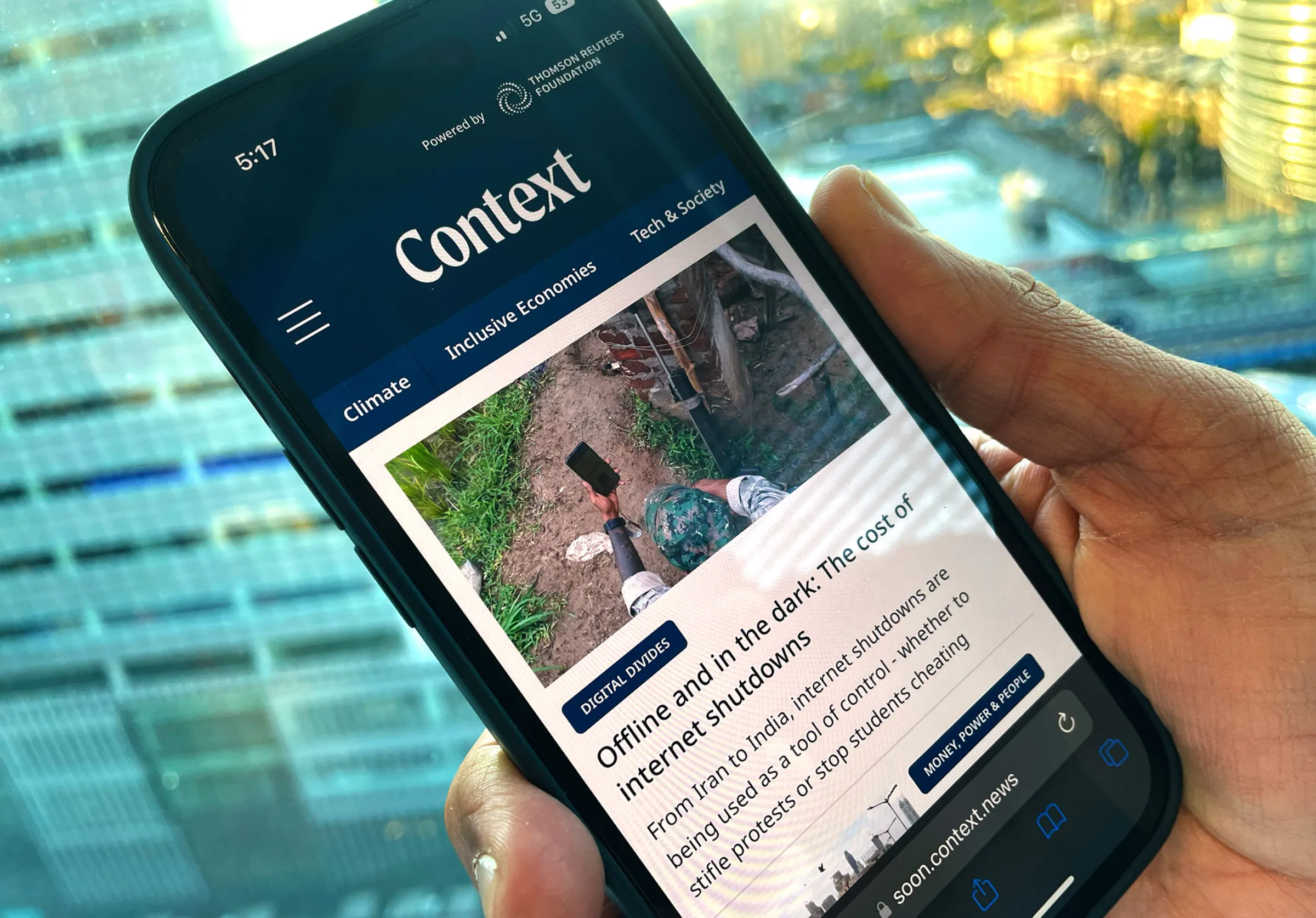 The Thomson Reuters Foundation has launched a new global journalism platform named Context
What's the context?
The Thomson Reuters Foundation has launched Context - a new digital platform that covers three critical issues of our time: climate change, the impact of technology on society and the need for more inclusive economies
Yasir Khan is the Editor-in-Chief of the Thomson Reuters Foundation.
I want to tell you about something truly transformative – and truly exciting - that we're doing at the Thomson Reuters Foundation.
We've stopped publishing on our news site - news.trust.org - and launched this ambitious new journalism platform: Context.
The Foundation's legacy of world-class journalism spans more than two decades and, during that time, we have worked hard to centre people in our work and tell stories about the impact of global forces on communities around the world.
Guided by the Thomson Reuters Trust Principles of accuracy, balance and freedom from bias, our award-winning news team stretches from Bangkok to Bogota.
We have covered some of humanity's biggest challenges, including the human impact of climate change, modern slavery, humanitarian crises, women's rights, LGBTQ+ rights, the rise of gig work and more.
We are now drawing on this legacy to bring you Context, which will be anchored around three of the most critical issues of our time:
Climate change
The impact of technology on society
The need for more inclusive economies
Why are we doing this?
First, the ways in which - and the reasons - our audiences consume news have evolved since our news desk was established in the late 1990s. Almost two-thirds of our readers consume our journalism on mobile phones. A quarter come to us via social platforms.
So, we've adapted to their needs and built Context with user experience at its core. Our visitors can now move through an uncluttered, well signposted environment to find what they've come for or discover things that interest them.
Second, we see over and over again how interconnected the topics we cover are. Much of tech journalism is also economic journalism and vice versa. Climate journalism is, of course, relevant to almost any story you can think of and no longer a niche concern. We have built a platform that embraces these overlaps and helps audiences explore them.
Third, we wanted to give our journalism a distinct look and feel and make it stand out as a digital-first product. It's important to freshen up every so often, and this is us freshening up.
Who is Context for?
If you're reading this, it is for you.
Our global audience has grown significantly over the years. These are people who care about the world and want to make informed choices about how they live in it.
Our readers are very often professionals who work in climate-related industries, policy making, government, NGOs, foundations, think-tanks, the tech sector, social enterprises and academia. They want journalism with depth, insight and on-the-ground perspectives that empowers them to make meaningful decisions in their fields of work.
They want to know better so they can do better.
Know better. Do better.
You will notice this tagline under our logo on our new site.
It is taken from Maya Angelou's words: "Do the best you can until you know better. Then when you know better, do better."
At Context, these are words to live by.
We want our journalism to be useful and our stories to do more than just talk at our audiences.
We want our work to give you a deeper understanding of humanity's greatest challenges - perhaps even help you to tackle them.
We want to spark ideas, challenge preconceptions and uncover little-known details.
The better you know, the better you can do.
Changes and constants
Context is a major milestone in our growth and building it has brought about a lot of change in our newsroom. But change has its limits. There are constants.
Let me tell you a story:
"So what's the next big thing in journalism?," a news boss once asked me during a job interview.
"It's journalism," I replied. "It has always been the big thing and it always ought to be."
As we launch our new platform, we'll promise you this: fair, accurate and impartial journalism will continue to be our big thing. That will not change.
Come check us out at context.news, try our newsletters, or get in touch here or find us on Twitter, Instagram, Facebook and LinkedIn.
We're always happy to hear from you.
---
---