Refugees face winter on streets as UK clears asylum backlog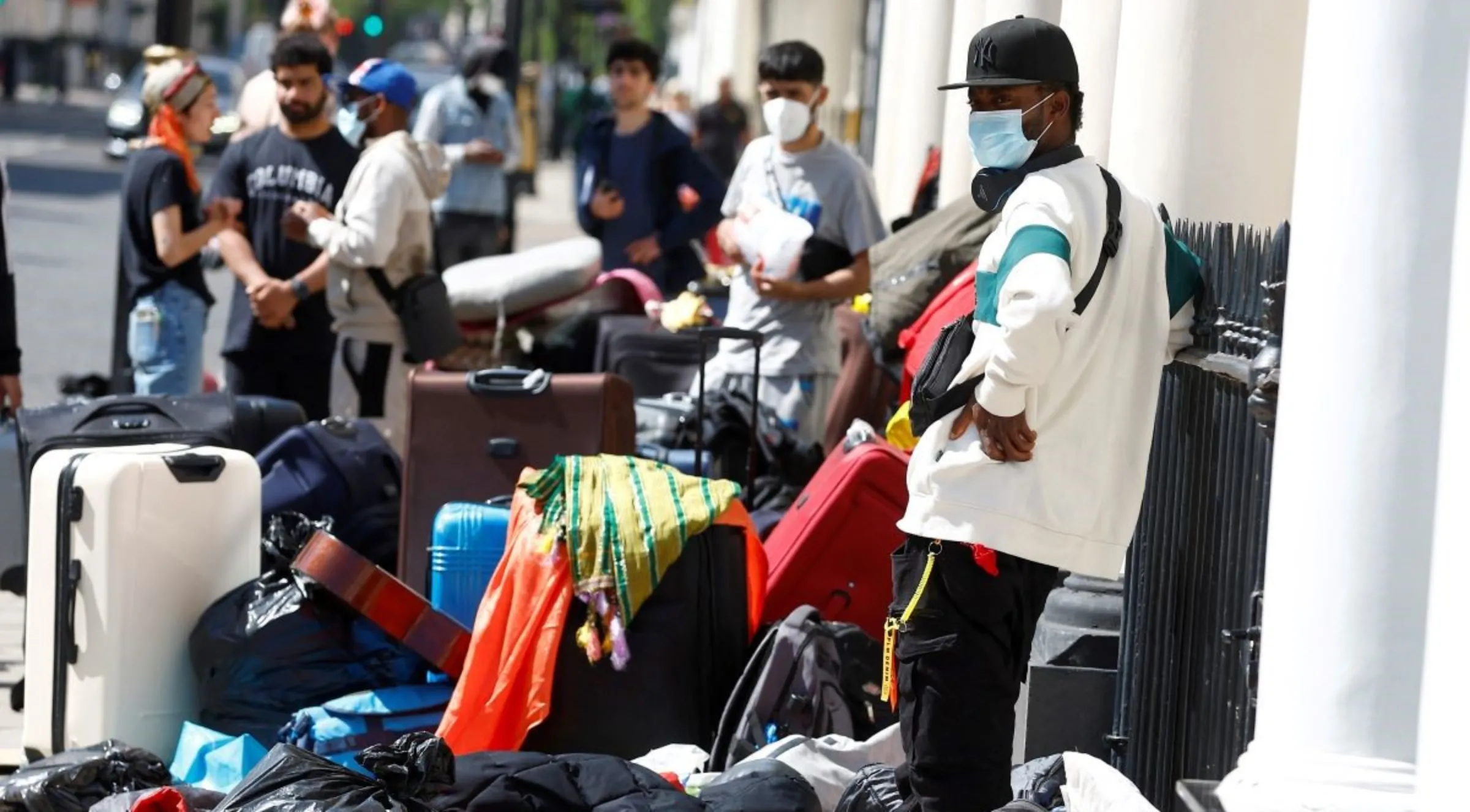 People believed to be asylum seekers stage a protest over the condition of their accommodation, outside of a hotel in London, Britain, June 2 2023. REUTERS/Peter Nicholls
What's the context?
As UK's Home Secretary vows homelessness crackdown, refugees risk ending up on streets because of rule change
Many asylum-approved refugees given a week to find homes
Up to 53,000 refugees face homelessness by end of the year
Government proposes to clamp down on rough sleepers
LONDON - When Mishaal was granted refugee status in August after arriving in Britain in 2021, it was the first time the stateless Kuwaiti had received legal recognition in his life.
As a member of the bedoun community - which accounts for around 85,000 people in Kuwait, according to official data - Mishaal said he finally felt he was able to "live as a human being" and plan his future.
"But that happiness didn't last long," he told Context. He did not disclose his full name or location to protect his privacy.
A month later, he received an eviction letter instructing him to leave his government-run asylum accommodation within seven days even though he was still awaiting a UK residency card which would allow him to work, open a bank account and rent.
"When you're kicked out of (asylum) accommodation, no hotel or any place would let you in without ID. You can't work without ID," the 29-year-old said in Arabic through a translator.
"I feel like I am handcuffed. I can't do anything," said Mishaal who, with the help of support workers, has since found a hostel to stay in as he waits for his residency card.
Cases like Mishaal's are becoming more common and this is because, charities say, in August the Home Office interior ministry changed the way it implements the so-called move-on period between the granting of asylum and the requirement for a refugee to find their own place to live.
The 28-day move-on period now starts from when people receive their asylum decision letter, rather than from when they receive a residency card, according to charities. Some refugees, like Mishaal, are then given just a week to vacate their asylum accommodation.
The Home Office did not respond to requests for comment.
The British Red Cross said up to 53,000 refugees could become homeless by the end of the year if the government doesn't act urgently to support them as it clears the asylum backlog, which rose by 44% last year to reach more than 175,000 in June.
Instead of handing out advice on jobs and housing, frontline workers now find themselves giving out sleeping bags and cold weather gear.
"When they get their status, instead of it being a huge relief and a moment of joy and celebration, they're panicking. They simply don't have enough time to be able to move on," said Ellie Shepard, head of refugee support at the British Red Cross.
"They should be stepping into a new life and integrating in the UK. But all we can say to them is, 'Actually you need to prepare for homelessness,'" she said in a video interview.
"Perfect storm"
Britain's interior minister Suella Braverman, who is in charge of the Home Office, on Saturday drew widespread criticism when she said she would propose new laws to limit the use of tents by homeless people. She said many of them were foreigners who see it as "a lifestyle choice".
Braverman has called for a global overhaul of Britain's approach towards immigration, which is likely to be a key issue at the general election expected next year.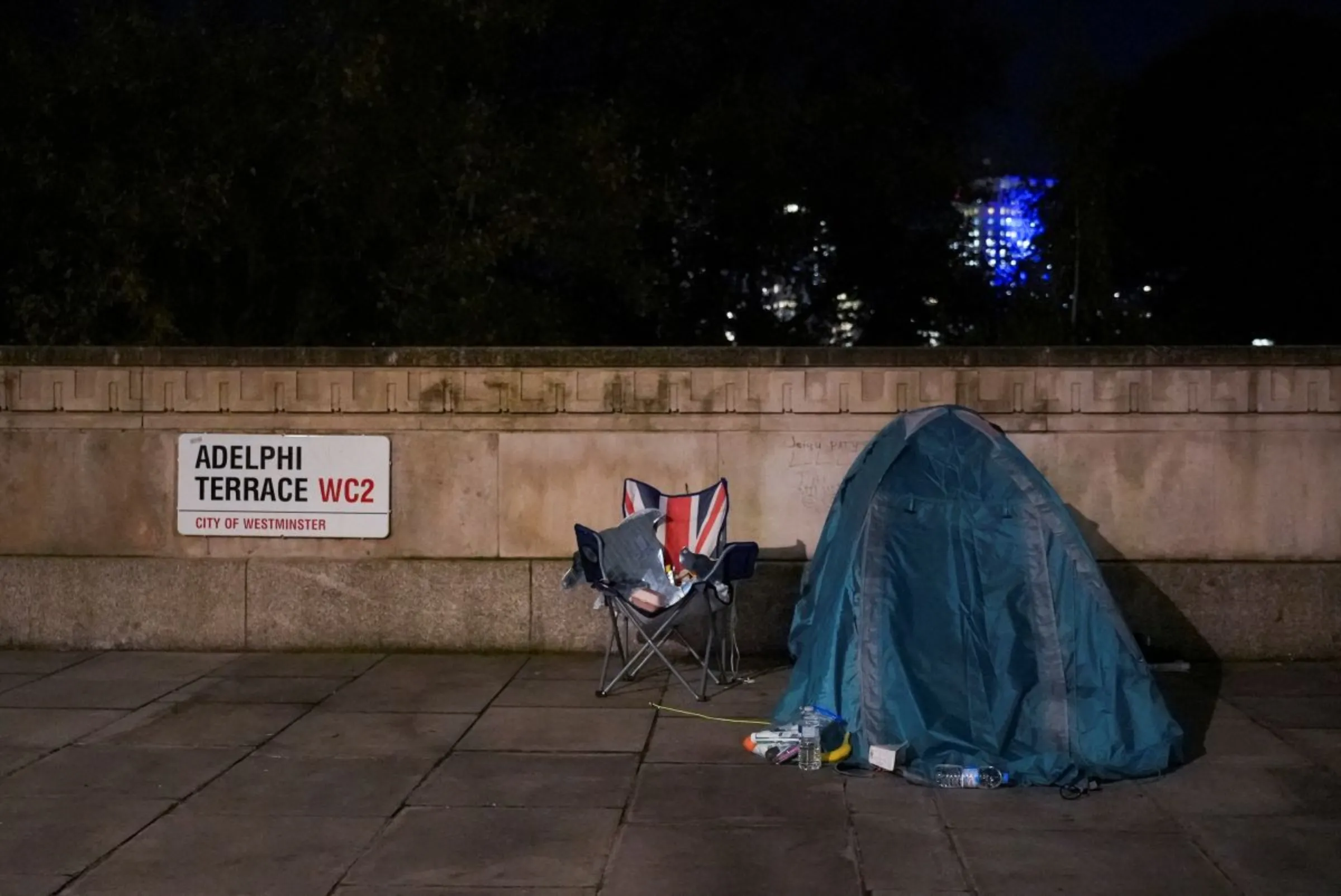 Prime Minister Rishi Sunak has made "stopping the boats" - the arrival of migrants across the Channel - a priority but as yet his government's policies, such as deporting asylum seekers to Rwanda, have been blocked by legal challenges.
People claiming asylum in Britain are not allowed to work until the government has verified they are genuine refugees, and in the interim receive free government-provided housing and a weekly allowance of about 47 pounds ($58) per person.
Once they are granted refugee status, they gain access to the benefits system and the right to work, but the 28-day move-on period was already problematic because some face language barriers and struggle with paperwork.
Lawmakers and charities have long called for this period to be increased to 56 days while support workers say it is not possible to expect refugees to be able to move on from asylum accommodation in just seven days, as is happening in some cases.
The British Red Cross said it saw a 140% increase in refugee destitution since August when it, like many other charities, first heard about the eviction notices.
"It's the speed of those (asylum) decisions, the eviction notices and the lack of time to prepare properly," said Shepard.
"It's a perfect storm."
Anti-trafficking charities say modern slavery survivors claiming asylum were also at risk.
Ruth Orange, a senior service manager at Causeway, a modern slavery support charity, said a trafficking victim who was granted legal status had to live in a nearby park after he was sent a seven-day eviction notice.
"Because they've been trafficked once, there's a risk that it could happen again. They're in such a vulnerable position.
"Go into the cold"
With the number of homeless people reaching around 300,000 in England and Wales in 2022-23, according to official data, local authorities say there is simply not enough housing.
Shaun Davies, chair of the Local Government Association said councils were working to deliver government asylum and resettlement schemes but the pressure was mounting.
"There continues to be a crisis across the refugee and asylum system," he said in emailed comments.
The Refugee Council said administrative errors were exacerbating the issue, with reports of residency cards, known as biometric residence permits (BRP), sent to the wrong address or to the asylum hostels refugees had already left.
British Red Cross caseworker Erik Schmidt said BRPs were frequently issued with incorrect names or details and it took weeks to have them re-issued. The Leicester-based asylum and refugee caseworker said he was overwhelmed with appeals for help.
"We're not specialists in homelessness support, we're not a shelter ... The worst part about my job is having to tell someone to leave and go into the cold."
Having left his family in Kuwait nearly five years ago to begin his long journey to Britain, Mishaal said all he could do was wait for his residency card.
"I don't have family in the country. I don't have anyone I know. I do have plans, but when you don't have stability, you can't do anything."
($1 = 0.8055 pounds)
(Reporting by Lin Taylor, Editing by Clar Ni Chonghaile)
---
---
Tags
Government aid

Wealth inequality

Housing

Race and inequality

Poverty

Cost of living

Migration

Economic inclusion
---