How can India hold onto space for nature?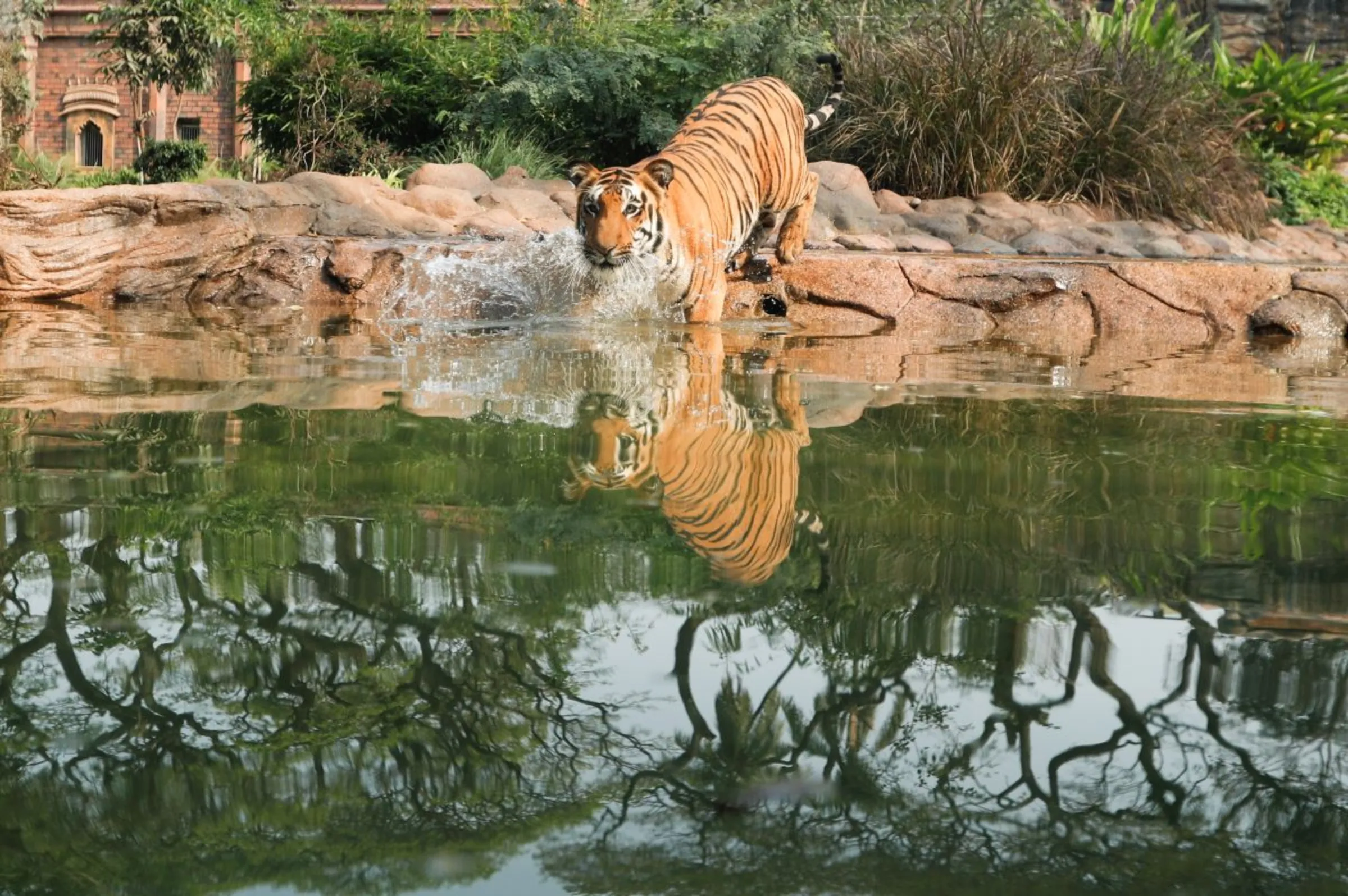 A tiger gets into water inside an enclosure at a zoo, in Mumbai, India, February, 15, 2021. REUTERS/Francis Mascarenhas
On limited land, India must grow food, site renewables and build other infrastructure. Here's how to preserve nature while doing that
Siddarth Shrikanth is a climate investment professional and author of "The Case for Nature".
India now has over 1.4 billion people who rightly demand jobs, nutrition and higher living standards. Amid an escalating climate crisis, the country must rapidly build out clean energy, industry and transport infrastructure in addition to addressing longstanding development challenges.
But India remains home to some of the most biodiverse landscapes on earth. With so many competing priorities, can the country really afford to make space for nature?
My new book, "The Case for Nature", argues that despite these other imperatives, nature is far from a nice-to-have.
Functioning natural ecosystems underpin our economies and societies, and enhancing them can unlock tangible benefits for people and the planet.
The nature challenge is deeply relevant to India's climate ambitions.
In 2021, the government signed up to achieve net-zero emissions by 2070, and source half its energy from renewable sources by 2030.
Despite eye-catching pledges on hydrogen and green steel, and the rapid build-out of solar and wind generation, India's progress remains "highly insufficient' according to Climate Action Tracker.
India's latest nationally determined contribution, or NDC, calls for the creation of a carbon sink equivalent to 2.5 to 3 billion tonnes of CO2 by 2030.
That is a monumental task that cannot be achieved if it does not rethink its approach to conserving and restoring natural ecosystems and managing agricultural land.
Simply planting trees, as stakeholders of all stripes have sought to do, is not the answer. Study after study has shown that tree planting schemes in isolation largely fail.
Natural carbon sinks are vital, but not a silver bullet to tackle climate change. What India instead needs is an integrated approach for enhancing its natural capital.
That is the stock of natural assets it holds, and the flows of "ecosystem services" from freshwater, productive soils and other assets they can offer to people.
Harnessing tourism
India's growing nature-based tourism economy is one area where the economic benefits of conservation are being harnessed.
When Project Tiger, the government's conservation plan for the species, was launched 50 years ago, reversing the decline of a population that stood at just 268 seemed far-fetched.
But the latest tiger census in April suggested the population had grown nearly twelve-fold by 2022. Much of that success is down to better enforcement of anti-poaching laws, and the legal protection of habitats.
The states that have been most successful, including Madhya Pradesh and Karnataka, have also built thriving nature-based tourism economies that draw in visitors from across India and the world.
The local employment generated has been a critical factor in securing buy-in from the communities that must live alongside dangerous predators and hungry herbivores.
There remains more to be done to ensure eco-tourism is thoughtful and low-impact, and that these benefits are shared more broadly with communities.
Worryingly, the Union Government in April proposed an amendment to the Forest Conservation Act of 1980 that risks diluting protections for forests in border regions and for infrastructure projects.
The forward-looking Forest Rights Act of 2006 that attempted to balance the rights of local communities to use forests in traditional ways with the conservation imperative has been poorly implemented in most states.
Maintaining and strengthening legal protections is only part of the answer. What happens beyond protected areas is perhaps even more important for India's natural ecosystems.
Over 60% of the country is currently used for agriculture.
Continued expansion and intensification risks turning what were once vast, interconnected natural ecosystems into little more than a set of scattered wildlife refuges in a landscape increasingly defined by human influence.
But a different way is possible. Regenerative practices such as no-till farming and cover-cropping can help bring life back to soils, and agroforestry can integrate trees into cropland in ways that create both wildlife habitats and additional income streams for farmers.
Alongside policy frameworks and corporate commitments to source sustainable crops, nonprofits are taking the lead in building local capacity.
In Madhya Pradesh, Earth Focus is helping Gond and Baiga communities around Kanha National Park implement agroforestry rather than expand rice paddies.
In the Araku Valley of Andhra Pradesh, the Naandi Foundation is helping turn degraded land into biodiverse coffee agroforestry systems.
In Punjab, the Nature Conservancy is working to implement no-burn regenerative agriculture, using a low-cost piece of machinery called the Happy Seeder to improve productivity, soil health and air quality.
Rethinking cities
Nature needs to be brought into India's rapidly growing cities too. With ever-hotter summers, buildings and roads create urban heat islands that can be 1–4 degrees Celsius warmer than surrounding areas, an effect that can be reversed by the shade of trees.
Restoring trees, water bodies and mangroves in and around cities can help address the seasonal flooding that submerges many Indian cities.
While the build-out of grey infrastructure has led to the loss of tree cover across all urban centres, policymakers are beginning to take notice.
Mumbai's 2021 Climate Action Plan was one such initiative, making biodiversity and urban greening a key plank of its strategy to improve the wellbeing of its residents.
"The entire city has been built over a delta … over mudflats and wetlands. What does it mean to be able to bring back the natural flood resilience that the city used to have at one point?" Lubaina Rangwala of the World Resources Institute, a think-tank that helped develop the plan, told me.
"It means rethinking what the aesthetic of modern development looks like".
Despite all the ways in which nature can be woven into our economies, we need to acknowledge that there may be tricky trade offs in specific places.
The need for solar and wind power might threaten some bird habitats, and feeding a growing population may restrict the amount of land that can be fully restored to its pre-human state.
Rather than pretend every situation can offer a win-win, we need to resolve these trade-offs openly and transparently, in consultation with local people whose voices too often go unheard.
But these trade-offs are less common or daunting than it might initially seem.
Rather than follow the same path as much of the developed world, belatedly atoning for ecological sins decades from now, India has a once-in-a-generation chance to go beyond net-zero emissions and build a genuinely nature-positive economy.
---
Any views expressed in this opinion piece are those of the author and not of Context or the Thomson Reuters Foundation.
---
Tags
Adaptation

Agriculture and farming

Biodiversity
---