AI to content moderation: Five highlights from RightsCon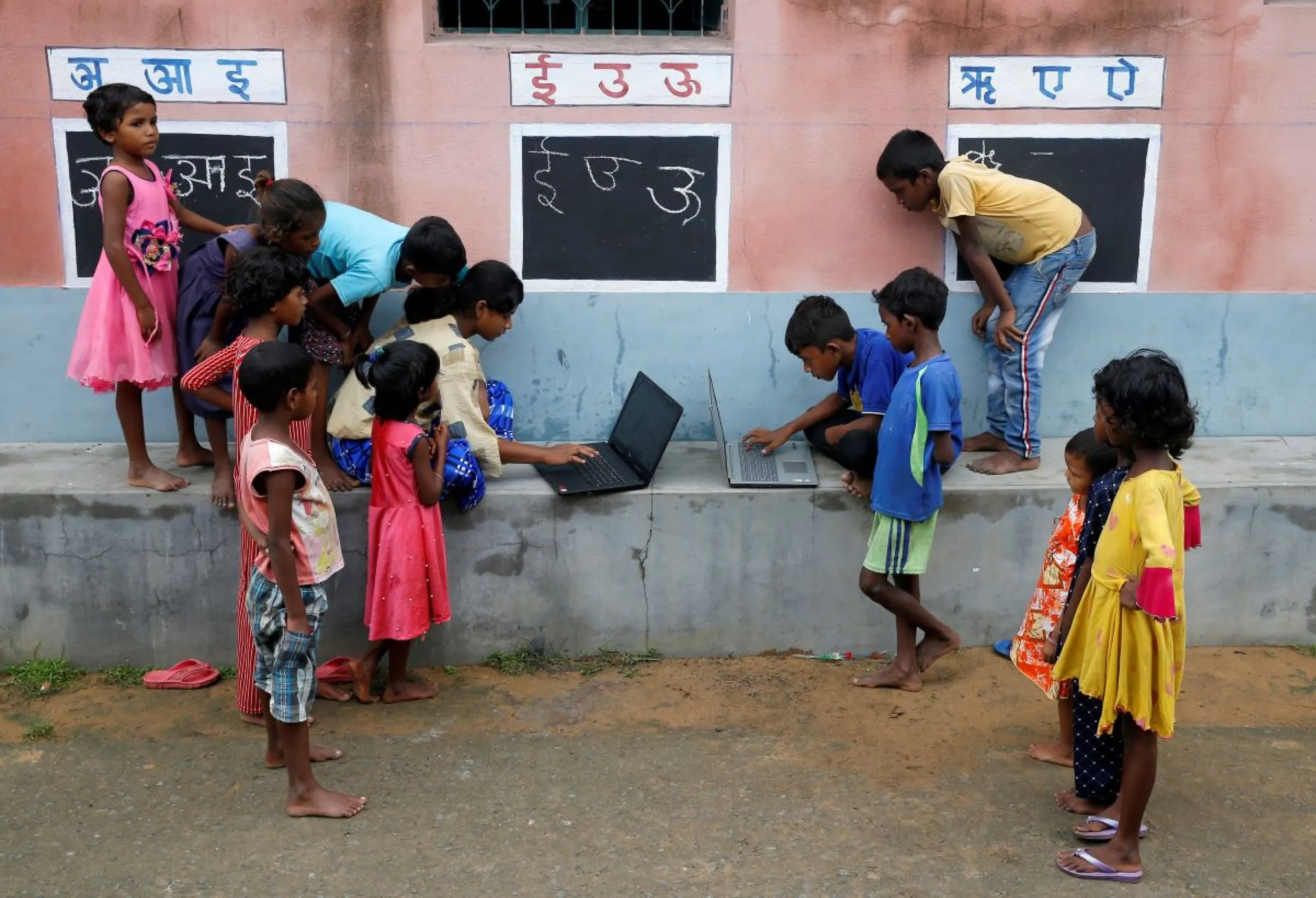 Children, who do not have access to internet facilities and gadgets, use laptops in an open-air class outside a house with the walls converted into black boards, at Joba Attpara village in Paschim Bardhaman district in the eastern state of West Bengal, India, September 13, 2021. REUTERS/Rupak De Chowdhuri
What's the context?
This year's RightsCon conference debated digital rights issues ranging from regulating the potential harms of AI to evading surveillance
RightsCon - the annual digital rights conference hosted by advocacy group Access Now - is a rare place where officials at big tech companies mix with some of their biggest critics.
Executives and government officials share the spotlight with whistleblowers and civil society organizations that lobby for tech policies that protect the world's most vulnerable users.
This year's event in San Jose, Costa Rica hosted a broad set of conversations - from technical demonstrations for evading surveillance and censorship, to role-plays on how to respond to internet shutdowns, and policy brainstorms for how to guarantee human rights in the metaverse.
Here are five major takeways:
1. AI harms
Artificial intelligence dominated the debate at RightsCon. Dozens of panels and speakers addressed potential harms of AI and reviewed regulatory proposals - a marked increase from previous years.
"AI is reinforcing the power of big tech," said Courtney Radsch, a fellow at UCLA Law School's Institute for Technology, Law and Policy, which hosted two roundtables on AI regulation.
"Because AI depends on data, it increases the data-fication of everything."
In the midst of RightsCon, talks broke down in the European Parliament for what would be the world's most sweeping AI regulations over disagreement about rules for police deployment of AI-powered facial identification systems in EU member states.
"Responsible AI has a role to play but we recognize risks of these technologies and they need to be led by human rights standards," said Kent Walker, president of global affairs at Google, during the event's opening ceremony.
2. Whistleblowers and defectors
Although the event is sponsored by major tech companies including Meta, Microsoft, and Amazon, whistleblowers and tech defectors were also a strong presence - in particular former Twitter employees.
One group of former Twitter workers held a panel where they warned that social media platforms were not prepared for the upcoming 2024 U.S. presidential election.
Former Twitter employee Anika Collier Navaroli - who testified before the U.S. Congress that the company did not do enough to curb violent content leading up to the Jan. 6 storming of the U.S. Capitol - lodged a direct appeal for more whistleblower support.
"We need more resources for whistleblowers when they come forward," she said. "We need safe spaces for them to come forward and share what they know."
3. Encryption under attack
With governments around the world - including the U.S., Britain and Australia - considering proposals that could make it more difficult to operate encrypted messaging apps, representatives of those companies spoke out at the conference.
Will Cathcart, head of WhatsApp at Meta, said encryption "is under attack in jurisdictions around the world."
Signal Foundation president Meredith Whittaker, who had previously threatened to leave the UK if the government tried to restrict encrypted messaging, said "we do not have a reason to exist if not to provide a truly private mechanism for communications".
4. Spyware
Spyware is a perennial issue at RightsCon, where many participants hail from countries with security services that regularly hack into the phones of journalists, dissidents, and human rights defenders.
A table set up by security researchers to detect whether spyware was present on participants' phones was mobbed for the entire four-day conference.
In 2022, Costa Rica - where RightsCon was held - became the first country to advocate for a global moratorium on the spyware trade.
Ahead of the conference Amnesty International called for "an immediate global ban on highly invasive spyware".
At RightsCon, Fionnuala Ní Aoláin, the U.N.'s Special Rapporteur on counter-terrorism and human rights, outlined her proposal to tackle spyware at the U.N. level, which involves creating legal liability for companies that sell tools to governments without human rights diligence.
5. Real-world borders
Though RightsCon is a global conference designed to foster cross-border debate about human rights in tech, the event was overshadowed by the fact that over 300 participants were barred from the event by Costa Rican authorities because of visa issues.
Last week, conference organizers Access Now announced that more than 300 people from 64 countries "have been excluded from traveling for in-person participation".
That meant that several speakers on panels devoted to issues in Africa were unable to participate in person.
Speaking at the conference on Tuesday, Timnit Gebru, an Ethiopian-born AI researcher, directly addressed the issue, saying that the "the biggest apartheid system that exists today is the visa system".
(Reporting by Avi Asher-Schapiro, Editing by Zoe Tabary)
---
---
Tags
Facial recognition

Digital IDs

Cryptocurrency

Tech regulation

Data rights
---