Does social media harm kids' mental health?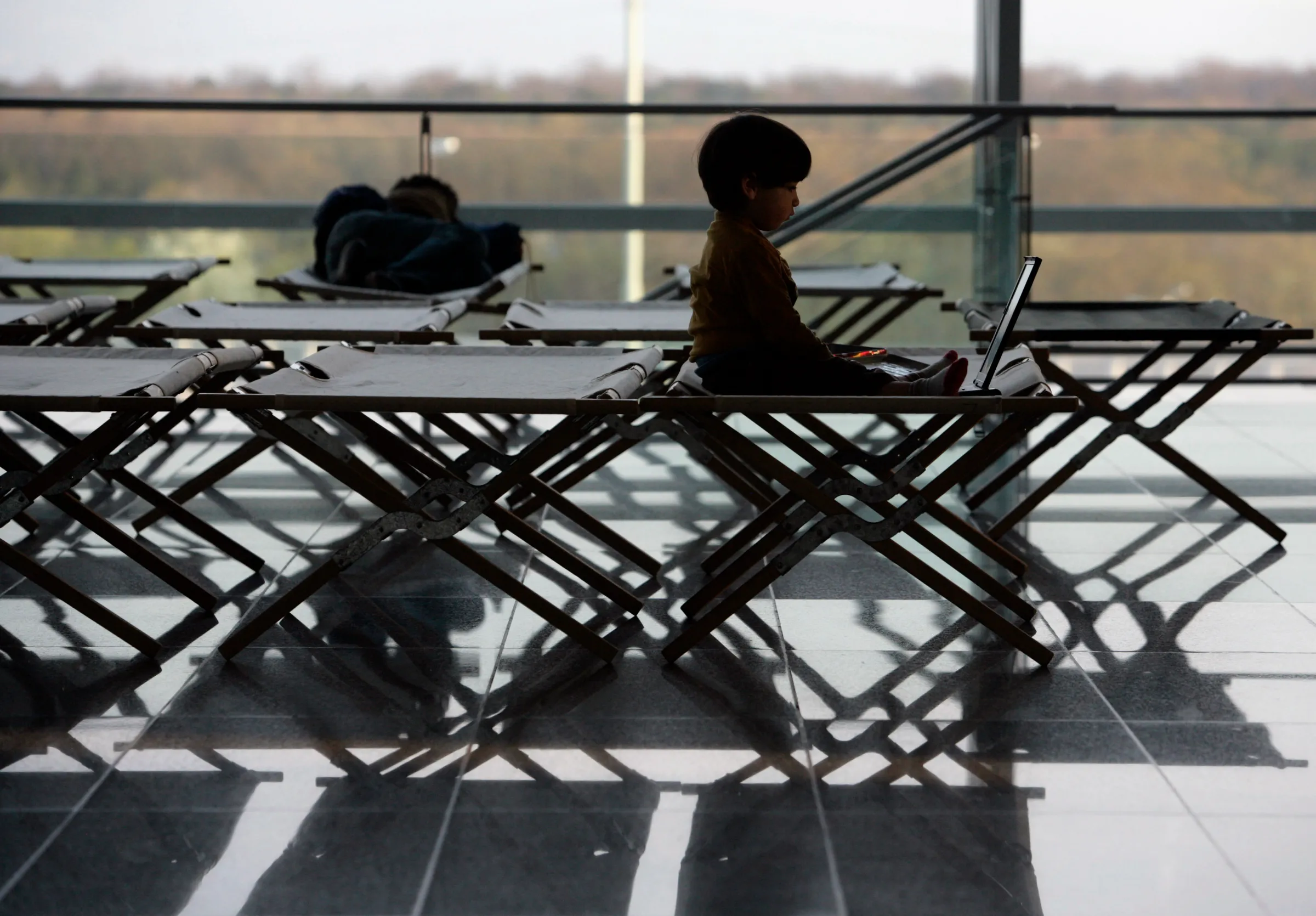 A child using a laptop sits on a camp bed, provided by airport operator Fraport, at Frankfurt airport April 16, 2010. Due to a huge ash cloud from an Icelandic volcano, that caused air travel chaos across Europe, passengers in Frankfurt were left stranded and forced to stay overnight. REUTERS/Ralph Orlowski
What's the context?
A slew of recent studies have probed the links between children's mental health and social media use. Here's what they found
The mental health of American teenagers, especially girls, has got worse in the years since apps including Instagram and Snapchat took off. But while many teens, parents and teachers feel sure of a link, academic research is far less conclusive.
Between 2011 and 2021, the number of people aged 12 to 17 with major depressive episodes in which they had trouble sleeping, eating or with their self-worth increased 149%, with girls particularly affected, according to data by the U.S. National Survey on Drug Use and Health.
During the same period, the number of teens who died from suicide rose by 45%, fatal injury data from the U.S. Centers for Disease Control and Prevention (CDC) indicates.
Some researchers have warned that teens who use social media - particularly if they use it for hours each day - are at higher risk of depression, anxiety, self-harm and suicide. Several studies have found girls are worse affected.
But others dispute a clear connection between mental health problems and social media, noting that any potentially harmful effects vary widely according to users' underlying emotional state, their usage patterns and other factors.
Some say it is impossible to separate the impact of social media from other mental health triggers such as climate change anxiety, racism and societal pressure over body image.
Psychologists Jonathan Haidt and Jean Twenge, who have argued there is a link between increasing rates of mood disorders and the rise of social media platforms, have put together an extensive document summarizing the relevant research on the impact of social media on mental health.
Here is a summary of key findings on the issue:
What do studies show about social media and mental health?
Most research has focused on the effects of screen time in general, as opposed to social media use specifically, mostly concluding that teenagers who spend too much time on digital media are more likely to be unhappy or have depression, suicidal thoughts, or past suicide attempts.
Most studies have surveyed only those aged 13 and over - the age at which social media platforms let young people open accounts.
Other research that focused on the impact of social media use on young adults has also found a link with increased rates of depression and social isolation.
In 2022, researchers found that using Instagram for a long time may increase depressive symptoms, low self-esteem and eating disorders. In several surveys, teens have said the platform has a negative effect on their mental health.
Regarding self-harm, analyses of social media have found that shared images and videos may normalize self-harm among the young, but can also provide positive messages for those trying to stop self-harm behaviour.
Some studies say social media apps foster addictive usage patterns, such as "doomscrolling", though digital addiction is still being researched.
Other research has indicated that social media use does not lead to depressive symptoms among adolescents and young adults, or that the negative impact of digital technologies on the well-being of teens is too small to warrant policy change.
A review of 93 articles found limited evidence on the link between the use of Instagram and an increase in anxiety and depression, and a stronger association with social comparison, body image, and eating disorders.
Who appears to be at most risk?
Research mostly agrees that girls are more negatively affected by screen time use because they spend more of that time on social media, whereas boys primarily play video games.
The main difference is that, even when they are away from the screen, girls may still dwell on the content they have been viewing, for example with regards to their body image.
A 2019 study in Britain found that more girls than boys used social media for three or more hours per day and were more likely to be involved in online harassment, have poor body image, low self-esteem and poor sleep.
Even studies that do not conclusively link social media use with depressive symptoms among teens found that these symptoms are more frequent among girls who consume social media for long periods of time.
A possible explanation for this link is that social media promotes social comparisons and warps the perception that girls have of themselves in the process.
Why is there no conclusive evidence on social media harms?
Many studies focus on screen time use, a term for which there is no unique definition. It can include watching movies, reading the news, or playing video games, making it difficult to pinpoint any specific harm caused by social media.
There is no consensus on how much screen time use is too much, or on how quickly any depressive symptoms manifest following social media use.
Multiple studies are based on surveys in which teens report the amount of time they spend on social media, which is difficult to measure. In general, people are not good at measuring the time they spend on an app, failing to include the time spent planning content, taking pictures, or editing videos.
On the other hand, when teenagers say social media platforms affect their well-being, they may exclude other factors behind their emotional state such as interpersonal conflicts at home or school, or pre-existing depressive symptoms.
A common critique of the study of social media harm is the difficulty of isolating it as the single factor driving suicide and mood disorders. Teens are exposed to other personal and global factors - climate change, pandemic, economic crises – which could also be affecting their emotional state.
What comes next?
To establish the effects of social media use and what parents can do to protect their children, more high-quality research is still needed, experts say.
For example, there has been little research into the effects of individual apps - how young people interact with TikTok and Instagram might be different.
Likewise, there is not enough evidence on the impact of social media on pre-teens, or on the individual characteristics that make a person more vulnerable to harm.
It also remains poorly understood what part of a social media interaction - whether posting, viewing, commenting or the role of in-app content algorithms - is driving any negative effects.
(Reporting by Diana Baptista in Mexico City and Avi Asher-Schapiro in Los Angeles; Writing by Diana Baptista; Editing by Helen Popper.)
---
---
Tags
Online radicalisation
Content moderation
Facebook
TikTok
Tech and inequality
Instagram
Tech regulation
Meta
Social media
---