Bangladesh is a global pioneer in preparing for climate migrants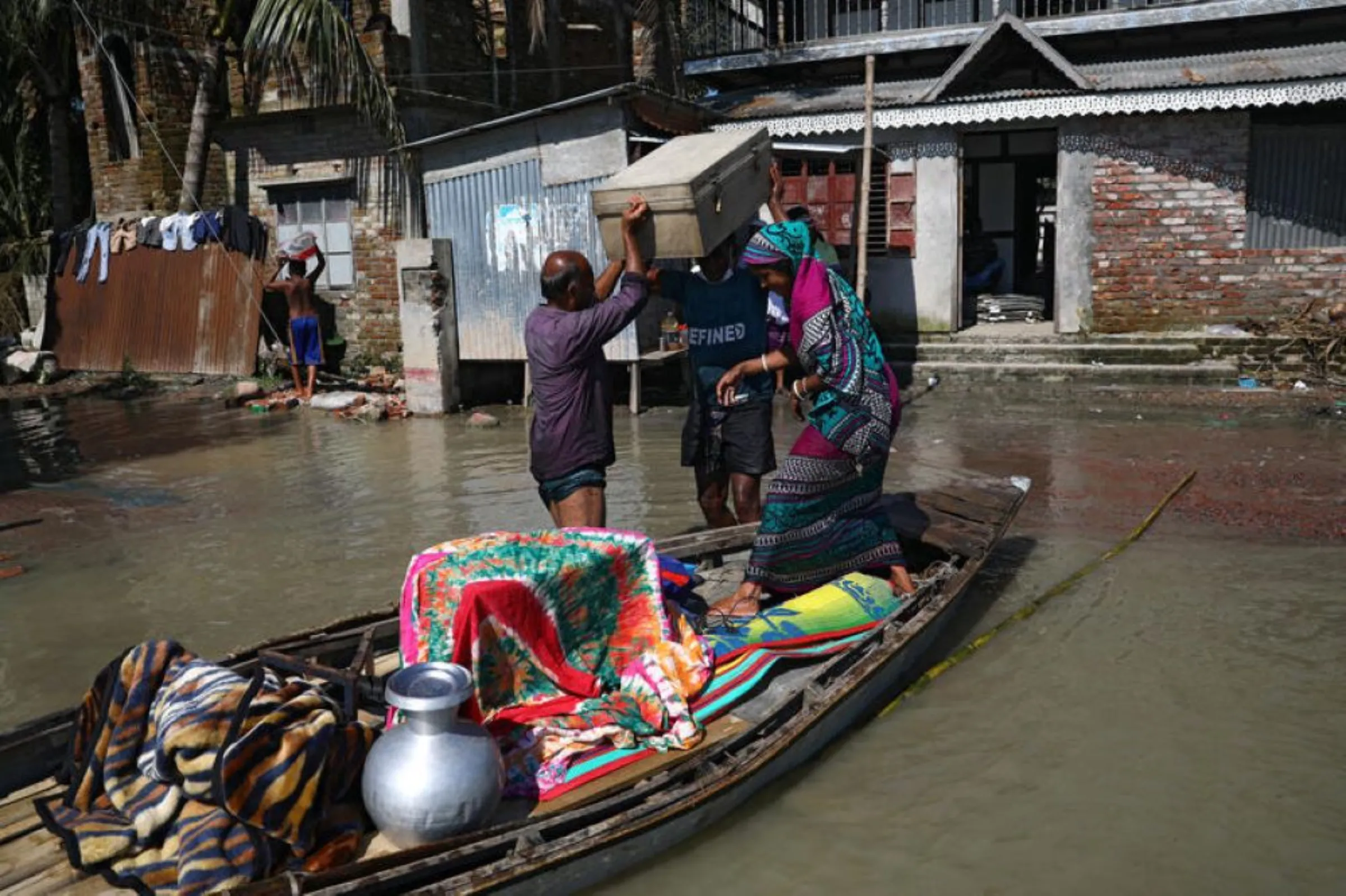 A family moves to a safe place with their belongings after the flood situation worsened in Munshiganj district, on the outskirts of Dhaka, Bangladesh, July 25, 2020. REUTERS/Mohammad Ponir Hossain
To offer people uprooted by climate impacts a better future, urban centres are seeking local adaptation solutions, including jobs
Ban Ki-moon served as the eighth secretary-general of the United Nations between 2007 and 2016 and is Chair of the Global Center on Adaptation. Patrick Verkooijen is CEO of the Global Center on Climate Adaptation.
Within the next 25 years, more than 200 million people will move within their own countries because of climate change, the World Bank predicts. They will be driven out of their homes and villages because our warming planet is making some places unlivable. And they will head for larger population centres that hold the promise of jobs and a better life, but which might be struggling with climate issues of their own.
This is not just a future problem. Climate migration is already happening. UNHCR, the UN refugee agency, says over 70% of today's refugees and displaced people come from the most climate-vulnerable hotspots on the planet. How will towns and cities cope with such an enormous increase? And what should they be doing now to prepare for this huge influx of climate migrants?
Climate change may be a global phenomenon, but its impacts are felt locally. So it follows that solutions to this global crisis also have to be local.
Of course, ensuring that adaptation is locally led is easier said than done - but one country is showing the way forward. Bangladesh is encouraging small-scale, locally led climate adaptation solutions and putting the funding needs of the most vulnerable first.
The strategy is producing early results as Bangladesh adopts this bottom-up approach to mid-sized towns and cities.
'People's adaptation plan'
To scale up the creation of climate-resilient, migrant-friendly towns, the Global Center on Adaptation (GCA) and BRAC, an international development organisation based in Bangladesh, have launched a pilot program in Mongla, the country's second-largest seaport.
Mongla is already experiencing a large influx of climate migrants and faces significant climate threats, including rising salinity levels and a lack of fresh water. In response, the GCA and BRAC will help the local government work with urban residents and new arrivals to develop the People's Climate Adaptation Plan, which meets with their ideas and approval.
The goal is to make Mongla more friendly to climate migrants by providing more jobs and public services for an expanding population. Given the city is already an industrial hub, the migrants will be given access to skills training for formal employment, as well as alternative livelihood and income-generation options, particularly in nature-based solutions. At the same time, the port city aspires to be a model of disaster management planning, adaptation and resilience.
Global hub for local adaptation
Recent studies show that local leadership of adaptation projects can enhance efficiency and effectiveness, avoid duplication, and mitigate unintended consequences of climate and development programmes.
The catch is that local solutions to climate-crisis consequences have often proven difficult to finance. This can make them inappropriate, ineffective and leave intended beneficiaries powerless. Implementing and sustaining on-the-ground adaptation projects - such as climate-smart agriculture and upgrading homes and infrastructure to withstand flooding or extreme heat - requires a nuanced understanding of the local context and priorities. This knowledge is held by the affected communities themselves.
In Bangladesh, the Asian Development Bank has already provided $250 million of funding so that once the People's Climate Adaptation Plan's effectiveness is proven, it can be rolled out across some two dozen other cities in Bangladesh. This will help Bangladesh prepare for an estimated 13 million internal migrants who the World Bank estimates will be displaced by climate change by 2050.
These secondary cities are the country's first line of defence against the ravages of climate change. If they can successfully absorb the influx of climate refugees, so the thinking goes, it will prevent millions from heading straight to Dhaka, the overcrowded capital of 22.4 million people.
Recognizing Bangladesh's pioneering work developing local solutions for climate adaptation, the GCA has established a Global Hub for Locally Led Adaptation in Dhaka that aims to support a million climate-vulnerable migrants in Bangladesh and to serve as a global platform for climate adaptation knowledge and solutions for the urban poor.
The hope is that, when regions of our planet become uninhabitable due to climate change, as some already are, millions of climate migrants will be able to begin new lives in towns and cities that are both climate-resilient and ready to receive them. This will not only help to save lives and deliver economic returns, but also enable people to thrive in our new climate reality.
---
Any views expressed in this opinion piece are those of the author and not of Context or the Thomson Reuters Foundation.
---
Tags
Extreme weather

Adaptation

Government aid

Climate finance

Climate policy

Climate inequality

Loss and damage

Climate solutions
---