Uganda's Computer Misuse Act does not protect the common man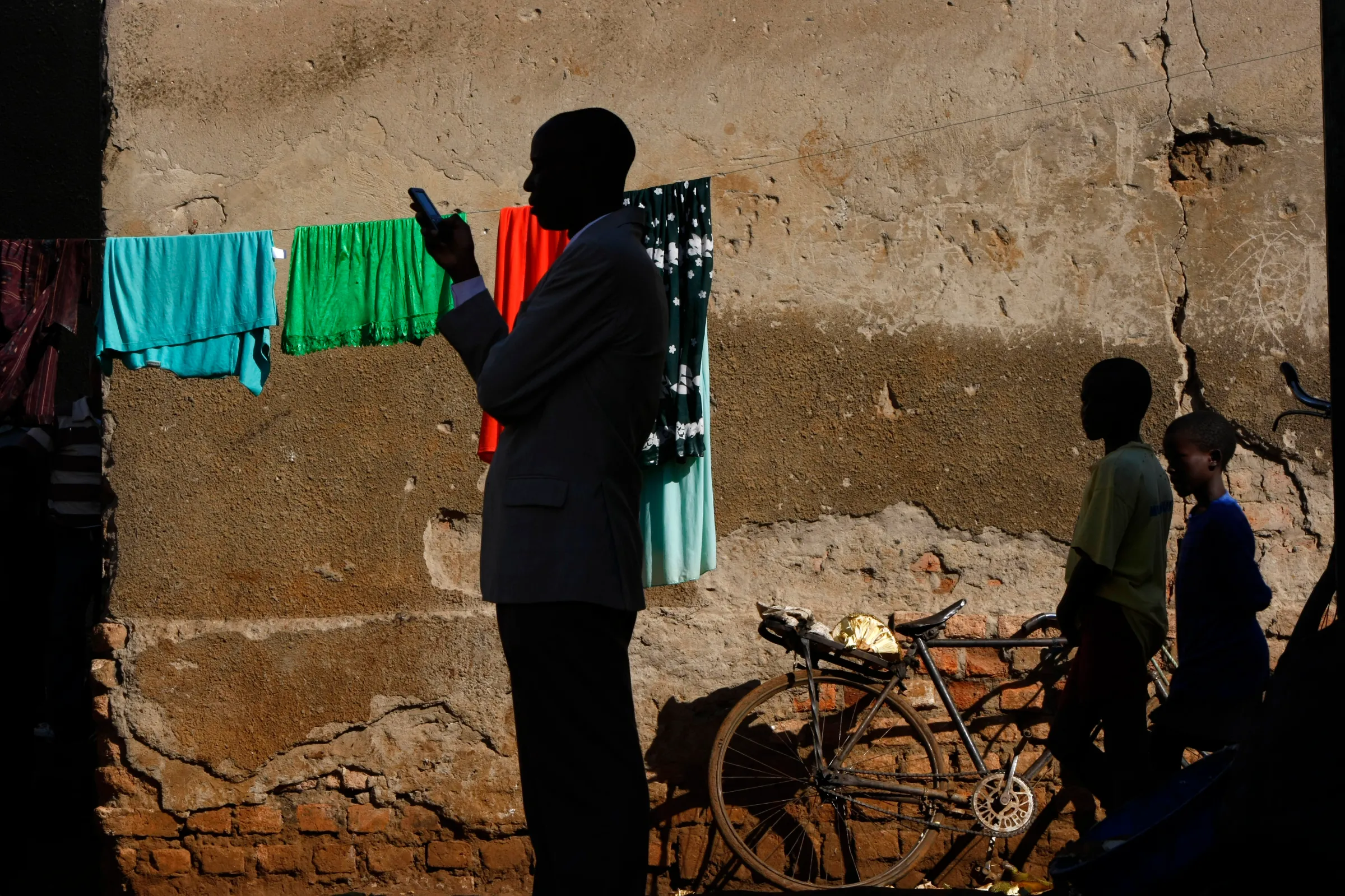 A town official accompanying visiting journalists sends a text message on his phone in the slum of Kachuf in the Masaka district of southern Uganda March 24, 2009. REUTERS/Darrin Zammit Lupi
The new digital communications law is meant to protect the political class, and is a further blow to free speech in the country
Morgan Muhindo is the surveillance and digital I.D. lead at Unwanted Witness
Last month, Ugandan President Yoweri Museveni signed into law the controversial Computer Misuse (Amendment) Act 2022, a fresh blow to free speech in the country, and cementing the nation's low rank on global human rights indices and rankings.
The new digital communications law bans people from using a computer to send any information that might ridicule or degrade someone, and forbids the recording or videotaping of anyone without their consent, with penalties including fines and jail time. Authorities have said it will curb hate speech and stop the spread of malicious information.
But media groups have petitioned Uganda's top court to scrap the new law which they say goes against the constitution and has crippled free speech in the country.
Uganda's internet penetration rate is about 29%, lower than neighbouring Kenya's at more than 50%. Yet despite the relatively high price of internet connectivity, omuntu wawansi or the common man in Uganda has embraced social media platforms and other online avenues even as the government has tried to limit freedom of speech and expression online.
The Computer Misuse Act comes in the wake of other restrictive regulations such as the registration requirement of data service providers, the earlier version of the Computer Misuse Act of 2011, the Interception of Communications Act that allowed the monitoring of certain communications, and the Over-the-Top Tax or Social Media Tax, which was abandoned after criticism for an equally harmful internet levy. In addition, Ugandans have endured internet and social media shutdowns during the 2016 and 2021 general elections.
The government of Uganda has been very resolute about regulating the digital space through such overreaching laws. Therefore, the Computer Misuse Act does not come as a surprise, but is rather a further step in the government's effort to unnecessarily and disproportionately curtail digital rights and media freedoms in the country. Yet the law has caused a wide public outcry.
For one, it is another hurdle in the country's ever shrinking civic space at a time when street demonstrations have become dangerous. Further, the law is so vague and overly broad that almost any kind of sharing of information and speech - including artistic expression, satire and jokes - and civil society advocacy online is criminalised. It goes against the fundamental requirement that penal laws be precise and clear, and give fair warning to citizens of what is prohibited and what is allowed.
The new law takes aim at legitimate actions of citizen journalists advancing accountability and transparency – for example, it does not exempt the recording and sharing of photos and videos of errant public officers, or private individuals flouting traffic laws, which should be a protected form of free expression. So anyone who records and shares videos and photos for legitimate purposes risks arrest and fines, and a long trial in a criminal justice system mired in a massive backlog.
The law also criminalises hate speech, but what constitutes hate speech is not defined clearly, and the likely consequence is that it will be left to the whims of law enforcers. Whereas hate speech must not be tolerated, it does not warrant unfettered limitation of protected speech and freedoms, but rather guarding against incitement to discrimination, hostility and violence, as recommended by the United Nations.
Given Uganda's human rights record, one cannot give enforcers the benefit of the doubt and hope that the law will be interpreted correctly. It is clear that the real purpose of this law is to protect the thin-skinned political class. Consequently, the law will have a chilling effect on the digital rights of ordinary Ugandans.
---
Any views expressed in this opinion piece are those of the author and not of Context or the Thomson Reuters Foundation.
---
Tags
Disinformation and misinformation
Content moderation
Tech regulation
Data rights
---