Countries must send the climate crisis to the world's top court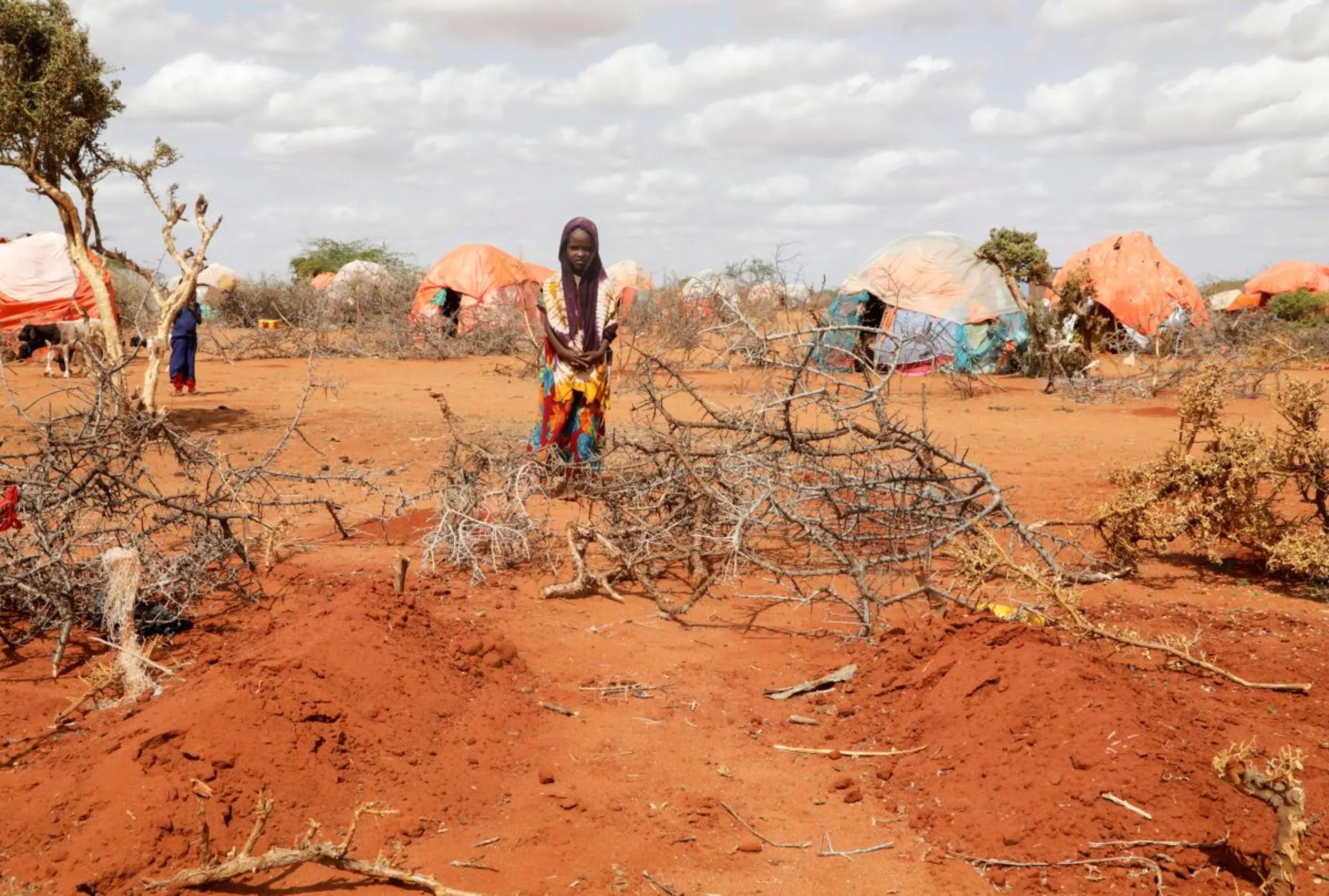 Kafia Noor, 5, stands near the grave of her twin sisters Ebla and Abdia who died of hunger at the Kaxareey camp for the internally displaced people in Dollow, Gedo region of Somalia May 24, 2022. REUTERS/Feisal Omar
Vanuatu is leading the push for an advisory opinion on climate change and human rights, with a vote on U.N support due soon
Vanessa Nakate is a climate activist from Uganda and the Honourable Alatoi Ishmael Kalsakau has served as the Prime Minister of Vanuatu since November 2022.
In the coming weeks, the United Nations will vote on seeking an advisory opinion from the world's highest court, the International Court of Justice (ICJ), on the obligations of the world's nation states to act on the climate crisis.
An ICJ opinion would help resolve legal questions related to climate change and has the potential to be a significant tool to ensure humanity meets the goals of the Paris Agreement and limits global warming to safe levels.
The vote being put before the United Nations General Assembly, introduced by the government of Vanuatu, is supported by about 105 countries from every corner of the world. Just last week, Australia joined the campaign.
The proposal looks at all countries' obligations on human rights and environmental protection across all multilateral treaties, to ensure that all efforts are brought to bear on the climate emergency. It would provide the international community with much-needed clarity and direction on how countries have agreed to behave under international law. It would also provide activists and affected communities with a powerful legal tool to hold polluters to account.
This vote being put before the UN comes as the world lies at a crossroads. The climate crisis is not a distant threat; it is here and now. From devastating cyclones in the Pacific islands to droughts and famine in East Africa, the impact of climate change is being felt worldwide. And yet, the world's response is still inadequate.
The latest analysis by Climate Action Tracker suggests we are heading for 2.7C of warming by 2100. Such a temperature rise would be a death sentence for low-lying island states like Vanuatu and regions very vulnerable to extreme weather, like East Africa. The Paris Agreement, which aims to limit warming to "well below 2C" and ideally to 1.5C, is at risk of failure.
Vanuatu's people are enduring the worsening effects of climate change on each of their 83 islands. Cyclones are stronger, with more devastating storm surges and rainfall. Unseasonal drought and rainfall are undermining the ability of villages to grow food, access safe drinking water and control diseases such as malaria.
Whole villages are facing the loss of their livelihoods and their land, as rising sea levels force communities to relocate. Our children are watching this happen, helpless to do anything more than ask to be heard.
The climate crisis is also having a profound impact in East Africa, where five straight failed rainy seasons have left millions of people on the brink of starvation. In Somalia, 1.3 million have been forced to leave their farms in search of food. Climate change-driven humanitarian crises like these are happening with intensifying frequency across the African continent and beyond.
Student campaign
The horrific irony is that our countries have done so little to cause this crisis, yet they are suffering its worst impacts. The entire continent of Africa has contributed less than 4% to historic global emissions, and small island states still less. The world's nation states have made agreements, through multilateral processes on human rights, children's rights and the environment, not to do harm to one another. Yet this greatest act of harm has so far gone unscrutinised by the highest court in the world.
But over the last few years, young people have risen up all around the world and shown moral leadership on the climate crisis - protesting on the streets and petitioning governments to step up action to decarbonise their societies. Millions of students protested in almost every country in the world in 2019, from Port Vila to Kampala.
This route to an intervention by the ICJ is the culmination of a campaign that was begun by students in a Vanuatu university classroom. In 2019, a group of final-year legal students at the University of the South Pacific set about thinking about how to save the world. They decided they needed to change international law.
Vanuatu showed leadership, taking up its young people's calls - and now the campaign for an ICJ Advisory Opinion will be presented before the United Nations General Assembly. A majority vote by governments that supports an ICJ ruling at the General Assembly would be a step in the right direction and a sign that they recognise the threat to our existence.
We want a life where our children no longer live in fear that their homes will be washed away or their crops destroyed by drought.
Every country must support the U.N. resolution seeking an ICJ advisory opinion. It is a necessary step in clarifying the responsibilities of polluters and ensuring the Paris Agreement does not fail. Now is the time for the world to listen to us and protect us.
---
Any views expressed in this opinion piece are those of the author and not of Context or the Thomson Reuters Foundation.
---
Tags
Extreme weather

Adaptation

Climate inequality

Loss and damage
---