Modern slavery numbers soar to 50 million, driven by global crises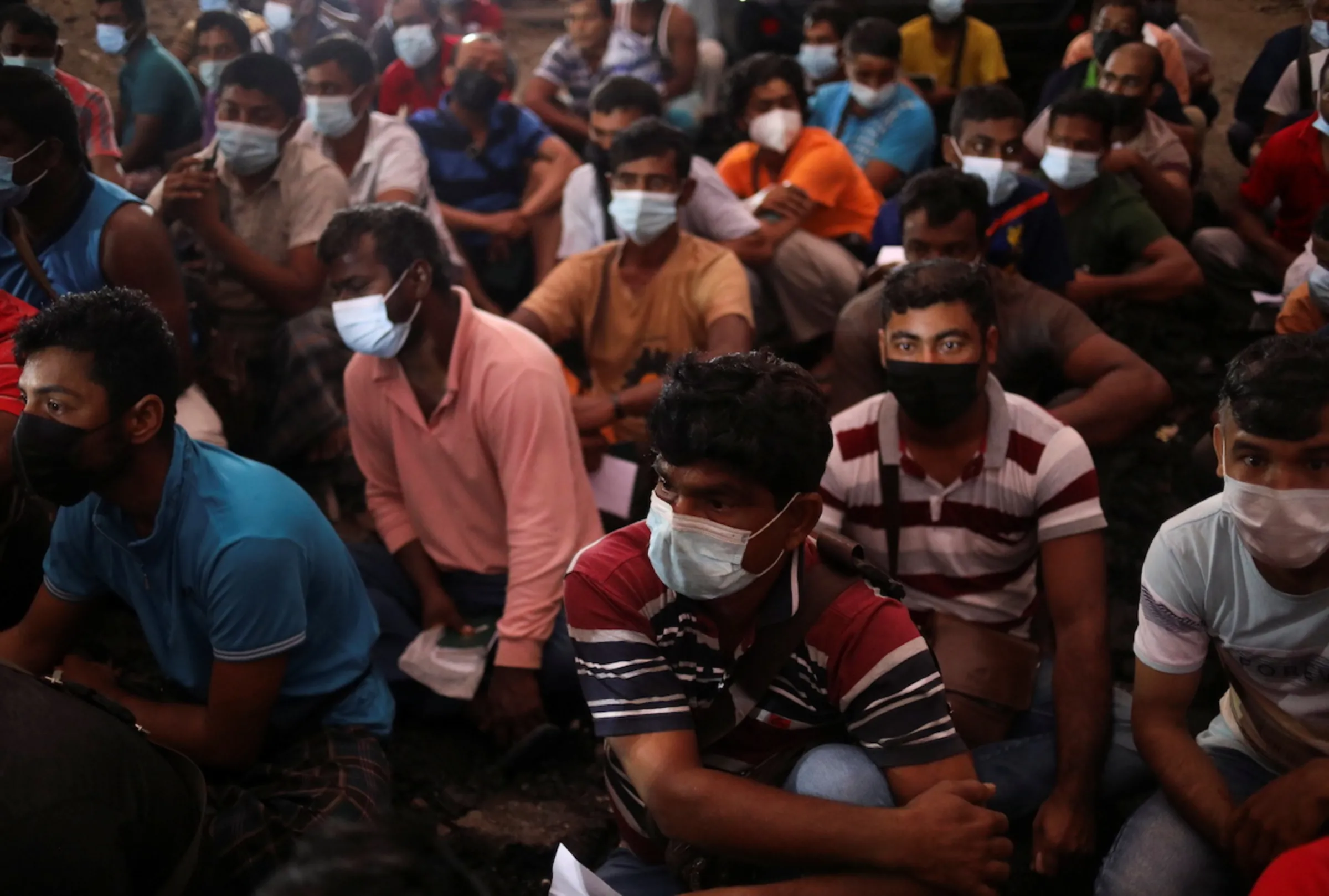 Migrant workers gather at the compound of their dormitory for a document check, during a joint operation by the Department of Labour and several other Malaysian government agencies on workers' living condition and other criteria of forced labour and human trafficking, in Kuala Lumpur, Malaysia, March 17, 2022. REUTERS/Hasnoor Hussain
What's the context?
Global Slavery Index exposes links between climate change and rising risk of forced labour
Rising numbers trapped in slavery, says Walk Free group
G20 nations import many goods from high risk sectors
Call for more action to clamp down on labour abuses
LONDON - At least 50 million people worldwide are living in slavery - an increase of 10 million in five years - fuelled by conflicts, COVID-19, and climate change, according to new estimates.
Compounding crises are exacerbating extreme poverty and forcing more people to migrate, putting them at increased risk of exploitation, human rights group Walk Free said in its Global Slavery Index published on Wednesday.
At the same time increasingly complex and opaque supply chains in sectors like fashion, food and technology can make modern slavery ever harder to identify and tackle.
"Modern slavery is as close as the shirt on your back or the phone in your hand," the report's co-author Katharine Bryant told Context, adding the latest figures were conservative estimates.
Here are some key points from the report.
What is modern slavery?
Modern slavery generally refers to labour or sexual exploitation which people cannot escape due to threats, violence, coercion or deception. It also includes those trapped in forced marriage.
Nearly one in every 150 people on the planet is living in slavery, according to the most recent data from 2021.
Approximately 28 million people are in forced labour and 22 million in forced marriage.
About a quarter of victims are children, many of whom are forced into domestic servitude, prostitution, begging or labouring in sectors like cotton and cocoa production, brick kilns and mines.
More than half of cases happen in G20 countries.
Migrant workers are more than three times as likely to be in forced labour as non-migrant workers.
Which countries have the worst records?
North Korea, Eritrea, Mauritania, Saudi Arabia and Turkey have the highest rates of modern slavery.
But India has the greatest number of victims (11 million), followed by China (5.8 million), North Korea (2.7 million), Pakistan (2.3 million) and Russia (1.9 million).
North Korea, where an estimated one in 10 people are enslaved, uses forced labour to punish dissidents and for economic development.
Western countries have accused China of using ethnic Uyghurs from its western Xinjiang region for forced labour in the production of textiles, electronics and renewable energy products. Beijing denies this.
In Eritrea, there are reports of people spending decades in compulsory military or government service.
Modern slavery is also prevalent in Gulf countries because of the kafala sponsorship system which ties migrant workers to their employers.
In Mauritania, a system of hereditary slavery remains entrenched even though it was outlawed in 1981.
Why are all countries complicit?
Nearly two thirds of forced labour cases are connected to global supply chains.
G20 countries import $468 billion worth of goods in sectors with high risks of forced labour, including electronics, garments, palm oil, solar panels and textiles.
The global clothing industry has doubled in size in 15 years, spurred by the growth of fast fashion - cheap clothes whose swift turnaround and low profit margins increases the risks of labour abuses among garment workers.
Modern slavery has also permeated the tech sector, from the manufacturing of devices to data processing by overseas workforces.
Food industries tainted by forced labour include seafood, beef and chocolate.
What are the links between climate change and slavery?
Millions of people are uprooted by climate-related disasters every year.
People fleeing cyclones, droughts and rising sea levels are more vulnerable to exploitation due to loss of livelihoods, disrupted social networks and increased food insecurity.
In the Horn of Africa, there have been reports of rising child marriage in drought-affected areas.
Modern slavery has been connected to industries which contribute to climate change - like charcoal, cattle, and palm oil - with workers in debt bondage used to clear forests.
Renewable energy industries are also implicated. An estimated 45% of the world's polysilicon - used in making solar panels - originates in Xinjiang, raising fears over the use of forced Uyghur labour.
How did COVID-19 exacerbate slavery?
Job losses, spiraling debts and limited government support left many people worldwide easy prey for traffickers. School closures and increased poverty also fueled child marriage.
Around the world, migrant workers were left stranded far from home or in foreign countries after losing their jobs, putting them at risk of exploitation.
Some international fashion brands refused to pay for orders already manufactured, leading to increased exploitation of garment workers in Asia and elsewhere.
In Gulf countries, there were reports of wage theft from migrant workers in the construction, manufacturing and hospitality sectors.
What are countries doing to tackle modern slavery?
Britain became the first country in 2015 to introduce a Modern Slavery Act, which requires big businesses to report annually on their anti-slavery efforts.
Australia followed suit in 2018 and Canada is planning similar legislation.
Germany, the Netherlands and France have gone further by obliging companies to take action to investigate their supply chains.
Some countries have imposed controls to prevent the import of goods produced by forced labour, an example being the United States' 2021 Uyghur Forced Labour Prevention Act.
However, progress in wealthier countries has generally stagnated.
Positive developments elsewhere include Uzbekistan ending state-imposed forced labour in its cotton picking harvest in 2021 and the Republic of Congo criminalising trafficking in 2019.
Among Gulf countries, Oman, Qatar and Saudi Arabia have adopted reforms to the kafala system, but Walk Free cautioned they were often not fully implemented.
What should countries be doing?
The increase in modern slavery comes nearly a decade after world leaders committed to ending the scourge by 2030 as part of the U.N. sustainable development goals.
Walk Free called for countries to urgently turn commitments into action.
Recommendations include:
Ramping up efforts to raise awareness of modern slavery, train police, instigate investigations and ensure migrants know their rights.
Enacting import controls on products linked to forced labour and creating public lists of companies tolerating it in their supply chains.
Embedding action to tackle modern slavery in responses to crises like conflicts.
Boosting primary and secondary education, especially for girls, which would reduce child marriage and child labour.
(Reporting by Emma Batha; Editing by Sonia Elks.)
---
---
Tags
War and conflict

Poverty

Migration

Workers' rights

Economic inclusion

Underground economies
---