Green shipping can cut emissions and boost developing nations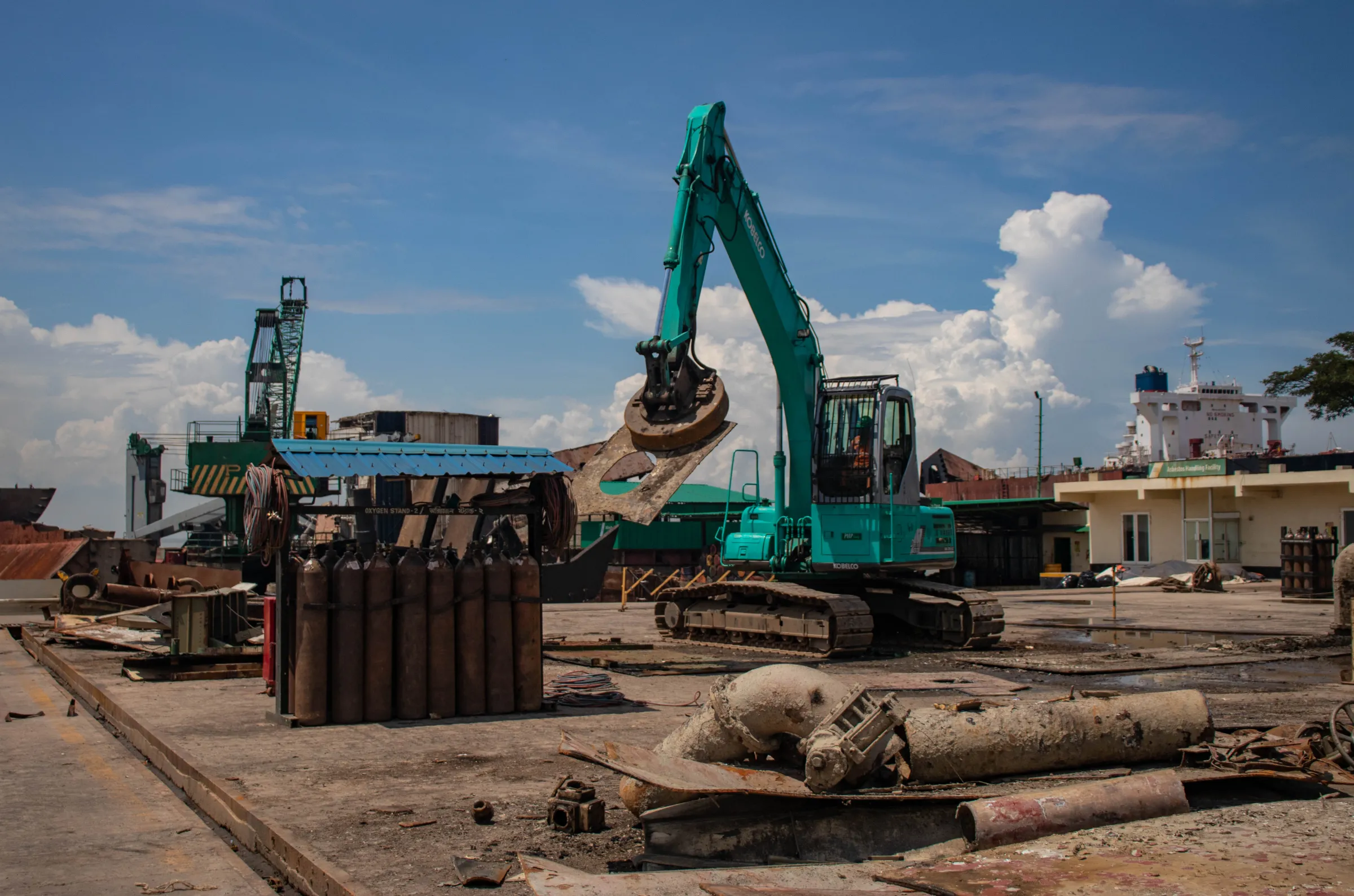 A magnetic crane transferring parts of a ship at the PHP Shipbreaking Yard in Chattogram, Bangladesh on September 23, 2021. Thomson Reuters Foundation/Abid Alam
The International Maritime Organization (IMO) has one more chance to commit to a 1.5C future
Razan Al Mubarak is the UN Climate Change High-Level Champion from the COP28 Presidency and president of the International Union for Conservation of Nature (IUCN).
Look around you. Chances are you're within touching distance of something that has been transported by sea. Whether it's your computer, your clothes or the energy powering your home, over 90% of all internationally traded goods are transported by water – supported by two million seafarers. Most of us live in countries that are somewhat dependent on imported food, making shipping vital to food security.
But the central role of shipping and its reliance on highly polluting fuel takes a massive planetary toll. The marine sector accounts for about 3% of annual global greenhouse gas emissions. If shipping were a country, its carbon footprint would be the sixth largest in the world. Crucially, as global trade expands, the sector's emissions are projected to skyrocket by up to 250% by 2050. This cannot be an option.
That's why a meeting of global leaders at the International Maritime Organization (IMO)'s London headquarters next week is a watershed moment in the global mission to curtail climate change at 1.5 degrees Celsius. The meeting aims to deliver a new and improved climate strategy for shipping, setting benchmarks for international rules around maritime emissions for the next five years.
Make no mistake, at the rate that shipping emissions are rising, this is the last opportunity for the IMO to commit to a 1.5C future.
The stakes could not be higher. The Intergovernmental Panel on Climate Change (IPCC)'s warnings about humanity's current climate trajectory are playing out with shocking frequency and severity, from devastating Canadian wildfires to the accelerated retreat of polar ice.
Leading vessel owners, operators, and shipping manufacturers have begun to plan their decarbonisation journeys. Global shipping company, Maersk, is targeting zero emissions by 2040, with near-term targets for 2030 driving action now. A first generation of hydrogen-fuelled vessels is slated to launch this year. So-called 'Green Corridors' – zero-emission routes between ports – have been proposed to incentivise rapid uptake of zero-emission alternatives.
If these efforts are scaled, the sector can transform both its emissions and efficiency. The United Nations Climate Champions' Breakthrough strategy for shipping sets out a path for a 5% uptake of zero emission fuels in international shipping, and a 15% uptake in domestic shipping by 2030. This presents a monumental opportunity for dominant trading nations to regain stalled climate momentum.
But to achieve a 1.5C, resilient world, no country can be left behind. How would a zero emissions marine system benefit developing countries?
Africa's green hydrogen potential
Science has made it increasingly clear that all industries should urgently phase-out fossil fuels. The stage is set for developing countries to meet the need for their replacement: green hydrogen-based fuels.
African countries, such as Kenya, Mauritania and South Africa, are looking to electrify their economies by capitalising on abundant solar and wind-power resources. By doing so, they also create the right conditions for green hydrogen production. With the right support, Africa can host the world's green hydrogen hubs.
Already countries and shipping companies are rallying behind the vision of an inclusive, equitable transition. Belgium-based maritime group CMB is collaborating with Namibia's Ohlthaver & List (O&L) Group to construct the country's first green hydrogen plant, which should be operational by the end of 2023.
A just and inclusive shipping transition would unlock myriad benefits for coastal communities across the globe. According to the Maritime Just Transition Task Force, 800,000 seafarers could require training by the mid-2030s to handle the green fuels needed to decarbonise shipping by 2050. By powering clean growth, developing regions can escape cycles of underdevelopment and debt while creating economic benefits and stability for all.
The IMO should lead with ambition
The average lifespan of a vessel is 30 years, longer than it would take to decarbonise shipping by mid-century. Progressive action from a few visionaries will not be enough to deliver the necessary transformation in the time science requires. Only strong policy can prevent the marine sector from stranding investments in fossil fuel-powered technologies, which are incompatible with a livable world.
Clear and ambitious action from the IMO is therefore vital. When delegates arrive at the IMO next week, I urge them to recognise that the moment to decarbonise the shipping sector is now. Survival in a climate-exposed world depends on our ability to cooperate. A tide of transformation in the maritime industry would buoy up all boats, providing resilience and economic benefit for communities worldwide, as we unite to solve humanity's defining crisis.
---
Any views expressed in this opinion piece are those of the author and not of Context or the Thomson Reuters Foundation.
---
Tags
Adaptation

Fossil fuels

Energy efficiency

Climate policy

Carbon offsetting
---