Ukraine's reconstruction must be fit for a green future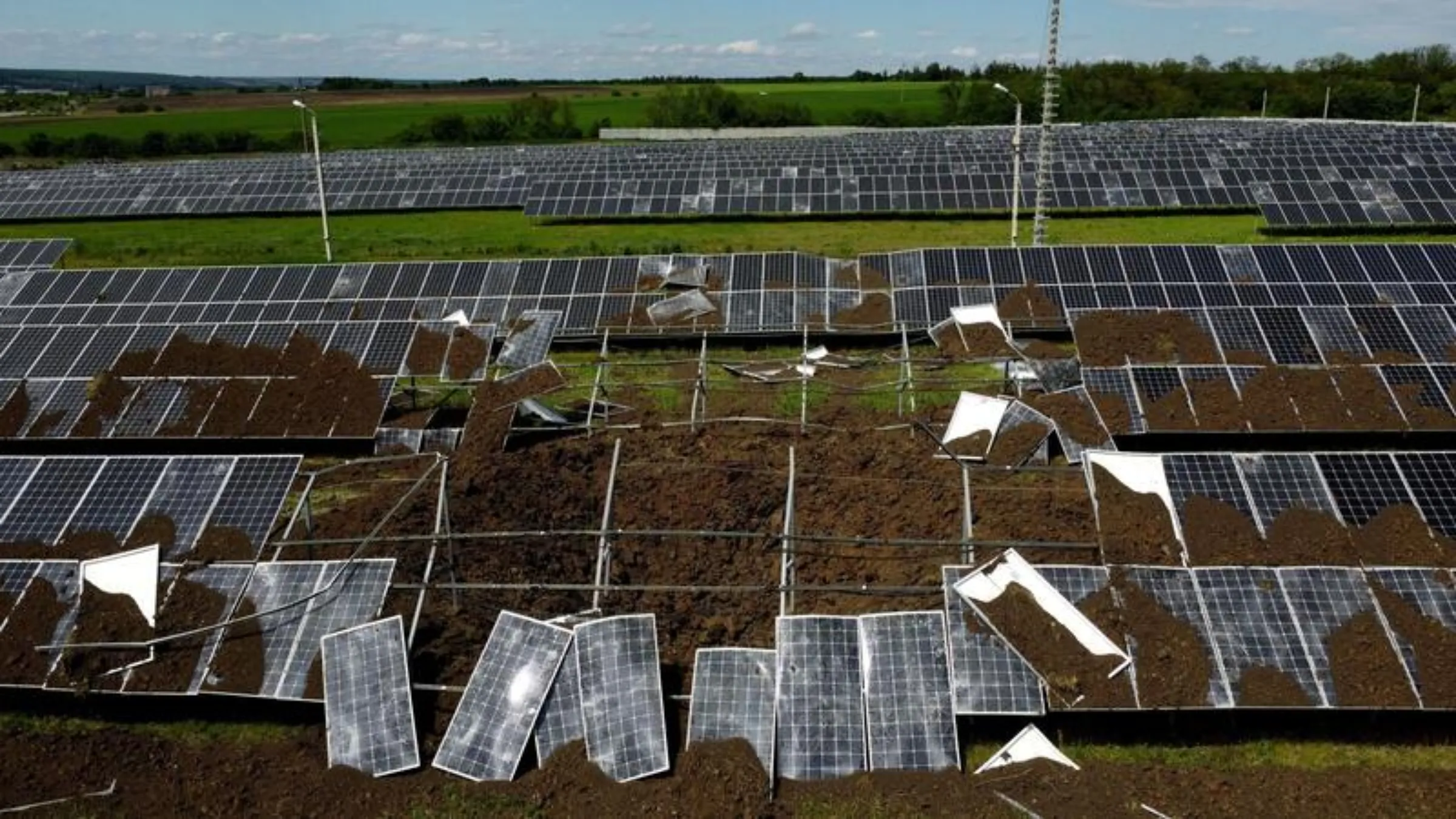 Solar panels damaged in shelling are seen at a power station that was producing 2.5 megawatts of power, amid Russia's attack on Ukraine, in the town of Merefa on the outskirts of Kharkiv, Ukraine May 28, 2022. Picture taken with a drone. REUTERS/Ivan Alvarado
As G7 nations prepare for this month's summit, they should start planning to support a sustainable recovery for Ukraine built on clean energy
By Connie Hedegaard, former EU Commissioner for Climate Action. Chairman of KR Foundation, Concito and OECD Round Table for Sustainability
New satellite images of Mariupol from Google Maps-released for the first time since Russia's attacks on the Ukrainian city began in March 2022 - reveal cities and towns devastated by relentless shelling, and abandoned homes and factories turned into bombsites. Ukrainians need no reminder of the toll this war has taken - but for the rest of the world, these images are a stark reminder of the task ahead of Ukraine once the conflict ends.
Europe should be proud of the military, diplomatic and humanitarian support we have given Ukraine. It goes without saying that we should continue to support and grow the coalition of nations standing behind its government and citizens.
But as the G7 summit looms this month, we must also turn our focus to the future. It's our responsibility to find and finance solutions that position the country for a sustainable, long-term and future-proof recovery.
Building back a twentieth-century version should be out of the question. This war has taught us all how fragile fossil fuel-dependent systems are. Instead, Ukraine needs to build back better: a country fit for the future, with aspirations, infrastructure and standards in line with its European neighbours.
As Ukraine rebuilds after the war, imagine replacing destroyed fossil fuel infrastructure with modern, future-proof renewables that make the most of its huge clean energy potential. Imagine laying the foundations of a sustainable Ukrainian economy: low-emissions energy systems, electrified transport, and industries that minimise greenhouse gas emissions. Imagine creating a better and healthier future for its citizens with high environmental standards, sustainable agriculture, and support for biodiversity and nature.
Ukrainians have already started. In the city of Horenka, a solar-powered heat pump powers its hospital after it was destroyed by a Russian missile strike. It's cheaper and less noisy than a diesel-powered generator -and complete with battery storage, it means the hospital is less vulnerable to power outages. Now, a project by NGO Ecoclub is installing solar power in many more hospitals across Ukraine.
Sustainable choices like these are already helping Ukrainians in the here and now: it's time to scale them up.
Marshall Plan for Ukraine
A recovery that prioritises clean energy will create a safer, more resilient Ukraine.
Clean homegrown renewables instead of imported fossil fuels will mean energy independence and security. Modern infrastructure - fit for this century, instead of the last - will invite real investment from the private sector. The power and protection of a strong, sustainable economy will set Ukraine on course for long-term self-determination.
The right kind of reconstruction can also prepare Ukraine to become an EU member state in the future. Modernisation will show it is ready to become a European state, able to attract the political confidence and business investment to act as one with the rest of the continent. Now, we need to define the strategy and investment needed to make that happen.
Preparing for a sustainable recovery cannot wait. Business and Ukrainian civil society are already calling for action. Developing a clear plan now will allow the Ukrainian government to direct resources logically in the post-war period, and avoid being pressured into popular but unstrategic projects.
We need to create a plan with the same ambition Europe showed after World War II. Then, the Marshall Plan helped rebuild a war-torn Europe after WWII. Now, German Chancellor Olaf Scholz and EU Commission President Ursula von der Leyen are already calling for concrete steps towards a Marshall plan for Ukraine. In the face of the climate crisis, Russian aggression, and threats to energy security, we can rise to the moment and prepare to rebuild a sustainable, resilient Ukraine and Europe.
That requires two things.
First, a strategy. The EU and G7 nations must develop a vision and a concrete plan for action to secure a clean recovery. It must translate early signs of positive progress - like the decision of the Ukraine Recovery Conference in 2022 to align the recovery with the Paris Agreement, and the fact that Ukraine's draft recovery plan includes decarbonisation and energy efficiency - into real action.
Second, finance. G7 nations should secure finance for Ukraine's sustainable reconstruction and play a leading role in coordinating assistance so it's directed at the right places.
As Ukraine rebuilds, it faces a choice between sticking-plaster solutions or a truly resilient recovery. Ukrainians deserve a future of dignity, security, and prosperity - and that can only come with a reconstruction that prioritises sustainability. Ukraine's post-war period won't be without adversity, but with Europe's help, it can build back a country fit for the future.
---
Any views expressed in this opinion piece are those of the author and not of Context or the Thomson Reuters Foundation.
---
Tags
Clean power

Adaptation

War and conflict
---