UK tax cuts seen as cold comfort for poorest Britons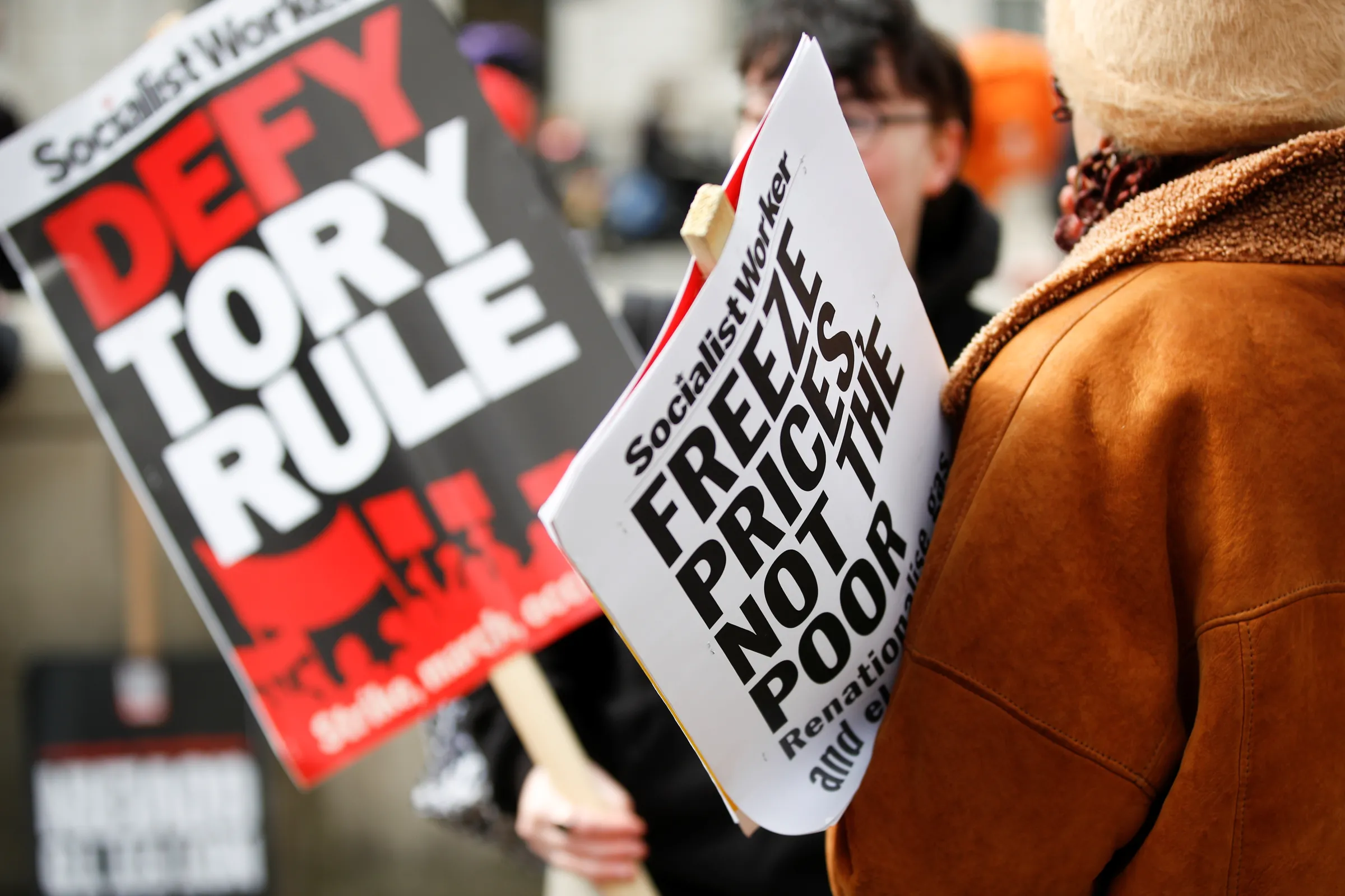 People protest about the rising cost of living during a demonstration outside Downing Street in London, Britain, April 2, 2022. REUTERS/Peter Nicholls
What's the context?
Kwasi Kwarteng's 'mini-budget' brings little support for low-income households caught in a cost-of-living crisis, say critics.
Tax cuts laid out in bid to boost economic growth
High earners seen gaining most from measures
'No gains' for poorest amid cost-of-living crisis
By Hugo Greenhalgh
LONDON - Low-income Britons will see few benefits from the historic tax cuts announced by the country's new finance minister on Friday, union leaders and anti-poverty campaigners said, warning that the measures would widen the rich-poor divide.
Chancellor Kwasi Kwarteng scrapped the top rate of income tax as well as a planned rise in corporate taxes in his "mini-budget", and said bankers' bonuses would no longer be capped - measures Prime Minister Liz Truss hopes will help double Britain's rate of economic growth.
The tax cuts will benefit the lowest earners too, as will the reversal of a recent increase in national insurance (NI) contributions, but critics said the policies promised little relief to the poorest as they grapple with a cost-of-living crisis.
"This budget is Robin Hood in reverse. We should be rewarding work, not wealth," said Frances O'Grady, general-secretary of the Trades Union Congress (TUC) federation.
"But at the first opportunity, Liz Truss is holding down wages and lining the pockets of big corporations and City bankers," O'Grady added in a statement.
Low-income Britons are feeling the pinch of inflation, which hit a 40-year high earlier this year, with soaring food, energy and borrowing costs forcing growing numbers to turn to charity food banks.
Friday's announcements will bring them little comfort, said Polly Jones, head of policy and research at the Trussell Trust, which supports more than 1,300 food bank centres across Britain.
"For the people we see visiting food banks who have the lowest income ... we can't see that today's mini-budget provides any additional support to help them buy food and other essentials," she said.
'No gain'
Under the economic agenda presented by Kwarteng to parliament, people earning more than 150,000 pounds ($165,500) a year will see their tax rate slashed by five percentage points to 40%.
The lowest earners will see a reduction of one percentage point on their tax rate to 19%, a change Kwarteng said would help more than 30 million people, with each receiving an average of 170 pounds extra a year.
But the poorest households, including those dependent on welfare benefits, are unlikely to see any additional income, said Mubin Haq, chief executive of independent charitable foundation abrdn Financial Fairness Trust.
"For those who fall below that sort of income threshold in terms of earnings, and particularly for people who are on benefits, there's no gain there," Haq told the Thomson Reuters Foundation.
The cancellation of the recently introduced health and social care NI levy will benefit the poorest 10% by just 11.50 pounds a year, he estimated.
"(This) is completely negligible whereas for those at the top it is a gain of over 2,000 pounds," Haq said.
'Return to the past'
Kwarteng said scrapping the cap on bankers' bonuses - introduced in the wake of the 2008/09 financial crisis - would accelerate moves to bolster the City of London's competitiveness as a global financial centre, but it drew strong criticism.
"It seems that the government fundamentally misunderstands whom the cost-of-living crisis is hitting hardest," Mohsin Rashid, co-founder of money-saving shopping app ZIPZERO, said in a statement.
"Allowing bankers to receive greater bonuses, with incalculable rises to incomes on top of six-figure salaries ... seems invariably at odds with their strategy."
There was good news for people planning to buy their own home, with a cut to the stamp duty levied on property purchases taking an estimated 200,000 homebuyers out of the tax bracket, Kwarteng said.
However, anti-poverty campaigners criticised the Chancellor's omission of a windfall tax on energy companies, currently seeing record profits due to increasing energy prices, to help the poorest already struggling with rising bills.
Simon Francis, End Fuel Poverty Coalition Coordinator, said that the mini-budget had said little on helping to protect 7 million households facing fuel poverty this winter.
"Even with the measures pledged by the government so far, there is now just a week to go until energy bills increase by 64% compared to last winter," Francis said.
"Millions of people will spend the winter struggling in cold damp homes."
($1 = 0.9061 pounds)
---
---
Tags
Pay gaps

Wealth inequality

Cost of living

Economic inclusion
---