Workplace surveillance doesn't just harm workers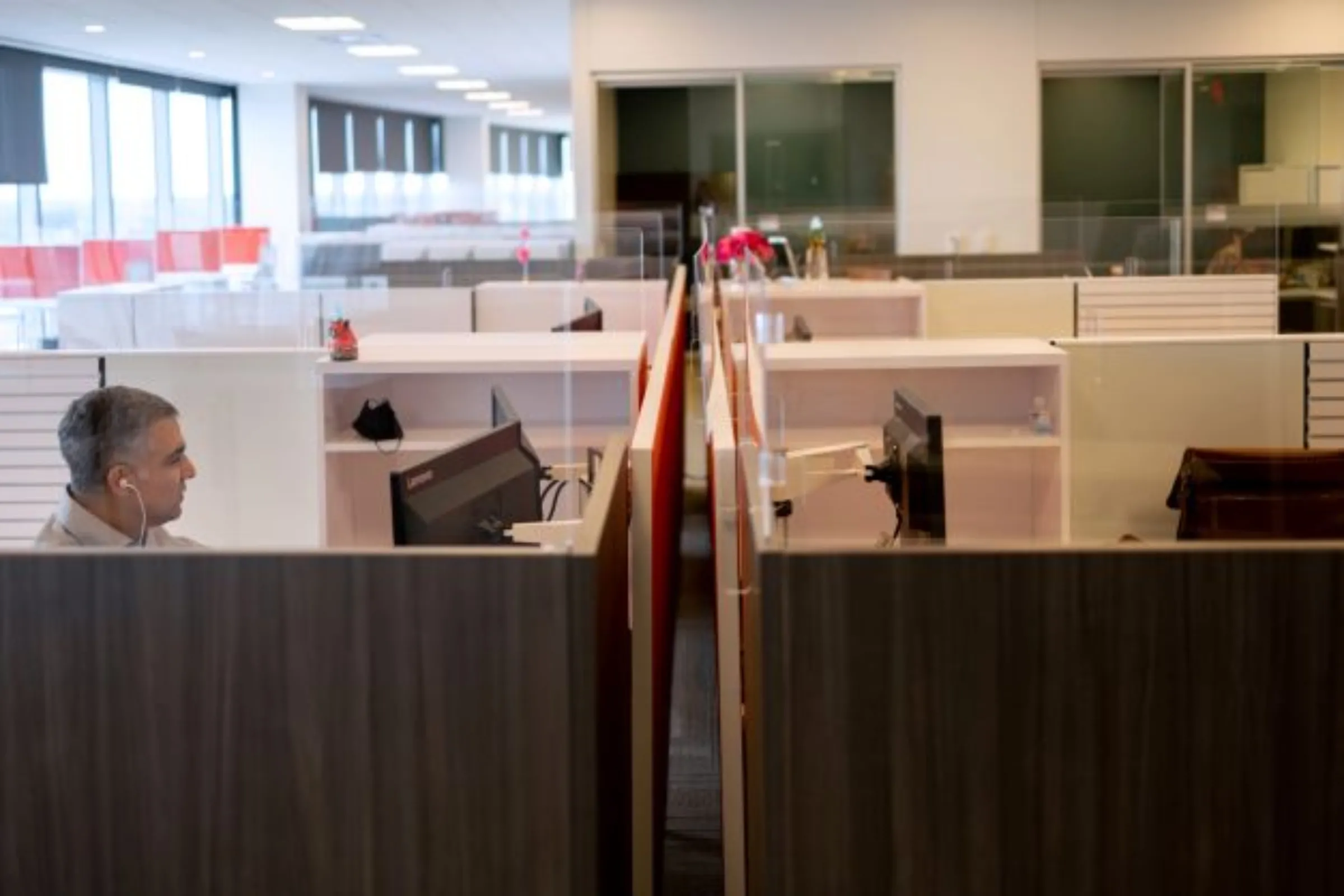 A man works on his computer as the first phase of FMC Corporation employees return to work in the office in Philadelphia, Pennsylvania, U.S., June 14, 2021. REUTERS/Hannah Beier
Besides economic, health and safety effects on workers, surveillance technologies can also impact labor markets and the economy
Kathryn Zickuhr is a Senior Policy Analyst at the Washington Center for Equitable Growth.
Workplace surveillance has become increasingly common in the United States, with employers monitoring everything from workers' keystrokes to biometric information.
Both the pervasive and invasive nature of worker surveillance has caused policymakers and regulators across the country to take action. The Federal Trade Commission (FTC) recently solicited comments from the public as it explores ways to better regulate commercial surveillance practices in the United States.
Research shows there is a wide range of immediate and long-term economic and health and safety harms that workers and their families can and do experience from workplace surveillance and algorithmic decision-making.
These digital surveillance technologies can also have widespread effects on labor markets and the broader economy, as they undermine existing labor and consumer protections and contribute to discriminatory practices and anti-competitive labor markets. Up to now, regulatory approaches have not fully captured these harms, including chronic stress from constant surveillance, which can lead to psychological and physical damage, as well as longer-term harms such as the erosion of worker power and the de-skilling of work. These longer-term consequences lead to an anti-competitive labor market, which in turn hurts the overall economy.
The erosion of worker power in the United States means that workers have few options to push back against invasive surveillance, furthering the cycle of surveillance and declining worker power. Without legal protections or meaningful bargaining power, the only option many workers have is to seek employment and better working conditions elsewhere, only to find there may not be another job to go to. Increased corporate concentration often makes it difficult for workers to secure a new job, which is especially true for low-wage workers and those who live in rural areas.
Worker monitoring is part of a cycle of fractured work arrangements through which companies de-skill work and misclassify employees, allowing them to pay workers less, sidestep worker protections, and undermine workers' bargaining ability.
Transparent practices that would require companies to notify workers of what data they are collecting about them and how, along with how these data will be used and retained, are a key first step. But the evidence is clear that transparency alone cannot lead to fair practices; a range of evidence shows the lack of worker rights and protections and disproportionate corporate power constrain workers' employment options and bargaining ability, which prevents them from meaningfully avoiding or consenting to these practices.
Therefore, workers need robust and enforced protections around how their data is collected, stored, and used, as well as proactive investigation into unfair and discriminatory practices that can have disproportionately harmful impacts on the most vulnerable workers.
There is a clear need for oversight and new protections from the FTC on the use of commercial surveillance in the workplace. But any true policy solution should address not only the harms of the surveillance, but also the structural issues within the economy that allow employers to make jobs worse and cause real economic harm.
---
Any views expressed in this opinion piece are those of the author and not of Context or the Thomson Reuters Foundation.
---
Tags
Surveillance

Future of work

Workers' rights

Economic inclusion
---