Big Tech trauma runs throughout supply chains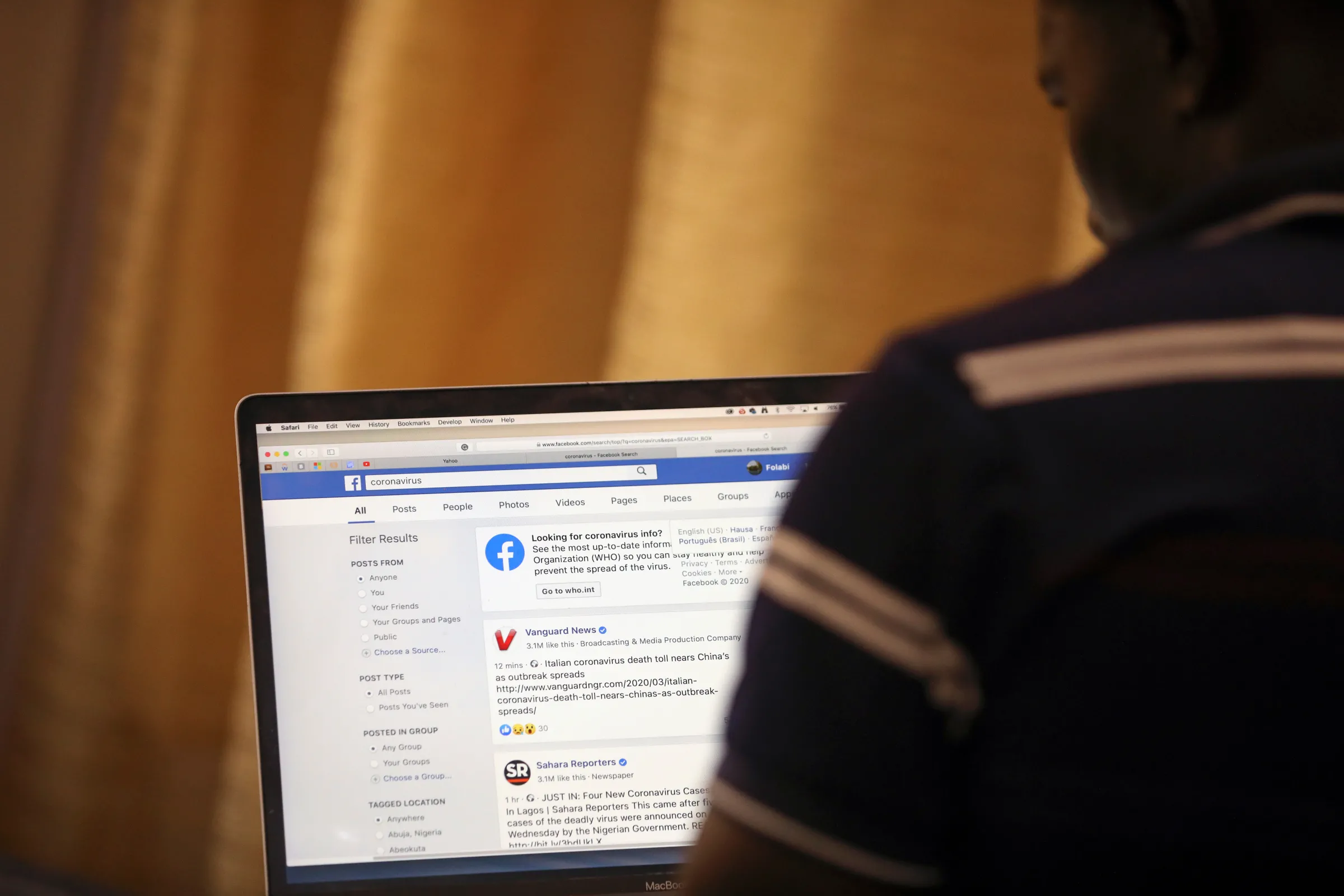 A man opens the Facebook page on his computer to fact check coronavirus disease (COVID-19) information, in Abuja, Nigeria March 19, 2020. REUTERS/Afolabi Sotunde
Increased scrutiny of the conditions under which content moderators work, with workers also pushing back, can bring about change
Christy Hoffman is the General Secretary of the UNI Global Union.
Over the past several years, horrific stories about manufacturers for Big Tech have made clear the human costs of producing our iPhones and other electronics. But recent scandals and worker testimonies show that trauma runs throughout tech's supply chains - including in those who screen the content we scroll through on our devices.
For example, TikTok moderators in Colombia who are employed by Paris-based Teleperformance, the world's largest outsourced customer service and content moderation company, said they are routinely exposed to "murder, suicide, paedophilic, pornographic content, accidents, cannibalism," according to a recent report.
These claims come on the heels of an investigation by Forbes detailing moderators for TikTok in the United States saying they had to watch extreme child sexual abuse over and over - even during training.
A Meta customer service agent, also employed by Teleperformance, reported similar trauma from "torrents of abuse" and even death threats that caused chronic insomnia, according to another news report.
Unfortunately, this problem is not new. A 2019 investigation by Greek newspaper Kathimerini uncovered similar issues at a facility providing moderation for Facebook.
UNI Global Union, its member unions and other organisations have repeatedly engaged with outsourcing firms about their treatment of content moderators, calling on them to strengthen internal controls, implement a strong due diligence process, and to work with labour unions on a local and global level to improve a wide range of conditions, including health and safety.
Workers are also pushing back: last year, a content moderator in Ireland became the first to publicly give evidence to a parliamentary committee on her working conditions.
While Daniel Motaung, who worked as a content moderator in Nairobi, earlier this year sued Meta and Sama, Facebook's main outsourcing contractor in East Africa, for trauma from watching a beheading video.
Companies such as TikTok and Meta must also do more to ensure that workers are not being unnecessarily exposed to troubling, exploitative images. They must do more to ensure that workers have access to adequate psychological counselling when they are, and they must do more to ensure that workers have the right to organise for better conditions.
Content moderators are watching hours and hours of questionable content every day, and the impact of this on mental health is well documented. But the companies, and their clients, have not done enough to mitigate these harms.
With increased scrutiny from lawmakers, unions and tech workers that can change. Because while these content moderators do not work in factories making the devices we all rely on, they do make the platforms we run on them safer for all of us.
It is time big tech firms stepped up their efforts to make these companies that they outsource vital work to, safer for their workers.
---
Any views expressed in this opinion piece are those of the author and not of Context or the Thomson Reuters Foundation.
---
Tags
Content moderation

Tech regulation

Social media
---