Indonesia civil society has a view on content moderation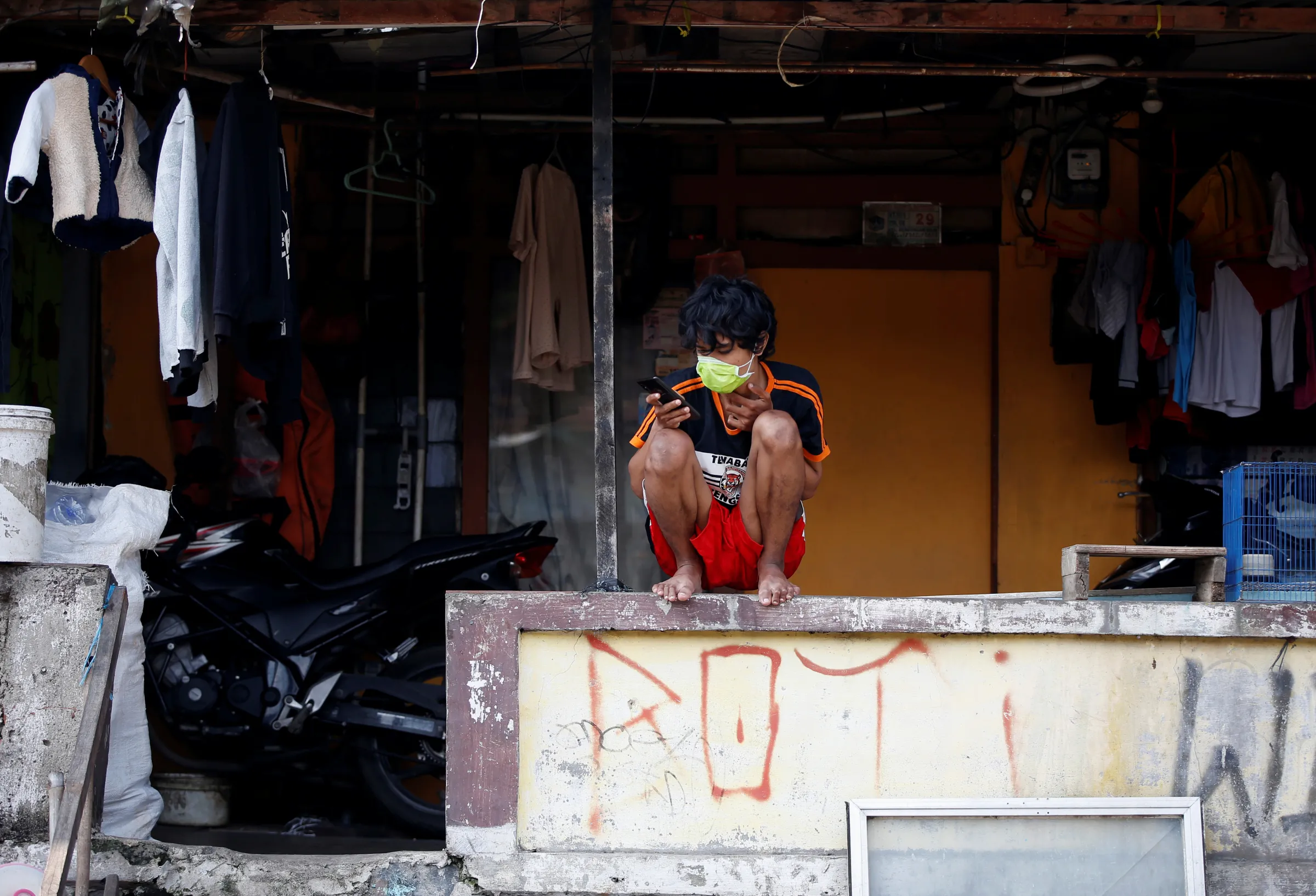 A youth wearing a protective face mask uses a phone as he sits outside his house in Jakarta, Indonesia, April 12, 2020. REUTERS/Willy Kurniawan
Indonesia is trying to address content moderation issues with a civil society coalition that includes non-profits and journalists
Sherly Haristya is an independent researcher.
Our communication and information ecosystem has lately been polluted with the proliferation of hoaxes, hate speech, and other problematic content. Many grassroot initiatives endeavour to fight misinformation with fact-checking teams and tools, by conducting digital literacy programmes, or mainstreaming counter-narratives.
But the moderation and regulation of online content remains predominantly in the hands of social media companies and authorities, with limited civil society participation.
Indonesia is attempting something different: a bottom-up led initiative through the formation of a civil society coalition on content moderation and freedom of expression. As part of the European Union's Social Media 4 Peace Project, local civil society groups - including non-governmental organisations, thinktanks, universities, research centres, journalists and media firms - are currently coming together to develop this coalition.
But why is such a civil society coalition necessary, and what is its role in online content moderation and governance in Indonesia?
The 2019 presidential election in Indonesia ended in riots that led to the country's contentious move to limit internet access to prevent the spread of hoaxes. International and national actors condemned this controversial decision.
My research, with Article 19 and UNESCO, found that content moderation mechanisms by platforms could have played a crucial role in preventing the amplification of problematic content at that time from transforming into real-world violence.
Various studies and news reports have highlighted the worrying trend of political influencers - called buzzers in Indonesia - making use of anti-Communist and anti-Chinese sentiment to deepen polarisation in society for political and economic gains.
But when the election authority in Indonesia repeatedly raised its concerns with regard to the proliferation of such problematic content, the platforms refused to manage the content in the name of protecting freedom of expression. They argued that there was no evidence such content could pose real-world dangers. The fact that such content led to riots with casualties refuted this argument.
This case shows that Indonesian stakeholders do not have equal decision-making power to inform and shape global social media's content moderation decisions in their own country. Civil society in Indonesia shares common concerns that there is an imbalance of power when dealing with platforms to discuss problematic content, and the appropriate content moderation decisions that need to be taken.
Global social media companies failed to listen and accommodate local contexts in their content moderation decisions. But this should not be the case again in Indonesia's next presidential election in 2024.
There is a clear and urgent need for Indonesian stakeholder groups to participate meaningfully, and inform the content moderation decisions of platforms to uphold international standards on freedom of speech and expression, but with sufficient understanding of the relevant local context.
Civil society in Indonesia has learned to make their voices heard in the battle over content moderation practices employed by social media companies.
Through the civil society coalition on content moderation and freedom of expression, they are counting themselves as equal partners to shape the content moderation mechanisms of social media platforms for the 2024 election and beyond, to include future online content governance and regulation in Indonesia.
There are great challenges still. Civil society in Indonesia must find and voice their shared concerns, vision, mission, and goals for the coalition. They can then claim legitimacy to be heard by social media companies and authorities. The sustainability of the coalition should also be of their utmost concern, for it could bring about a less polluted communication and information ecosystem in Indonesia and globally.
---
Any views expressed in this opinion piece are those of the author and not of Context or the Thomson Reuters Foundation.
---
Tags
Content moderation

Tech regulation

Social media

Data rights
---