Online misogyny hurt Ardern. It is time to regulate it better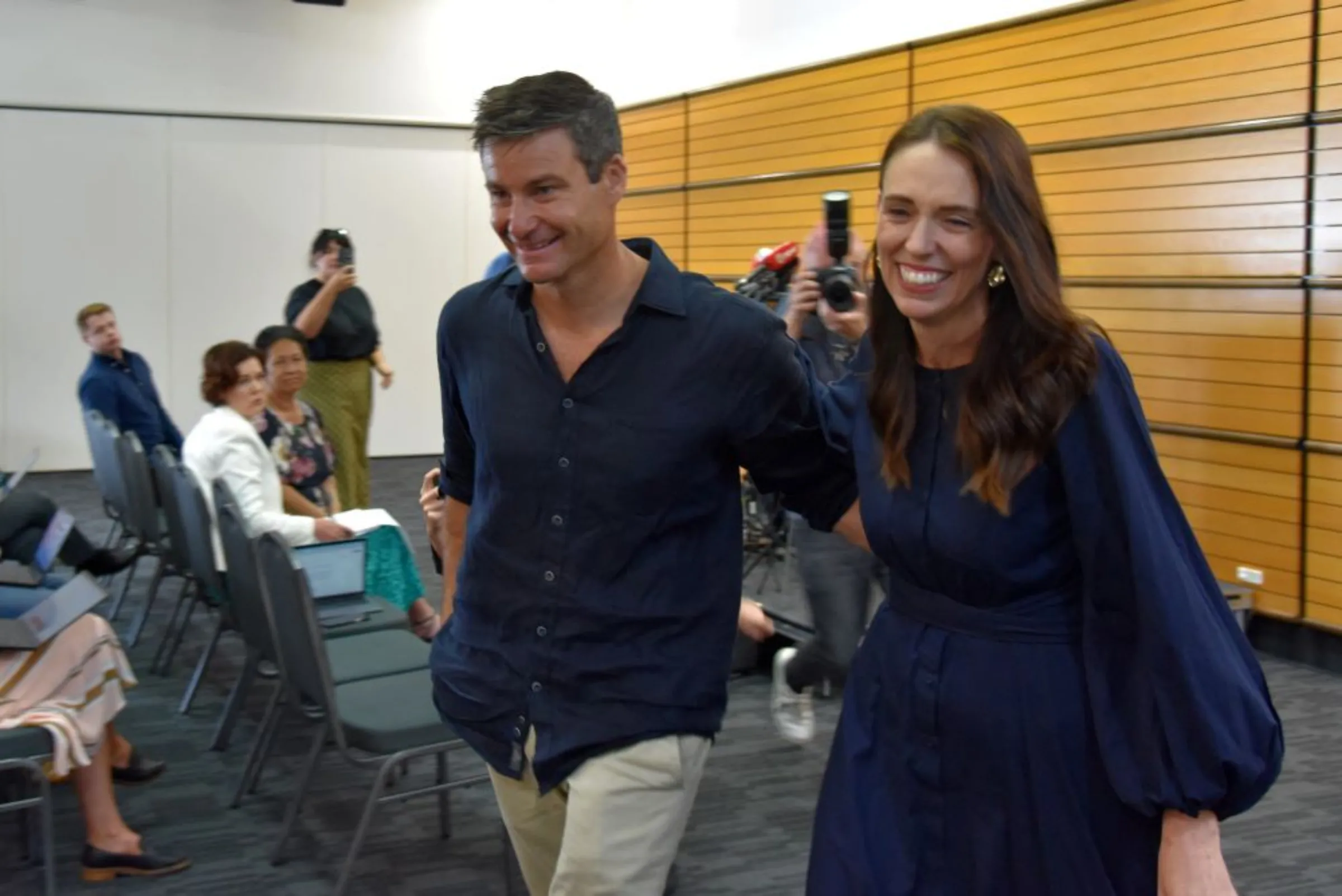 New Zealand Prime Minister Jacinda Ardern leaves with longtime partner Clarke Gayford following the announcement of her resignation at the War Memorial Hall, in Napier, New Zealand January 19, 2023. AAP Image/Ben McLay via REUTERS
Current legislation fails to adequately punish those expressing violent misogyny; that hurts women and minorities, in particular
Kate Hannah is the director and founder of The Disinformation Project
New Zealand Prime Minister Jacinda Ardern's resignation last week came as a surprise to many. But her use of the metaphor "nothing left in the tank" conveyed something of the unacknowledged impact of disinformation, harassment, and abuse that women leaders generally, and Ardern specifically, face.
The Disinformation Project Aotearoa, was set up to observe and analyse COVID-19 mis- and disinformation in order to support New Zealand's science-informed COVID-19 response. Very quickly, this remit expanded to include the collection, observation, and analysis of harassment and abuse directed towards public figures, politicians, scientists and academics, including the Prime Minister.
Since 2020, our team has witnessed a substantive shift in the language and imagery used to target and harass women in public life in New Zealand, particularly Ardern. This rising tide of misogyny manifests itself as daily harassment, targeting, threats of sexual harm, death threats, doxxing, and dehumanisation.
This extreme misogyny is expressed across social media platforms, in online commentary, and in offline protests, placards, and conversations. Perhaps the most remarkable aspect of the growth in misogyny directed towards Ardern since the beginning of the pandemic is the increasing prevalence of the use of a four-letter slur to describe her. New Zealanders are famously casual about swearing, and like Australians, use that term as both a compliment and an insult. However, its use to describe Ardern has become so ordinary that we can no longer count its usage daily: there are simply too many examples in a 24-hour period across mainstream social media platforms.
Misogyny is expressed visually too, with the most frequent imagery depicting Ardern as a witch, or images of execution and violence calling for her death. Other language and imagery dehumanises, with references to vermin, insects, and other animals, as well as referring to Ardern as "it".
Chillingly, much of the publicly available data we see repeatedly references Ardern's motherhood, including specifically naming her daughter, so that Neve - her four-year-old's name - is part of our daily keyword search. The cumulative effect of this targeting and harassment of Ardern as a woman in public life critically affects national and international social and political norms, showing other women and minorities how they can expect to be treated should they aspire to leadership.
It's unsurprising that Ardern's tank is low: since taking office in 2017, she has led the country through a mass shooting incident, a natural disaster, and a global pandemic. The cumulative impact of the violence and misogyny she experienced during that period must not be minimised: death threats reported to police tripled in the period from 2020-'22, a period which also saw online and offline harassment, targeting, swarming, and threats of violence rise exponentially.
New Zealand's high-trust society has been irrevocably changed by this expansion of misogyny and related harassment, with the cancellation of the regular Waitangi Day BBQ Ardern has hosted since becoming Prime Minister, and reports that the Labour Party is taking heightened security requirements into account in campaign planning.
The New Zealand public have expressed shock at both the harassment Ardern has faced, and the apparent lack of regulatory or legal remedies within current systems of legislation and regulation which would see those expressing violent misogyny facing consequences or charges. Much of the content in question falls within the space we describe as 'lawful but awful'; death threats reported to police have led to some individuals being charged, but rape threats, for instance, have not.
At the heart of the matter are concepts of responsibility and duty of care, and where these reside. These concepts are being grappled with across liberal democracies, with the proposed UK Online Safety Bill one of many initiatives which seek to better deal with dangerous speech, harassment, and violence online.
New Zealand's experience, where misogyny has grown and propagated from the largely unregulated platform Telegram, and then to more mainstream platforms such as Facebook, Instagram and Twitter indicate the difficulties of any attempts at regulation in an interconnected network of information which is increasingly disordered, increasingly polarised, and in private hands.
Furthermore, online spaces only reflect offline places. As writer Kate Crawford stated, at a fundamental level "AI is technical and social practises, institutions and infrastructures, politics and culture." The violent misogyny which has become normal is an expression of culture, a culture which seeks to limit the participation of women and minorities in the public sphere. Culture is, famously, ordinary - which means it is up to us to change it, and demand regulation which prioritises safety and responsible expression.
---
Any views expressed in this opinion piece are those of the author and not of Context or the Thomson Reuters Foundation.
---
TAGS
Disinformation and misinformation
Content moderation
Facebook
Twitter
Tech regulation
Meta
Social media
---