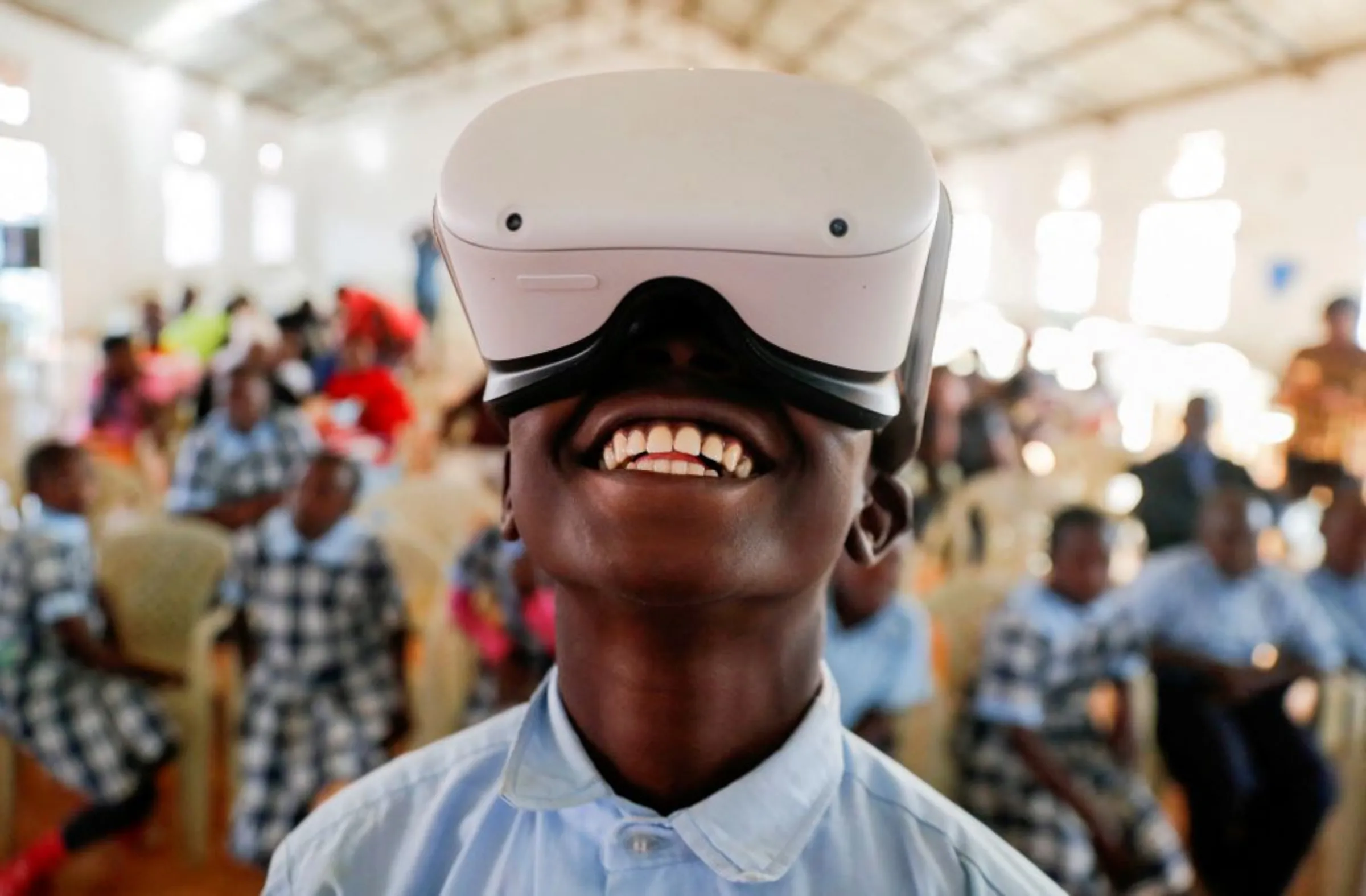 A boy uses an Oculus virtual reality (VR) headset, to virtually visit Buckingham Palace during the celebration of Britain's Queen Elizabeth's Platinum Jubilee, in Nyeri, Kenya June 2, 2022. REUTERS/Thomas Mukoya
What's the context?
Goblin mode beat metaverse as the Oxford English Dictionary's word of the year but the term is here to stay as big tech bets on VR
Goblin mode beats metaverse in word of the year vote
Big tech firms, brands and some governments embrace it
Concerns loom over privacy, access and harassment
LONDON - It was roundly beaten by goblin mode as the Oxford English Dictionary's word of the year on Monday, but proponents of the metaverse hail it as the future of the internet.
Usage of the word - which refers to a concept involving shared virtual worlds - quadrupled in October 2022 from a year earlier, according to the OED, which ran its first ever public ballot to nominate the word of the year.
Voters overwhelmingly picked goblin mode, a phrase describing a state in which people reject social expectations, but as tech firms and futurists tout the metaverse as the evolution of online spaces, the word is unlikely to go away.
Even now, its definition and predictions about how it will develop remain highly contentious.
What is the metaverse?
The word metaverse originated from Neal Stephenson's 1992 science fiction novel Snow Crash, referring to a 3D-world populated by avatars, an icon or figure representing a person.
Since then, many other books, television shows, and films have built upon the idea, such as "The Matrix" and Ernest Cline's novel "Ready Player One".
Some refer to the metaverse as a network of virtual spaces where users can communicate. Others say that a metaverse can only exist in virtual reality, in a persistent digital environment which is updated in real-time with new people and objects, and a fully functioning economy.
What will you be able to do in it?
In theory, it will be possible to do pretty much anything that can be done on the internet today: communicate with friends, watch content, shop, and play games.
The key difference is that this can happen in immersive, virtual spaces that are not limited by physics, enabling interactive experiences that feel more real than they do when accessed via a mouse and keyboard or a controller and a screen.
While many metaverse creations look more like computer-generated animation than a replica of the real world, they are still capable of invoking physical sensations like being at a height and movement because of how the brain is stimulated.
Who is building the metaverse?
Mark Zuckerberg, who renamed his social media company Facebook as Meta in 2021, is the most influential figure developing metaverse technology.
Meta aims to make its Quest virtual reality (VR) headsets the go-to device to access the metaverse, and its Horizon brand of virtual spaces to be as important a space as Instagram and WhatsApp are now.
Video games are also staking their claim in the metaverse.
Phil Spencer, head of Microsoft-owned Xbox, has talked about planning for "a metaverse or mixed-reality construct", while Epic Games Chief Executive Tim Sweeney has described the popular game Fortnite as a metaverse.
Video game platform Roblox, which has nearly 50 million active daily users, sees the metaverse as a place where "people can come together within millions of 3D experiences to learn, work, play, create and socialise". It also has its own currency Robux.
Governments and brands are also present in the metaverse.
U.S. retailer Macy's recently held a virtual Thanksgiving Day Parade on the OnCyber platform, while the Seoul metropolitan government plans to provide administrative services on the metaverse, and Barbados has an embassy in the VR platform Decentraland.
Will it replace the internet?
The metaverse is more likely to be an accompaniment to the existing internet than replace it completely for now.
Feeling present with other people in virtual reality is a unique benefit, but being able to quickly access information without having to wear a headset currently is faster, cheaper, and easier.
Virtual reality or augmented reality devices may eventually overtake the smartphone as the main way to access the internet, but that future is still years away.
What are some concerns about the metaverse?
The metaverse will come with its own power dynamics and issues of accessibility, just as the current internet does.
It is not clear how VR will be accessed by those with disabilities, older people, or those on a low income who could be priced out of necessary hardware.
Users have also raised alarms about virtual groping, bullying and other abusive behaviour, with the immersion experience deepening the impact. Meta has said it was launching a tool to maintain personal space boundaries on Horizon spaces.
Companies will still have to follow the rules of the country they operate in, which could enable censorship in these spaces.
Fredrik Hellberg, co-founder of digital architecture studio Space Popular, said virtual reality spaces can "bring people close together", but that they come with privacy risks to users, as well as the energy cost of processing larger amounts of data.
"The public needs to be a part of the conversation and have a say ... otherwise tech becomes a part of your life without you ever having made that choice," he said.
(Reporting by Adam Smith; Editing by Helen Popper.)
---
---
Tags
Facebook

Tech and inequality

Tech regulation

Meta

Social media

Data rights

Smart cities
---