The Global Shield distracts us from real 'loss and damage' finance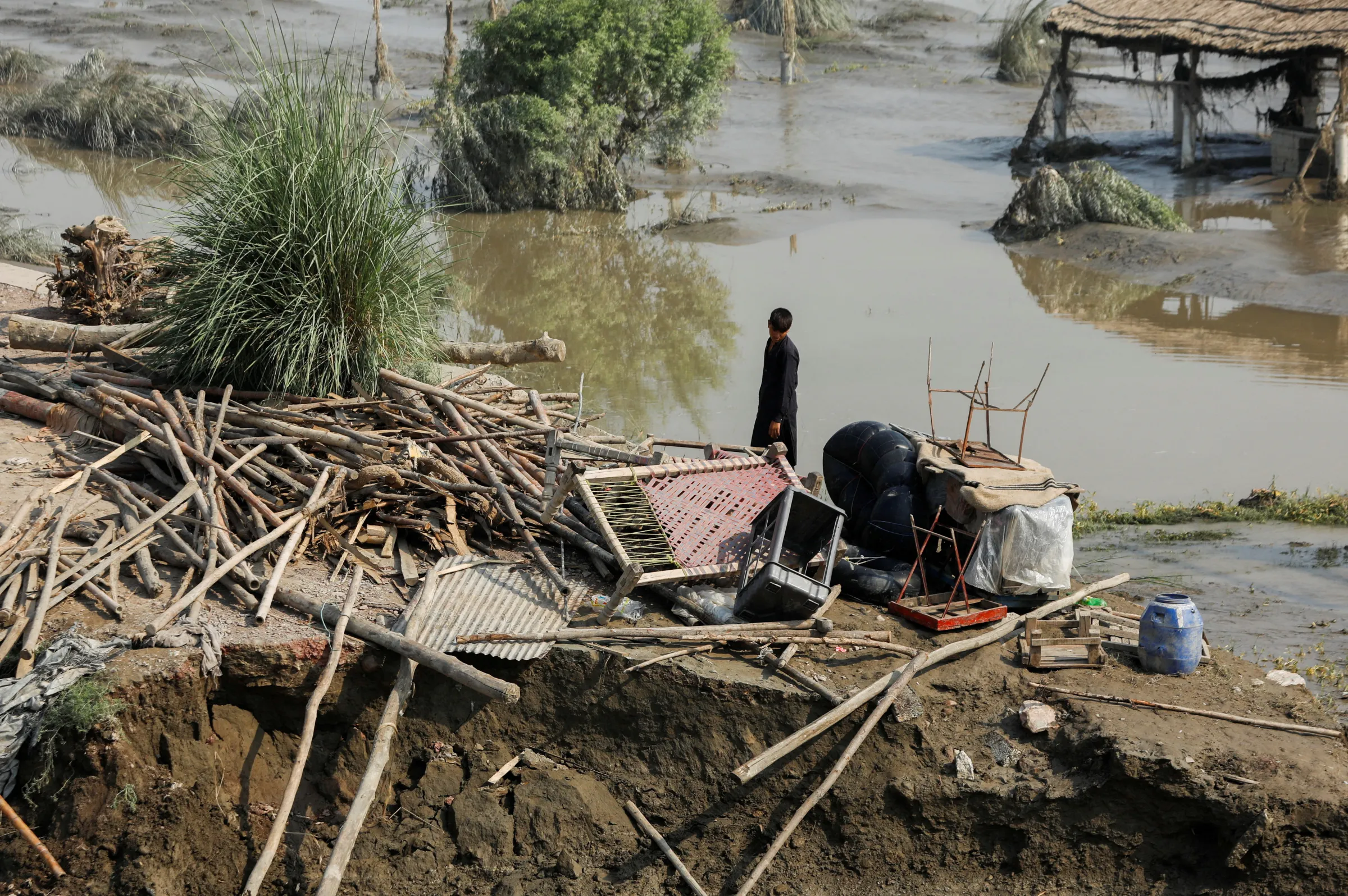 A flood victim stands in his damaged house, following rains and floods during the monsoon season, in Nowshera, Pakistan August 31, 2022. REUTERS/Fayaz Aziz
Vulnerable countries need a 'loss and damage' finance facility, not just a new insurance initiative
Teresa Anderson is ActionAid International's global lead on climate justice, and coordinates Climate Action Network's working group on agriculture.
At COP27 climate talks in Sharm el-Sheikh, Egypt, this week, governments seem to disagree on pretty much everything. The one thing everyone can agree on, however, is that the issue of 'loss and damage', and the finance needed to help vulnerable communities recover in the aftermath of climate disasters, needs to finally be in the spotlight.
Our rapidly warming planet means that 22 million people are currently at risk of starvation in East Africa as a consequence of drought, and 33 million people have been displaced by floods in Pakistan. Many millions more are seeing their lands disappear under the seas, their rivers dry up, their towns destroyed typhoons and cyclones, and their crops dying.
The financial toll of climate emergencies is pushing nations deeper into debt. In the aftermath of climate disasters there is a window of opportunity to help communities bridge crises, recover and rebuild. But if no help is forthcoming, countries and communities are likely to fall into spiralling poverty.
There is, therefore, huge pressure on rich countries to agree to a new loss and damage financing facility to provide support to those on the front lines of the climate crisis – those who have done little to cause the climate problem – so that they can avoid deepening debt and poverty after disasters.
The United States, the European Union, Britain and Australia have all expressed their compassion for those suffering the impacts of the climate crisis, and even acknowledged the funding gap that needs to be addressed. To listen to them in their official statements in the negotiating rooms, you might get the impression that they really care.
But they apparently don't care enough to agree to establish a new loss and damage financing facility at COP27, which is what is needed.
With so much pressure to agree to a loss and damage financing facility, rich countries are keen to look like they are addressing the loss and damage gap - without taking the action needed to do so.
Global Shield: Insufficient at best, a political football at worst
Launched today by the governments of the G7, a new insurance initiative called the Global Shield is being presented as a solution to help the countries of the so-called 'V20': the 20 most vulnerable nations.
Insurance has been pitched as an approach to climate risk management. But the contribution of insurance to addressing loss and damage will be limited at best. At worst, the Global Shield is a political football being used to undermine the push for a real loss and damage financing facility.
By contributing millions to the Global Shield, G7 countries hope to persuade insurance companies to provide more coverage in regions that are at greater risk of climate impacts. But insurance companies, by their very nature, are often either reluctant to provide coverage, or reluctant to pay out. When it comes to loss and damage, however, this is a matter of life and death.
Unfortunately, all the signs suggest that the governments most reluctant to make real progress on loss and damage are planning to point to the Global Shield to claim that there's no need to establish a new loss and damage financing facility at COP27.
It is one thing to provide insurance cover for climate impacts – assuming, that is, that the companies pay out as promised to desperate families – but it's quite another to use this initiative as a way of preventing international climate negotiations from agreeing real and vital action.
The Global Shield amounts to governments in the Global North subsidising their own insurance corporations. It should not be mistaken for real loss and damage finance to support communities on the front lines of the climate crisis.
Insurance initiatives should not be used to shield rich countries from their obligations on loss and damage. The longer we delay agreement on a funding facility to address loss and damage, the more lives will be put at risk.
---
Any views expressed in this opinion piece are those of the author and not of Context or the Thomson Reuters Foundation.
---
TAGS
Climate
Extreme weather
Adaptation
Climate inequality
Loss and damage
---