What's the key to climate action? Better communication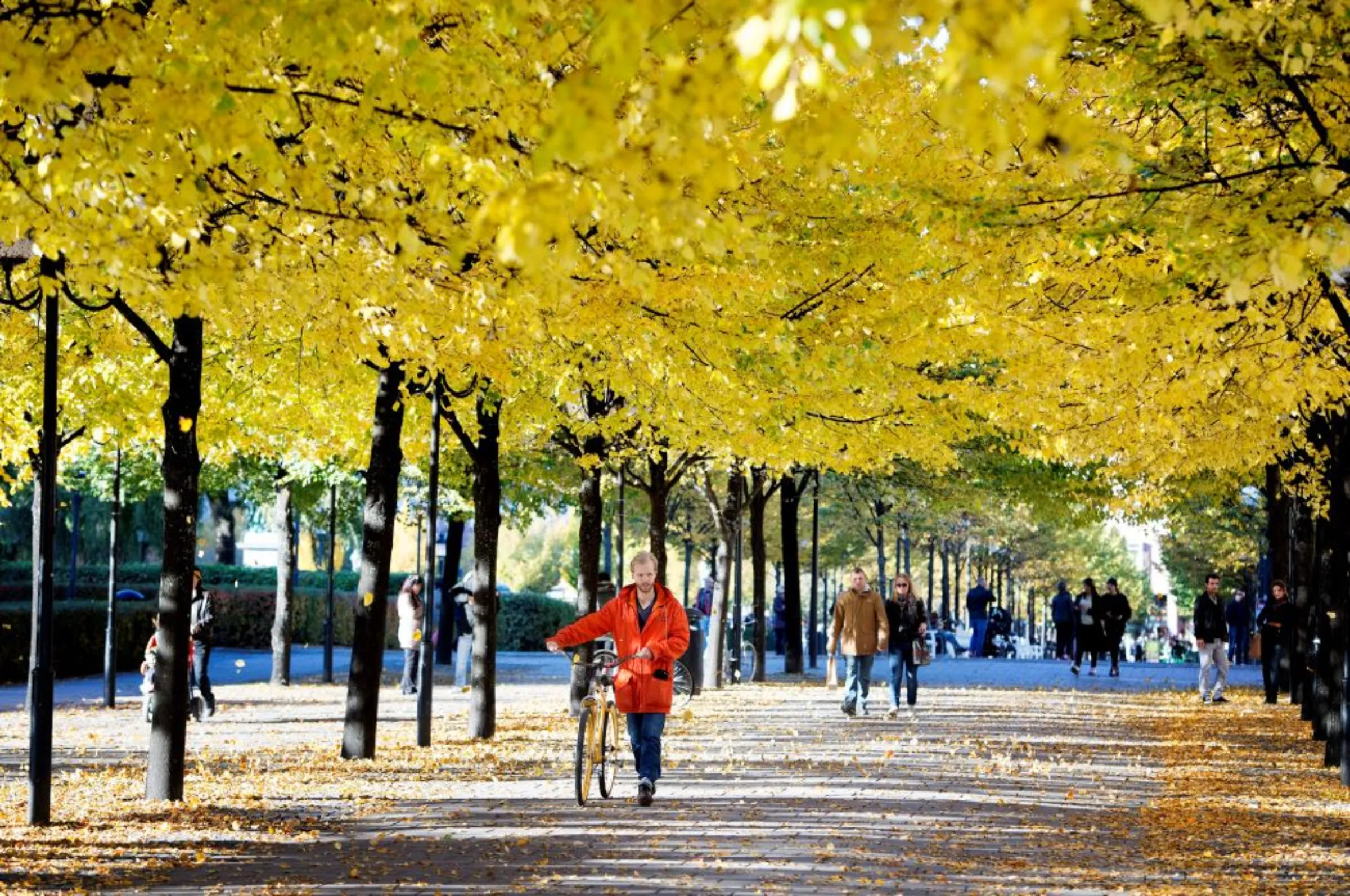 A man pushes his bicycle on a sunny autumn day down a tree-lined street in Stockholm October 13, 2013. REUTERS/Jessica Gow/TT News Agency
Cities that invest in effectively getting climate messages out can drive faster change
Michael Shank is director of engagement for the Carbon Neutral Cities Alliance and Esa Nikunen is director general of environment services for Helsinki.
Have you ever been to the doctor and thought that they could be a lot better at communicating the newfound diagnosis and treatment plan? Or been to the mechanic and thought they might be upselling a fix, using words that you're not familiar with? Or had a contractor install a heat pump and thought they could use some help communicating how it all works?
If so, you're not alone. We've all been there with some expert.
Now, the same thing is happening in the climate and environmental space. New research from the Finnish Environment Institute, published recently in Environmental Research Communications, highlights a gap – in municipalities, specifically – between climate action and communication.
Given limited resources, climate communication is done by those doing climate work, not by communication experts. The result? A confusion along the lines of what we witness at the doctor's office, the auto shop, or the contractor's visit.
The fix, according to the study, is self-evident. If municipalities want to improve their climate communications, they will need to strengthen cooperation between the climate experts and communicators.
That's easier said than done, however, given how historically under-resourced climate communications is.
As Finnish researchers noted in their study – amplifying what's been found before – a lack of information can lead to a public that's overwhelmed and frightened, but "information alone does not always lead to action". More is needed.
When communicating the urgency of the climate crisis, the public responds to and resonates with messages of hope instead of fear, local impacts that help illustrate global climate trends, and solutions that provide agency and action.
And throughout all of this, storytelling and visualizations that are appropriate to the cultural context are helpful.
Some specific recommendations emerged from the study, which looked at 92 frontrunner municipalities on climate action in Finland.
First, recognize and communicate all climate actions. Be transparent in telling residents what is being accomplished and what benefits it brings, a key to relevance and trustworthiness.
For example, as Helsinki turns to more wood construction – wood stores carbon emissions – it has branded itself "Wood City" and launched a video series to communicate the benefits of mass timber construction.
Second, coordinate communication. That is often easier said than done as not every climate or environmental office has a dedicated and devoted climate-trained communications team. But creating shared climate communication guides, websites and events can help.
For example, Finland's Hinku Network - 90-plus municipalities looking for environmental solutions with economic and social benefits - created a shared web portal with visual portrayals of the network's emissions changes in an effort to build a nation-wide movement and illustrate the potential of municipalities acting together.
Third, tailor the messaging. With knowledge of local perceptions, municipalities can better tailor communication and predict the reactions and interpretations. Often diverse channels of communication and different communicators are needed to reach all parts of an audience – and city leadership is not always the right messenger.
Helsinki's launch of a mobile app to help Finns make more sustainable choices about how they eat, drink, work, study and invest is a great example of tailored messaging and has used community influencers to impact behavioral decision-making.
Fourth, engage creatively. Municipalities should move towards more collaborative and collective ways of communicating and solving problems, engaging with communities to co-create and co-design solutions.
Helsinki's one-million-euro challenge competition, to solicit creative solutions to decarbonise the city's heating, without relying on biomass, is a great example of a creative approach. Check out all of the inspiring finalists' ideas here.
All of this takes time and resources, of course, which municipalities in the study uniformly agreed was lacking.
But directing more resources to climate communication in central government budgeting, giving climate action a central part in municipal strategies, and recruiting senior level support for improving communicating could boost climate action, the study suggests.
It is now time to invest in that communications support – an essential prerequisite for generating climate action.
---
Any views expressed in this opinion piece are those of the author and not of Context or the Thomson Reuters Foundation.
---
Tags
Adaptation

Green jobs

Climate solutions
---