What's a 15-minute city? Liveable urban space or climate lockdown?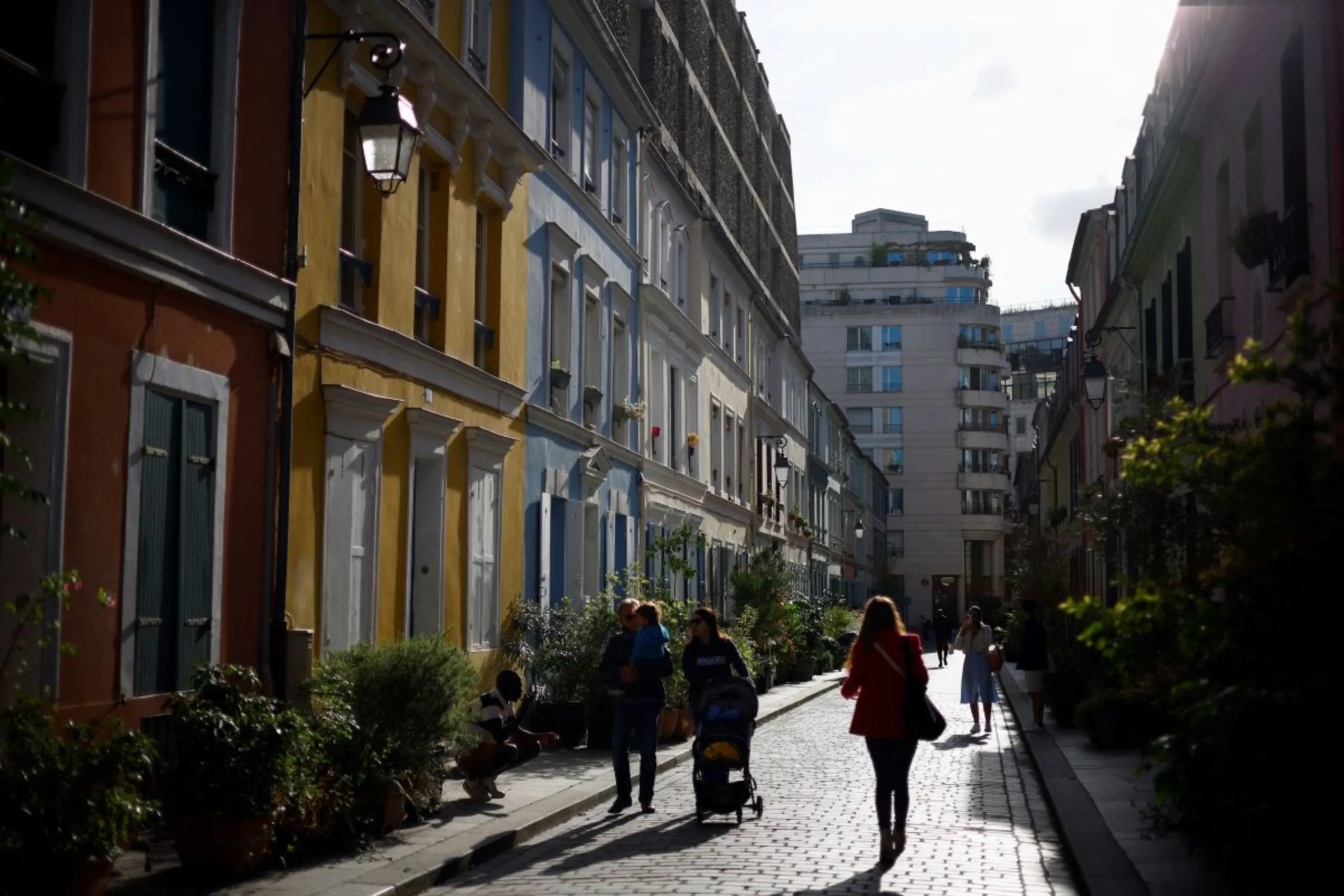 People walk in rue Cremieux, a street lined with colorful, terraced homes, in Paris, France October 4, 2023. REUTERS/Sarah Meyssonnier
What's the context?
The concept of 15-minute cities is gaining traction around the world, but so are conspiracy theories calling it the start of "climate lockdowns"
15-minute cities aim to make towns more liveable
Most things a short walk or cycle away
But some call it a "climate lockdown"
LONDON - Experts believe 15-minute cities, where most things are a short walk or bike ride away, could help tackle climate change and improve the quality of life, but conspiracy theorists see the idea as a bid to lock people up in their own neighbourhoods.
From Paris to Melbourne, Bogota to Bangkok, and Chicago to Nairobi, cities in five continents are implementing some 15-minute principles, aiming to become more accessible, interconnected, sustainable and healthy places to live.
Here's what you need to know about 15-minute cities:
What is a 15-minute city?
Carlos Moreno, scientific director at the Université Panthéon-Sorbonne in Paris, pioneered the concept of the 15-minute city, aiming to create an urban landscape designed around people, not cars.
"It is a concept that seeks to change our lifestyles, our way of working too," Moreno told Context.
The concept, he said, aims to reconcile three things:
"Energy sobriety with less CO2; fewer fine particles in a move towards more ecological, more sustainable cities."
"Developing a local economy; more services and regenerating local colonies in all places in the city, to make a city much more liveable."
"Social interactions; interaction in public space, more culture and more generational medical care, more neighbourhoods with people," he said.
The 15-minute city is a paradigm shift in urban planning, to ensure critical services like schools, grocery stores, workplaces and healthcare, but also parks and cultural spaces, are all within a 15-minute walk or cycle from home.
One-hundred-and-one cities, part of C40, a group of mayors collaborating to lessen the effects of climate change, have implemented some 15-minute city principles.
How are 15-minute cities implemented?
Turning the concept into reality goes from just adding green spaces to redesigning entire neighbourhoods.
Some examples include:
Paris, where Mayor Anne Hidalgo has created 168 "school streets" with play areas and greenery in place of cars. Four neighbourhoods in the French capital have also been redesigned according to the principles of the 15-minute city.
Copenhagen is transforming an old rail yard into a 15-minute, zero-carbon neighbourhood with public spaces and housing for people of all ages and social backgrounds.
Bogotá's 'vital neighbourhoods' aim to improve streets and communities, including through a series of children's priority zones centred on childcare facilities.
What does a 15-minute city have to do with global warming?
While cities occupy just 3% of the planet, they account for between 60% and 80% of energy consumption and 75% of carbon emissions.
More than half of the global population lives in urban areas, a rate projected to reach 70% by 2050.
One of the United Nations' Sustainable Development Goals is to create inclusive, safe, resilient and sustainable cities.
Redesigning cities according to the 15-minute concept could help achieve those goals and fight climate change, experts believe.
"This creates services of proximity. If you have more capacity to go on foot, by bike, if you can regenerate your activity, less travel is required," Moreno said.
"Automatically, we will have less CO2 and fine particles emitted, and therefore we will have more energy sobriety, which is one of the necessary conditions in relation to climate challenge," he said.
What do the conspiracy theorists say?
Some conservative and right-wing politicians have attacked the idea of 15-minute cities as an attempt to limit people's freedom of movement and amplify government surveillance.
Conspiracy theorists have called 15-minute cities part of a "socialist agenda" and the so-called "Great Reset" plot to destroy capitalism.
One online conspiracy theory falsely claimed the United Nations and the World Economic Forum wanted to forcibly remove people living on polluted land and make them to live in "smart cities."
Cécile Simmons, researcher at the Institute for Strategic Dialogue, explained that "before the pandemic, climate sceptic circles were already trying to push the idea that climate would be used as a pretext to restrict individual freedoms, but didn't have a lot of traction with that idea. And that sort of changed with COVID when the idea of climate lockdown started trending."
The conspiracy theories leverage the animosity towards lockdowns that arose during the COVID-19 pandemic and portray 15-minute cities as a "climate lockdown".
"People have been so traumatised by the pandemic, that's why it lends itself so easily to conspiracy theories because people are concerned about government overreach, they are concerned about individual freedoms," Simmons said.
Articles that pointed out that lockdowns had led to a drop in harmful emissions and statements by leaders who said things could not return to normal after the pandemic were weaponised, Simmons said.
Conspiracists said governments would use the climate crisis as a pretext to implement more lockdowns and the 15-minute city was the first step in the plan. There is no evidence that cities that have adopted the model are planning more lockdowns.
What is the difference between a 15-minute city and a smart city?
While both aim to enhance urban living, they take different routes, sharing common goals, but employing different strategies to achieve them.
Smart cities use technology and data-driven solutions to optimise various aspects of urban life, such as energy usage, waste management and transportation systems.
"The smart city is really about using technology to improve the efficiency of our cities," said Hélène Chartier, director of urban planning and design at C40.
But for 15-minute cities, Chartier explained, "the technology is interesting, but it's interesting as a tool, not as an entry point."
(Reporting by Axelle Rescourio; Editing by Jon Hemming)
---
---
Tags
Adaptation

Net-zero

Climate policy

Climate solutions
---