How can cities prepare for more extreme heat?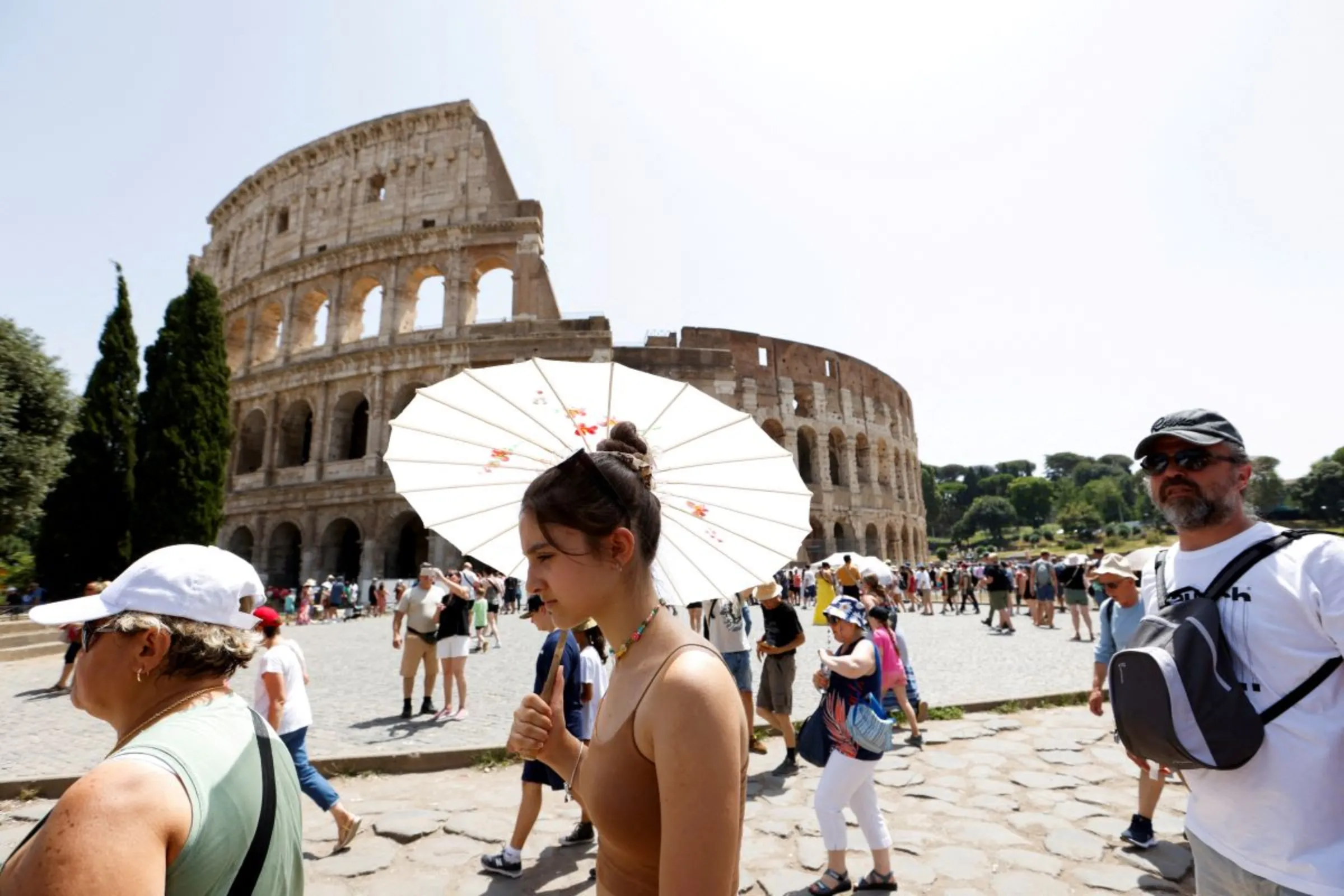 People walk near the Colosseum during a heat wave across Italy as temperatures are expected to rise further in the coming days, in Rome, Italy July 17, 2023. REUTERS/Remo Casilli
As extreme heat hits Europe and the world, cities must prepare for increasing heatwaves
Sarah Colenbrander is director of the climate and sustainability programme at ODI, a global affairs think tank.
In early July, Earth saw its hottest day on record… three times in a single week.
The global highs follow record-breaking heat in Asia throughout April. Now, a heatwave is battering much of Europe, Africa and North America. Cities in these regions are on red alert.
Average global temperatures have increased by 1.1 degrees Celsius since pre-industrial times. Yet that hides the fact that land temperatures are rising faster than ocean temperatures, and urban temperatures are rising faster than in rural and natural areas.
Our cities are becoming furnaces. Why?
Urban "heat islands"
Vegetation and water reflect heat back into the atmosphere. They also have a cooling effect through evaporation, transpiration and shade.
By comparison, cities are largely built of concrete, asphalt, brick and metal, which absorb and retain heat. Roads and buildings are often dark, trapping more heat than light colours. Driving, manufacturing and air conditioning also pump out hot air.
The result? Cities all over the world are shattering temperature records. Looking forward, we face an even hotter urban future.
In addition to extreme heat, cities are confronting other challenges including looming energy shortages, unaffordable housing, chronic air pollution, and absent or crumbling public services.
The good news is that "heat proofing" cities would help solve many of these crises.
Retrofitting shoddy homes would keep residents cooler in summer and warmer in winter, while cutting energy bills and dependence on energy imports.
Building mass transit and cycling networks would cut the heat blasted from vehicles' exhaust pipes while reducing congestion and air pollution.
Planting trees and other vegetation would cool cities while absorbing noise and air pollution, producing quieter streets and cleaner air. People are happier and healthier when they can access gardens, parks and waterways. Trees reduce flooding by helping water infiltrate the soil, and fight climate change by sequestering carbon dioxide as they grow.
Making cities greener
Next time you're walking around your neighbourhood, look at how much land is allotted for cars.
Spaces between buildings are typically dominated by roads or parking spaces. Pedestrians are shunted onto narrow sidewalks, which bake during a heatwave. Even as we swelter, we allocate huge swathes of urban land to the cars fuelling the climate crisis.
So let's change that.
Let's gradually remove car parking spaces alongside roads and replace them with plant vegetation. The presence of trees will dramatically lower local temperatures. It will also filter air pollution, absorb rainwater runoff and provide a refuge for wildlife.
Eventually, whole lanes and even streets can be pedestrianised and planted. In low-lying coastal cities or those on flood plains, some roads might even be converted into bioswales or canals that not only help to cool cities, but absorb floodwaters after heavy rains or storms.
Cities should prioritise expanding nature in lower-income neighbourhoods. Not only do these communities have much less green space, they also tend to live near busy roads, landfills and industrial sites where land is cheaper. When a heatwave hits, the combination of pollution and high temperatures is toxic.
Of course, people still need to travel around their cities. Local authorities will therefore need to provide alternatives to cars, such as good bus networks and safe cycle lanes. As people shift to cleaner transport, their carbon footprint will fall – in turn helping to mitigate future heatwaves.
The limits to urban nature
Nature-based solutions can dramatically improve urban life, but they are not a silver bullet.
Many urban ecosystems face collapse due to climate change, with several species facing local extinction. Habitats in and near cities are especially vulnerable because they face additional human impacts like pollution, water extraction, trampling or introduced species.
Communities looking to bring more nature into their neighbourhood therefore need to think about which species and ecosystems will survive emerging climate risks. Can they withstand long dry spells? Can they survive high temperatures? Are they salt tolerant?
2023 is on track to be the hottest year on record – but it will still be one of the coolest years this century. Without immediate action to bring nature back into cities, people struggling with high temperatures today are going to swelter even more in the years to come.
The best time to plant a tree was 30 years ago. The next best time is now.
---
Any views expressed in this opinion piece are those of the author and not of Context or the Thomson Reuters Foundation.
---
Tags
Extreme weather

Adaptation
---