Abortion rights: What do U.S. state elections mean for 2024?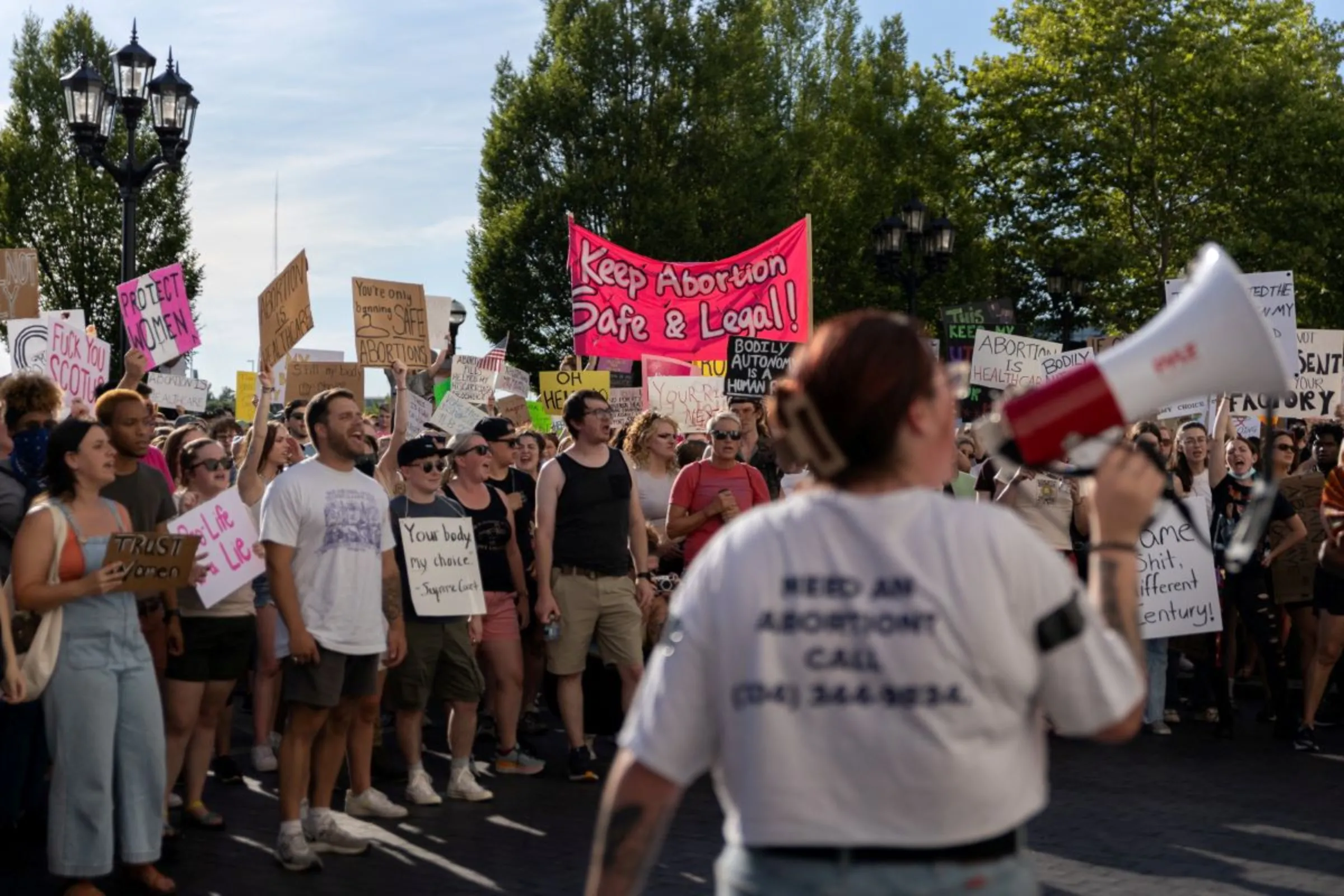 Abortion rights protesters gather for a rally in Columbus, Ohio, after the United States Supreme Court ruled in the Dobbs v Women's Health Organization abortion case, overturning the landmark Roe v Wade abortion decision, June 24, 2022. REUTERS/Megan Jelinger
What's the context?
Here's what's next for abortion rights in the U.S. after right to choose supporters notched key wins this week
Abortion rights supporters notch key wins
Republican consultants need to 'wake up,' advocate warns
Activists eye Ohio-like ballot items in 2024
RICHMOND, Virginia - Abortion was a top priority for many voters in this week's U.S. state elections, with supporters of the right to choose extending a string of victories since the Supreme Court last year overturned the constitutional right to end a pregnancy.
Voters in Ohio, which has trended reliably Republican in recent presidential elections, voted by 57% to 43% to enshrine the right to an abortion in the state constitution.
Democrats in Virginia appear to have won enough seats to control both chambers of the state legislature after Republican Governor Glenn Youngkin and GOP candidates campaigned on enacting new abortion restrictions after 15 weeks of pregnancy.
And Democratic Kentucky Governor Andy Beshear won re-election in a reliably Republican state. Abortion played a large role in the race and Beshear mentioned Hadley Duvall - who appeared in a searing ad attacking Republican opponent Daniel Cameron on abortion - in his victory speech.
Here's what to know about where the issue is moving in the U.S. heading into the 2024 presidential election year:
What do the results mean for reproductive rights in states that had elections this week?
The Ohio vote enshrining the right to an abortion and contraceptive services into the state Constitution means a six-week abortion ban in the state that had become entangled in the courts will become effectively moot.
Since the Supreme Court overturned its landmark 1973 Roe v. Wade decision to grant the right to abortion, more than 20 states have enacted new restrictions on the procedure, while some, including California and Colorado, have tried to move in the other direction and safeguard abortion rights.
But Ohio is now the seventh state since last year's ruling where voters have weighed in directly, with the abortion rights side coming out on top each time.
In Virginia, Democrats appeared to have won enough seats to flip control of the state House of Delegates and maintain control of the state Senate.
As a result, Republicans will not have the votes to push forward on a party-line basis to enact new restrictions on abortion after 15 weeks.
Beyond blocking new limits, Democrats could now pursue getting a proposed constitutional amendment protecting abortion rights on the ballot along the lines of what Ohio did - though that process would be a complicated, years-long effort.
"Our top priority is to advance a constitutional amendment to protect reproductive freedom in Virginia," Jamie Lockhart, executive director of Planned Parenthood Advocates of Virginia, told Context.
Where will the next major battlegrounds be?
After Ohio's success, pro-choice advocates plan to push for abortion-related ballot items in 2024 in at least 10 other states, including Florida, Missouri, South Dakota and Arizona.
Jessica Post, president emerita of the Democratic Legislative Campaign Committee (DLCC), told reporters there would be increased interest in such measures in the wake of Tuesday's state election results.
"I also think it's not necessary to boost Democratic turnout to put an abortion measure on the ballot when the stakes are so clear to voters across the country," Post said.
Anti-abortion advocates acknowledged the uphill climb they face on the issue politically.
Marjorie Dannenfelser, president of Susan B. Anthony Pro-Life America, an anti-abortion advocacy group, said the election results meant "that Democrats are going to make abortion front and centre throughout 2024 campaigns."
"The GOP consultant class needs to wake up," Dannenfelser said in a statement. "Candidates must put money and messaging toward countering the Democrats' attacks, or they will lose every time."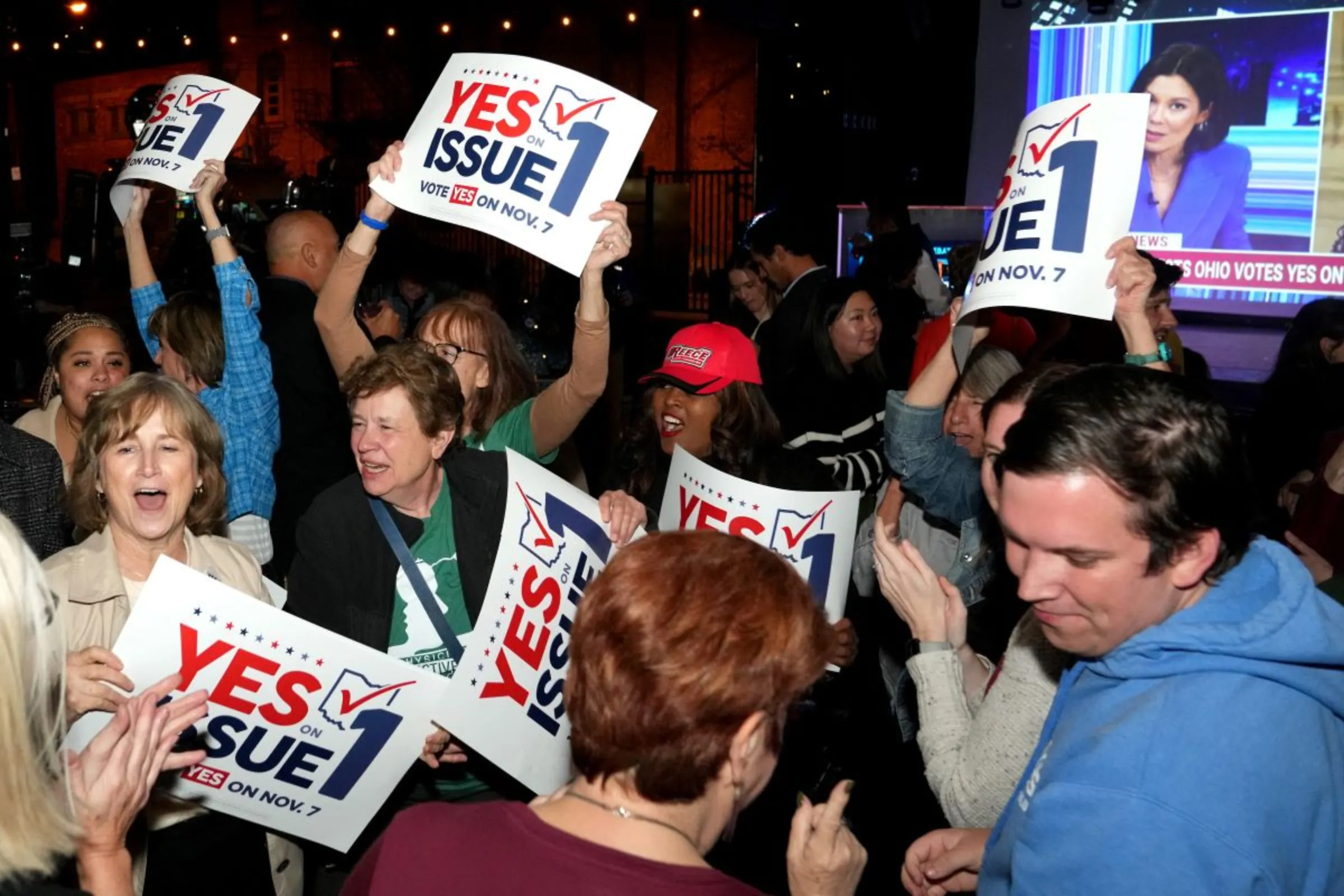 How big of an impact did abortion have on key races?
Beyond Ohio, Virginia and Kentucky, even in a Pennsylvania state Supreme Court race, abortion emerged as a primary issue – if not the overriding issue in the contest.
Before the elections in Virginia, Schuyler VanValkenburg, who defeated Republican state Senator Siobhan Dunnavant in a Richmond-area contest, said abortion was the number one issue he was hearing on the campaign trail.
"I think one thing we learned (on Tuesday) is even if there isn't a formal abortion measure on the ballot, Democratic turnout is still driven by a Republican effort to ban abortion," said Post of the DLCC.
How will abortion figure in the 2024 presidential, congressional and state elections?
Since Roe v. Wade was overturned, national Republicans have struggled to settle on a coherent message on abortion rights – meaning Democrats will likely continue to emphasize the issue.
While President Joe Biden praised the Ohio vote, his potential Republican presidential rivals have mostly been supportive of restrictions on abortion.
Former President Donald Trump, the current Republican front-runner, has touted the nominations he made to the Supreme Court that preceded the justices' overturning of Roe v. Wade.
Since that decision, though, Trump has not specified exactly what new federal or state-level restrictions he would support and has criticized a six-week ban, with exceptions, that Florida Governor and GOP presidential rival Ron DeSantis signed into law.
DeSantis acknowledged the current losing streak anti-abortion advocates have seen at the ballot box post-Roe.
"I think of all the stuff that's happened to the pro-life cause, they have been caught flat-footed on these referenda and they have been losing the referenda," the governor said at Wednesday's Republican presidential debate in Miami.
(Reporting by David Sherfinski; Editing by Jon Hemming)
---
---
Tags
Gender equity

Government aid

Race and inequality

Economic inclusion
---