Mobile abortion clinics open up as US states cut access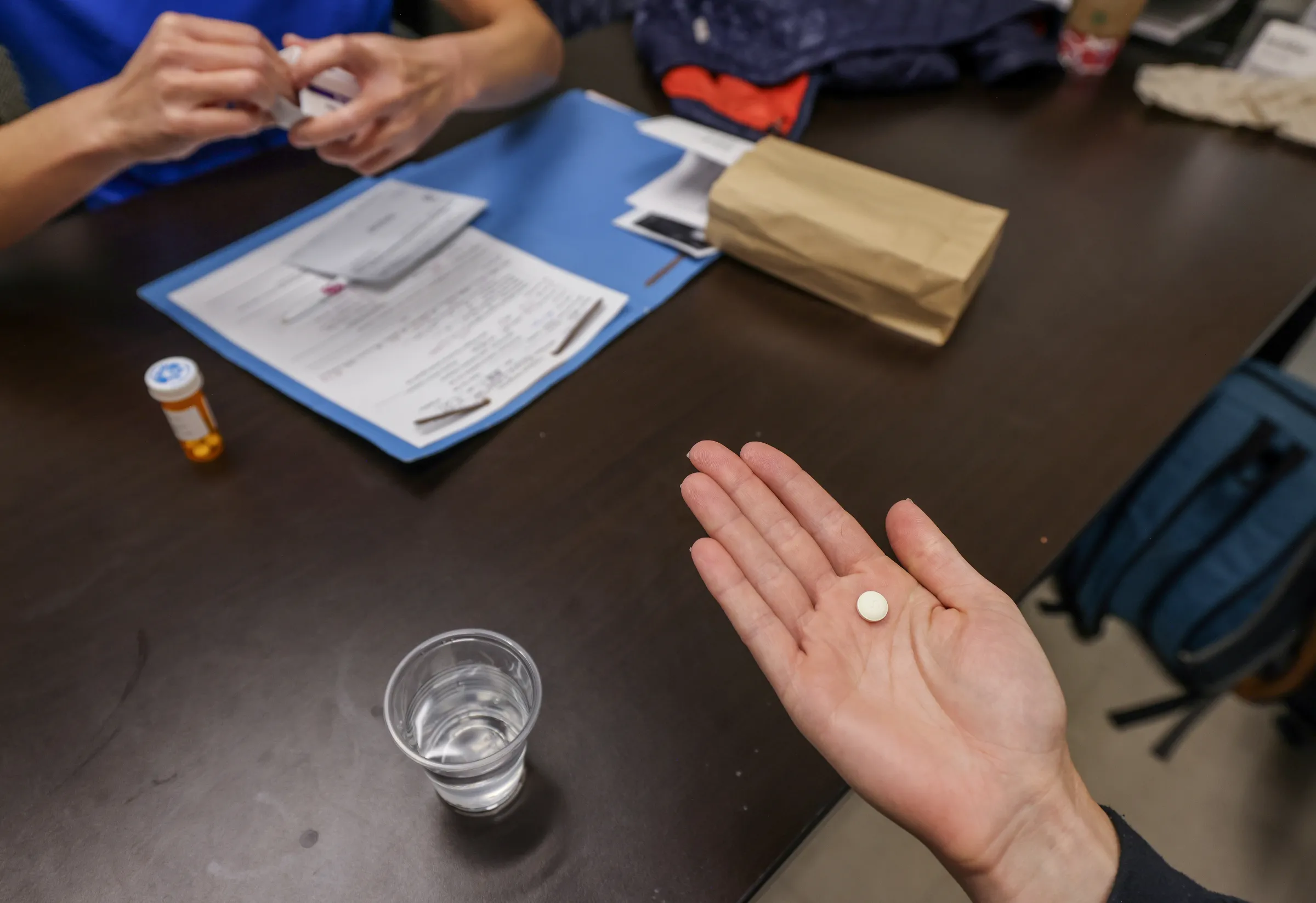 A doctor hands a patient the initial abortion inducing medication at Trust Women clinic in Oklahoma City, U.S., December 6, 2021. REUTERS/Evelyn Hockstein
What's the context?
US abortion providers are coming up with creative ways to maintain access following strict curbs in states from Missouri to Texas
Abortion providers work to set up clinics in vans, ships
Supreme Court ruling triggers bans in many US states
Nonprofits face legal hurdles in bid to maintain access
NEW YORK - Abortion providers are rushing to open mobile clinics in vans and on ships to ensure women can still access the procedure following near-total bans in almost a third of U.S. states.
Most American women now live in states considered "hostile" to abortion rights, according to the Guttmacher Institute advocacy group, with many forced to travel out-of-state to get a termination.
That is swamping clinics in places where abortion is still permitted, providers say, leading them to come up with some creative solutions to meet the extra demand.
"The mobile clinic is our act of defiance," said Bonyen Lee-Gilmore from national abortion rights group Planned Parenthood.
The group plans to open its first mobile clinic in the next few months in southern Illinois to meet demand from women in neighboring Missouri, which has some of the country's most restrictive abortion curbs.
Lawmakers across much of the United States moved swiftly to restrict access to abortion following the Supreme Court's June 2022 decision to overturn the Roe v. Wade ruling that had protected abortion rights for almost five decades.
Since the ruling, Planned Parenthood has seen a five-fold increase in patients coming to Illinois from elsewhere, Lee-Gilmore told Context.
"We're innovating abortion care and taking a look at the challenges that our patients face," Lee-Gilmore said, adding that the new clinic would initially provide medication abortions - which use pills to end early pregnancies - before offering surgical terminations in the longer term.
Mobile clinics
As well as kitting out vans and recreational vehicles as clinics on wheels, some abortion rights groups are considering setting up pop-up clinics in empty retail premises or in ships moored offshore.
In the Rocky Mountains, a nonprofit called Just The Pill has a pilot traveling clinic offering medication abortions in Colorado, which is bordered by six states with severely restrictive laws.
Two more mobile clinics are equipped for surgical abortions and will be ready to offer the procedure when security issues are worked out, said Julie Amaon, medical director of Just The Pill.
"Making sure we have that safe place to park the clinic has really been a challenge," she said.
Dozens of people were arrested last year in incidents at U.S. abortion clinics that included damage to facilities and assaults on staff, according to the Justice Department.
Just The Pill is also considering setting up pop-up clinics in empty stores, potentially in areas where demands on clinics have risen.
Amaon said the shifting legal landscape is another challenge for providers as some states such as Texas, Oklahoma and Idaho move to criminalize crossing state lines to get an abortion and aiding and abetting women seeking procedures.
In Texas, where performing an abortion is a crime punishable by life in prison, a federal judge issued a temporary injunction that blocks Texas from prosecuting nonprofits that help women seeking an abortion in states where it is legal, and the battle is ongoing in the courts and legislature.
"We're in kind of a wild, wild west, where we're going to see what lawsuits stick and what don't," said Amaon.
Offshore abortion ship
Meg Autry, a California-based obstetrician/gynecologist, hopes to outmanoeuvre the legal morass with a floating clinic in the Gulf of Mexico, miles offshore beyond the reach of the restrictive laws in the coastal states of Texas, Louisiana, Mississippi and Alabama.
Autry looked to U.S. history, when 19th-century gambling boats traveled on the Mississippi River, beyond the reach of local and state laws.
More recently, Women on Waves in the Netherlands, which was launched in 1999, sent ships to anchor in international waters, allowing women from restrictive countries to have abortions.
Autry runs the nonprofit PRROWESS (Protecting Reproductive Rights of Women Endangered by State Statutes) project, which is fundraising to buy a ship.
She estimated it will cost about $3 million to buy a boat and roughly as much to retrofit it, and she hopes to use volunteer medical staff.
Adam Boddington, a surgeon who lives in San Francisco, said he felt compelled to offer his expertise to PRROWESS.
"We can donate funds and write letters and stuff, but it doesn't really feel tangible," he said by phone. "To be able to get there and be involved with it would be awesome."
Getting patients from shore to ship would entail certain logistics, and the floating clinic could treat up to 40 patients a day for most of the year, limited by hurricane season, Autry said.
"Our goal is for crew and providers to never touch restrictive land," she said.
In Texas, anti-abortion campaigners are preparing to fight efforts to establish floating clinics off the state's coast, said John Seago, president of the Texas Right to Life group.
"The floating abortion clinic is definitely a threat, especially to our Gulf Coast communities," he said.
Right to Life also wants to make sure Texas laws on abortion are enforced, he said, as a number of major cities in the state consider barring the use of local funds to prosecute abortion-related violations.
Mifepristone challenge
A court case in Texas poses another potential challenge for providers working to maintain access to medication abortions, which are used to end pregnancies at 10 weeks or less and account for most terminations in the United States.
A Texas judge is expected to rule on whether to ban or limit the sale of mifepristone, a drug used in medication abortions. The case was filed by anti-abortion groups which argued that the drug's safety had not been adequately determined by the federal Food and Drug Administration (FDA).
Even before last year's Supreme Court ruling, Amaon said women had struggled to access abortion care in states that lacked clinics, noting that government health insurance programs for low-income patients did not cover terminations.
"It's always mattered where you live, your financial ability to pay and travel," she said. "The fall of Roe was just the straw that broke the camel's back."
(Reporting by Ellen Wulfhorst; Editing by Helen Popper.)
---
---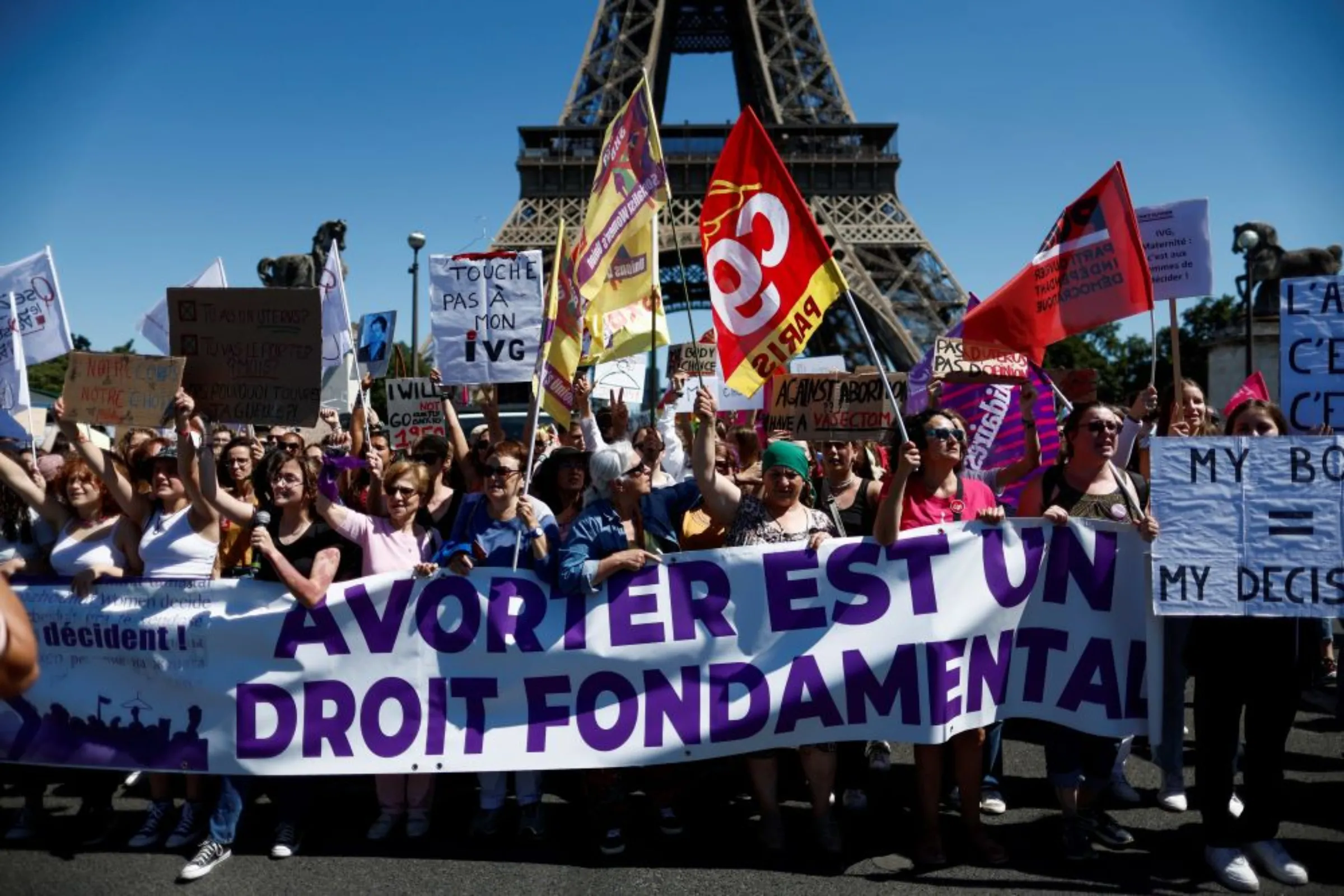 ---