Anyone can become homeless with Suella Braverman's policies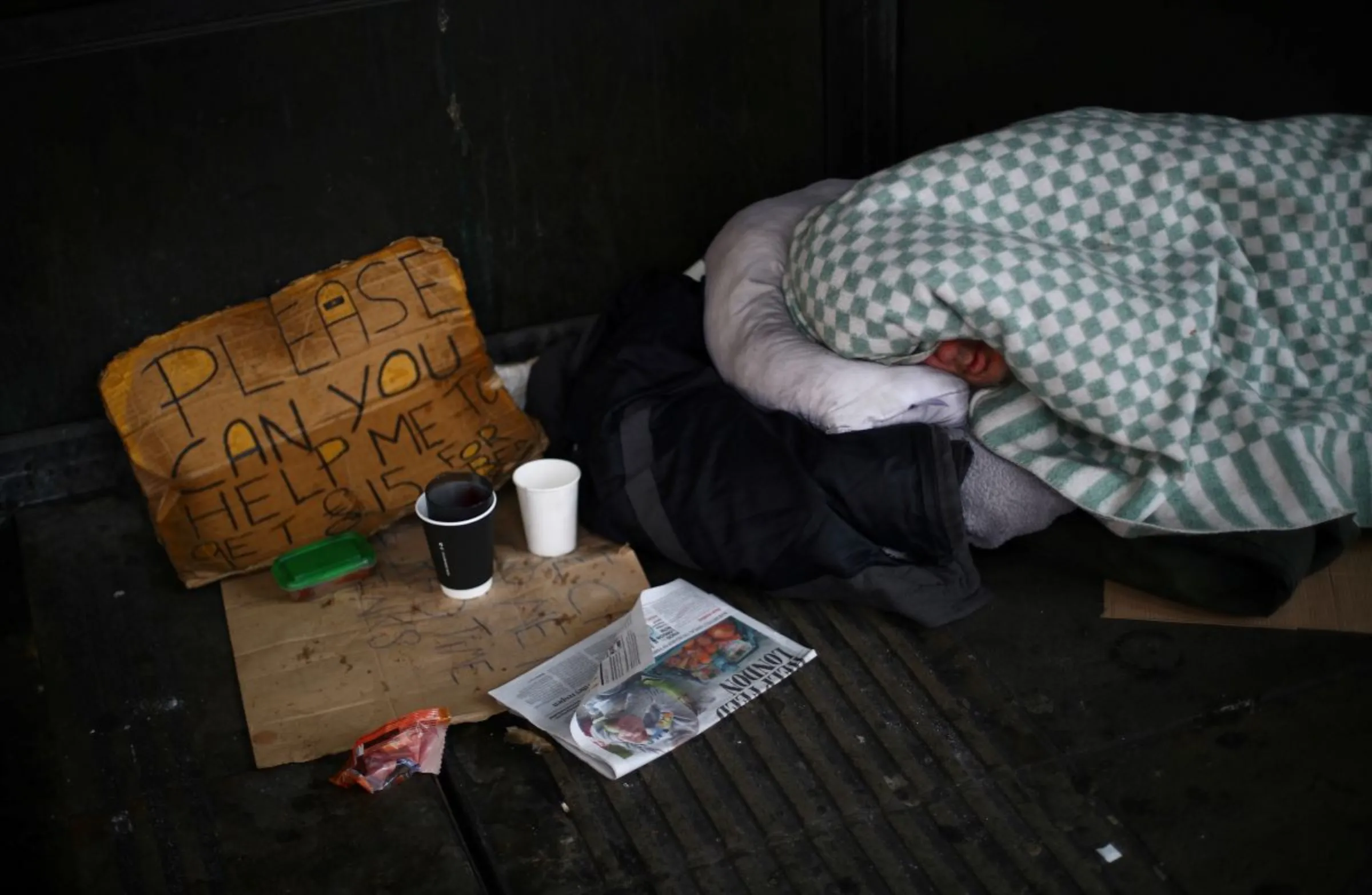 A homeless person is seen in Westminster, London, Britain, April 29, 2020. REUTERS/Hannah McKay
The Home Secretary is right, there is a "choice" in homelessness – hers and those who create policies forcing people into poverty
Anna Miller is Head of Advocacy and Policy at Doctors of the World UK, a charity that provides access to healthcare to people in vulnerable conditions living in the UK.
Years of austerity, compounded by the cost-of-living crisis, have hit so many of us. Families choose between eating and heating.
People struggle to pay ever-increasing rents and mortgages.
Many of us feel insecurity around our homes like never before.
That is when a home is still an option.
But it isn't for 70% of the people accessing Doctors of the World services in the UK who are either homeless or vulnerably housed.
The experience of being homeless is dehumanising, degrading and frightening. It is also very harmful to health. Put simply, homelessness kills.
The lack of a permanent address, paperwork, money for transport, the need to move frequently, or life in a highly isolated containment site all prevent people from registering with a GP and accessing regular primary care.
The slashing of welfare support, punitive 'hostile environment' policies and an increasingly nightmarish asylum system have all played a role in stripping people living in the UK of one of life's most basic needs: safe shelter.
Every day our teams see people fighting to keep a roof over their head - people seeking asylum, families barred from welfare and housing support because of their status, refugees who are turned out of asylum accommodation and are unable to pull together a deposit to rent a flat.
All experience homelessness in different forms.
Our doctors and nurses also deliver medical care from mobile clinics to people struggling with homelessness, supporting people to register with their local GP, access free prescriptions, dressing wounds, and referring them to specialist medical and mental health services.
Many have multiple severe conditions. We've seen patients with tuberculosis, osteoarthritis, Parkinson's, epilepsy, tumours and gynaecological disorders, who are alone in coping with their illness. Our teams ensure people feel safe and comfortable, when their reality is everything but.
Home Secretary Suella Braverman's comments on the legitimacy of people sleeping in tents on the street, are not just incorrect, they are deeply offensive to all who survive in the face of overwhelming forces that strip them of a home.
Many of these forces are Home Office policies, enthusiastically championed by the Home Secretary, which intend to deprive people of safe shelter.
Doctors of the World has continuously challenged the Home Secretary's stance and bills that directly harm people's health, safety and wellbeing.
This includes the 'Illegal' Migration Act - a catastrophic and reckless piece of legislation leaving no path for refugees to regularise their immigration status, forcing them into perpetual limbo of destitution, poverty and putting them at risk of exploitation and trafficking.
More recently, the seven-day notice eviction period - a nonsensical policy - sees refugees, who've fought for years to have their traumatic experiences recognised, pushed into homelessness within days of receiving their status.
Taking tents away from people sleeping rough is inefficient and dangerous. No one wants to be living in a tent, but for those that do, tents will play a role in saving lives as temperatures drop.
Inadequate shelter heightens vulnerability, making tents not just a basic need but a fundamental tool for preserving the well-being of people struggling with homelessness.
The Home Secretary is right in that there is an element of choice in homelessness – hers and those who create policies forcing people into destitution. These decisions either intentionally prevent people from being able to access housing, or stubbornly ignore the evidence that causes people to lose their home. It does not have to be this way.
We can prevent homelessness with the resulting negative health outcomes, and ensure everyone has safe, secure, and sustainable housing.
For this reason, we stand with our peers in the homelessness sector and urge Suella Braverman to focus on proven housing solutions.
No one should live in uncertainty, struggling to feed themselves and their family, keep the heating on, lose their home, or sleep on the streets.
We say to Suella Braverman and those who insist on pushing the people of the UK into destitution: Anyone can become homeless. It is not a lifestyle choice. You have the power to protect all our health.
---
Any views expressed in this opinion piece are those of the author and not of Context or the Thomson Reuters Foundation.
---
Tags
Unemployment

Government aid

Wealth inequality

Housing

Cost of living

Economic inclusion
---