Custodians of Mexico's indigenous forests confront climate change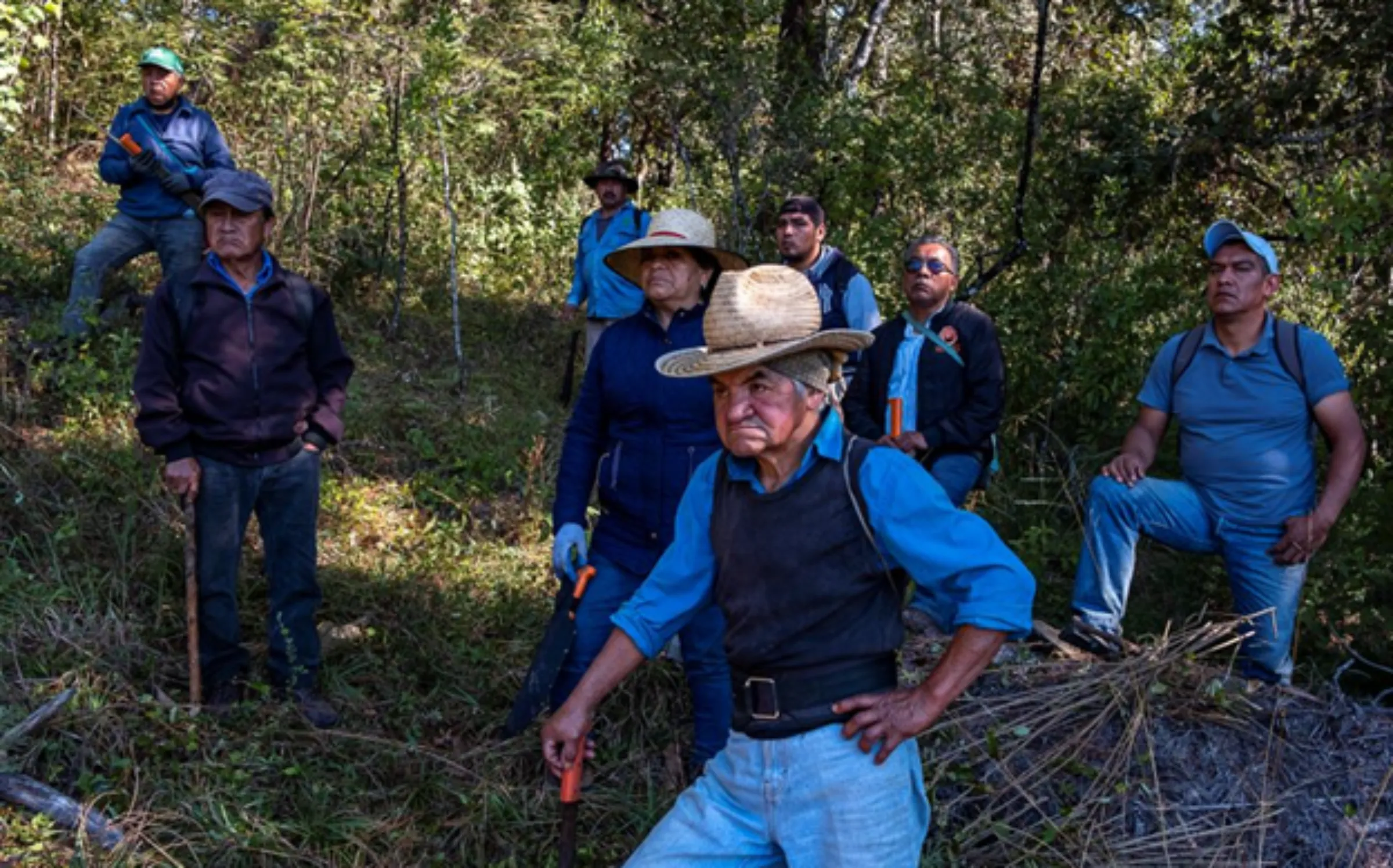 Men rest after a collective work of clearing the forest near Capulálpam de Mendéz, Mexico, December 11, 2022. Thomson Reuters Foundation/Noel Rojo
What's the context?
As they face drought and pests, Oaxaca's indigenous peoples say community forest ownership and management remains crucial
Communities in Oaxaca own and manage most of the land
Collective approach seen as key to protect the forest
Climate change bringing threats from drought to disease
CAPULÀLPAM DE MENDEZ, Mexico - Early one Sunday morning in December, in a town in southwestern Mexico, dozens of people equipped with machetes hopped onto open trucks and bundled into cars and headed into the nearby forest.
A few kilometres south of Capulálpam de Méndez in Oaxaca state - on a plot of land owned by the indigenous Zapotec people - the group disembarked and started clearing unwanted vegetation threatening to hinder the growth of recently-planted pine trees.
The community's reforestry work, however, faces new dangers as well: worsening droughts, bark beetle infestations and other problems linked to climate change.
"In this parcel, we have already planted pine trees four times, since the first three times many trees died. It is due to the late arrival of rainfalls and long droughts," said Miguel Cosmes Martínez, who is in charge of the surveillance unit that monitors activity in the forest.
Martínez was elected by his community, with his role one of several filled by local people in the absence of state-provided services in some indigenous areas, which are self-governed.
Today, almost 80% of all land in Oaxaca is communal and governed by its indigenous population - the highest proportion among Mexico's 32 states - according to government statistics.
The reforestry work is considered essential by the Zapotec people of Capulálpam who have faced a long and ongoing struggle to assert ownership of and protect the forests that have not just economic but spiritual value to the community.
In the 1980s, some mountain communities in the state's Sierra Norte region - including Capulálpam - waged a successful campaign to regain control of land that the federal government had awarded in concessions to paper and mining companies.
For the past 20 years, the people of Capulálpam - once a mining town - have protested against international mining firms for polluting water sources and filed several legal challenges.
Local people have established community-run enterprises - from a forest management company to a sawmill and an ecotourism initiative - to manage the land in a more sustainable manner while benefiting from the natural resources.
Such indigenous forest protection initiatives, which provide benefits to both people and nature, are seen as key to meeting a new global goal to protect 30% of land and oceans by 2030.
"The fact that the land is communal is very important," said Francisco García, head of the Secretariat of Common Resources, a community body responsible for overseeing communal land.
"Since we all have the ownership, we all feel the same responsibility to take care for our forests," he added.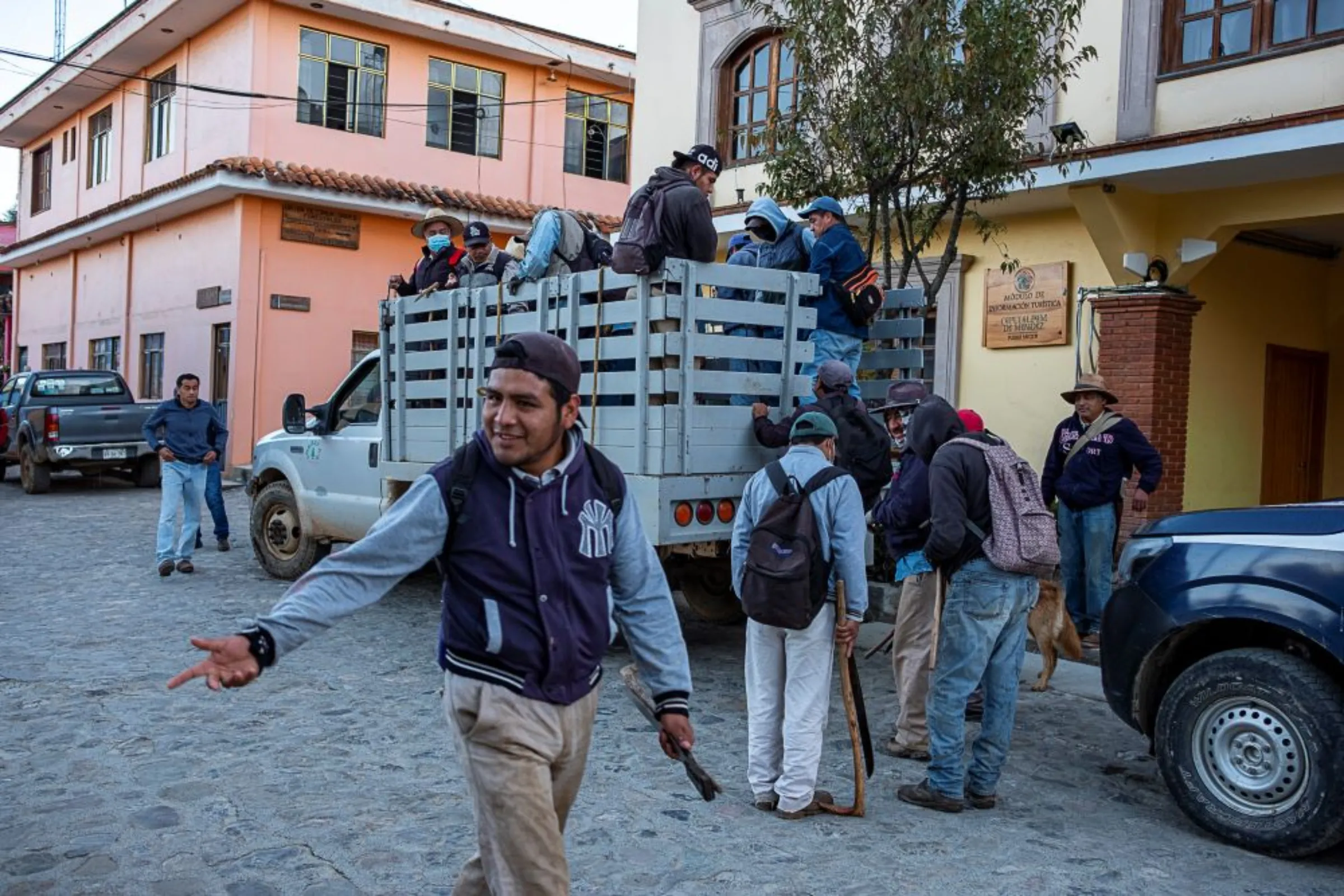 Drought and disruption
The Union of Zapotec and Chinantec Communities (Uzachi) - a grassroots organization focusing on forest management - works with local groups and bodies to make decisions about the land, such as choosing the parts of the forest for logging and later reforesting them.
In Capulálpam, the community not only benefits financially from ecotourism activities such as guided hikes and renting traditional cabins but from selling some felled wood in order to sustain community-run companies and other local initiatives.
However, reforesting land has become more complicated in recent years as droughts in the region have become more severe and long-lasting, with rains sometimes starting in August or September instead of June.
"Due to long dry seasons, many plants die in some areas, which means additional costs since we have to replant again," said Juan Carlos Maldonado, who oversees administration and sales for the forest management company.
In response, the community has been selecting plots for logging and replanting pine trees in colder areas.
When the rainfall does arrive, it is often very heavy, causing disruption, said Aida Arreortúa Carbajal, a biologist for Uzachi.
"Too much rain can destroy access to the plots, which means extra costs and work is needed to rebuild access to the roads," she said.
The forest stewards also are worried about the spread of bark beetles that have been killing trees in the area for years.
However, climate change is now making their life cycle less predictable, Maldonado explained, adding that studies were being carried out to try to ensure trees are not felled when the insects are breeding and can spread more easily.
The community is currently buying young pine trees from a neighboring town's nursery that provides trees for the region.
To prevent the infestation spreading, the town is also planning to set up a nursery to grow its own seedlings produced from local forests.
"It is important that they are the same plants and that they are grown in the same conditions," Maldonado added.
Carbon credits
While the forest management firm hires seasonal workers from other communities to do logging and reforestation - as Capulálpam lacks sufficient labor - the
Secretariat of Common Resources organizes the collective voluntary work - known as 'tequio' - to manage the reforested plots.
Without such contributions, covering the costs would be difficult for a small mountain community like Capulálpam.
"If we wanted to be taking care of the forests this way with only government support, it would be impossible," said García of the secretariat. "All the care of our territories is based on our community organization."
With Capulálpam always seeking fresh funding to manage its forests, it joined carbon offset markets in 2008 as a member of the Integrator of Indigenous and Campesino Communities of Oaxaca (ICICO), which unites communities to sell carbon credits.
In 2020, the town joined Climate Action Reserve - an offset registry for global carbon markets - and its Mexican Forest Protocol, which offers guidance, monitoring and reporting tools.
The secretariat did not provide information about the value of or the income generated by its carbon credits, but said that the town uses half of this money on forestry work, with the rest funding social projects ranging from education to sport.
Yet some members of the community are not convinced about the initiative, concerned for example that the companies buying the credits may seek influence over their land in the future.
"In a strict sense of territory protection, we should be against these practices," García said.
(Reporting by Magdalena Rojo; Editing by Kieran Guilbert and Laurie Goering.)
---
---
Tags
Adaptation

Loss and damage

Forests

Biodiversity

Indigenous communities
---