Indigenous paths lead to a green, healthy food system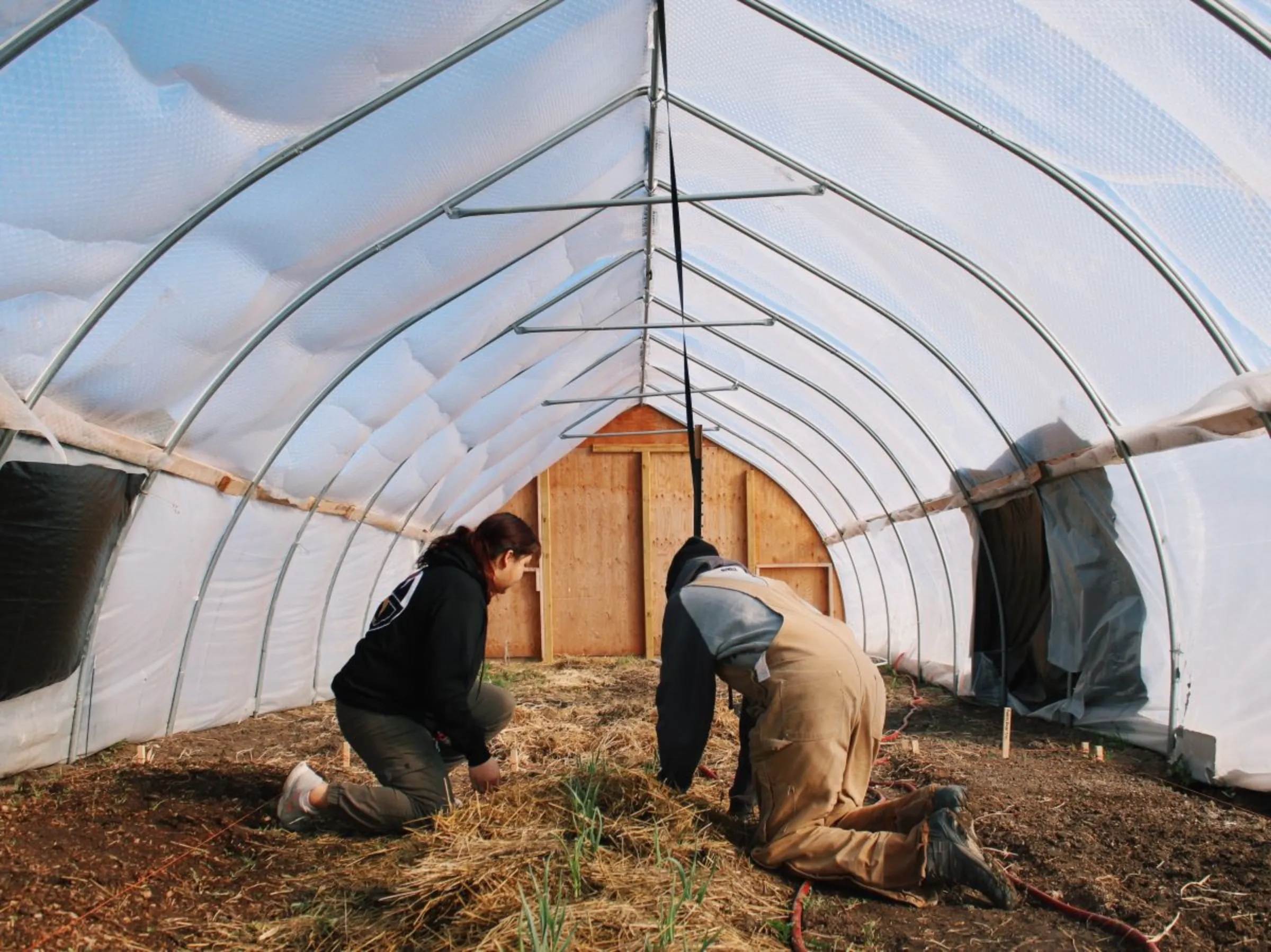 Michelle Huakaas works with a garden intern to pull weeds at the Keya Wakpala Garden, March 2022, South Dakota, USA. Robert Bordeaux/Handout via Thomson Reuters Foundation
Big business is moving into 'regenerative' agriculture – to do it well, companies need to partner with Indigenous peoples
Matthew Wilson is the director of the Sicangu Food Sovereignty Initiative and an enrolled citizen of the Rosebud Sioux Tribe.
The Sicangu Lakota Nation, based in South Dakota, have brought buffalo back to our land, growing our herd from 100 to 1,000 in just the past two years. We are reviving healthy food ways, along with restoring ecosystems right under the buffaloes' hooves.
We operate a community farm and a greenhouse, harvest wild foods, train adults and youth in agriculture and nutrition, and run a mobile market to reach our relatives far from any grocery store - which is more likely to sell Cheetos and Cokes than fresh vegetables.
As climate change batters food production around the world, and consumers pivot toward more climate-friendly food choices, agribusinesses have launched a stream of initiatives in support of regenerative agriculture.
Danone announced a plan to cut methane emissions by 30% over the next seven years. McDonald's and PepsiCo were among a handful of powerhouse companies that jointly issued an "action plan" to scale practices that aim to reduce greenhouse gas emissions and restore healthy soil. Previously, Archer-Daniels-Midland (ADM), one of the world's four biggest grain traders, issued a similar commitment, likewise staking a claim to regenerative agriculture.
I welcome the sentiments these companies have expressed. But if we want to unlock the power of regenerative agriculture, we need to embrace a deeper meaning and look for leadership elsewhere: starting with Indigenous Peoples. After all, Indigenous Peoples occupy, manage, and survive on around one-quarter of the Earth's land, which contains 80% of the world's remaining biodiversity - a sign that we are among the most effective stewards of the environment.
Disease and poverty
As head of the Food Sovereignty Initiative for the Sicangu Lakota Oyate (Rosebud Sioux Nation), I work every day with our farmers, youth, adults and elders to deepen our practice of regenerative agriculture - which, in essence, is Indigenous agriculture.
The stakes could not be higher. Today, we battle diabetes rates 800 times higher than other groups in America, and poverty rates more than four times that of America overall. The foods we grow, how we do so, and how we distribute this food impacts nearly every aspect of our lives. And this is not only true for the Lakota, but for everyone.
The current global food system produces the diets that account for one in five deaths worldwide. It generates a third of all greenhouse gas emissions, destroys biodiversity, and leaves too many agricultural workers and their families in poverty. It would be a grave mistake to trust the same corporations and corporate values that got us here to lead us out.
Regenerative agriculture holds great promise - which is why Indigenous Peoples and farmers practicing it should be at the center of any serious agenda to better understand and scale it. Many of the biggest corporate programs that brand themselves as "regenerative" focus solely on improving soil health and storing carbon. But this is only one small part of what is needed to make agriculture regenerative of the earth, and of human and animal health.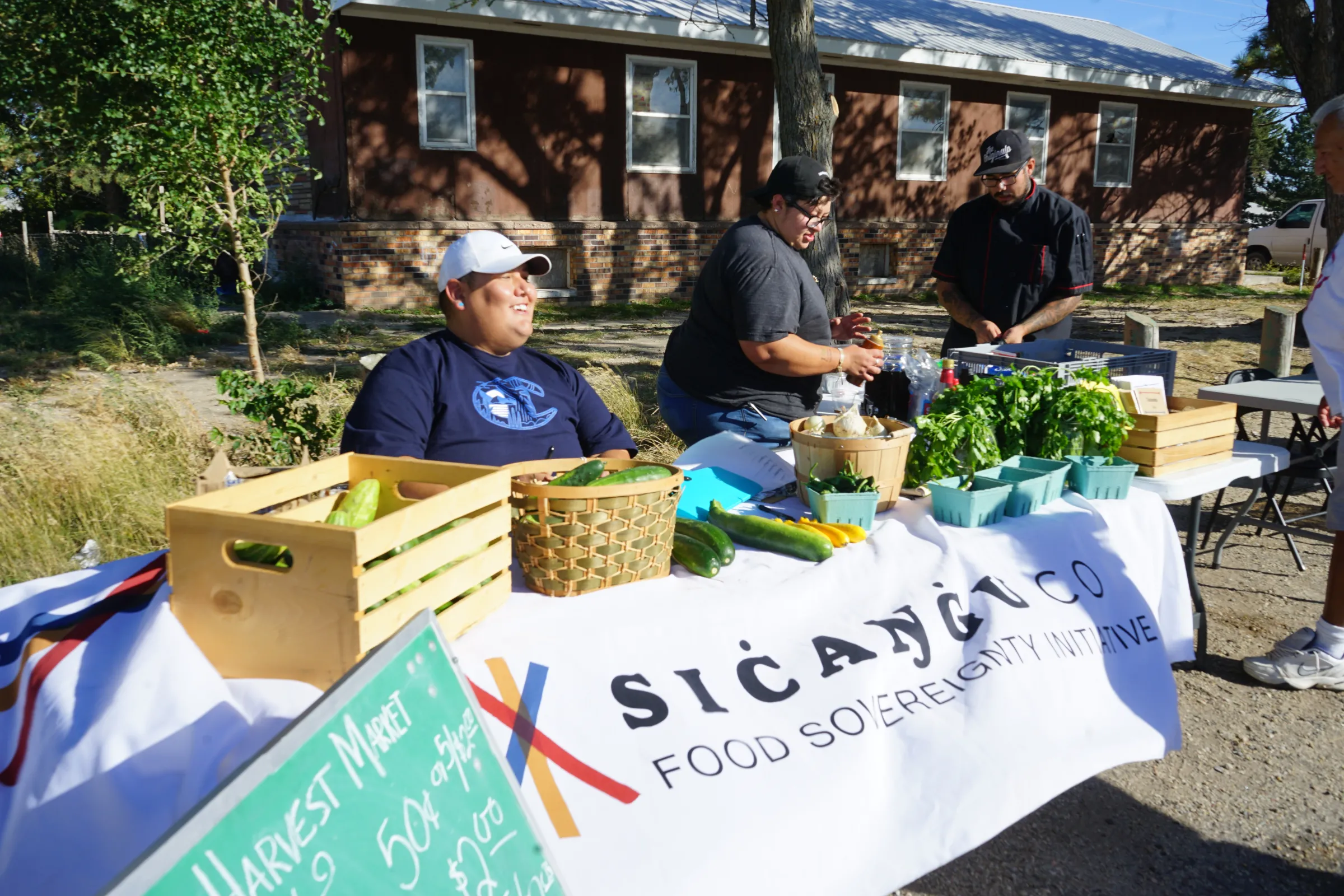 Equal partners
Before the military campaigns that sought to eliminate us, Indigenous Peoples thrived because our social and economic systems were based on relationships with nature and the environment. We prioritized these relationships, a concept we call Wotakuye: all life is treated as relatives.
Wotakuye still informs Lakota food ways and agriculture, providing not only for nutrition and health, but also for educational opportunities, employment, and strong communities. We are guided by the 7Gen Vision, which imagines the world we'd like to see our descendants living in 175 years from now - and builds it.
This is how we must approach regenerative agriculture - not in silos, but as part of an integrated system that holds enormous promise as a solution to climate change, food insecurity, poor health, and the inequities of the industrialized food system.
Three things are needed to realize this promise. First is to amplify Indigenous voices and the work being done in our communities. Second is to invest in that work. Organizations and societies that have benefited from the wealth extracted from Indigenous lands and cultures have a duty to make amends. Third is to reconfigure the global, national and local advisory and planning bodies that are hammering out a course of action on regenerative agriculture.
Indigenous Peoples must be at the table not only as equals, but as leaders. The views and interests of a broad spectrum of farmers, land stewards, non-profits, communities, businesses and agencies must also be represented. Corporations will also be there, but they cannot dominate. Otherwise, we risk reducing regenerative agriculture to a marketing label, rather than a unified effort to transform our food systems to be healthy, resilient, sustainable, and prolific.
Deeply regenerative agriculture can only be achieved with Indigenous Peoples as equal partners in its definition and implementation. And only change of that depth can restore balance to the climate and health to the planet.
---
Any views expressed in this opinion piece are those of the author and not of Context or the Thomson Reuters Foundation.
---
Tags
Agriculture and farming
Climate inequality
Indigenous communities
---