Lobby groups want to kill nature policies – here's what we can do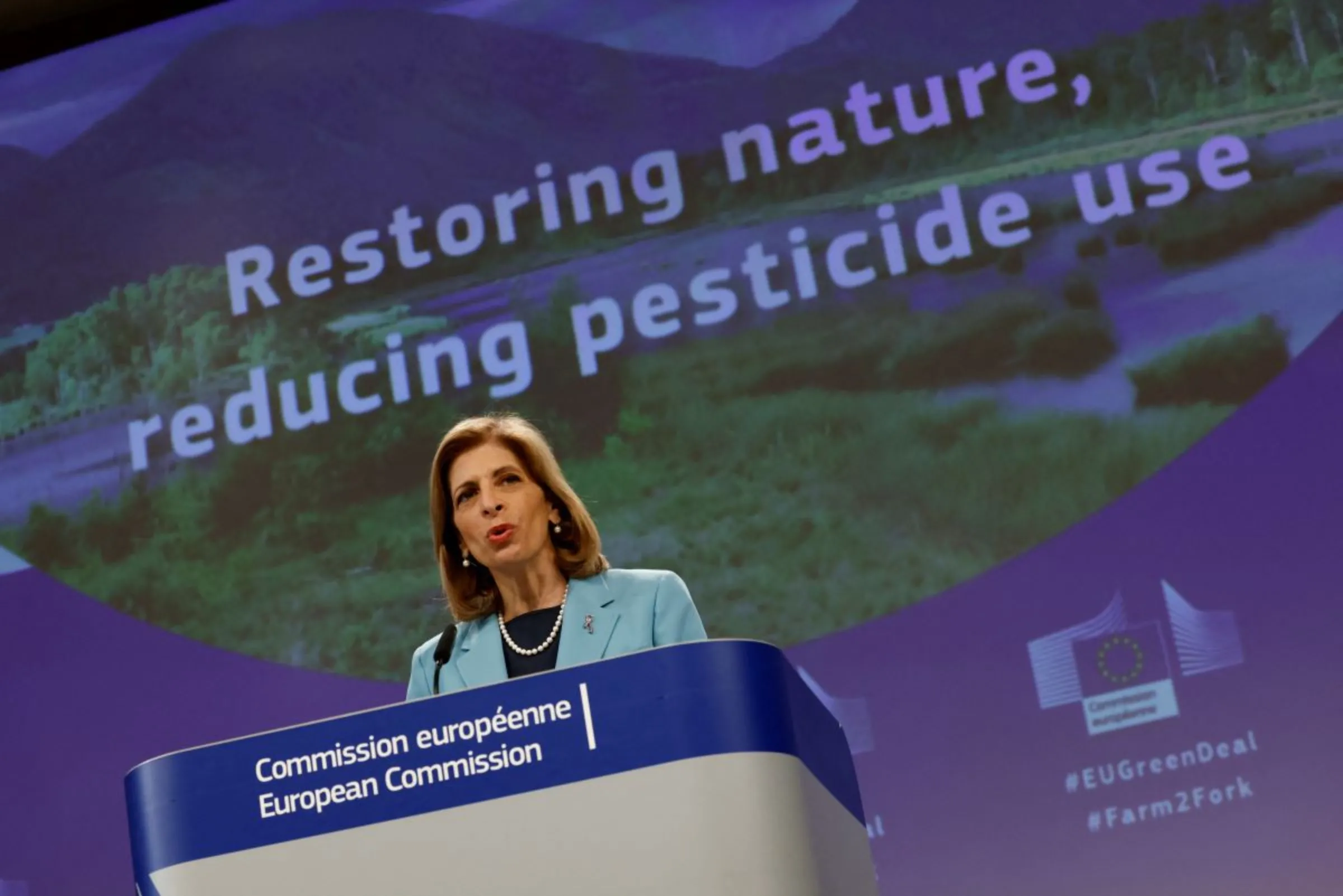 European Commissioner for Health and Food Safety Stella Kyriakides speaks during a news conference on the proposal by the European Commission of two laws to cut the environmental impact of pesticides and set aside land for nature restoration, in Brussels, Belgium June 22, 2022. REUTERS/Yves Herman
With laws to regenerate biodiversity facing resistance, we must explain how nature can work for people
Helen Crowley is managing director at the global investment and advisory firm Pollination.
It was a momentous moment at the U.N. nature summit in Montreal last December when the Kunming-Montreal Global Biodiversity Framework was agreed to guide global action through to 2030.
However, in less than a year, European Union commissioners have warned that lobby groups are trying to kill key legislation which would restore natural habitats and limit the use of chemical pesticides in Europe.
This backlash against nature protection is frustrating. Restoring and protecting nature could offer at least one-third of the solution to climate change. Regenerative and restorative approaches to agriculture – focused on nurturing and restoring soil health – could underpin food and water security as our climate becomes more volatile.
The scientific evidence is clear, so why aren't we getting the message across?
I think it's partly because of the terminology we use. It can be misleading and seem to exclude some key populations. When the United Nations talks of protecting 30% of the planet, it means that land and ocean systems need to be managed more effectively for biodiversity outcomes – but that does not mean to the detriment of local communities and Indigenous people.
We should be understanding people's fears and addressing them more carefully. Will yields and farming incomes drop if fertilizers and pesticides are restricted? Will intensive livestock farming be banned? Will marine breeding grounds be permanently off limits to fishing fleets? These are legitimate concerns. Change is scary, particularly when jobs are on the line.
The European People's Party, the largest political group in the European parliament, claims that the EU's nature restoration law will harm farmers. In response, farmers, fishermen and Indigenous communities – the stewards of our natural world – need to know that they will be supported as they implement changes we are asking for.
Many already know that working with nature, rather than against it, is the smart way to go. But economic forces like subsidies often support the reverse. Shifting to new methods also comes with a perception of risk. We need to articulate how new policies and desired practices will be equitable and just, so that people want to be part of this transition.
Farmers and fishermen often understand the threat of continuing with business as usual, as fish stocks and crop yields decline while costs do not. The EU says 81% of its habitats are in a poor shape. Worldwide, the Food and Agricultural Organization reports that agricultural systems are at breaking point, with one-third of agricultural soils moderately to highly degraded. Less than 3% of the world's oceans are fully protected. And this is before the ravages of climate change are factored in.
We have answers to these problems, but they require courageous leadership because they call for profound changes in how people produce and consume food. We have many examples of where regenerative agriculture is working – from the cotton fields of India to farmland across the North American plains.
By allowing nature to thrive, the health, fertility and biodiversity of soils return, water retention increases, food produced has more nutritional value, human health improves, and resilience to climate change is enhanced. Similarly, restoring and protecting nature can regenerate forestry and rebuild fish stocks.
Regenerative practices on land and sea, as well as through supply chains and business models, are a chance to avert disaster. But they are also a huge opportunity for humanity. Nature can be a powerful ally: the more we do to restore, regenerate and protect natural systems, the more resilient we will be. Ecological resilience underpins economic resilience.
We need to halt biodiversity loss, protect nature and get all of our ecosystems functioning again. But we need to be smarter in designing how we will do that together as part of a just transition. Communities on the frontlines of this transition need to know that they will be included and supported.
---
Any views expressed in this opinion piece are those of the author and not of Context or the Thomson Reuters Foundation.
---
Tags
Climate policy

Agriculture and farming

Climate and health

Loss and damage

Forests

Biodiversity
---