Governments must step up to fund methane-hunting space camera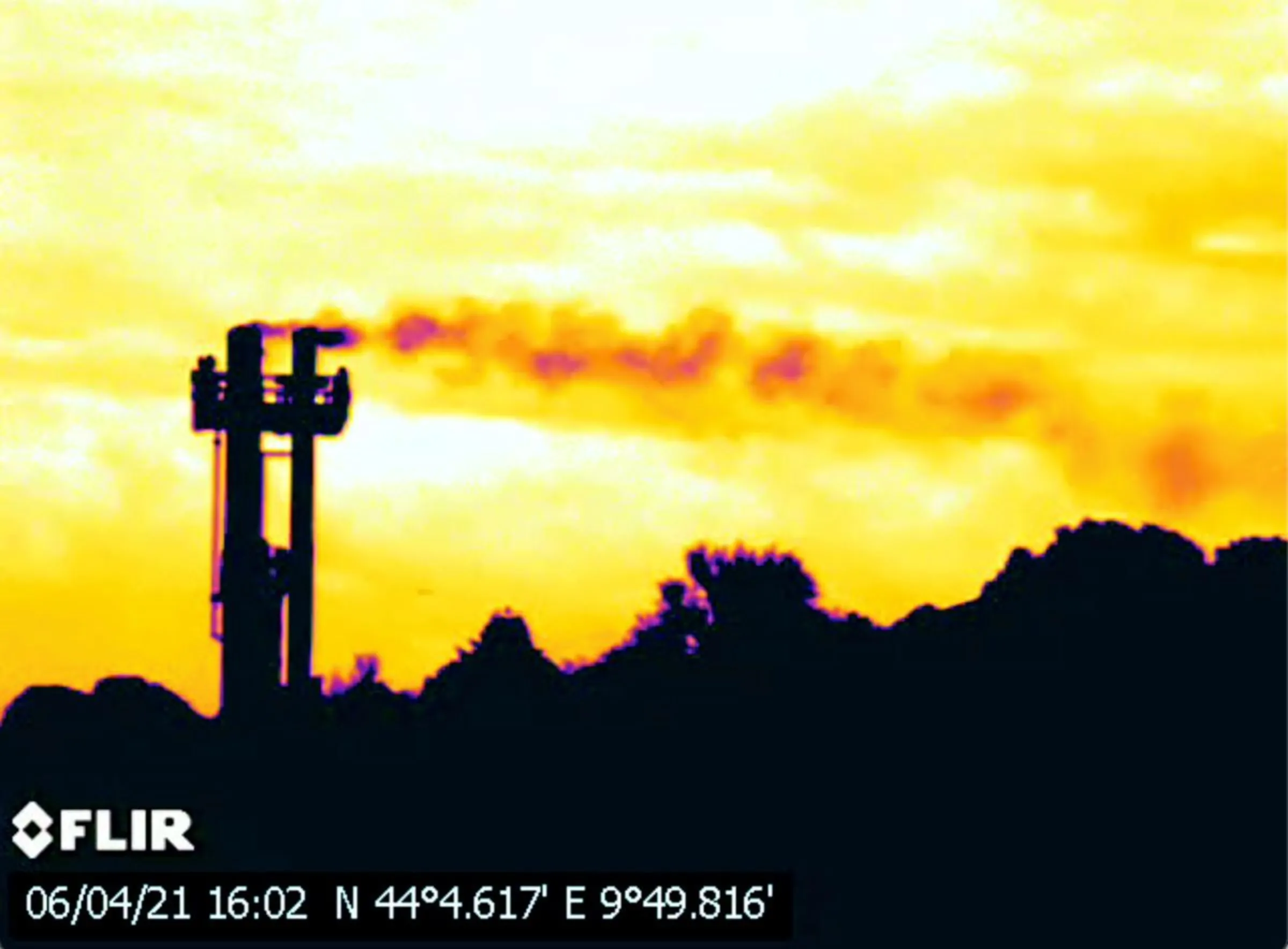 A handout screen grab from thermographic video footage shot on April 6 by Clean Air Task Force (CATF), shows what appears to be methane gas leaking from two stacks at SNAM's Panigaglia LNG terminal near La Spezia, Italy. CATF/James Turitto/Handout via Reuters
The U.S. and other nations should fund methane-detecting satellites to help cut emissions of the greenhouse gas by 30% by 2030
Deborah Gordon is a senior principal at Rocky Mountain Institute's (RMI) Climate Intelligence Program
Forty years ago, I was dousing oil field equipment with soapy water and searching for bubbles to form. This practice of checking for leaking gas was all too common - but it was not reliable or scalable. Fast forward to today. I am now on my soapbox pioneering ways to slash methane emissions worldwide.
As an environmental policy expert who has studied and tracked the climate impacts of global oil and gas throughout my career, I've worked with leaders to introduce a multitude of solutions to cut greenhouse gas emissions. While the focus has historically been on carbon dioxide, methane has flown under the radar. The time has come to focus on this powerful, invisible climate pollutant.
We know that methane warms the planet over 80-times more than carbon dioxide during its decade-long lifetime. This month, as leaders gather at Climate Week NYC, atmospheric methane concentrations are at all-time highs. Most people do not know that methane – from oil and gas, coal mines, landfills, and livestock operations – is dangerously warming the Earth.
But methane is also measurable and manageable.
How? By catching super-emitting sources from space. Satellites are a breakthrough for detection and mitigation, which means they can see large methane leaks that continue to warm the planet, and which add to the intensity of droughts, wildfires, and hurricanes around the world.
This year's theme for Climate Week NYC is "We Can. We Will." We can already spot these methane leaks—and this is critical as the ravages of climate change bear down on us. So how will we address the leaks?
Identifying methane leaks from above is the first step – followed by arming decision makers with actionable methane data to stop emissions from going undetected. According to Riley Duren, a former NASA scientist who is now working to launch methane-sensing satellites, "you could be standing within...a few feet of a massive methane plume and not know it was there."
Currently, most government satellites monitor atmospheric methane buildup and cannot pinpoint emissions sources. And private methane-sensing satellite companies mostly deliver primarily to private customers, which doesn't help our society as a whole.
Non-profit satellites, on the other hand, can conduct wide-scale, point-source super-emitter monitoring to make data transparent, timely, and publicly available. Current missions include Carbon Mapper and MethaneSAT.
Philanthropic funds have been mobilized to initially support these first nonprofit satellite missions. But philanthropy should not be the main source of funding. Government funds are needed to scale up actionable monitoring capability that supplies open-source data of methane emissions. With climate damage costs mounting in the trillions of dollars, governments are best positioned to amply fund the rapid scale up of methane monitoring and reporting to safeguard citizens and society.
It's time for the U.S.to take the lead and step up. As the world's largest producer and consumer of oil and gas, funding methane observations will help validate corporate reporting, support regulations, and calculate the methane fee enacted under the Inflation Reduction Act. Furthermore, Washington can lead by example and send a strong signal to other nations, private data providers, and emitting industries that the world is serious about methane mitigation and governments are prepared to maximize the availability of actionable data for the widest possible array of stakeholders.    
International governments should also contribute financially to expand methane data collection and dissemination. For example, a public satellite fund initiated by the COP28 presidency could inform actions by the United Arab Emirates' and the 150 other nations that have signed the Global Methane Pledge to cut their emissions 30 percent by 2030. It could also inspire other oil and gas producing nations to contribute, as well as those countries mining coal, operating landfills, and regulating concentrated animal feedlots.
Spending hundreds of millions to fund this undertaking may seem steep, but the means are more than enough when spread over all global methane sources. A single penny per equivalent barrel of oil and gas consumed globally would raise a half billion dollars a year. And a one-cent charge per ton of coal, waste, dairy products, and rice produced brings the total to roughly $700 million annually.
With such funds, satellites and their data can be financed to deliver more complete information about methane and guide cost-effective abatement and targeted action. Moreover, a global satellite data fund could broadly support multiple methane observational systems (satellites, aircraft, and sensors) and a global data center to interpret, model, and integrate methane data into decision making.
America is at the controls to establish a fund for a constellation of satellites and signal to the world that we need to be serious about acquiring methane data. Starting the conversation at Climate Week NYC could spark action at COP28. Funding nonprofit methane satellites will put transparent, actionable methane data into decision makers' hands.
---
Any views expressed in this opinion piece are those of the author and not of Context or the Thomson Reuters Foundation.
---
Tags
Clean power

Tech and climate

Fossil fuels

Energy efficiency

Net-zero

Climate solutions
---