Silicon Valley Bank's collapse could slow clean energy startups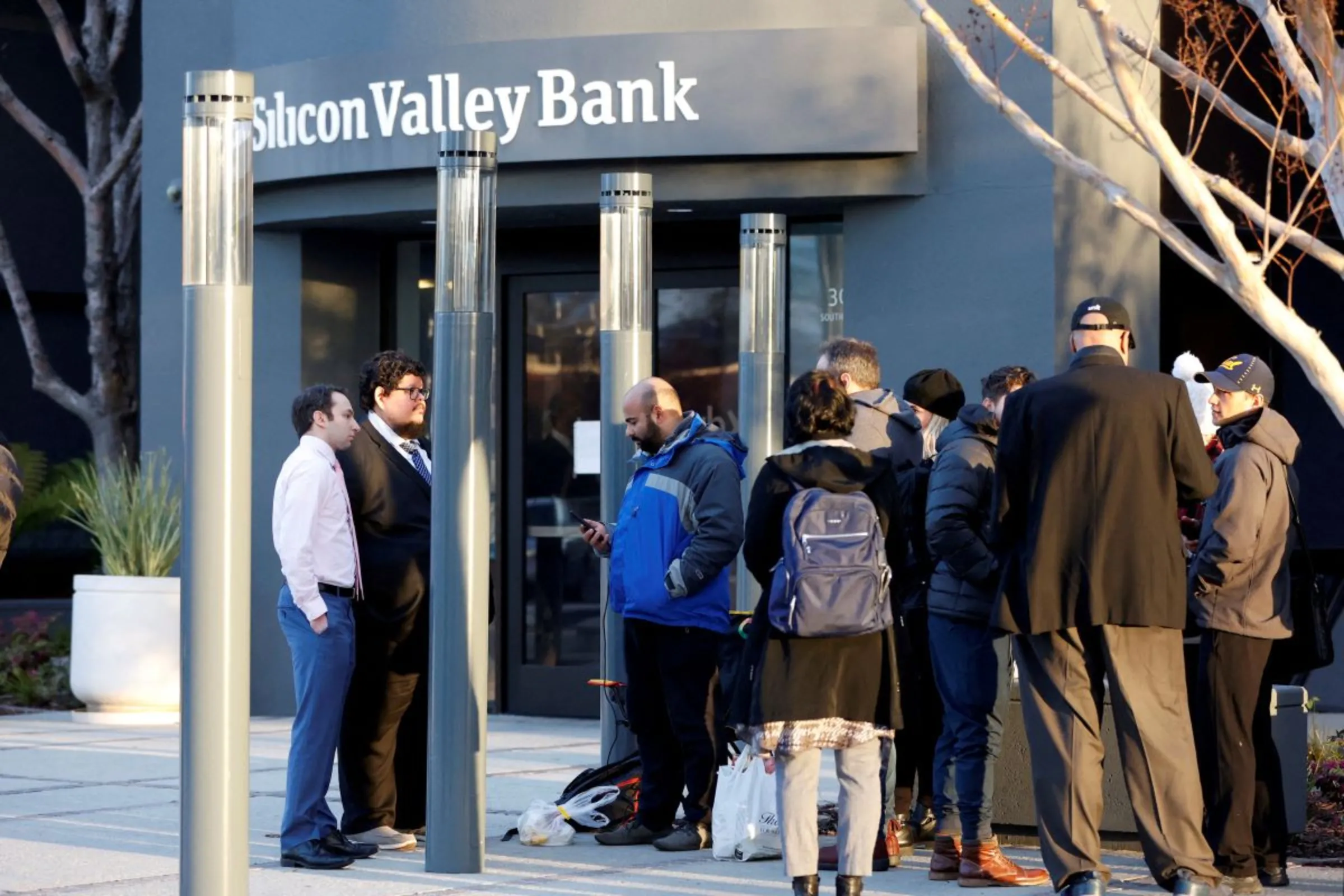 FDIC representatives speak with customers outside of the Silicon Valley Bank headquarters in Santa Clara, California, U.S. March 13, 2023. REUTERS/Brittany Hosea-Small
Climate startups want to use the Inflation Reduction Act to bootstrap action – but climate lending may need to be broader
Brandon N. Owens is vice president of sustainability at Insight Sourcing Group.
On Monday, U.S. President Biden reassured Americans that the U.S. banking industry was safe following the collapse of Silicon Valley Bank (SVB) last Thursday and Signature Bank over the weekend.
Regulators shuttered both banks to contain the damage and invoked rare regulatory authority to ensure that depositors with money at both banks would be paid back in full and able to access their money.
In addition, the Federal Reserve announced an emergency lending program to funnel funding to eligible banks and ensure they meet the needs of all depositors.
SVB's $209 billion in assets make it the second-largest bank failure in U.S. history and the 16th-largest in the United States.
As the fallout of the collapse of SVB spreads, it has become clear that some of the worst casualties were companies developing solutions for the climate crisis. The bank worked with more than 1,550 technology firms creating solar, hydrogen, and battery storage projects.
Community solar projects are facing a significant setback due to the collapse of SVB, as the bank was one of the largest financiers for such projects. SVB said that it led or participated in 62% of financing deals for community solar projects, which are smaller-scale solar projects that often serve lower-income residential areas.
These solar projects provide low-cost renewable energy to communities that may not have access to traditional energy sources. With the loss of funding from SVB, community solar projects may struggle to find alternative financing, potentially resulting in delays or cancellations of these projects.
Over the weekend, publicly traded residential solar companies Sunrun, Sunnova Energy, and others said they had been affected by SVB's failure, though federal protections would help. But Sunrun's stock lost 12.4% in value and Sunnova and Stem were down 11.4% and 10.4%, respectively.
Many climate tech companies have received funding from SVB and other financial institutions. The tax credits in the Inflation Reduction Act were expected to further accelerate investments in the sector, particularly in technologies such as battery storage and electric vehicles.
The potential impact of SVB's collapse on the climate tech industry is significant, as the bank was a major financier for many of these companies. If these companies fail to secure funding, it could slow down the pace of innovation in the sector and make it harder to achieve the ambitious climate goals set by Inflation Reduction Act.
What's ahead?
The damage comes at a critical moment for a nascent industry central to the effort to reduce greenhouse gases dangerously heating the planet.
The federal government depends on climate tech companies to develop the innovations needed and has promised billions in tax breaks to help them grow and mature. The collapse of SVB threatens to derail a fast and growing part of the venture capital sector. Over $28 billion was invested in climate technology start-ups last year, up sharply from the previous year.
The collapse of Silicon Valley Bank leaves a significant gap in the financing landscape for clean energy companies. However, this gap also presents an opportunity for other financial institutions to step in and take on the role of financing these companies.
The demand for clean energy is growing rapidly, and financial institutions that are willing to provide funding and support to these companies can gain a competitive edge in the market. This could lead to a more diverse and robust financing ecosystem, which may ultimately drive greater innovation and progress in the fight against climate change.
Investors and executives will be watching closely to see which financial institutions will step up to fill the void left by the collapse of SVB and provide much-needed financing and support to the clean energy industry.
---
Any views expressed in this opinion piece are those of the author and not of Context or the Thomson Reuters Foundation.
---
Tags
ESG
Climate finance
Climate policy
---