If international corporations hold ESG principles dearly, it is time to end business with Russia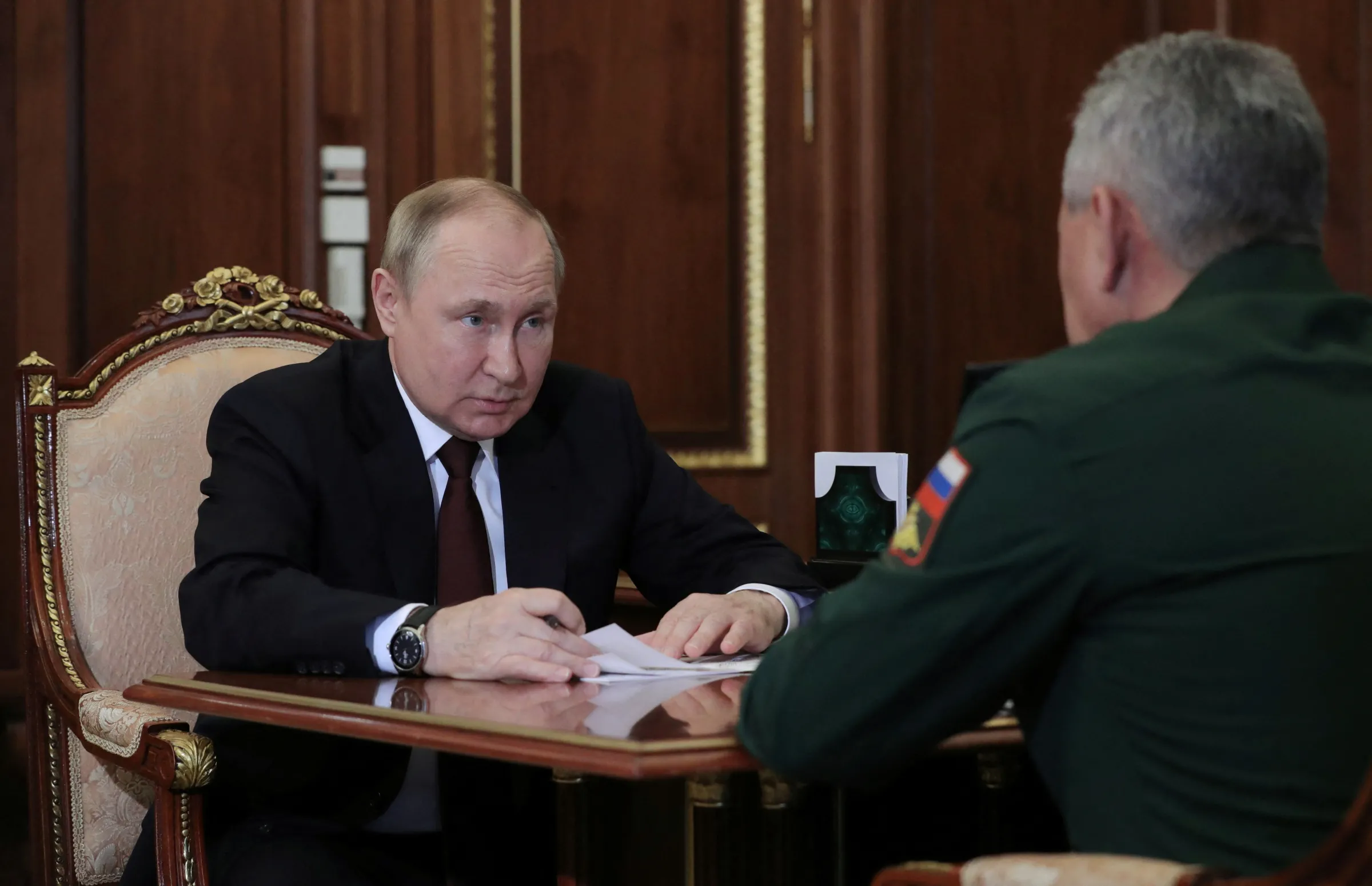 Russian President Vladimir Putin attends a meeting with Defence Minister Sergei Shoigu in Moscow, Russia July 4, 2022. Sputnik/Mikhail Klimentyev/Kremlin via REUTERS
By remaining in the Russian market, western business leaders collaborate with a corrupt regime that disregards international law and pays no respect to human rights.
Oleksii Riabchyn is a former member of the Ukrainian Parliament and deputy minister of Energy and Environmental Protection and is presently an adviser to the CEO of Naftogaz of Ukraine; and Daryna Kulaga is a head of emissions management unit at Naftogaz of Ukraine.
In recent years, we have witnessed a wave of businesses that professed to the virtues of environmental, social and governance principles (ESG). It is predicted that assets managed by ESG principles will grow from $35 trillion to $50 trillion by 2025.
Adherence to the principles of responsible investing and business, you would think, translates into not supporting a pariah state like Russia.
As Russia launched a full-scale war against Ukraine on February 24, European/International chief executives scrambled to leave the Russian market and withdraw their investments. But while many reacted decisively, others went silent.
By remaining in the Russian market, western business leaders collaborate with a corrupt regime that disregards international law and pays no respect to human rights. Their businesses are financing Russia's war machine in Ukraine, undermining Western sanctions and prolonging a humanitarian disaster on the European continent.
Several oil and gas service companies have suspended their future operations or new investments and deployment of technologies in Russia. But suspension of future activity alone is not what a truly socially responsible company should do.
Instead of doing the bare minimum, companies must now put ethics over profits and help bring this terrible war to an end.
For some, ESG means structural transformations, developing a path to net-zero emissions, responsible business dealings and supporting the communities where they operate. For others, it's merely a PR and greenwashing tool.
The good news is that more than 300 companies have exited the Russian market.
Many of those that have left enjoy as sound ESG ratings as those which have decided to stay. So, there is no correlation between a current ESG rating and supporting Russia's war in Ukraine.
According to an analysis by one group of researchers, Russian subsidiaries of large non-financial European firms even have higher ESG scores on average than their peers who have limited or no activities in Russia.
The figures are remarkable – for overall ESG, western-owned Russian subsidiaries score 78 out of 100 (compared to an average score of 64), and in particular higher on social measures (81 compared to an average of 68) and even human rights scores (84 compared to an average of 67).
If the serious social and governance violations that Russia's invasion represents do not translate into lower ESG ratings, those of us that have championed ESG and remain otherwise committed to its ideal, may have to concede that the practice has become merely a whitewashing tool.
Thankfully, ethical principles go beyond the pages of ESG reports. Consumers will uphold these principles and punish those that reject morals in times of crisis. Protestors have been gathering at companies' headquarters and calling to boycott their goods and services.
Russia's war in Ukraine has prompted an ESG reckoning. Investors and clients today will want and need to know whether a company is doing business in Russia. Good practices of ESG reporting need to include disclosure.
The US has introduced a bill requiring businesses to disclose ties to Russia. This is an excellent step that other countries should replicate, and the EU could do it in its upcoming Corporate Sustainability Reporting Directive and in the relevant standards. Because one way to preserve the idea of responsible investing is transparency.
The other is commitment. ESG now faces its biggest test yet. Can chief executives commit to ESG, and make it a matter of substance that will help end a war? In Ukraine, we desperately hope they can.
---
Any views expressed in this opinion piece are those of the author and not of Context or the Thomson Reuters Foundation.
---
Tags
ESG
Finance
Ethical investing
War and conflict
---