UK yogis and nannies look to sex workers in fight for rights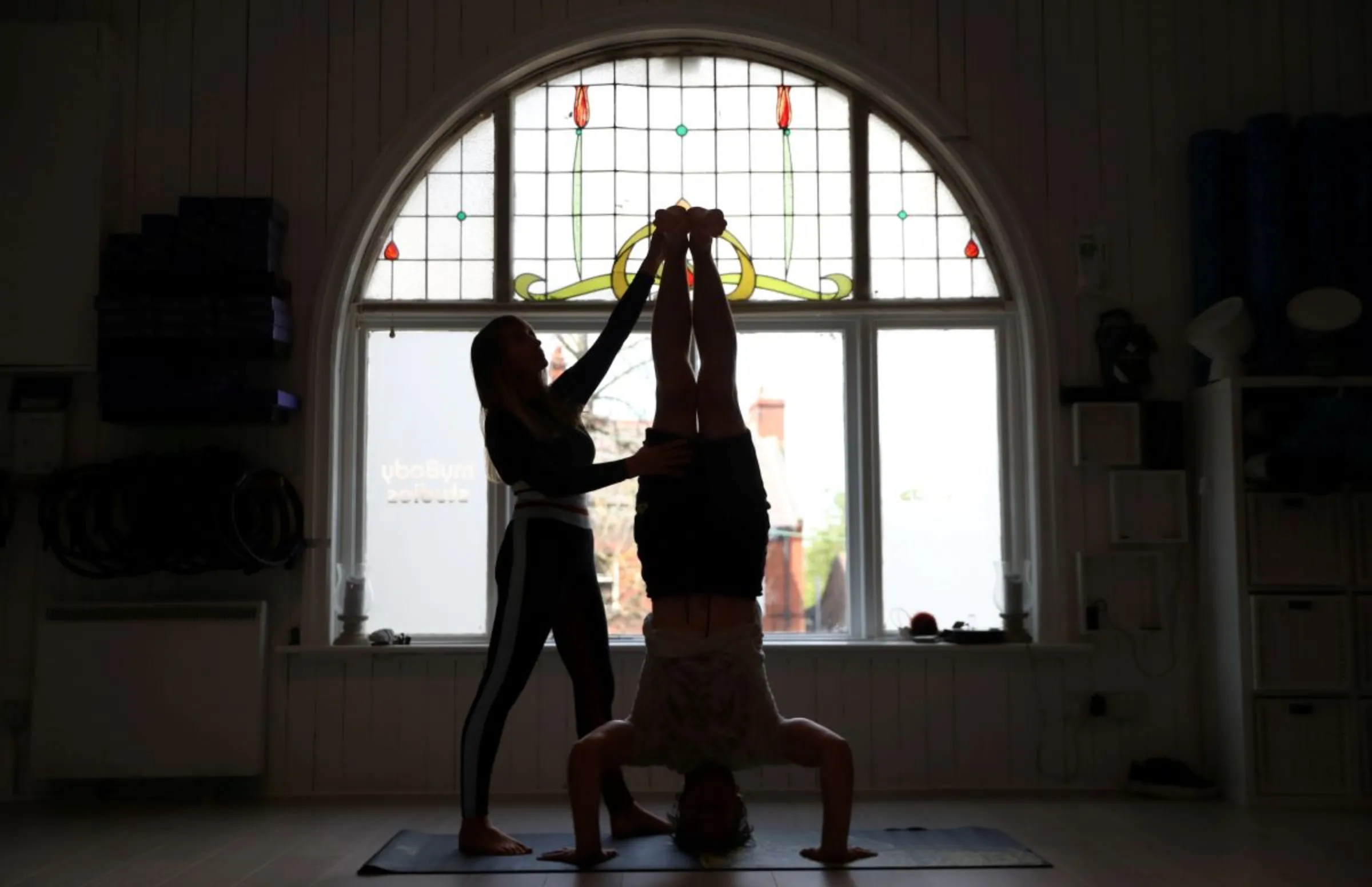 Yoga instructors are seen as they get ready for reopening of MyBody Studios, following the coronavirus disease (COVID-19) outbreak, in East Boldon, near Sunderland Britain July 24, 2020. REUTERS/Lee Smith
What's the context?
Sex workers' trade union wins inspire overlooked workforces to fight for their labour rights as pay strikes unfold across Britain
Nannies, yoga teachers unionised during pandemic
Gig workers push for changes to employment status
Sex workers eye union to cover 'reproductive labour'
LONDON - Recruiting fellow yoga teachers in Britain to join a union is not easy for Hayley Johns, but for help, she has turned to an unlikely source: sex workers.
Despite facing criminalisation for working under the same roof and having to deal with strip club managers that rip up union fliers, sex workers have built a labour movement through working within communities and fighting individual cases.
Adopting a similar approach has been instrumental for Johns, who is organising yoga teachers within the Independent Workers Union of Great Britain (IWGB), and said they faced similar issues to sex workers, such as working alone and for different employers.
"Something that felt impossible to us now feels possible and would upturn our entire industry," Johns, who is based in southern England, told Context.
As Britain's cost-of-living crisis unleashes a nationwide wave of pay strikes, yoga teachers are not the only group of precarious workers learning from the country's United Sex Workers (USW) union how to fight for greater rights and better working conditions.
Britain's first union branch to represent au pairs and live-in childcare workers, the Nanny Solidarity Network, was formed after reaching out to sex workers' organisations for advice in 2020.
Since its inception in 2017, the USW has twice won legal cases that granted strippers worker status and access to labour rights. The union hopes the court rulings will help set a precedent for similar cases in the future.
Such victories are a source of inspiration to Johns and thousands of gig workers in low-paid, casualised and precarious employment.
"It's empowering seeing other wins and realising that you could change the conditions in your sector, particularly if that's possible with other groups of workers who face barriers to organising," said Miranda Hall, a spokesperson for the Nanny Solidarity Network.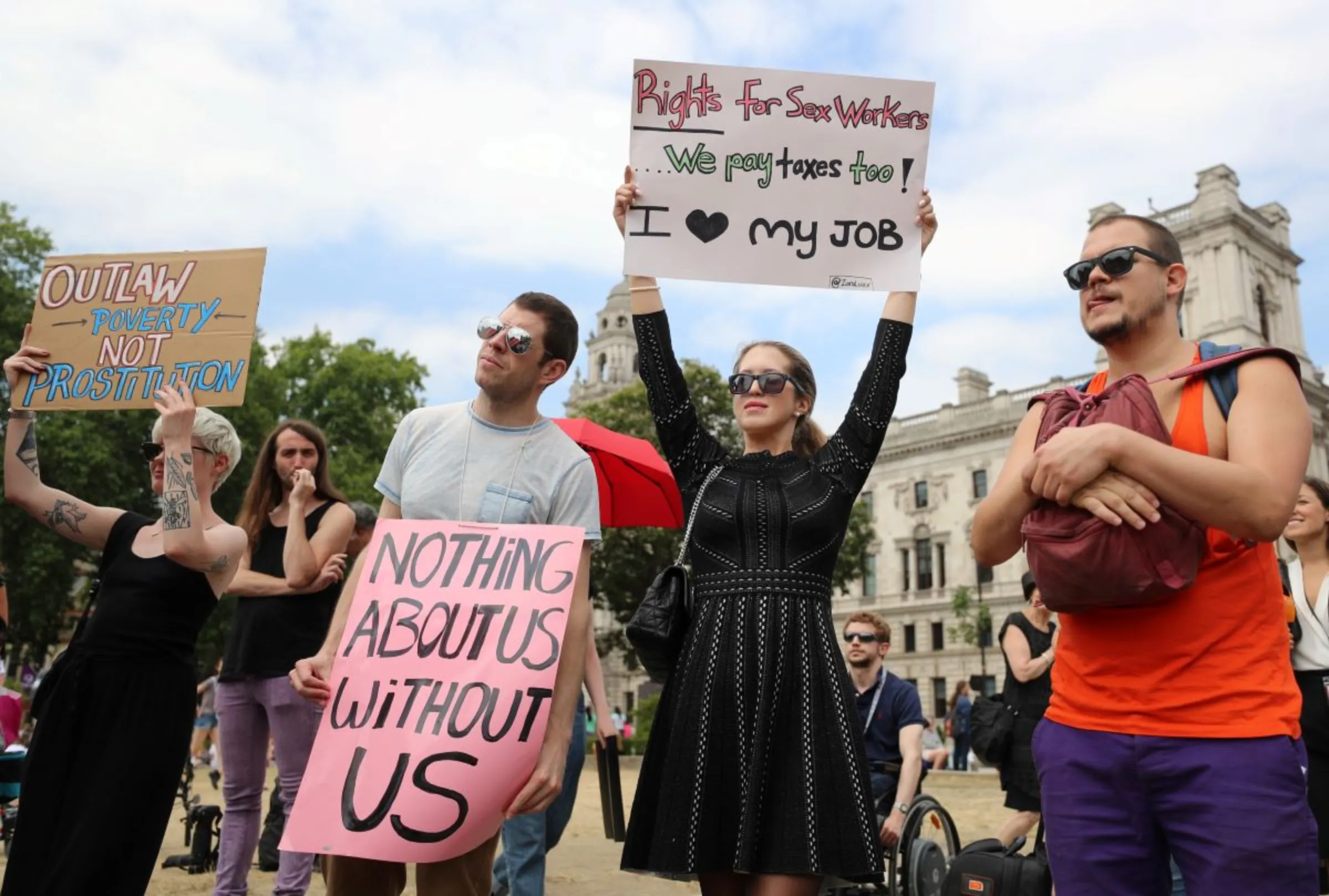 Sex work is work
A push for gig workers' rights has seen an uptick in legal challenges to what unions call bogus self-employment - when a person is classed as self-employed, but operates as a full-time worker, or employee, without the corresponding rights.
Workers misclassified as self-employed lack rights such as the minimum wage, paid holidays, rest breaks and a cap on maximum weekly working hours.
"We're not actually self-employed at all because I don't set my rates, I don't set my hours," said Johns, adding that some teachers are told what and how to teach, and what to wear.
During the pandemic, many teachers were laid off and told their clientele belonged to the gym or studio, but if teachers were self-employed, they should have been able to keep their clients, she said.
"Getting people to shift their mindset that this is work is one of the biggest challenges," said Johns, who said legal victories by sex workers had legitimised yoga teachers' fight for the same demands.
The USW helped stripper Sonia Nowak secure worker status at an employment tribunal in 2020, a decision that could help strippers and workers in other sectors achieve the same status, said Sarah Keogh, an employment barrister who worked on the case.
"It's not just strippers that are required to conform to a set of quite prescriptive rules, and at the same time told 'you're an independent contractor, we're not going to give you any rights'," she said.
Union representatives said the successful cases could help them bargain for the rights of strippers working in the same clubs, as was the case with Uber drivers, who secured workers' rights for all of the ride hailing app's 70,000 British drivers after two drivers won worker status in the Supreme Court in 2021.
"A win for one worker is a win for all workers," said Audrey Caradonna, a spokesperson for the USW.
"By aligning ourselves with the labour movement, we are situating ourselves as workers and using union tactics to access workers' rights and protections."
'No HR department'
Working on individual cases, like Nowak's, to target specific employers is something the USW has had to rely on in the absence of being able to strike or take direct action against workplaces, said Caradonna.
The union also uses letters from lawyers, a tactic adopted by the Nanny Solidarity Network, whose members are also unable to unionise around a shared workplace, or use collective action.
"Nannies are isolated in how they work and their workplace is often in someone else's home," said Caradonna. "It's not like there's an HR department."
From getting advice on how to set up their initial pandemic hardship fund, the Nanny Solidarity Network spokesperson Hall said the organisation had learnt a lot from sex workers, particularly about how to organise outside of traditional union structures.
"We cannot use a lot of the traditional tools for asserting workers protection," said Hall.
Two-thirds of the Nanny Solidarity Network are migrant workers and those with insecure legal status are concerned about getting involved in legal cases and may not have access to lawyers, Hall said.
Sex workers use word of mouth, existing support groups and safety networks to reach out to isolated or criminalised workers, an approach that Hall said had been effective in organising nannies facing similar barriers and cut off from each other.
For the USW's Caradonna, the next step is to establish a union specifically for reproductive workers - those carrying out labour traditionally considered domestic or women's work, such as cleaning, childcare or cooking.
"Workers who perform reproductive labour are often not included within the workers' rights movement because there is still that discussion around whether they are workers," said Caradonna.
"It would gain rights for workers that have historically been excluded from the movement," she added.
"It also makes a huge statement about what can be classed as work and who deserves workers' rights."
(Reporting by Beatrice Tridimas; Editing by Jon Hemming.)
---
---
Tags
Pay gaps

Cost of living

Workers' rights

Economic inclusion

Underground economies
---