Will abortion laws be a game changer in Poland's election?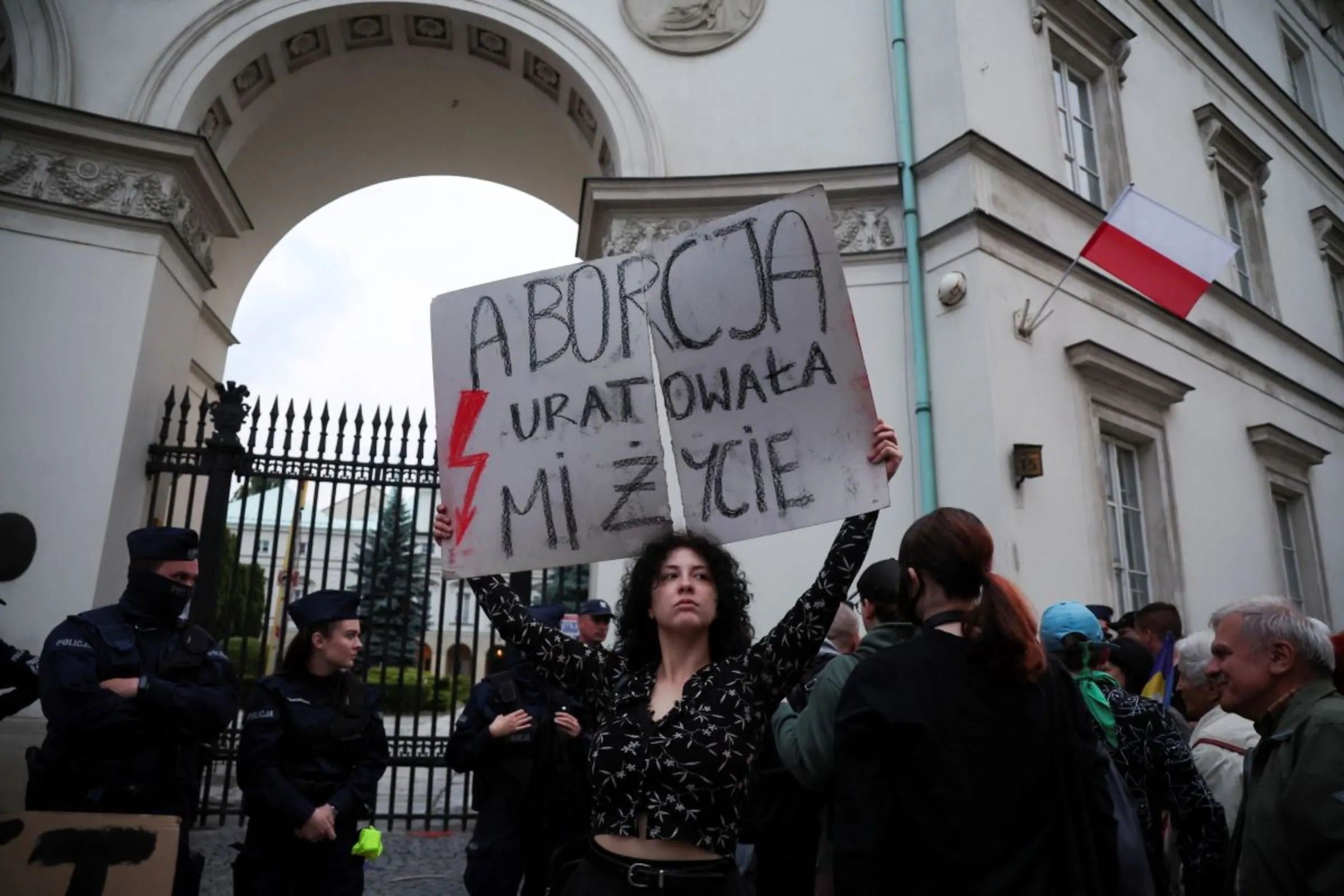 A person holds a sign that reads: "Abortion saved my life" in front of the Ministry of Health building during a protest, after a pregnant woman died in hospital in an incident campaigners say is the fault of Poland's laws on abortion, which are some of the most restrictive in Europe, in Warsaw, Poland June 14, 2023. REUTERS/Kacper Pempel
What's the context?
Poland's near-total ban on abortion could become a key campaign issue for a parliamentary election due by November, activists say
Campaigners hope issue could sway Poles in tight election
Woman's death, police harassment reports stir anger
Polls show Polish voters split over abortion rights
BRUSSELS - Simmering public anger about Poland's tough curbs on abortion could push the issue up the agenda in campaigning for a closely fought election expected in October or November, political analysts and abortion rights campaigners say.
The death of a 33-year-old woman triggered protests in June over the country's abortion law, among the strictest in Europe, which only allows the procedure in cases of rape, incest and threat to the woman's life or health.
Anger among liberal Poles over the issue has fuelled their opposition to the nationalist government that in 2021 put into effect a constitutional court decision banning terminations of pregnancies with foetal defects.
Several recent media reports of police allegedly harassing women who had tried to end their pregnancies have intensified debate about abortion as conservative policies increasingly take root in one of Europe's most devout Roman Catholic countries.
Under Polish law, a woman who has terminated her own pregnancy is not liable for prosecution, but abortion rights campaigners say the recent reports of harassment highlight the consequences of criminalising abortion.
"All these cases of women who died, who suffered this state oppression, it got under our skin," Urszula Grycuk, from Polish reproductive rights nonprofit FEDERA, told Context.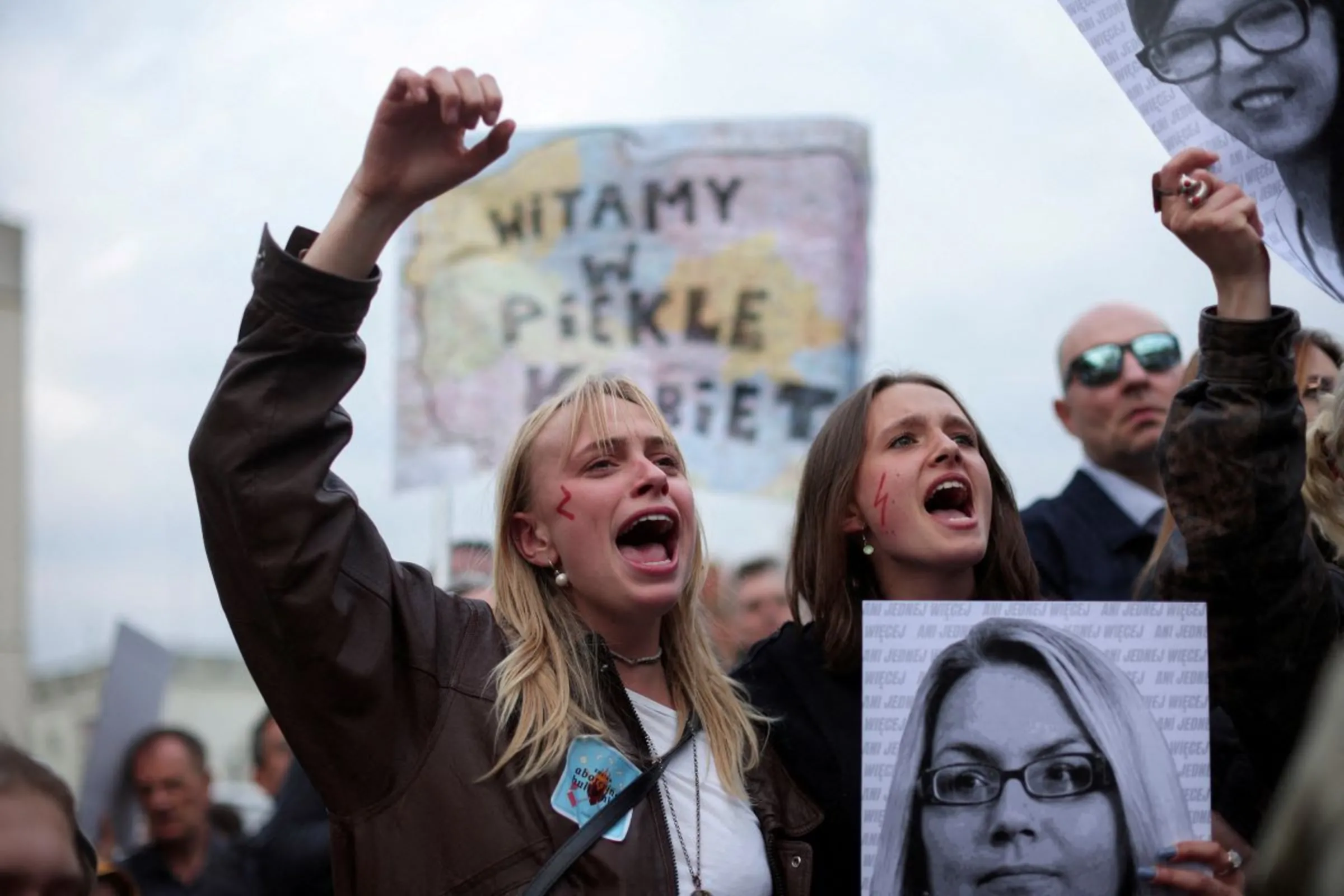 She said growing anti-government sentiment linked to the issue would make it a key focus of campaigning ahead of the parliamentary election.
The conservative ruling party, Law and Justice (PiS), is ahead in most opinion polls, but a question mark remains over whether it can secure a parliamentary majority.
Opposition politicians have seized on the issue, with some calling for a referendum or changes to the legislation to make abortion legal up to the 12th week of pregnancy.
Donald Tusk, leader of the largest opposition party Civic Platform, has called for a "march of a million hearts" against the abortion laws on Oct. 1, just weeks ahead of the polls.
Emotive issue
Given that the latest polls show a tight race, a single issue such as abortion might potentially have a big impact.
"It's such an emotive issue," said Aleks Szczerbiak, a professor and the head of the politics department at Britain's University of Sussex.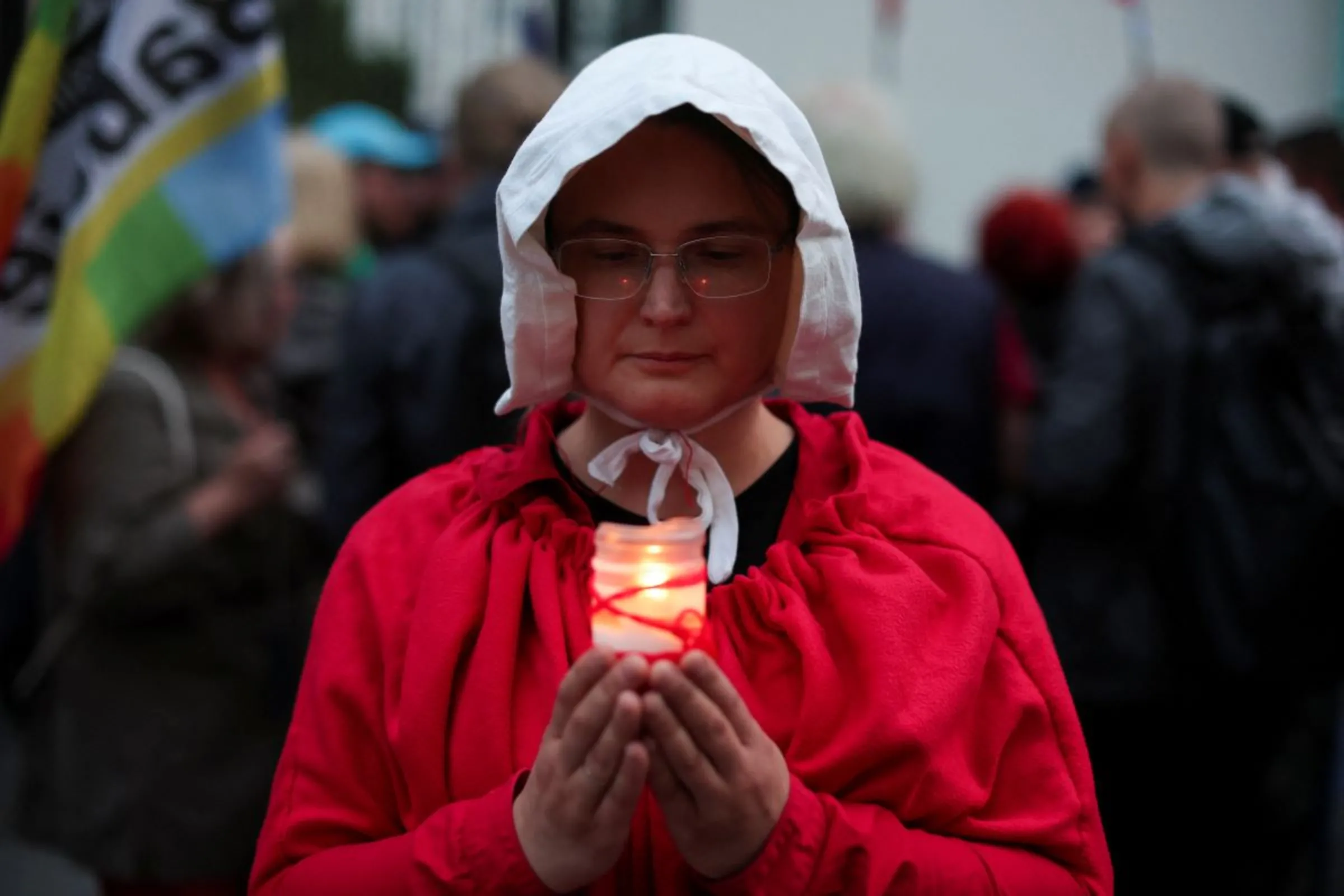 "It has the capacity to mobilise voters and that's the key to the election," he said, adding that abortion could still be eclipsed by other issues as the vote draws near - from the cost of living to migration or the war in neighbouring Ukraine.
FEDERA is working with a coalition of similar organisations on media campaigns in the run-up to the election to keep the issue on the agenda.
"We're soaked in this climate of oppression and of the state going into the most intimate aspects of our private life," said Grycuk, adding, "I think it will be a game changer, I really hope so."
While reproductive rights groups and opposition parties are campaigning for abortion laws to be relaxed, the chances of a reversal of the country's near-total ban on terminations are slim.
Opinion polls suggest the lack of a decisive parliamentary majority might hand the role of kingmaker to the anti-abortion far-right Confederation party, making any easing of the abortion law unlikely.
Even if Civic Platform managed to clinch a majority, it would need more than 60% of house votes to overturn a potential veto by President Andrzej Duda, who would likely defend his PiS party's stance on abortion, Szczerbiak said.
If it were able to form a government, the party might also choose to call a referendum on abortion access. It would be harder for the result of a public vote on abortion to be overturned by presidential veto.
Polls show Polish public opinion is divided on the issue.
More than half of Poles say abortion should be legal in most cases, but 36% say it should be illegal in most cases, according to the latest survey by Pew Research.
In most European countries, 75% of people think abortion should be legal, Pew has found.
Other surveys have found a majority of Poles would be in favour of overturning the constitutional ruling of 2020, and allow terminations in cases of foetal abnormalities.
But whether or not the election leads to swift changes to ease Poland's abortion legislation, it could mark a turning point, Szczerbiak said.
"The young are becoming more socially liberal and the 2020 ruling unleashed forces which are pushing the public the other way," he said.
"So, if you're playing the longer game here you just keep pushing away for the full liberalisation (of abortion)."
(Reporting by Joanna Gill; Editing by Helen Popper.)
---
---