How Malta's abortion ban put my life at risk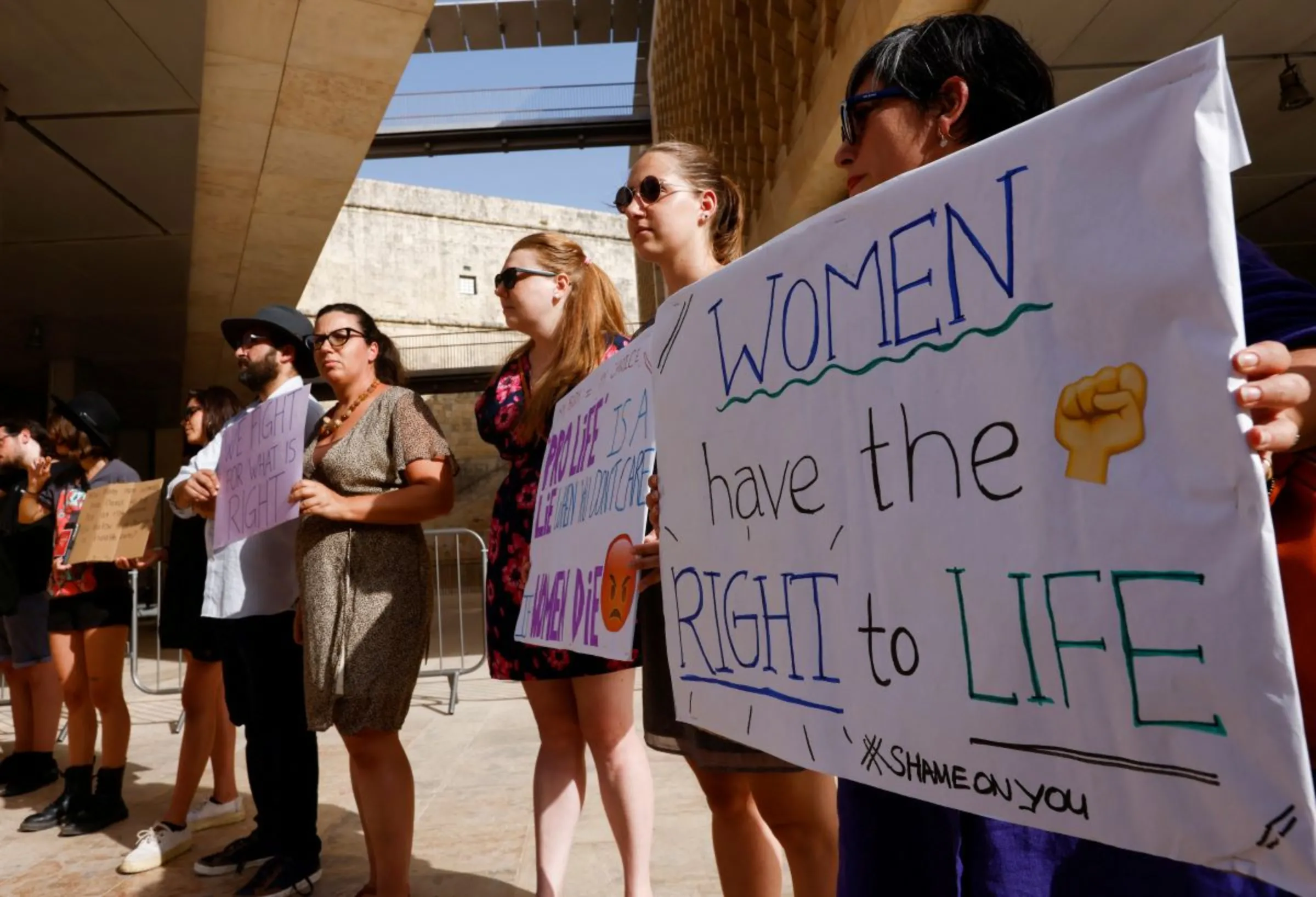 People demonstrate against Malta's total ban on abortion outside Parliament House in Valletta, Malta, June 22, 2022. REUTERS/Darrin Zammit Lupi
The island of Malta, the only country in the European Union with a total abortion ban, is set to pass a law to allow terminations if a woman's life is in danger
The reform follows international outcry over a case where doctors in Malta refused to end the pregnancy of an American woman who started miscarrying while on holiday there. But Andrea Prudente says the new law will do little to protect women's lives in a medical emergency like hers.
The same day last year that abortion rights were overturned in my home country, the United States, I was in an air ambulance over the Mediterranean Sea, being rushed from the island of Malta for a potentially life-saving abortion in Spain.
My partner Jay and I had been on holiday celebrating our first pregnancy. We chose Malta for its ancient history and striking geography, but also because it seemed safe to visit while pregnant - it's in the European Union and has a respected medical system.
About a week into the trip, and roughly 15 weeks pregnant, I awoke with heavy bleeding. And then my water broke.
Jay took me to the hospital where the doctor frowned over the ultrasound screen. "There is no fluid," he told us. "Your baby is lost."
I felt like the wind was knocked out of me. I got dressed in slow-motion, dazed and weeping.
The doctor told us that, because a fetal heartbeat could be detected, and because abortion is illegal in Malta, there wasn't much he could do. This was the first time the word abortion came up and I remember finding it strange.
The doctor insisted we cancel our flight home, explaining I was at high risk of going into labor mid-flight. If I haemorrhaged and couldn't get immediate surgery, I would die.
We checked into Mater Dei Hospital. What unfolded over the next 10 days was a nightmare of epic proportions.
The hospital staff were vague about what was happening so we had to do our own research.
Without amniotic fluid our baby could continue growing inside me but would not develop lungs. If she were allowed to develop to full-term, she would die of asphyxiation shortly after birth. Nothing could be done to save her.
We also learned that, when a baby isn't delivered shortly after the mother's water breaks, the mother is at severe risk of a potentially fatal infection. Doctors we contacted back home said if labor doesn't begin promptly, it is standard to induce labor or perform a D&C, a procedure to remove the contents of the uterus.
This is widely considered a necessary medical intervention. If a fetal heartbeat is present, it is also considered an abortion.
At the hospital in Malta they put me on antibiotics. They said we had to wait until the baby's heart stopped or I went into labor. They said it could take weeks, even months. They admitted they were worried.
With no sign of labor we became increasingly panicked. We begged the hospital to help. In one bone-chilling exchange, we were told they would only consider intervening if I contracted an antibiotic-resistant infection, they had exhausted all their resources, and I was on the "brink of death".
To be clear, there was nothing to gain by waiting. And there was everything to lose.
Allowing our baby to continue developing would only expose her to unnecessary suffering. At 15 weeks, a baby has no cognitive function, but she would eventually develop the ability to experience fear and pain which would make birth or a D&C cruel and inhumane.
Allowing the baby to remain in my uterus meant I was at constant risk of contracting an infection like the one that killed Savita Halappanavar in a hospital in Ireland in 2012 under similar circumstances. Even if the infection could be controlled, I might be left unable to have children, as happened to Amanda Eid in Texas.
And then there is the psychological devastation wrought by prolonging the traumatic experience of miscarriage.
The message in Malta was loud and clear - my life mattered less than the hypothetical life of my unviable baby.
I kept asking the hospital: "Why gamble with my life when you can't save my baby?"
They told me Malta is "pro-life".
It's the same thing women are being told now in some U.S. states.
So often abortion is discussed as a binary - you're either "pro-choice" or "pro-life".
How is it "pro-life" to risk losing the mother when the baby is already lost?
And, when a pregnancy is determined without a doubt to be unviable, how is abortion a "choice"?
Ultimately our travel insurance company evacuated us to Mallorca via air ambulance. When we arrived, doctors induced labor and Jay and I got to hold our baby girl and begin the grieving process. We named her Claire.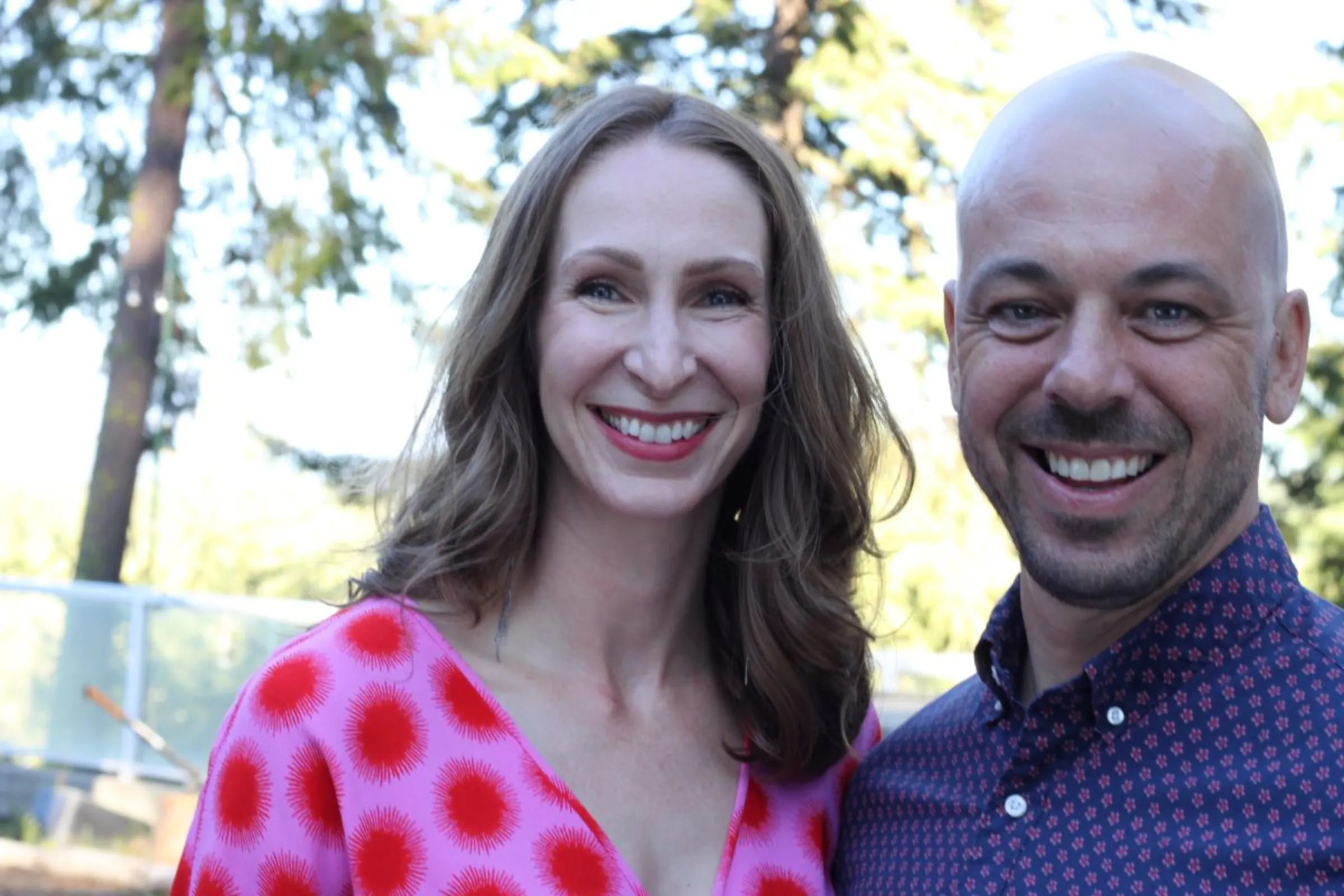 When we finally made it home, the U.S. Supreme Court had ended women's constitutional right to an abortion and many states had begun introducing bans much like Malta's. We started hearing more stories like mine - Nancy Davis in Louisiana and Jill Hartle in South Carolina.
Jay and I filed a lawsuit against the Maltese government in the hope that our experience might be a catalyst for a common-sense modification to the law. The case is ongoing.
Malta's parliament is expected to pass an amendment to its abortion law shortly, apparently prompted by my case. But I am deeply disappointed. The bill has been so watered down that it appears to do little more than clarify the law as it already exists, holding on to a "pro-life" ideology that is completely obtuse to the complicated realities of pregnancy.
Sometimes a pregnancy fails and the baby's life cannot be saved but the mother's can. In situations like this abortion is not a choice and it is pro-life: the mother's life.
When the amendment passes, just as before, Malta will be a very dangerous place to be pregnant.
---
Any views expressed in this opinion piece are those of the author and not of Context or the Thomson Reuters Foundation.
---