Are AI deepfakes a threat to elections?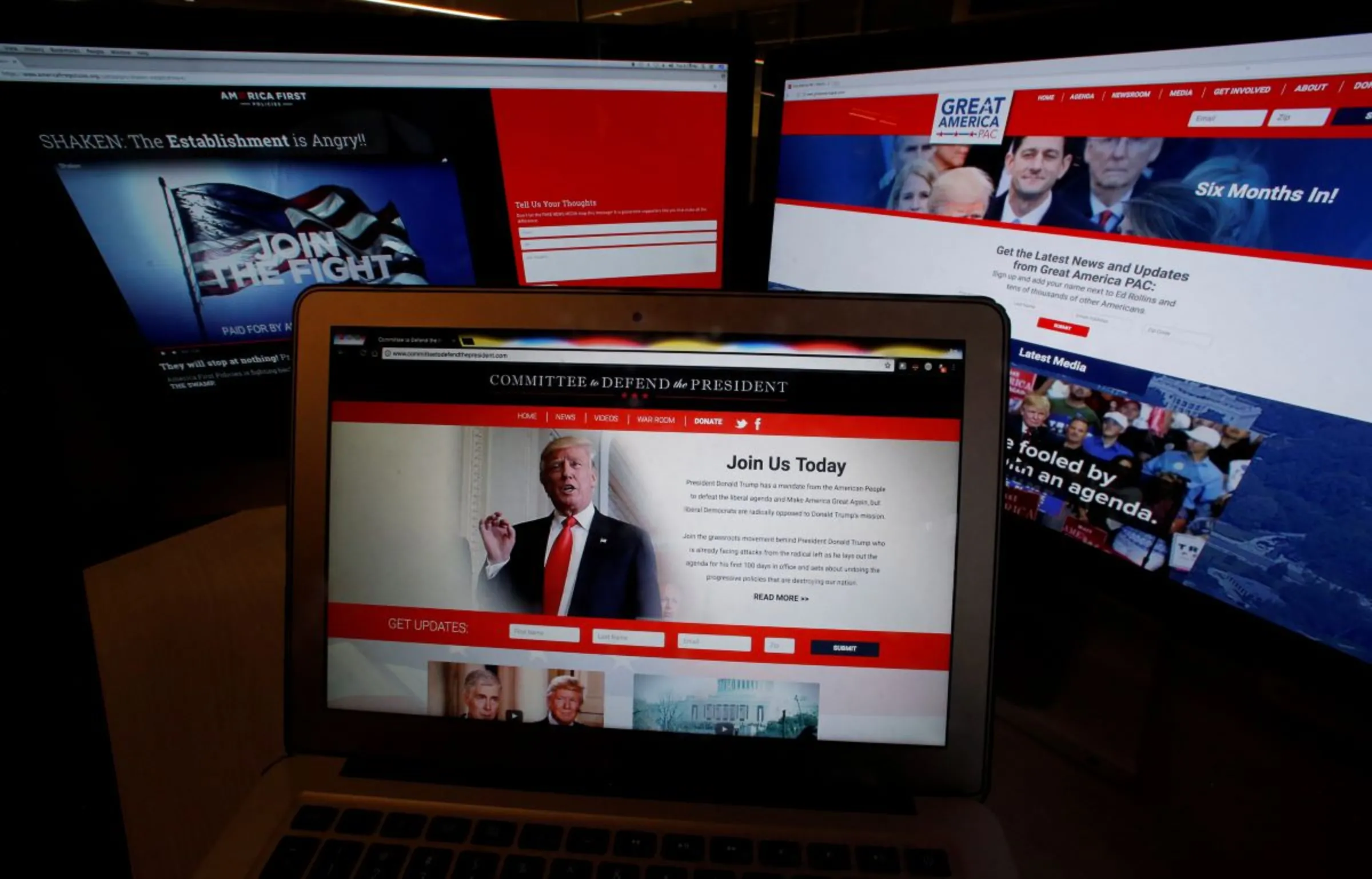 The websites of the three largest Political Action Committee (PAC) groups supporting U.S. President Donald Trump and his agenda, are seen on computer screens in this photo illustration taken in Washington, U.S., June 27, 2017. REUTERS/Jim Bourg/Illustration
What's the context?
From Argentina to Slovakia, apparent deepfakes highlight how AI-generated images could confuse voters
AI advances spur creation of deepfake videos
From Argentina to Slovakia, deepfakes make a mark
Experts urge disclosure requirements, metadata checks
LONDON/JOHANNESBURG/MELBOURNE - Right-wing libertarian Javier Milei won Argentina's landmark election on Sunday as he tapped into voter anger with the political mainstream - including rival Sergio Massa's dominant Peronist party, with both sides turning to AI during the fractious election campaign.
In the final weeks of campaigning, Milei published a fabricated image depicting Massa as an old-fashioned communist in military garb, while Massa's team distributed AI-generated images portraying Milei and his team as enraged zombies and pirates.
As generative AI tools such as Midjourney make it cheap and easy to create convincing deepfakes - whether still images or video - concern is growing about how such material could be used to mislead or confuse voters in the run-up to elections.
Here's what you need to know:
What are deepfake videos?
Since 2021, deepfake videos have become more widely available and convincing due to the huge amount of data fed into AI image generators such as OpenAI's Dall-E.
That means AI-generated content has been cropping up more frequently in politics and election campaigns, sometimes sowing confusion among voters and causing them to lose trust in the veracity of what is presented before them.
"It can lead to misinformation, people can be confused by what they see," Lisa M. Given, a professor of information sciences at RMIT University in Melbourne told Context.
More widely, the technology is being used as the new "low or medium-effort political attack meme" to defame or ridicule opponents, said Scott Steinhardt, director of marketing at deepfake detection company Reality Defender.
Fake images and other forms of misinformation are mainly spread on social media, though traditional media such as television and radio can also be distorted, said Adeboye Adegoke, a senior manager at the digital rights group Paradigm Initiative.
Where have deepfakes been used in election campaigns?
As campaigning heated up ahead of the October election, a series of AI-generated political advertisements were published by the centre-right New Zealand National Party on its Instagram account in May.
A party spokesperson confirmed the images were faked, saying it was "an innovative way to drive our social media".
In Turkey's recent presidential election, the main rival of President Tayyip Erdogan accused Russia of releasing deepfake content in a bid to sway the result.
And in the United States, DeSantis' video is far from the only example as the 2024 election draws closer. Clips of Hillary Clinton, Joe Biden and CNN reports have been edited to endorse right-wing politicians.
In Slovakia earlier this year, fact-checkers scrambled to verify faked audio recordings posted on Facebook just days before the country's Sept. 30 election.
But most cases in Europe so far have involved "critical art, satire, memes and image abuse against female politicians", said Henry Ajder, a deepfakes and generative AI expert.
Concrete examples of deepfakes in African politics are limited, partly because of the comparative lack of internet access, although disinformation is still a significant issue that fuels political tensions and violence.
How can platforms and users tackle deepfakes?
Some entities, such as the Content Authenticity Initiative (CAI), an open standard verification system by Adobe that includes other big tech companies such as Microsoft and Canon, propose using metadata to identify where an image originated and how it was edited.
Metadata can be stripped from photos and videos, however, meaning more sophisticated tools are needed to detect AI-driven forgery, experts say.
While deepfakes are easier to make nowadays, it remains difficult to produce a convincing one, said João Paulo Meneses, a Portuguese deepfake researcher.
He said leading tech companies such as Meta and TikTok have the sufficient AI moderation tools to keep deepfakes "trapped in social media filters", meaning their creators "risk losing days of work and money" for little gain.
What can regulators do about deepfakes?
Material containing deepfake images should carry a disclosure label saying they were generated using AI, tech experts say.
In the United States, congresswoman Yvette Clarke has introduced a bill to require the disclosure of AI use in campaign advertisements, which has yet to be passed.
"In a way, this isn't new – we've seen hired actors in a commercial to promote a candidate, but at the end of the commercial, there's always a little tagline underneath that says these (people) are actors," said Given.
"(That means) people can then put the information into context."
This article was updated on November 22, 2023, to reflect the result of Argentina's election
(Reporting by Adam Smith in London, Kim Harrisberg in Johannesburg and Seb Starcevic in Melbourne; Editing by Helen Popper)
---
---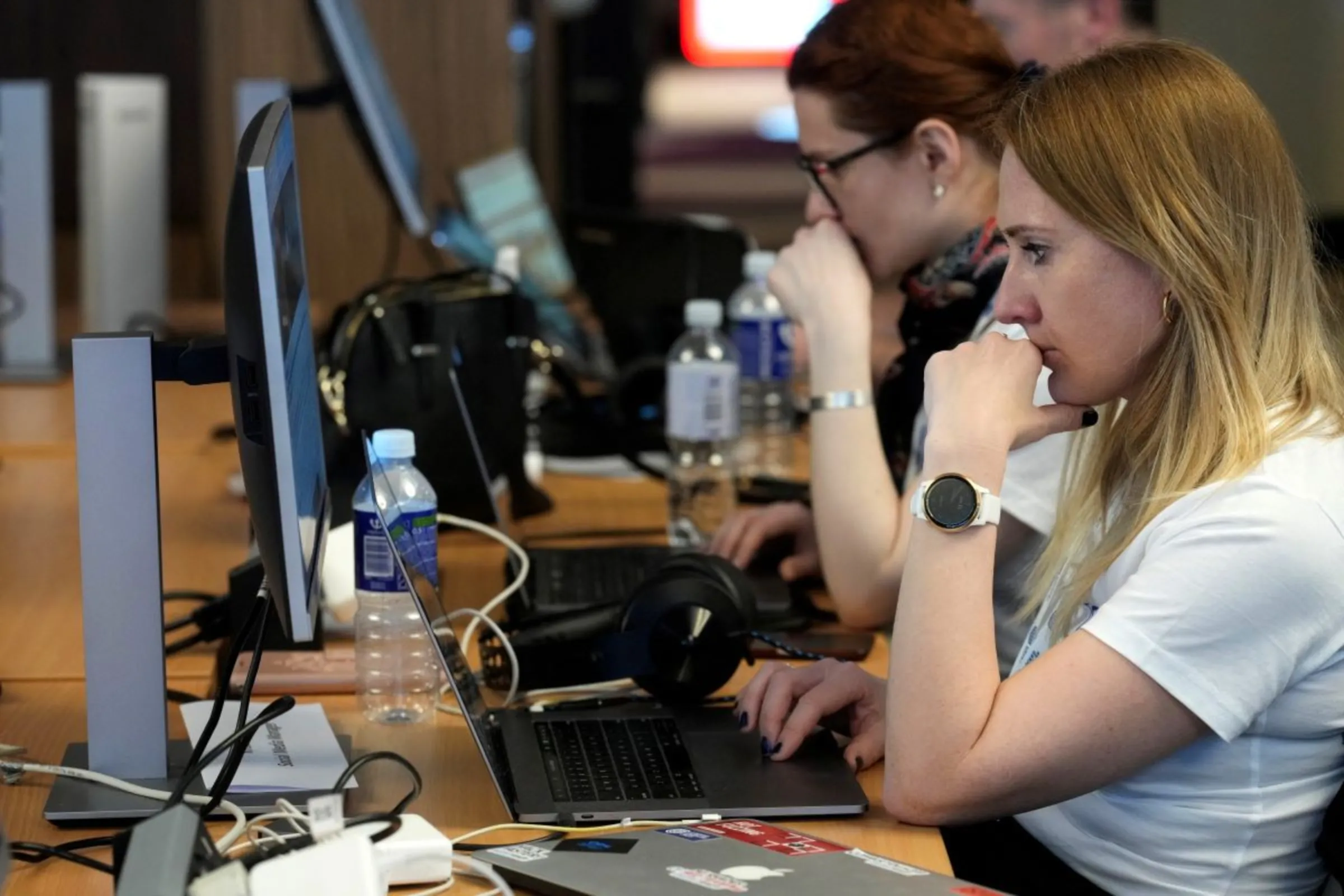 ---
Tags
Disinformation and misinformation

Content moderation

Twitter

TikTok

Instagram

Social media
---