The future of ChatGPT in Africa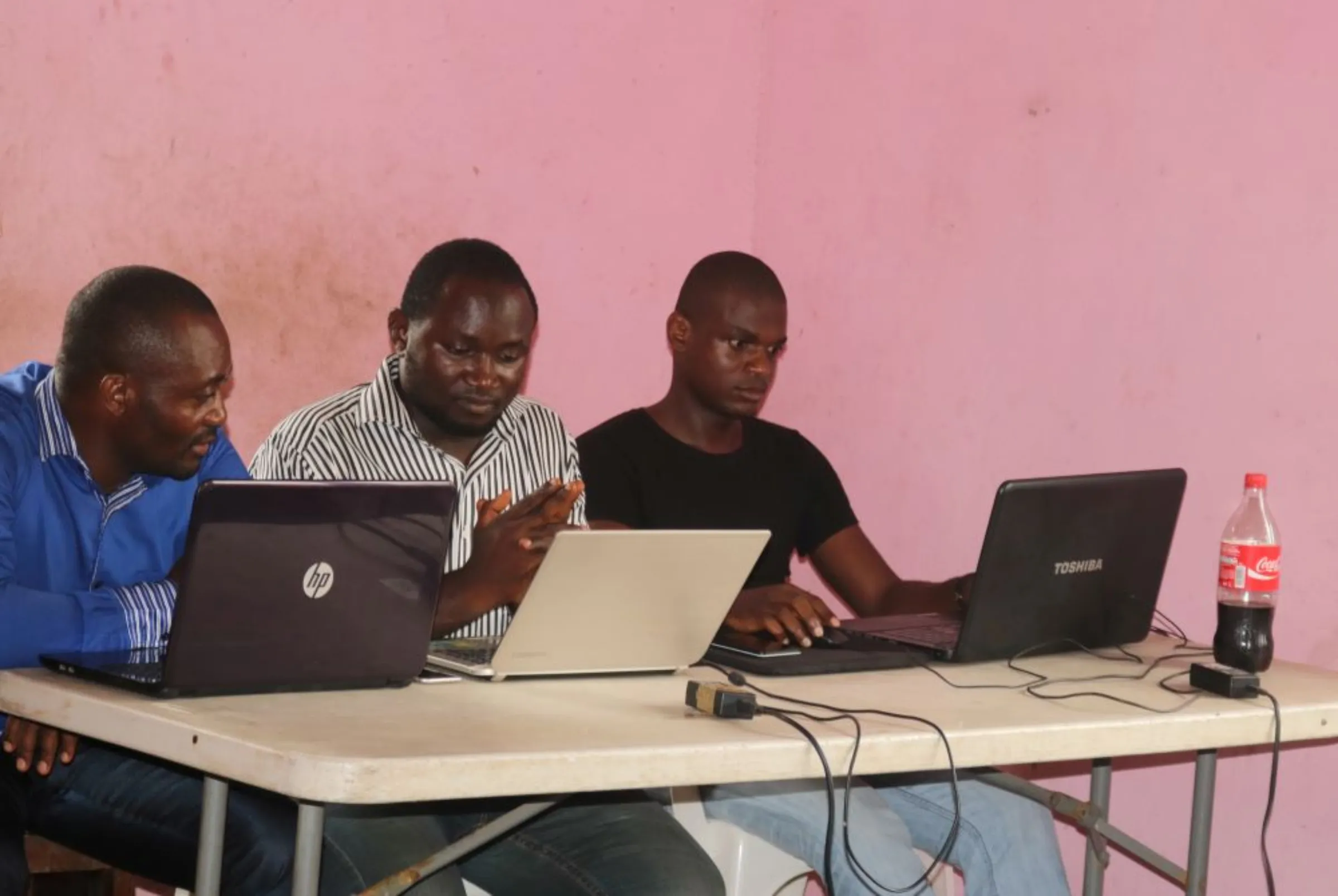 Young startup promoters work on their computers in New Bonako village, Cameroon March 28, 2017 2017. REUTERS/Stringer
What does ChatGPT mean for Africa's digital transformation?
Karabo Mokgonyana, a legal and development practitioner who focuses on human rights protection, international trade and investment, and peace and security
OpenAI's ChatGPT has taken the world by storm and is going to reshape information access, work and education through its natural language processing tool driven by artificial intelligence (AI) technology that allows you to have human-like conversations with a chatbot to obtain all kinds of information.
Although the core function of a chatbot is generally to mimic a human conversation, ChatGPT is versatile. For example, it can write and debug computer programs, mimic the style of celebrity CEOs and write business pitches, compose music, teleplays, fairy tales, and student essays, answer test questions, write poetry and song lyrics, emulate a Linux system, simulate an entire chat room and play games like tic-tac-toe.
Although ChatGPT sounds like a perfect platform, like any AI or digital technology, it comes with several limitations. A significant limitation is the uneven factual accuracy. OpenAI describes this as "[ChatGPT] sometimes writes plausible-sounding but incorrect or nonsensical answers". Additionally, ChatGPT raises data privacy concerns. From a legal and policy perspective, ChatGPT is only temporarily banned in Italy as of 31 March 2023 on the grounds that the platform unlawfully collected personal data. The Italian government has also expressed concern over ChatGPT not requiring an age verification system.
Although ChatGPT is currently the most popular AI natural language processing tool, there are other existing and emerging AI technologies that serve the exact same function as ChatGPT. These include, Google Bard, You.com's AI chatbot and for those in China, Alibaba has also unveiled its ChatGPT competitor called Tongyi Qianwen and Baidu has its own chatbot called Ernie. This means that AI natural language processing tools are growing in creation, usage and will change the dynamics of how information access, education and the future of work will look like.
However, with the slow digital transformation on the African continent, it is unclear what something like ChatGPT means for Africa's digital transformation. The continent has struggled to adopt various digital technologies such as AI, 5G, blockchain, IoT, cloud, 4D printing, quantum computing, and the metaverse. The more developed countries like South Africa, Kenya, Egypt and Nigeria are leading in digital transformation. Unfortunately, this means that a lot of countries in Africa need to strengthen the coordination of digital transformation frameworks, align policies and sector regulation to facilitate digital technology usage and scale-up on investment into resources and infrastructure.
The reality is that Africa does not have power and efficient internet access. The digital ecosystem relies heavily on reliable, affordable electricity, from home internet connections to the base stations that underpin cellular networks to the data centers that store the internet's content. This means that most African countries with weak power infrastructures will continue to experience the digital divide and digital exclusion. For example, Sub-Saharan Africa's power sector is struggling due to low electrification rates, high prices and appalling reliability, therefore, affecting the region's digital competitiveness.
For a continent that has great development potential, platforms like ChatGPT can become a business enabler by creating business efficiency and allowing the continent to tap into new industries. Business leaders in Africa should actively invest in AI technology to gain a slice of the global AI market. To avoid being left behind Africa needs to open access to big data, set standards so that networks and technologies can have a conducive operating sector, and ramp up financial support for technology startups that introduce AI innovation. For example, local start-up Agrix Tech from Cameroon allows farmers to upload photos of their ailing fruit and in about 10 seconds it will diagnose the malady and suggest a course of treatment, reading it aloud in the local language, given the high illiteracy rates in the area.
ChatGPT can allow a lot of African businesses to automate repetitive tasks, improve customer engagement, respond to complex search queries with accuracy and efficiency and save a lot of time and resources. Additionally, AI technology can change the education landscape in Africa to increase access to both formal and informal education, improve access to healthcare services considering the facility and resource limitation of Africa's health sector and increase job creation due to expansion into the AI global market. AI technology can also assist in mitigating institutional corruption in both government and private sector by tracking financial flows, improve efficiency in Africa's agricultural sector considering the impact of climate change, improve cyber security attacks on the continent and maximise on e-commerce for trade liberalisation.
The benefits of data analytics and AI are going to be undeniable for Africa's development, GDP growth and in addressing social problems. However, as Ziaad Suleman rightfully puts it, the culturally diverse landscape of Africa requires AI technology to be interpreted to deliver fair and unbiased outcomes, while maintaining data privacy and a need to ensure that developers of AI respect fundamental human rights.
---
Any views expressed in this opinion piece are those of the author and not of Context or the Thomson Reuters Foundation.
---
Tags
Tech and inequality

Tech solutions
---