Israel-Hamas war and the impact of online disinformation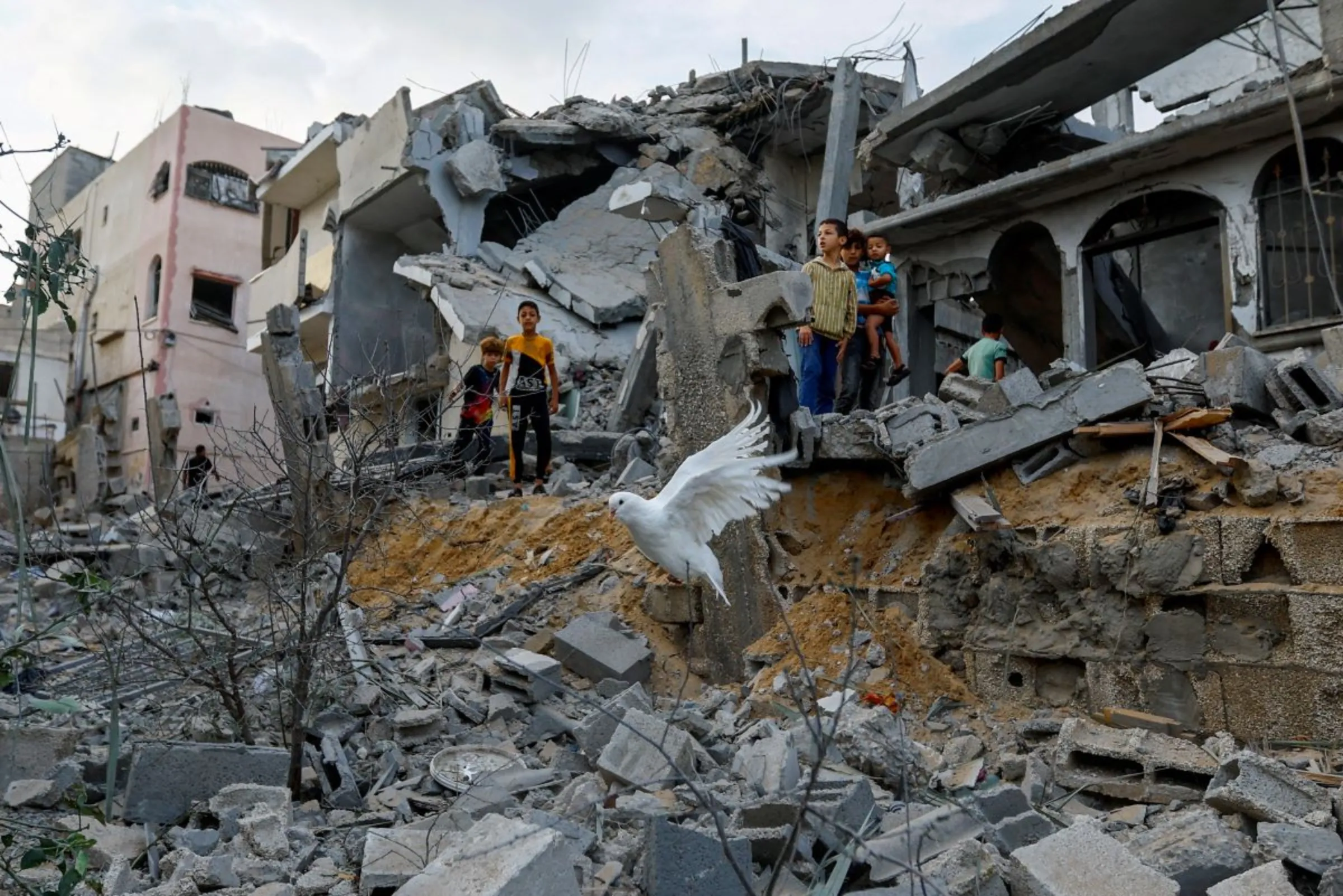 A dove flies over the debris of houses destroyed in Israeli strikes, in Khan Younis in the southern Gaza Strip October 11, 2023. REUTERS/Ibraheem Abu Mustafa
What's the context?
Israel-Hamas war sparks deluge of disinformation that spills over into the real world
Disinformation spreads worldwide after Hamas attack on Israel
Platforms struggle to moderate viral falsehoods
False narratives can manipulate opinion and hinder justice
TEL AVIV/LONDON/LOS ANGELES - False and misleading information has surged online since the militant Islamist group Hamas launched its surprise attack on Israel, manipulating world opinion, fomenting local confusion and bolstering calls for retribution, experts say.
Israel has since rained down retaliatory strikes on the Palestinian enclave of Gaza, leaving 180,000 homeless and 2.3 million without electricity or water.
At least 1,200 Israelis and 1,200 Palestinians have been killed in the conflict, according to reports.
Rights groups and researchers have warned against social media users sharing misleading or baseless claims, including miscaptioned imagery or altered documents, in an effort to shape public perception.
European Union industry chief Thierry Breton this week urged social media leaders Elon Musk and Mark Zuckerberg to tackle the spread of disinformation on their respective platforms - X, Facebook, and Instagram - to comply with new EU online content rules.
Here's what you need to know about disinformation during the conflict and how it's spreading:
What disinformation is spreading?
There have been four main narratives that have spread across social media, according to Jack Brewster, an editor for news rating website and misinformation tracker NewsGuard.
These are the key fake story lines identified by Brewster:
that the attack against Israel was a false flag, a campaign perpetrated expressly to lay blame on an opponent.
that Israel is staging footage of dead children killed by Hamas.
that the U.S. administration approved an $8 billion aid package for Israel.
and that Ukraine sold weapons to Hamas.
The Arab Center for Social Media Advancement, a non-profit known as 7amleh, also tracked some inaccurate accounts of Jewish babies being held captive in Gaza, as well as of sexual abuse.
For families in the Middle East, disinformation can have a personal toll.
On Monday, a video on Musk's X platform purported to show Yaffa Adar, an 85-year-old grandmother, who was kidnapped from her home in Kibbutz Nir Oz near the border with Gaza on Saturday.
It shows footage of an older woman, surrounded by soldiers. The woman is seen resting after exiting a black van as soldiers hand her a bottle of water.
The video spread widely online, but on verification with the family, it became apparent the woman shown is not Adar.
"It was absolutely heartbreaking (to see that video) – to think that maybe she's back and then to find out that it's not her," her granddaughter Adva Adar told Context.
What has helped fuel disinformation?
Across social media, dis- and misinformation have been spread about the violence in an echo of the fake news unleashed in the early stages of the Russia-Ukraine war, Brewster said.
The most notable change in the social media space is how X, formerly Twitter, is being used to spread disinformation, tech and media experts said.
"Some users have passed off video game footage as real, while others have shared clips from other events or wars entirely," Brewster said.
Other social media platforms, such as TikTok, have been used to share out-of-context videos.
NewsGuard highlighted two videos purporting to show Israeli senior officials captured by Hamas - the men were in fact in the hands of Azerbaijan's security service - and Hamas militants paragliding into Israel in a clip that was filmed in Egypt.
These videos received hundreds of thousands of views before being taken down.
TikTok did not provide comment when contacted by Context.
X directed Context to statements made by CEO Linda Yaccarino that it had "redistributed resources and refocused internal teams ... to address this rapidly evolving situation."
Theodora Skeadas, a former public policy staffer at Twitter who worked on content moderation, said that staffing cuts had significantly undermined the platform's capacity to tackle the deluge of doctored posts and misleading videos and images.
"The work that Twitter would have done in the past is (to) elevate reliable information, remove misinformation and content that violates the terms of service (and) add labels to certain posts for more context," she said.
How are platforms tackling the problem?
X has said that more than 500 unique Community Notes, a feature that lets users add context to potentially misleading content, have been posted about the conflict.
But Skeadas said community notes "can't keep up with the volume of posts during a crisis".
YouTube has said that graphic content may be allowed on the platform if it provides sufficient news value, but is moderating for videos that violate its rules.
Snap says it is monitoring for misinformation and incitement of violence.
Meta, which owns Instagram and Facebook, said a team of experts including Hebrew and Arabic speakers were monitoring the "rapidly evolving situation in real-time".
What are the real-world consequences?
The main aim of false narratives is to manipulate public opinion and justify collective punishment, Nadim Nashif, executive director of 7amleh, told Context.
"These phenomena have a considerable impact on ... access to information, something quite worrying in a context in which Palestinian narratives are censored and/or unable to make it to the online realm," he said.
This can lead to further calls for violence and to actual harm, as well as obscuring human rights violations and preventing justice from being served, he said.
Adar, whose grandmother is still missing, is worried that disinformation could prevent her family getting help.
"We are really looking for the world to understand the situation here – and then something like this comes up and people think that things are better, where they are not."
New to Context? We'd love for you to find out a little more about what we do. Click here for a selection of our best work.
(Writing by Adam Smith; reporting by Inna Lazareva in Tel Aviv, Adam Smith in London, Avi Asher-Schapiro in Los Angeles; editing by Lyndsay Griffiths and Zoe Tabary)
---
---
Tags
Disinformation and misinformation

Content moderation

War and conflict

Twitter

Tech regulation

Meta

Social media

Data rights
---