What does Threads mean for digital rights?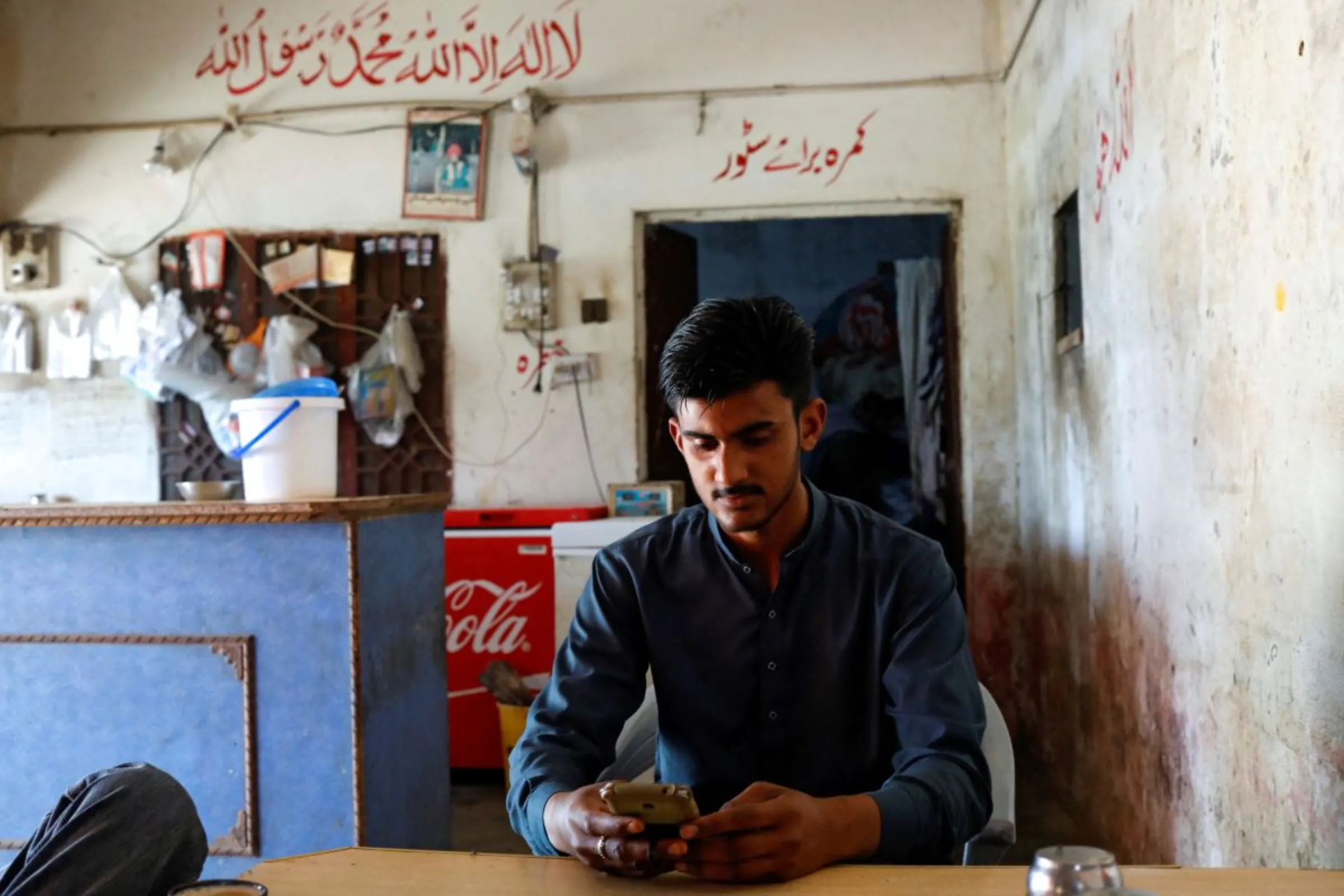 A man looks at pictures on a mobile phone, at a tea stall in Bhojpur town in Gujrat district of Punjab province, Pakistan March 7, 2023. REUTERS/Akhtar Soomro
Threads could allow users to choose their social network based on privacy, the kind of moderation they desire, or a community of shared interest, all while maintaining ties with a global network
Ross Schulman, senior fellow for decentralization, Electronic Frontier Foundation.
There's something a bit shocking about Threads, the new social media service from Meta—and it could turn out to be shockingly good.
Meta, the parent company for both Facebook and Instagram, launched Threads—a new tool for sharing text updates and joining public conversations—while many Twitter users are desperate for other options, and so Threads reportedly gained an astonishing 100 million users in less than a week.
Despite this enormous rapid growth, Threads might have been just another social media offering from the huge company, if it were not for one detail of which many of its users may not even be fully aware: When Threads was announced, Meta included the information that the new service would, at some point in the future, participate in the global federated social media network known colloquially as "the fediverse."
For a social media company that has been nearly fanatical about growing and protecting the borders of its service, it is hard to overstate how different an approach this is.
For many, a network of federated social media is a strange and perhaps confusing idea, but in reality nearly all of us have an inherent reference point for what it means. That's because pretty much all of us have used email before, and email is one of the oldest federated systems on the internet itself. If you've ever sent an email from your company or university's system to that of another, you've experienced federation. Servers in the fediverse do the same thing, except instead of sending short text messages, they're sending anything you can imagine as a social media post; short bits of text, images, and videos, as well as likes, replies, boosts, and so on.
So if Meta follows through and enables federation on Threads, anyone with an account on one of the tens of thousands of fediverse servers should be able to follow a Threads user, and vice versa.
We are cautiously optimistic about this new development. Experts for a long time have considered this kind of interoperability between services to be a net good for individual users. It gives people the opportunity to choose the service provider that best matches their needs and values, without having to give up reaching their friends and family members on other platforms. People can choose their social network based on privacy, the kind of moderation they desire, or a community of shared interest, all while maintaining ties with a global network.
Meta's entry into this ecosystem could finally give people the freedom to connect with people who have decided to use a Meta property without having to become Meta users themselves. Threads may also give its users a taste of what interoperable social media and the fediverse is all about— and the more people who learn about the existence of these alternatives, the better!
There still are widespread concerns about how Meta will behave as a member of the fediverse, leading some servers already to decide to block communications with Threads. Meta's human rights record and problems with providing adequate moderation have some worried that Threads may end up being at best a source of spam and harassment in the fediverse, or, at worst, a breeding ground for truly horrible content.
Similarly, Meta's repeated disregard for the privacy of their own users, as well as that of everyone else who uses the internet, has engendered a widespread distrust regarding what they could do with data Threads could collect about the wider fediverse. Plenty of people would rather decide not to interact with Threads than to offer Meta the opportunity to capture their posts and analyze their social activity.
We don't have the full picture yet about Threads and the fediverse. All we know is that Threads will participate, but a lot remains to be seen about how, exactly, they do so. For example, it certainly would be technically possible to let Threads users follow users from other servers, but not the other way around. We also have no idea what Meta's approach to interaction with other servers will be. Lots of server administrators have said they will not federate with Threads, but we know nothing about under what circumstances Meta will do the same.
If people share these concerns about Threads, they should make sure that Meta hears their opinions. And if they don't like what Meta is up to, they can find a different fediverse server to join and hopefully still follow Threads users.
---
Any views expressed in this opinion piece are those of the author and not of Context or the Thomson Reuters Foundation.
---
Tags
Content moderation

Tech and inequality

Tech regulation

Meta

Social media

Data rights
---