COP27: A historic 'loss and damage' deal - but more fossil fuels?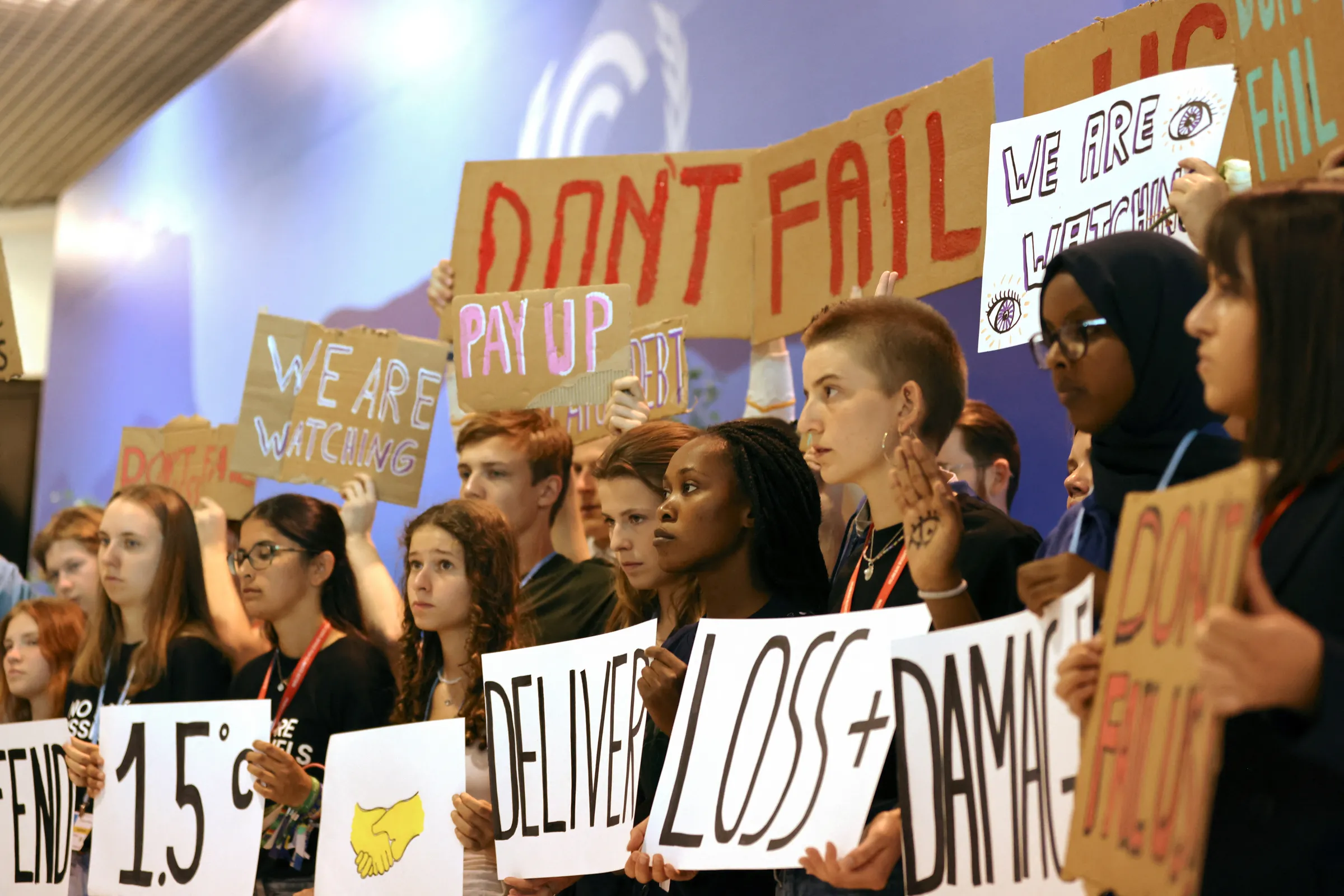 Climate activists take part in a protest, during the COP27 climate summit, in Sharm el-Sheikh, Egypt, November 19, 2022. REUTERS/Mohamed Abd El Ghany
What's the context?
U.N. climate change talks pushed forward help for poor countries hit by disasters but did little to cut the emissions driving them
Countries battling simultaneous crises - from worsening disasters fuelled by global warming to rising debt and inflation - early Sunday agreed at COP27 to set up a historic new fund to help vulnerable nations cover the rising cost of climate damage.
After stand-offs with big fossil fuel-producing nations, negotiators at the U.N. climate talks in Egypt also kept efforts to hold global warming to 1.5 degrees Celsius above preindustrial times in the deal, but made few advances towards meeting that goal.
A call for a phase-down of all fossil fuels - not just coal, as agreed last year at COP26 in Glasgow - also failed to make the deal.
Instead the agreement called only for "low-emission" and renewable energy, leaving space for expansion of fossil-fuel use if emissions can be captured and stored, an aim at the core of the climate plans of many major oil and gas producers.
Scientists say that while that is technologically possible, it is not being scaled up at nearly the speed or volume needed, making its use a highly uncertain way to get to the 43% reduction in global emissions needed by 2030 to keep to the 1.5C limit.
Here's what officials, policy experts, scientists and activists had to say about the COP27 outcome:
U.N. Secretary-General António Guterres
"Let's be clear. Our planet is still in the emergency room. We need to drastically reduce emissions now – and this is an issue this COP did not address.
"A fund for loss and damage is essential – but it's not an answer if the climate crisis washes a small island state off the map – or turns an entire African country to desert.
"The world still needs a giant leap on climate ambition. The red line we must not cross is the line that takes our planet over the 1.5 degree temperature limit."
Molwyn Joseph, chair, Alliance of Small Island States (AOSIS)
"AOSIS promised the world we would not leave Sharm el-Sheikh without achieving the establishment of a loss and damage response fund. A mission 30 years in the making has been accomplished.
"Today, the international community has restored global faith in this critical process... We have shown those who have felt neglected that we hear you, we see you, and we are giving you the respect and care you deserve."
Teresa Anderson, global lead on climate justice, ActionAid International
"After so many years of calling for the United Nations to agree to establish a fund to help countries being pushed deeper into poverty, this is a real pinch-me moment.
"We can give credit to the collective pressure from civil society, combined with unprecedented unity among developing countries, for forcing rich countries to finally say 'Yes - we are in this together'."
Nikki Reisch, climate and energy director, Center for International Environmental Law
"The outcome of this year's climate talks turned on two central issues: phasing out fossil fuels and funding loss and damage. The colossal failure on the former undercuts progress on the latter.
"The science couldn't be clearer: we cannot fight climate change or limit warming to 1.5 degrees Celsius without getting off of all fossil fuels - oil, gas and coal. Until there is concrete action to phase out fossil fuels, limiting the scale of loss and damage will be impossible."
Harjeet Singh, head of global political strategy, Climate Action Network International
"With the creation of a new loss and damage fund, COP27 has sent a warning shot to polluters that they can no longer go scot-free with their climate destruction.
"From now on, they will have to pay up for the damages they cause and are accountable to the people who are facing super-charged storms, devastating floods and rising seas.
"Countries must now work together to ensure that the new fund can become fully operational and respond to the most vulnerable people and communities who are facing the brunt of climate crisis."
Mohamed Adow, director, Power Shift Africa
"COP27 has done what no other COP has achieved and created a loss and damage fund to support the most impacted communities of climate change.
"To quote the Three Lions England football song, after 30 years of hurt, climate action is finally coming home on African soil here in Egypt.
"It's worth noting that we have the fund but we need money to make it worthwhile. What we have is an empty bucket."
Mary Robinson, chair, The Elders
"In a year of multiple crises and climate shocks, the historic outcome on loss and damage at COP27 shows international cooperation is possible, even in these testing times.
"However, none of this changes the fact that the world remains on the brink of climate catastrophe. Progress made on mitigation since COP26 in Glasgow has been too slow. Climate action at COP27 shows we are on the cusp of a clean energy world, but only if G20 leaders live up to their responsibilities."
Yeb Saño, executive director, Greenpeace Southeast Asia
"The agreement for a loss and damage finance fund marks a new dawn for climate justice.
"Moving forward into discussion of the details of the fund, we need to ensure that the countries and corporations most responsible for the climate crisis make the biggest contribution."
Maya Mailer, co-director, Our Kids' Climate
"The creation of a loss and damage fund, thanks to the tireless efforts of civil society and vulnerable countries, is a historic breakthrough.
"From an early age, we teach our children to share and show compassion - to play fair. It is basic fairness that those communities who have done the least to contribute to carbon pollution should receive support from rich countries to rebuild and repair after climate disasters hit."
Ani Dasgupta, president, World Resources Institute
"New calls to accelerate deployment of renewable energy were very welcome. But it is mind-boggling that countries did not muster the courage to call for phasing down fossil fuels, which are the biggest driver of climate change."
Catherine Abreu, director, Destination Zero
"The fossil fuel industry and the elites in their pocket rallied to take over COP27. This is the last act of desperate men who first denied climate science, then delayed climate policy, and now want to usurp real climate solutions with false ones.
"It's unfortunate this COP failed to live up to the science of 1.5 by addressing the root cause of the climate crises - coal, oil and gas. But don't be fooled: their actions won't stall the inevitable progress unfolding on the ground away from fossil fuels and toward efficient, renewable energy."
Elizabeth Bast, executive director, Oil Change International
"In a critical year, this COP made no progress towards the just and equitable phase-out of fossil fuels needed to avoid the worst impacts of climate change.
"Even with this disappointing outcome, we're seeing growing momentum from individual governments making meaningful commitments to phase out fossil fuels through initiatives like the Beyond Oil and Gas Alliance."
Kate Levick, associate director for sustainable finance, E3G
"Beyond the negotiated issues there was a consensus that current financial architecture and rules are not adequate to meet the climate challenge. The final outcome called for financial system reform, and made a particularly strong set of requests to the multilateral development banks."
Vanessa Nakate, climate justice activist, Uganda
"Young people were not able to have their voice heard at COP27 because of restrictions on protest, but our movement is growing and ordinary citizens in every country are starting to hold their governments accountable on the climate crisis at home."
Elizabeth Wathuti, environmental youth activist, Kenya
"COP27 may be over, but the fight for a safe future is not. It is now more urgent than ever that political leaders work to agree a strong global deal to protect and restore nature at the upcoming Global Biodiversity Summit in Montreal.
"The interconnected food, nature and climate crisis are right now affecting us all - but the frontline communities like mine are hardest hit. How many alarm bells need to be sounded before we act?"
(Compiled by Laurie Goering; Editing by Megan Rowling.)
---
---
Tags
Climate

Fossil fuels

Net-zero

Climate policy

Climate inequality

Loss and damage
---