Libya flood reveals disaster prevention deficit in fragile states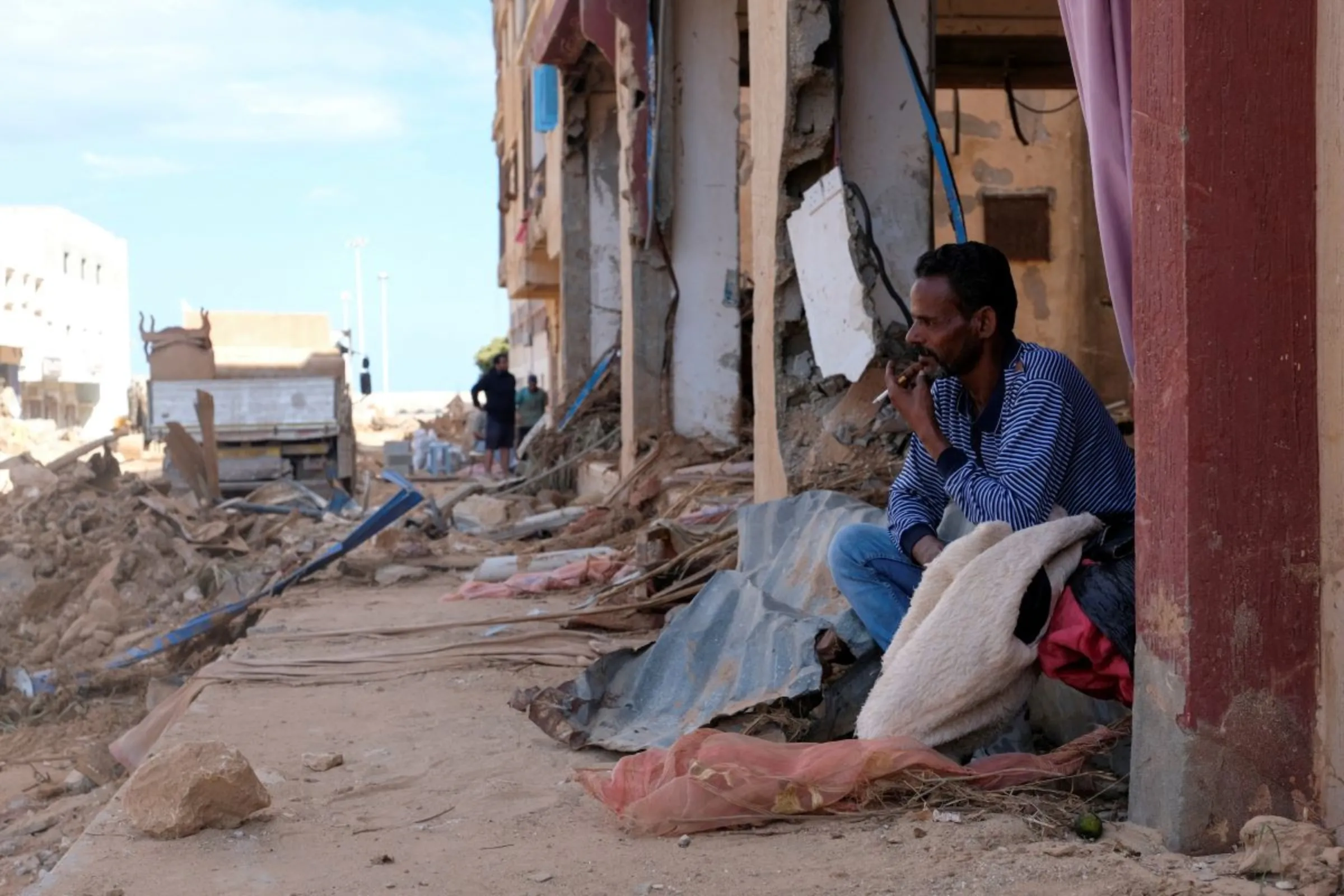 A man sits next to damaged buildings impacted by fatal floods in Derna, Libya, September 28, 2023. REUTERS/Esam Omran Al-Fetori
Research and planning can help minimise threats to infrastructure and people from extreme weather
Michael Hagenlocher, Sanae Okamoto and Nidhi Nagabhatla are researchers on disaster risk management with the United Nations University.
In early September, unseasonal heavy rainfall during Storm Daniel in Libya submerged settlements along the northeastern coast and caused extensive destruction. In the city of Derna, two dams and four bridges collapsed, leading to even worse flooding. Now, weeks later, hospitals are still not working, and critical infrastructure, like roads and bridges, is in ruins.
According to latest reports, the floods claimed over 4,000 lives and more than 8,500 people are still reported missing. The psychological toll remains very high for the survivors, suffering with grief and trauma.
But perhaps the worst tragedy is that this catastrophe is not even an anomaly. Climate change is expected to increase the severity and frequency of floods while key infrastructure such as dams continues to decay. Together these two developments are highly alarming. In places like Libya which suffer from endemic political instability, infrastructure maintenance remains a particular challenge. What can be done?
As disaster risk researchers, we believe that each flood can be used to improve our knowledge on the underlying drivers. They allow us to emphasize the role of early warning systems along with other measures to manage risks and help communities recover.
The floods in Libya have once more underpinned the devastating impacts of climate change. But it's not just the dangers of climate change that the floods have spotlighted; they have also exposed the country's high vulnerability to extreme events. 
The country's disaster risk management is fragmented due to the ongoing conflict, its dam infrastructure is aging, and its early warning systems are inadequate. The Libya National Meteorological Center suffers from limited resources and capacities.
Fragile countries weak on disaster prevention
Politics has emerged as a significant factor contributing to risks, a trend observed in numerous nations grappling with similarly weak governance systems. The absence of effective coordination and cohesive governance for disaster prevention and risk management impedes Libya's ability to provide accurate forecasts, early warnings and sound response strategies. While the floods could not have been fully prevented, it is clear the country's political turmoil exacerbated their severity and impact.
Inadequate early warning systems aren't limited to Libya - they are a pressing issue in most fragile countries. Recent floods in Syria, South Sudan and Chad have also underscored the severe impacts of the combination of lack of preparedness and accurate climate forecasts.
For us, these flood events can be looked at separately and together in order to inform tangible actions that can be taken to mitigate and manage impacts of disastrous events in the future. What we have seen in Libya highlights the need for comprehensive flood risk management measures to be applied there and in other vulnerable settings.
First, in all settings, but especially in conflict zones like Libya, it is crucial that different groups and agencies work together and share information. No entity can handle a major disaster alone - all stakeholders must coordinate and collaborate to assess and manage risks and recovery from disasters. 
Up-to-date risk assessment reports at the national level are paramount. Libya's recent dam failures showcase the pressing need to stress-test other dams and critical infrastructure to pre-empt disasters and mitigate risks.
Then comes the need for inclusive impact-based early warning systems that cover multiple hazards and risks, improve prediction, use advanced technology like AI, and ensure everyone - especially vulnerable communities - receives timely, precise and actionable warnings through various communication channels. Investments are needed to create these.
Infrastructure also needs investments to be strengthened. Critical systems like water, transportation and energy networks must be improved. Climate-smart land-use practices, risk-informed urban development and water security planning can also yield major dividends in the form of risk reduction.
In addition to medical care, psychosocial and mental health support should be one of the priority needs for affected communities, particularly in supporting overall recovery of individual and community well-being. There is also the issue of education. People need to know the risks they face and how to prepare, adapt and respond to them.
Raising awareness, strengthening capacities, and getting communities involved in disaster risk reduction and adaptation takes some of the burden off institutions. It empowers citizens to take ownership of their own resilience efforts. 
What we've seen in Libya shows that adopting a comprehensive and integrated multi-risk approach to disaster risk management - including planning for sustainable recovery and building back better - is essential, especially in fragile settings. The role of rigorous research and advocacy that supports actualizing these key elements is vital for helping many other regions that face similar challenges.
Michael Hagenlocher is an academic officer in the Vulnerability Assessment, Risk Management & Adaptive Planning (VARMAP) Division at the United Nations University's Institute for Environment and Human Security (UNU-EHS). Sanae Okamoto is a researcher with the Economics of Innovation and Technology Unit at the United Nations University's Maastricht Economics and Social Research Institute on Innovation and Technology (UNU-MERIT). Nidhi Nagabhatla is program lead of the Nature, Climate and Health Cluster at the United Nations University's Comparative Regional Integration Studies (UNU-CRIS).
---
Any views expressed in this opinion piece are those of the author and not of Context or the Thomson Reuters Foundation.
---
Tags
Extreme weather

Adaptation

Government aid

Climate finance

Climate inequality

Loss and damage
---