UN climate negotiations need to talk about climate migration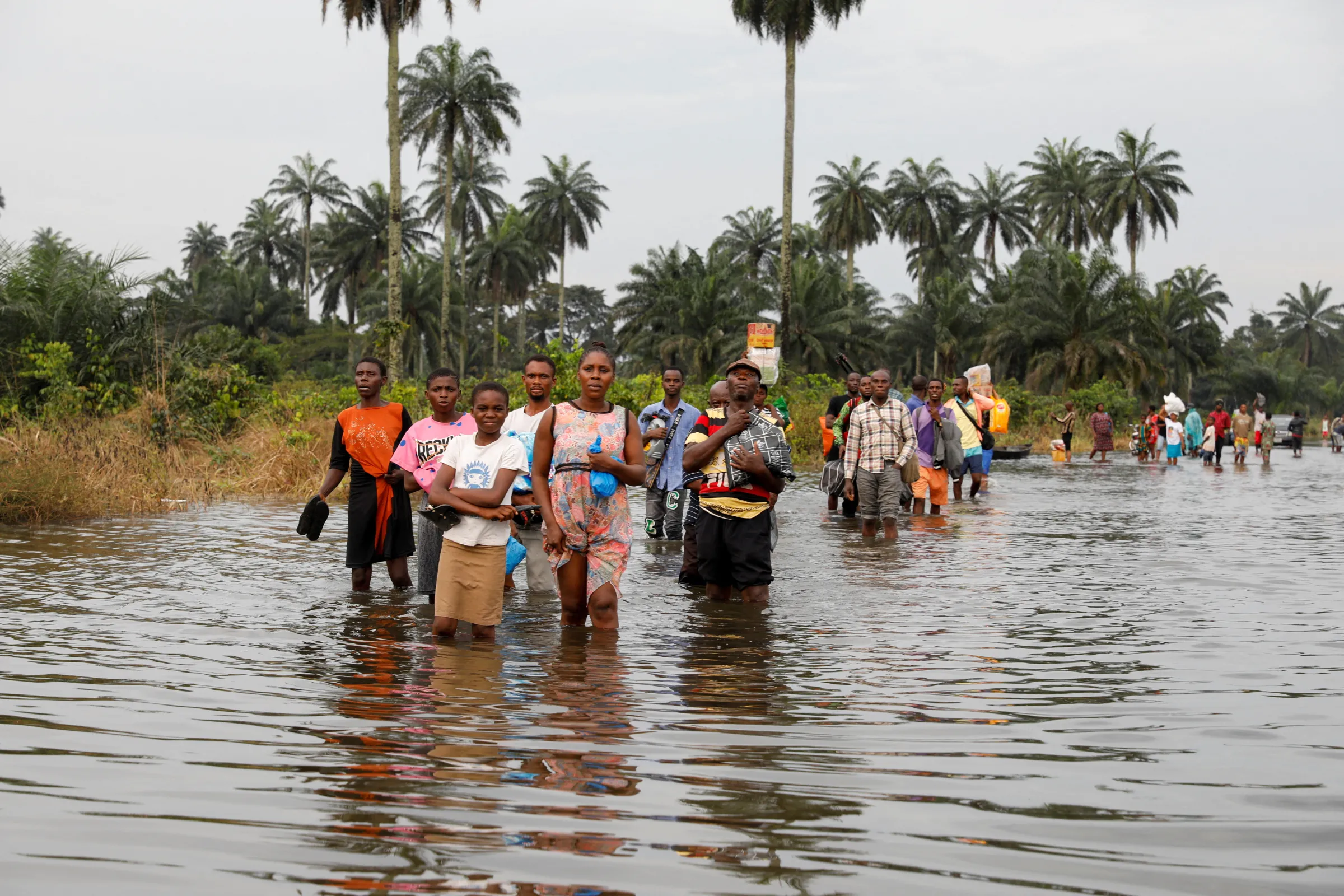 Residents wade through flood water in Obagi community, Rivers state, Nigeria October 21, 2022. REUTERS/Temilade Adelaja
As COP27 begins in Sharm el-Sheikh, millions are being displaced from their homes due to climate impacts
Chukwumerije Okereke is a professor of global climate and environmental governance and director of the Centre for Climate and Development at Alex Ekwueme Federal University Ndufu-Alike (AE-FUNAI) in Nigeria
As the U.N.'s COP27 climate summit kicks off in Sharm el-Sheikh this week, one important issue is being overlooked: how climate change is driving a parallel migration crisis that will likely increase the risk of conflict across the globe.
To reduce this daunting threat as climate impacts worsen, it is vital that the nexus of climate migration and conflict is given greater attention in international climate negotiations, and that world leaders take urgent steps to help blunt the disproportionate toll climate change is taking on vulnerable and poor communities.
Since 2008, the climate crisis has forced 20 million people from their homes each year, fleeing extreme weather such as floods and storms. While climate impacts are being felt all over the world — especially in poor communities across the Global South — Asian and African urban areas are considered to have especially elevated risk. Sub-Saharan Africa currently contributes less than 5% of global emissions, but its people have long been on the front lines of climate impacts, in part because high poverty rates make it more difficult for families to recover or adapt. As the climate talks continue in Egypt, over 1.3 million people in Nigeria remain displaced due to unprecedented flooding that has also killed over 600 people.
Although migration patterns will vary by region and over time depending on factors such as population growth, adaptation actions, and migration policies, climate-related migration is projected to increase overall. By 2050, the World Bank predicts that by 2050 as many as 105 million people in Africa could migrate internally due to worsening climate impacts, plus 48.4 million in East Asia and the Pacific and 40.5 million in South Asia.
In the next decade, people living in extreme poverty could increase by 122 million, and their dire living conditions could further fuel migration, conflict and inequality as water stress, sea level rise, and crop failure threaten lives, livelihoods, territorial integrity and the very existence of some nations and communities. As certain cities and settlements grow, women and children are most at risk, since they not only make up the majority population in these places, but also tend to suffer most from pre-existing inequalities and discrimination.
While much migration will likely be limited to within country borders (such as from rural areas to cities), the sheer scale of the climate crisis will mean that millions of people could emigrate elsewhere. It stands to reason that as more people are forced to leave home in search of sustenance to feed their families, conflict will also increase as more people must suddenly compete for a dwindling supply of resources. Even if we cut all emissions immediately, climate impacts will inevitably lead to a greater scarcity of resources, and conflict will escalate. Climate-induced migration is already a major factor contributing to violent conflict in South Sudan and in Nigeria, where herders regularly clash with farmers over access to water and pasture.
While there is much overlap between climate-induced migration, adaptation and loss and damage — and the more climate action is taken the less need there will be for migration — discussing climate migration more explicitly within the U.N. climate negotiations is a good opportunity to shine greater light on the problem and start a serious discussion on the measures needed to address the problem.
There are several ways we can advance these conversations at COP27.
First, the COP27 decision should clearly and firmly spell out the urgent need for action on climate-induced migration and conflict. This will lay the groundwork for devoting future time and resources toward addressing this crucial issue.
Second, COP27 must very clearly lay out pathways to assist communities as they build local solutions that limit mass migration, and help border communities adopt structures that can quickly absorb migrants and put them to productive work.
Third, COP27 should set up a special work programme on climate change, migration and conflict, perhaps in collaboration with the International Organization on Migration (IOM). The work programme could provide a clear and internationally ratified definition for climate refugees, as well as their rights and privileges.
Fourth, we must conduct further research to better understand the links between climate, migration and conflict. The UNFCCC should commission a special report to the Intergovernmental Panel on Climate Change (IPCC) on efficient pathways of adapting to climate-induced migration and conflict.
The IPCC recently warned that 3.3 billion people are living in climate-vulnerable hotspots around the world. Swift and smart action now will help avoid a much greater crisis on the horizon.
---
Any views expressed in this opinion piece are those of the author and not of Context or the Thomson Reuters Foundation.
---
Tags
Extreme weather

Climate Risk

Adaptation

War and conflict

Loss and damage
---