Sudan's fishermen fear for future as climate change reduces hauls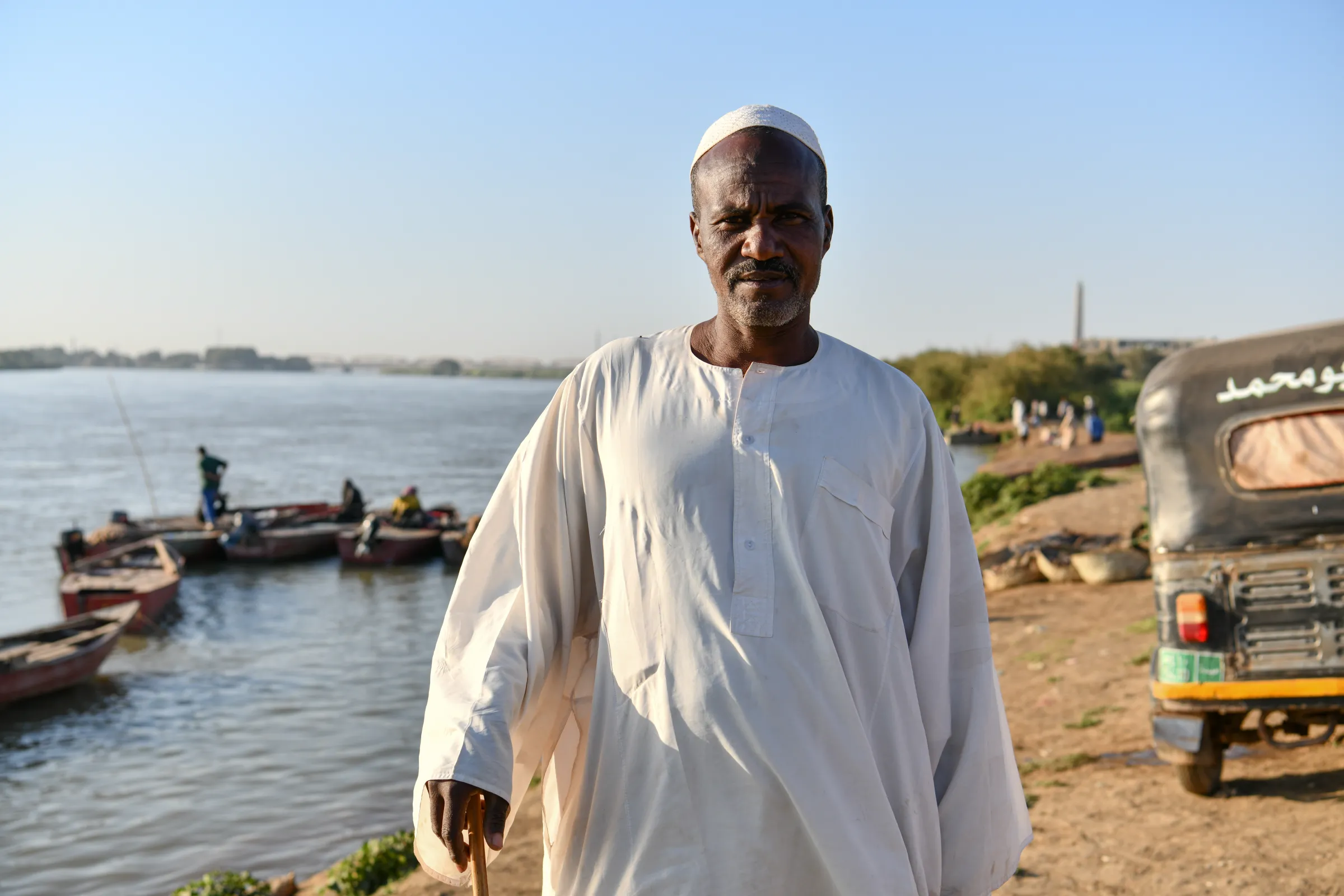 Al-Nimeiry Musa Mohammad, 45, a Sudanese fisherman who has been working on the Nile for twenty-five years, poses for a portrait by the Nile River bank in Omdurman, Sudan, February 11, 2023. Thomson Reuters Foundation/Ela Yokes
What's the context?
Rising heat and overfishing spell trouble for food security as Sudanese fishermen complain of falling stocks and government inaction
Climate change, overfishing threaten fishermen on Nile
Fish stocks dwindling while some species have disappeared
Rising temperatures could harm food security, experts warn
OMDURMAN, Sudan - Al-Nimeiry Musa Mohammad has spent 25 years fishing on the Nile river in Sudan but he has never been so worried about the future, as catches dwindle and more fishermen seek other sources of income.
"I know many people who left the profession because of a lack of fish. Some of them travelled elsewhere to find work," the 45-year-old said, standing by the Nile riverbank just north of a fish market in Omdurman, twin city of the capital Khartoum.
"Nowadays I catch around a quarter of what I used to catch. The last time I went out onto the river I caught about 60 kilos of fish, but sometimes it can be as low as 10 kilos," Mohammad said at Al-Mawrada, Omdurman's biggest fish market.
The river's fish stocks are plummeting, studies have shown, with rising temperatures fuelled by climate change, overfishing, and a lack of state regulation cited as factors by researchers.
While U.N. studies say Sudan's fisheries make up relatively little of the East African nation's GDP - a precise breakdown is unavailable - the industry provides jobs and is a key source of food and nutrition for a population of about 46 million.
Sudanese fishermen like Mohammad, as well as academics, fear that not only are fish numbers decreasing but some species are disappearing entirely from the Nile.
That is a worry as climate change and increasingly extreme weather threaten food security from farming and fishing worldwide.
Falling fish production in Sudan has been linked to the secession of South Sudan in 2011, after which Sudan lost access to major fishing locations and substantial inland water bodies.
But research by Khartoum University's Institute of Environmental Studies in 2020 found that rising annual temperatures over the past two decades also have resulted in a decline in both fish catches and the number of fish species observed in the Nile ecosystem.
While fish catches peaked at 87,000 tonnes in 2012, numbers dropped sharply between 2014 and 2020, never exceeding 42,000 tonnes each year, according to statistics compiled by Sudan's Ministry of Animal Resources and Fisheries.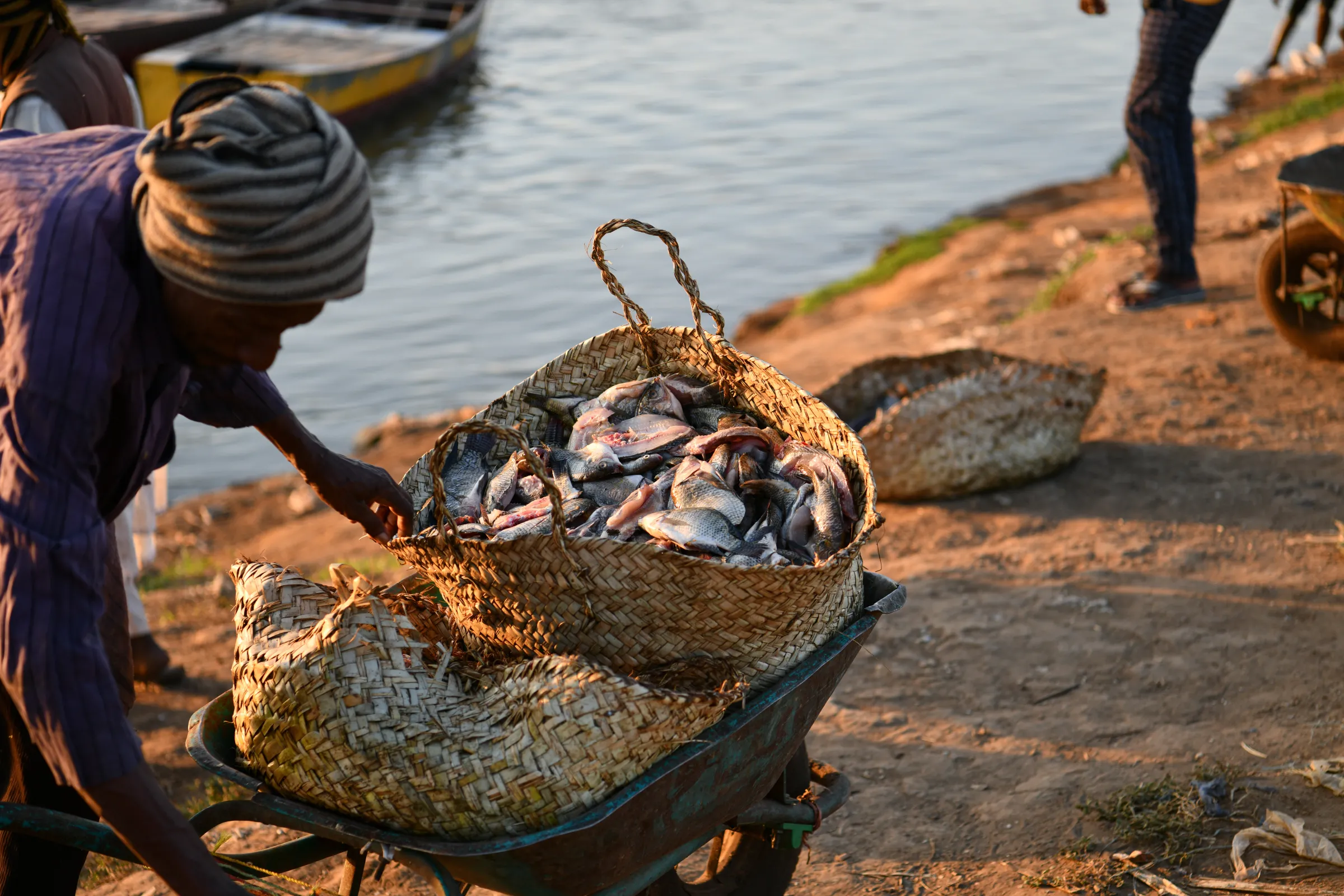 Elagba Haj Ali Mohamed, a professor at Khartoum University specialising in Nile fish, said localised losses of key fish species and overall falling catches "indicate the effect of climate change".
That presents a threat not only to food security in Sudan but also jobs and the national economy, she added, emphasising the vast productive potential of the Nile and its tributaries.
The food security threat is particularly worrying with the country already struggling with complex humanitarian crises linked to worsening droughts, rising food prices, renewed tribal conflicts and outbreaks of diseases such as dengue and malaria.
Smaller fish, fewer fish
Sudan's fishing industry relies mainly on traditional equipment, including spears, traps, cast nets and long line hooks, with fishermen at work largely on the Nile, its tributaries, seasonal floodplains and a few man-made lakes.
Among the usual haul brought in near Al-Mawrada market are fish including Nile perch, tilapia and silver catfish.
At least 13,600 people in Sudan worked in inland fishing as of 2017, according to the latest available data by the U.N. Food and Agriculture Organization (FAO), though this number does not include associated jobs from market sellers to boat builders.
Mohammad Gism al-Sayyed, a 64-year-old fisherman in Omdurman, the twin city of Khartoum, said fish such as the African carp and the Tark fish had vanished since he began working in the industry in the 1980s.
"The size of the fish has also changed," he added. "Before I could catch a single fish that weighed up to five kilos. Now I'm catching fish weighing less than one kilo."
The last three years have proved particularly difficult for fishermen due to higher water levels, he said.
The Blue Nile - a flood-prone main tributary of the Nile - saw record water levels in 2020 several metres above average flood level.
Researchers have attributed the increase to both heavy rainfall and rapid urban expansion around the river, which can create more runoff.
Limited understanding and data
Several Sudanese fishermen also questioned what they said was a lack of government enforcement of laws to stop unauthorised fishing.
They highlighted breaches of fishing regulations they had observed, such as unlicensed individuals using thin nets that trap young fish before they can mature, hurting fish populations.
Mohammad Ibrahim, director of the Technical Office for Fisheries in Khartoum, said the government has plans to better protect the industry and tackle unauthorised fishing.
Those include efforts to make fishing more productive and sustainable, providing training and technical support and review fishing laws, he said.
Essam Yassin Mohammed, director general of the research organisation WorldFish, said one of the main challenges facing African nations is that data on how mostly informal fishing contributes to the labour force and economy is lacking.
That can mean policymakers fail to adequately invest in improvements, he said.
"Preparing the management of fisheries for the effects of climate change will require significant investment and policy reforms, which cannot happen without a good understanding of the sector," he said.
In addition to long-term temperature rises globally, marine heatwaves are estimated to have increased by more than 50% over the past 30 years, according to a 2019 article in the Journal nature.
Projections suggest that such warming events will occur more frequently, more intensely and for longer periods of time, the article said, posing a huge threat to biodiversity and ecosystems, with knock-on effects for fish catches.
In Sudan, such concerns are far more current as many fishermen fear for their future.
"We used to catch a much larger amount, until our boats were almost sinking from the weight of the fish," said Abbas Mohammad Idris, a 55-year-old fisherman in Omdurman who has worked on the Nile for 30 years.
Now, he said, such catches are history.
(Reporting by Ela Yokes; Editing by Kieran Guilbert and Laurie Goering.)
---
---
Tags
Extreme weather

Adaptation

Agriculture and farming
---