China's clean air campaign holds lessons for global climate action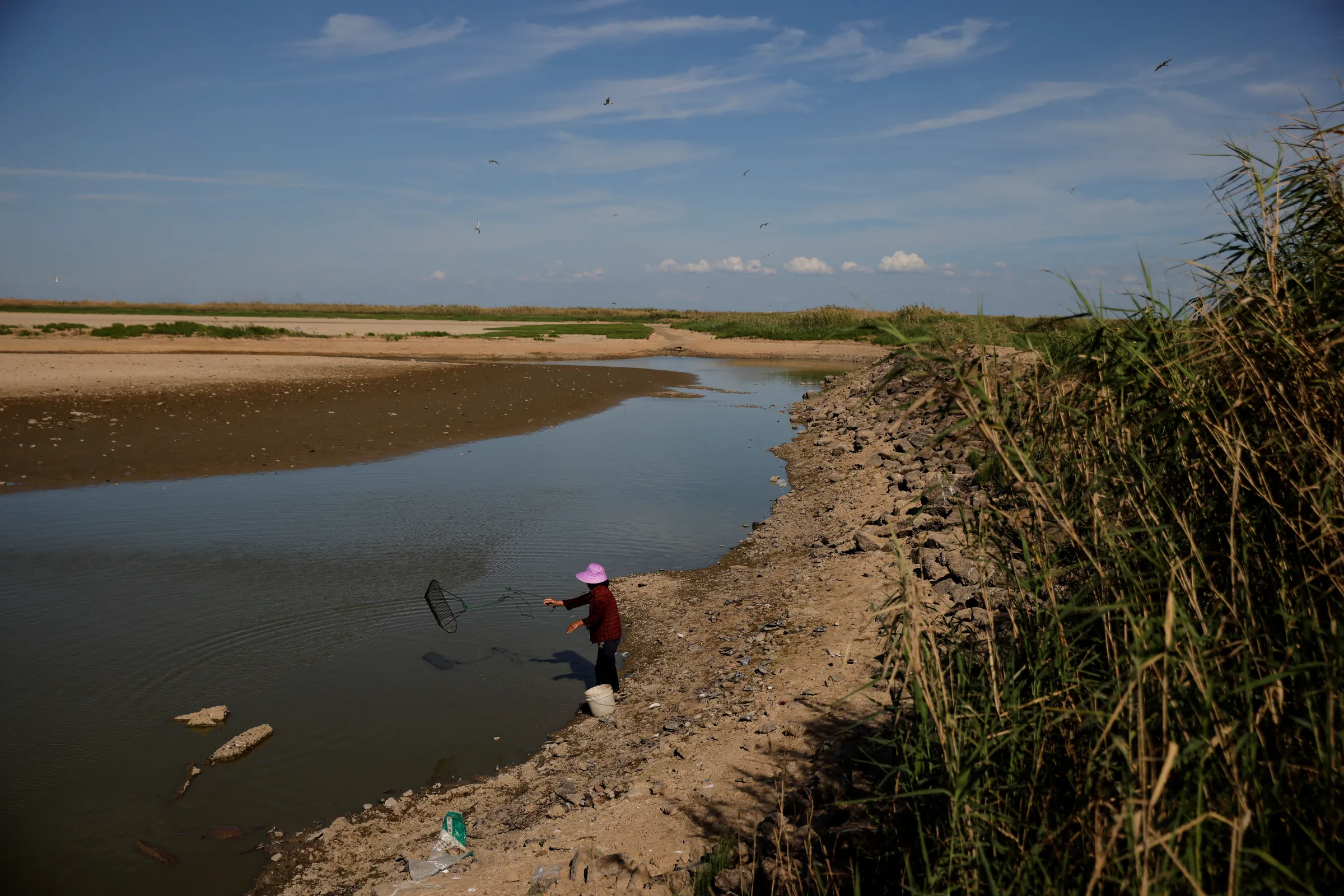 Local villager throws a cage to catch fish in a pool of water left by Poyang Lake that shows record-low water levels as the region experiences a drought outside Nanchang, Jiangxi province, China, August 26, 2022. REUTERS/Thomas Peter
Involving ordinary people in transparent climate action is one way to combat a recent surge in coal production
Ma Jun is a Chinese environmentalist and director of the Institute of Public & Environmental Affairs (IPE).
In late August, I peered down at Lake Poyang from a plane and was shocked to see China's largest freshwater lake reduced to a meandering stream. It was monsoon season and yet shrinking waters revealed a lake bed scorched by the sun.
Sparse rainfall across China this summer depleted many of our reservoirs and forced hydroelectric-dependent regions like Sichuan to ration power. As brutal heatwaves gripped dozens of cities and temperatures climbed above 40C (104F), coal-fired power plants ran at full-steam to maintain basic power supplies.
It's a reminder of a dilemma we face the world over: more frequent extreme weather events drive up demand, then global energy prices skyrocket amid supply disruptions, so economies ramp up their coal capacity for energy security. But burning more coal worsens the effects of climate change and makes weather patterns even more extreme and unpredictable.
Global carbon emissions rebounded to their highest level in history in 2021. The first half of 2022 saw a dip in carbon emission in China due to a real estate slump and the coronavirus lockdowns but this trend could be reversed as hundreds of millions of tons of coal capacity are released and a new wave of power plants is authorised.
How do we break out of this cycle to meet global climate targets requiring swift and significant emission reductions this decade? How can we rebuild global trust when misinformation about other countries giving up their climate targets goes viral on social media?
One way to overcome the backlash against giving up fossil fuels is to look at previous examples of success. China's campaign to improve air quality faced formidable obstacles in the mid-2010s. Deniers argued economic development should be prioritised and there was little trust among ordinary people.
With extensive air pollution monitoring, it was possible to demonstrate that the smog shrouding our cities was exposing hundreds of millions to health hazards. Allowing the public to access the data themselves through an online portal – a move unprecedented in China — empowered millions of citizens to hold business and government to account.
This type of bottom-up approach helped mobilize the society and cut air pollution in major Chinese cities by 56% in less than 10 years. Put simply, if you want public participation to drive climate action, transparency is vital.
We need to harness data – make it open and accessible – in order to boost involvement in climate action. In China, which has pledged to be carbon neutral by 2060, my team worked with climate scientists to build an interactive map to track pollution across the country. The database is growing day-by-day as ordinary people report violations in their communities and hold regions and major emitters to their climate pledges. The power of transparency is real.
68% of China's carbon emissions arise from industrial production. There is no choice but to involve business in climate action. That's why we're developing a corporate accountability map that will highlight not only the ambitious climate commitments made by multinational companies from Paris to Glasgow, but also their actions to reduce the carbon footprints of their manufacturing and supply chains (often based in countries like China).
You might not know that thousands of local Chinese suppliers are already using digital accounting tools to openly disclose tens of millions of tons of carbon emissions. This is encouraging. An increasing number of suppliers are also setting targets for emission reduction.
But many pension funds and Western brands, fueled by voracious fashion habits, have yet to act on their commitments. One way to build pressure is to ensure a system of carbon accounting and labelling allows consumers to make green choices.
Today, we have a long list of priorities that must be fulfilled to regain climate momentum amid the rising geopolitical divide. I suggest that we start with climate transparency and based on it help foster global trust and collaboration, create accountability, enable market-based solutions, and empower people to join the global race to zero.
---
Any views expressed in this opinion piece are those of the author and not of Context or the Thomson Reuters Foundation.
---
Tags
Adaptation

Climate policy

Communicating climate change

Climate solutions
---